I've been a Realtor and investor in real estate for approximately 20 years, and in the course of that time, I have personally flipped or renovated and rented over 50 homes. While I don't feel there are overnight riches to be made; assessment and planning, together with properly analyzing real estate investments, can set you up for long term success and wonderful passive income.
If you want to skip ahead to the analysis and avoid the property descriptions, here's a table of contents:
Outcome of the analysis
What about equity growth of the properties?
What did we do?
Also, if you'd like to join a new FB group on real estate investing, please feel free to join us here:

This summer, my son Eric is working with me, and I'm training him to evaluate properties and set aside his preconceived notions and biases and look at the numbers and see why we do what we do. So, we started with him analyzing real estate investments for passive income.
Below is his first assessment, and it shows clearly why you shouldn't bring your assumptions into real estate analysis.
I asked Eric to evaluate 3 properties:
A townhome in an upscale neighborhood
A single family home in a working class neighborhood
A townhome in a low income neighborhood
But, before we started, he needed to call a lender and find out what qualifications are currently necessary for an investor to buy. It's important to double check lenders' criteria, as these do change from time to time. Right now we are just seeing the economy and businesses start to open up after Coronovirus (Phase 1) and some lending criteria have already changed.
Here's what the lender told him he needed in order to purchase an investment property:
Minimum credit score of 700
15-20% downpayment funds
A debt to income ratio less than 45% (let me know if you need explanation as to what this means and I can prepare another post with some more explanation of loan terms and requirements)
If he met those criteria, the bank could offer him a loan at approximately 4.75-5% interest rate for 30 years.
With this information, we could start analyzing the different properties. We decided to use a 20% downpayment plan and a 4.75% interest rate for all of the properties analyzed.
(We did not include loan associated closing costs in our assessment, as we just wanted to look at a comparison between the properties without getting too much into closing costs and how to ask for closing cost credits, etc, etc—Again, I'm happy to provide another blog/explanation on these things if anyone wants one)
Townhouse in upscale part of town (Windermere, Florida)  *Eric's favorite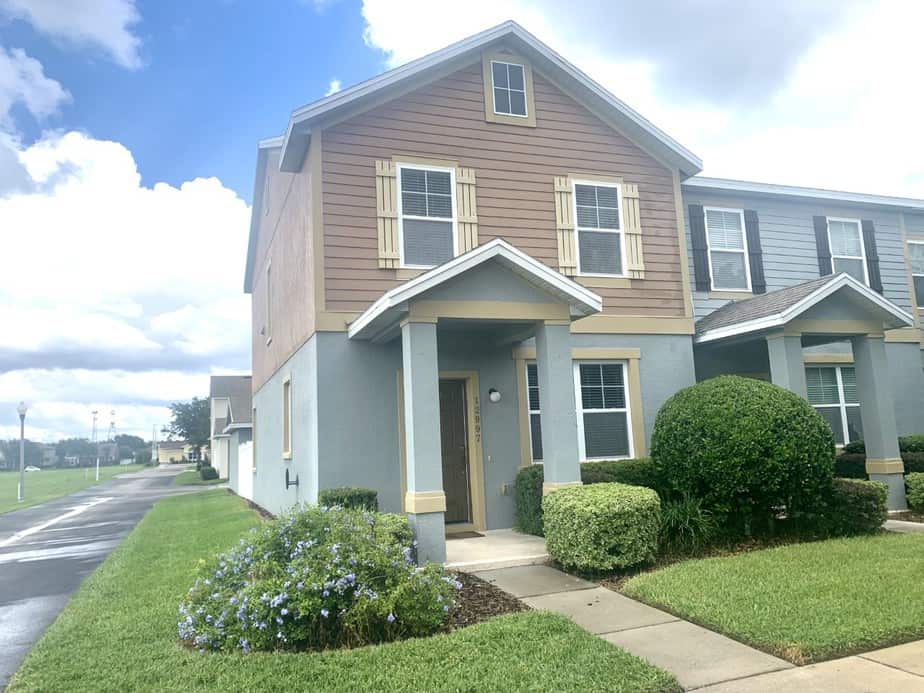 We found a 1,500 sq ft townhome in a great part of town that was competitively priced, and ran the analysis.
Price: $250,000
20% Down Payment: $50,000
This was Eric's favorite property by far, he liked the look of it and the location, and liked the idea of owning a property in Windermere.
Here's how the monthly numbers worked out:
Principal and Interest payment: $1043
Homeowners Insurance: $130
Property taxes: $198
This townhome also had a homeowner's association fee of $360 per month which needed to be added in.
Total monthly payment: $1731

We also looked at the recent sales in the area for similarly sized units to see what the rent income could be. It looked like we should be able to rent the unit for $1850 per month.
Total potential monthly rental income: $1850
This leaves a monthly gain of $119. This small margin means that your profit for months could be wiped out quickly by an unexpected repair.
Another thing to look at, for me, is what my initial cash investment is returning.
In this scenario, we invested $50,000.
In the first year, assuming no repairs, the max profit we can make is $119 x 12months= $1428
If we take the $1428 / $50,000; we see that our return on our initial investment for the first year is only 0.2%. You would do better to have the money invested another way, since the stock market and some savings pay a better return than this.
Needless to say, Eric was disappointed. This exercise of analyzing real estate investments for passive income wasn't working out for the property he thought it would. His summary was:
PROS:
-Excellent area
-Upscale neighborhood
CONS
-Expensive
-Not a great monthly income
-Not a good return on investment
Working Class Neighborhood Home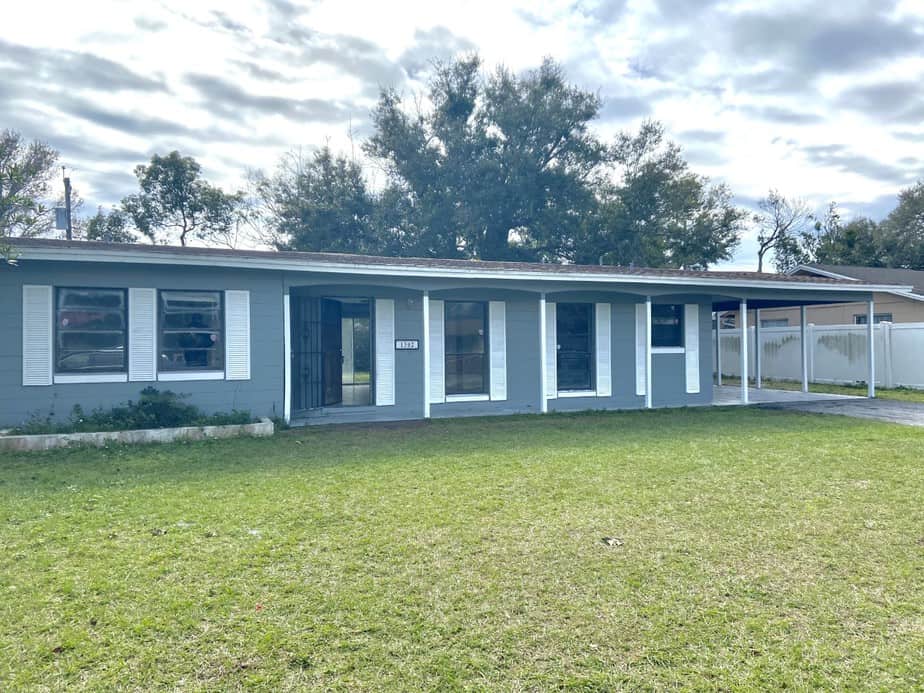 Our next analysis was on a home in the neighborhood I grew up in. The homes are from the 1970s, solidly built, they have good sized back yards, but they're nothing fancy. Just solid homes for hard working people. This is an area I like investing in quite a bit, in part because I grew up there and I like updating the houses and making them look good and provide a great place for families, but also because I think they're solid investments.
We found a 1,225 sq ft single family home for sale which actually looked pretty good because it had already had recent upgrades to some of the expensive systems, it needed a little cosmetic updating but it was certainly rentable and could be easily updated (like, just some paint would go a long way) if we wanted to spruce it up.
Price: $183,000
20% Down Payment: $36,600
Monthly Principal and Interest: $763
Homeowner's Insurance monthly cost: $100
Property taxes, monthly: $159
No HOA
Total monthly expense: $1022
On this one, the potential monthly Rent based on recent rentals in the area: $1400
Monthly Personal Income: $378
Now that's looking like some better numbers!
Let's look at the return on the cash invested:
Our max yearly income is $378 x 12 = $4,536
Our downpayment was $36,600
If we take the $4,536 / $36,600; we see that our return on our initial investment for the first year is only 12.4%. Much better than what we saw with the townhouse.
Eric's summary was:
PROS
-New roof, AC, and electric
-Block construction, house is sturdy
-Great return on investment
Low Income Area Unit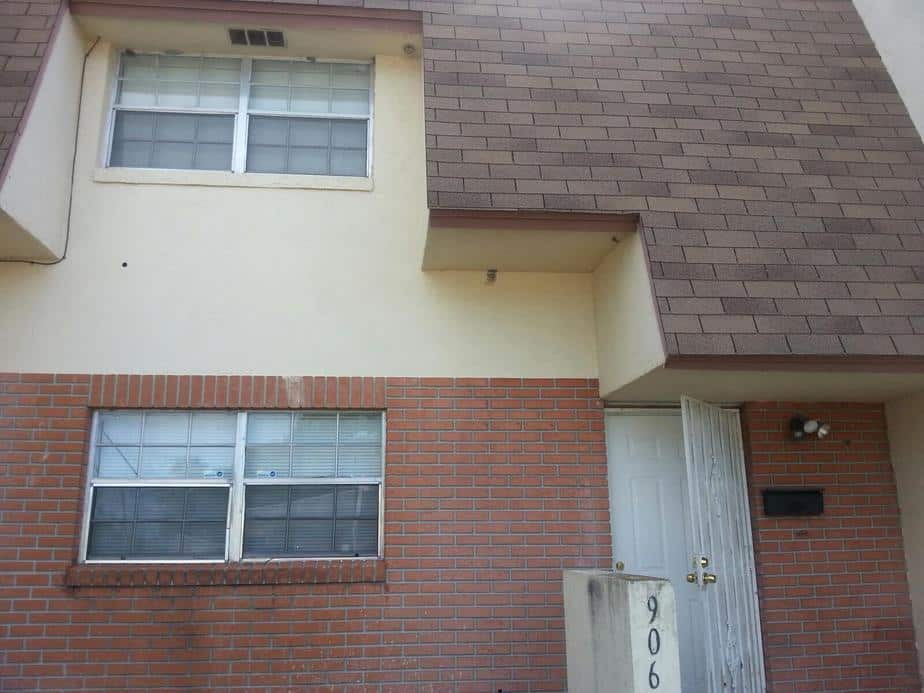 We received a call from a wholesaler who had a unit for sale at a great price. The unit is a bit far, about a 1 ½ hour drive which makes repairs a bit difficult because we don't know many repairmen in that particular area, but I asked him for the numbers so that we could see if it made sense.
The unit is around 1000 sq ft, so it's the smallest of the ones we analyzed.
Price: $59,000
20% Down Payment: $11,800
Monthly Principal and Interest: $246
Homeowner's Insurance monthly cost: $100
Property taxes, monthly: $53
No HOA
Total monthly expense: $399
We can get government subsidized (like Section 8) guaranteed Rent in that neighborhood for: $840 per month
Monthly Personal Income: $441
That is the biggest cash return of all of them and it requires the smallest cash investment!
Looking at the return on cash investment on this one:
Max potential yearly income is $441 x 12 = $5,292
Initial cash used for downpayment = $11,800
If we take the $5,292 / $11,800; we see that our return on our initial investment for the first year is a whopping 45%. That is seriously huge!
Suddenly Eric was getting more excited about this whole exercise…
PROS
-beautiful return on investment
-lots of cash in per month
-lower down payment, more available to most people
CONS
-far away and we don't know the condition
So, here's the summary of where we are, all in one chart after analyzing real estate investments for passive income.:
| | | | |
| --- | --- | --- | --- |
| Price | $250,000 | $183,000 | $59,000 |
| Downpayment | $50,000 | $16,600 | $11,800 |
| Monthly Expense | $1,731 | $1,022 | $399 |
| Potential Monthly Income | $1,850 | $1,400 | $840 |
| | | | |
| Potential Monthly Net Profit | $119 | $378 | $441 |
| Max Yearly Return on Cash Investment | 0.20% | 12.40% | 45% |
What about increase in equity over time?
Eric was disappointed and surprised that his favorite, the townhouse in the expensive part of town, wasn't the best one. But he was still rooting for it, so he asked a pretty interesting question at this point, and a valid part of analyzing real estate investments.
"Maybe you get more monthly rent from the lower priced properties, but I think the luxury townhouse will be worth more in the future."
It was really a very valid question, and I was impressed he was thinking of this long term as well as for the monthly cash flow. So, we decided to pull the statistics for the sales over the past five years in all of the areas and see how they looked. (I could do this because I'm a Realtor with MLS access and that made the statistical search really easy—you could have a Realtor do this for you when looking at your investments too).
Here's what we found:
Data from upscale townhome area: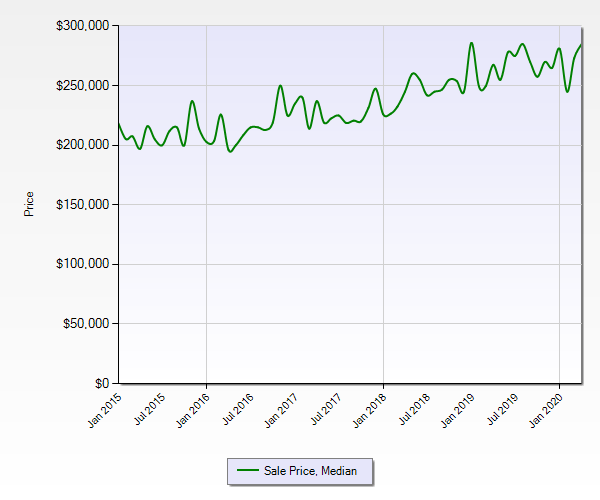 Over the past 5 years, the average price of a townhome in this area went from $205k to $285k, an increase of 39%
Data from modest area single family home: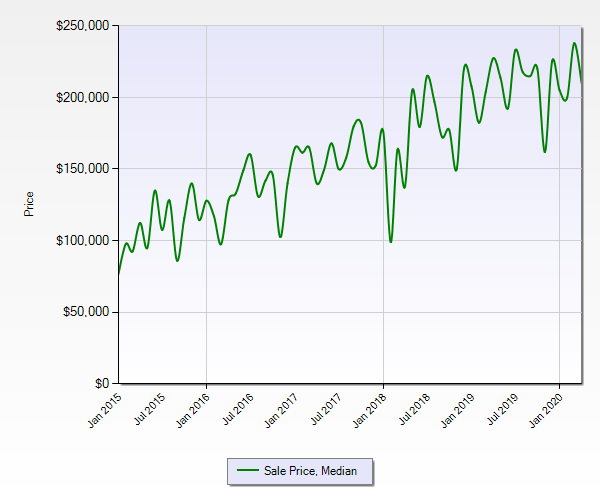 Over the past 5 years, the average price of a single family home in this area went from $97,750 to $210k, an increase of 115%.
Data from low income unit:
I could not accurately gauge the increase in value of the low income unit, because, with that unit being 1 ½ hours away and in a different county, I didn't feel comfortable using the MLS data that I had on hand because I worried it wouldn't be as representative as it should be and I didn't want to put up anything misleading or lacking in data.
Equity Summary:
Eric wanted to know why this would happen, because his gut instinct was that the townhome in the more upscale area would go higher in price quicker. I think that part of why this happened is that when you start at a lower price point, there is a larger group of people who can afford that home, and so the increase is quicker and easier.
Also a single family home can accommodate more families than a townhome, because traditionally in our area families prefer single family homes where they can have back yards for playsets and family bar b que's. Townhomes often just don't give the space some families crave.
So what did we do?
After going through this process of analyzing real estate investments, Eric was excited. The idea of a property that could give a monthly income of over $400 was really motivating. He asked me if he could sell his car to come up with the down payment and purchase the low income property. So, we made plans to drive out there and view it.
We drove the hour and a half to the unit, and we had made an appointment with the wholesaler to allow us to go in and do a quick walk through. The area looked ok, and the properties were arranged in a horseshoe off of a relatively busy road, and they looked like townhomes (they're attached) but they don't have an HOA. Almost immediately we saw that one unit had a bunch of "condemned" stickers all over it because it had gone through a fire. There are fire walls between each unit thankfully. Interestingly, this is the second time I've seen a fire in this one complex.
We got around to the unit for sale and Eric went in to do the walk through. The unit was in a state of disrepair, which is to be expected. But more than that, the area just felt depressed. I don't know if it was the fire unit that cast a shadow on it, or if it was the general disrepair of the other homes. It just didn't feel like a place we wanted to be landlords. I don't know how else to put it and I realize this isn't an analytical way of thinking, but sometimes, for me, I also have to think of the life of the people renting our units.
I always want their rental experience to be positive. Adding touches that will make tenants proud will encourage them to take care of the unit and add value to the property. That's why many of our units have granite counters (super durable and beautiful) or other upgrades. This area just couldn't provide that. We work with lots of section 8 and Homeless Services properties, but even those areas had a better feel than this. We were disappointed and struggled with balancing the profit with our emotions. But in the end, we never want to feel like slumlords for any amount of money, so we didn't end up buying.
We continue to search for an investment that is around the 100k mark, with a good rate of return.
Thank you for walking through this process of analyzing real estate investments with us. I hope it was eye opening and helpful.
If you're currently a real estate property investor and could benefit from having all your tenant, lease, mortgage, insurance, hoa, utility, maintenance, and vendor info all in one place, here's a great book for you. I put this book together based on what I needed to keep myself organized with various properties so that I could have the property info on hand at all times.
I'll also post a link to some books on Amazon about Real Estate Investing, in case you want to learn more from other sources. These aren't my books, but I should disclose that as an Amazon associate I earn from qualifying purchases.
For more info on investing, check out our progress through some of our recent posts:
Complete home renovation & flip, Camellia Gardens, Orlando
From Drab and Dull to Disney and Magical!