How much should you offer on a house, and can you valuate a property yourself?
When it comes to valuating a property properly, many real estate investment books and tutorials will tell you to turn to your real estate agent to determine the best offer. As a Realtor, I've valuated homes and helped buyers come up with the best offer price many times. The MLS gives us great access to data. That shows us how much comparable homes have sold for, and this is a wonderful resource. Connecting with your real estate agent and getting their opinion of value is always a good idea. Realtors call this a CMA (comparative market analysis) and it's a good way to determine if the listing price is in line with a home's value. Your buyer's agent is on your side. They want to work to help you find the best price and have a successful offer.
But, what if you want to valuate a property yourself?
You should be able to look at sources online and determine if the asking price is reasonable. If the seller's list price is too low, the property may have a bidding war that you need to be prepared for. If the seller is priced too high, then you need to know that you can present a lower offer and still win the bid on the house.
I'll show you how to look at similar homes on popular websites. This way you can get an idea of how much you should offer on a house.
As a starting point, we're going to use a property I'm currently buying as an investment.
I want to look at what a reasonable price would be for me to purchase this property. Also, what is the highest price I can expect to sell this property for once I've renovated it?
The investment property that I'm purchasing is a condo located in a community called Southpointe. Southpointe is part of a larger guard gated gold community called Ventura and it's close to the Orlando Airport. So, location and amenities are great. Let's look at comparable sales using Zillow. Then I'll let you know how much my purchase offer was for, and how I got it under contract.
Download your free comparable properties worksheet to use in your analysis from my free library here
Let's first look at determining a home's value with Zillow:
1. Look up your Subject Property.

The first step is to look up my property of interest. This is also called the "subject property".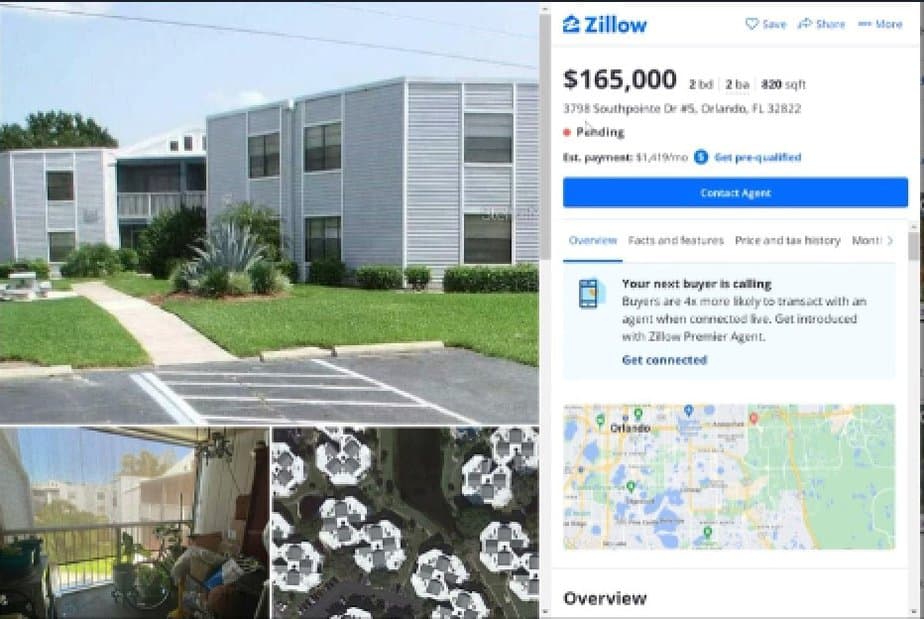 When you look up your property, you're going to notice a few things.
You'll see interior photos of the property, as well as the seller's agent description of the property. The status of my property is currently showing as "pending" because I do currently have the property under contract.
2. Take a look at the section just under the Overview.
It'll show you how long the property has been on the market. You can see how many people have viewed the property. You can also view how many have saved the property as one of their favorites. This is a good way to get a glimpse at whether or not this property is in a competitive housing market because you can see how much interest there is in the home.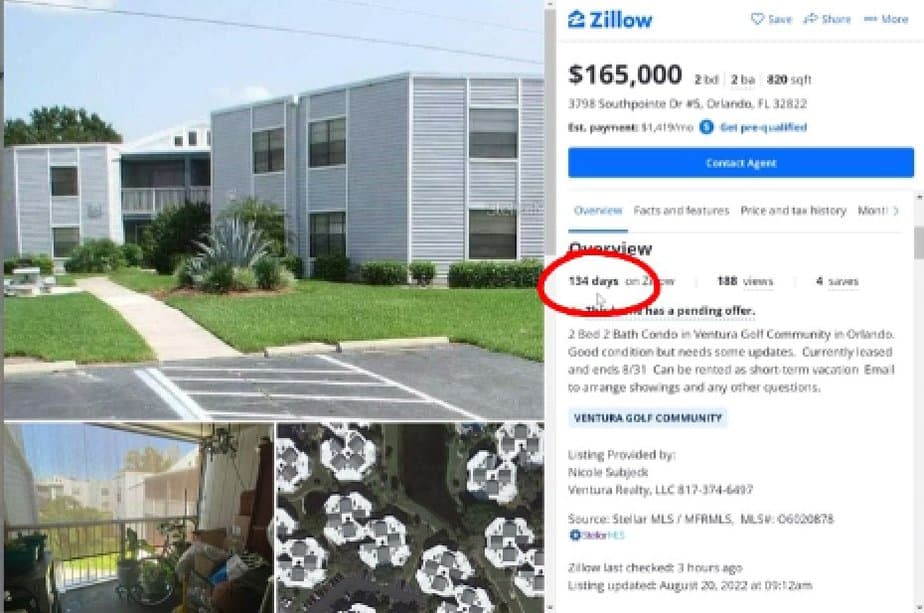 ---
Pro Tip: You can see exactly how the interest in the home has gone by clicking on "more information" and then looking at the activity/views on the house. Tips like this are always helpful. This is because having just a little more insight into the amount of activity can help give you the upper hand when negotiating.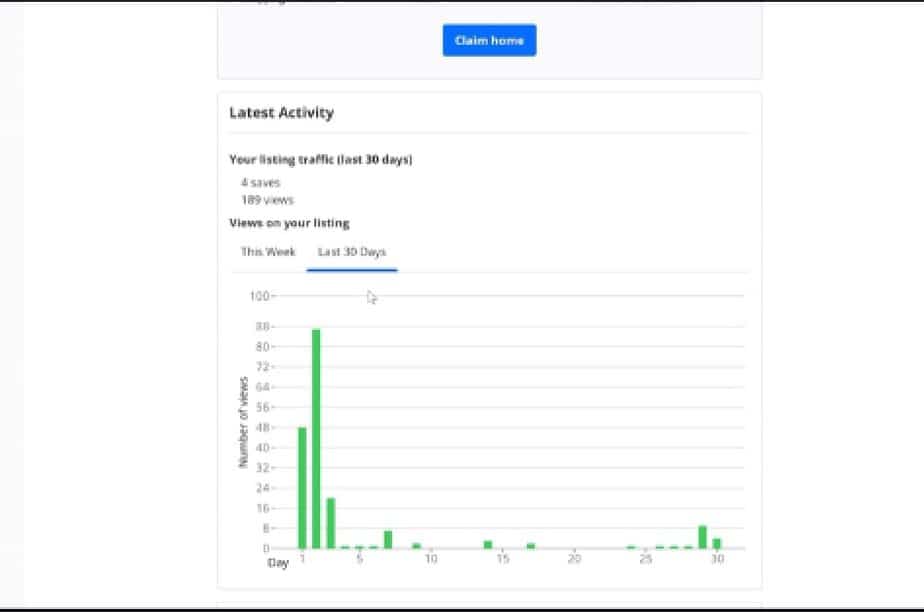 ---
3. Facts and Features
Look under facts and features and you'll gather information on the bedrooms, baths, square footage, year built. Lots of factual data. You can also see the cost of the homeowner's association dues.
What you won't see here is any info on the cost of homeowners insurance or sometimes the property taxes. Don't forget to include these in your analysis of the investment property.
Download your free comparable properties worksheet to use in your analysis from my free library here
Find Comparable Properties when calculating how much to offer
Now let's look at home prices in the area for similar properties so that we can determine a reasonable offer.
4. Set your Search Area
In Zillow, I'll draw a boundary around the condo community.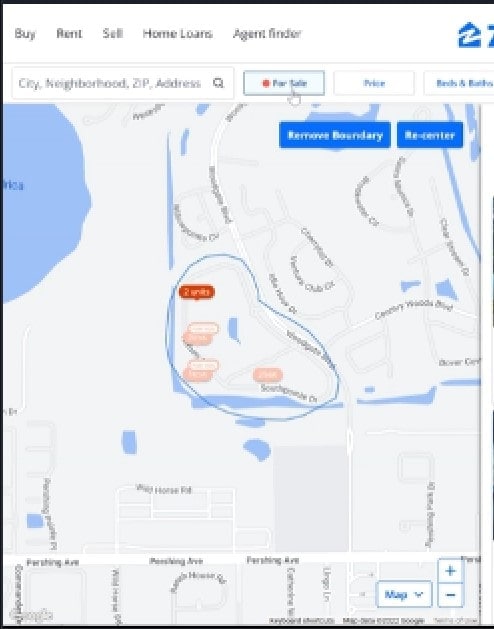 Take a look at the properties and see how they compare to yours. Write the data down in a notebook or on the worksheet I use which you can download here.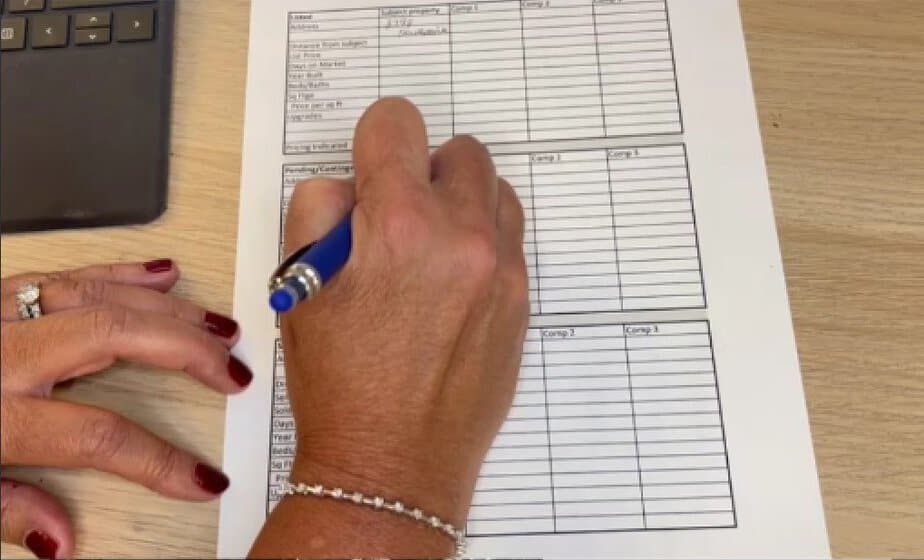 5. View Homes for Sale Currently
Click over to the For Sale tab with the red button next to it.
Make special note of the condition of each property and how long it's been on market.
6. View Homes that Have Sold
Look at sold properties as well, since this really shows you how much others have offered and bought homes for.
In the analysis of the properties that have sold in the community, I see that another 2/2 sold at $157,000. It was an unrenovated unit.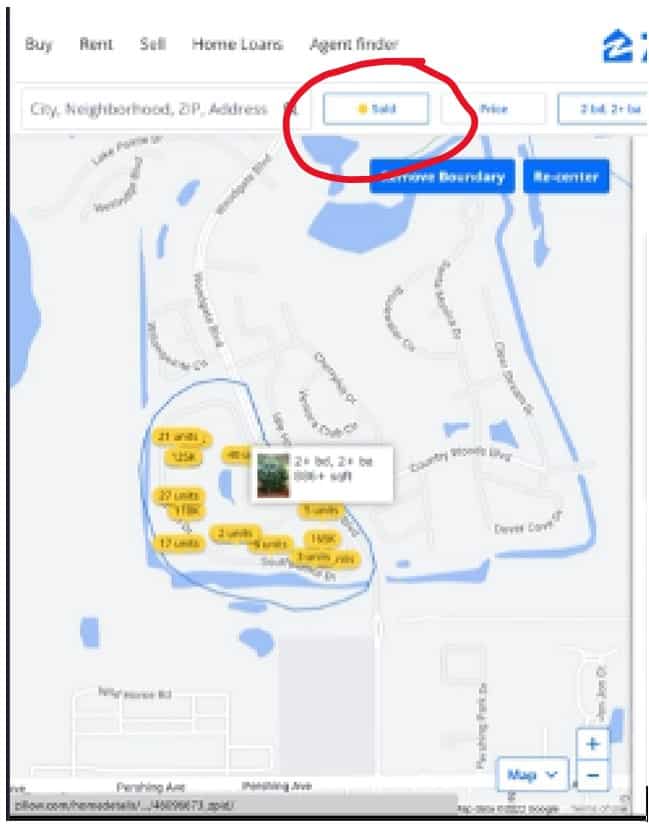 7. Look at Properties Under Contract
What about properties that are under contract?
This shows you what's really happening right now. This little tab is a little bit hidden, so I'll show you where to find it.
First, click on the red "for sale" square in the top menu bar.
Next step, click on the arrow to the right of the drop down menu.
Then scroll down and click on "Pending & Under Contract".
Doing this shows me that another property which was renovated has gone under contract very quickly. It was listed at $205,000. I don't know what it will sell for, but the fact that it went under contract so quickly shows me that there are buyers looking for renovated properties. This would be a great high offer for me to aspire to when reselling.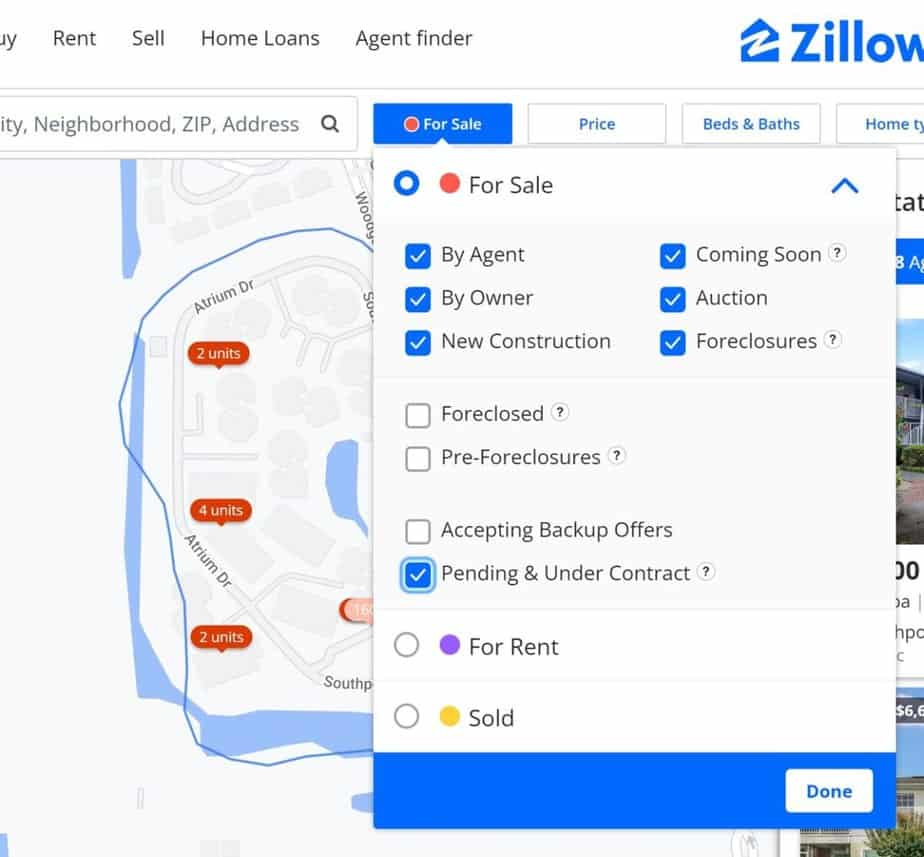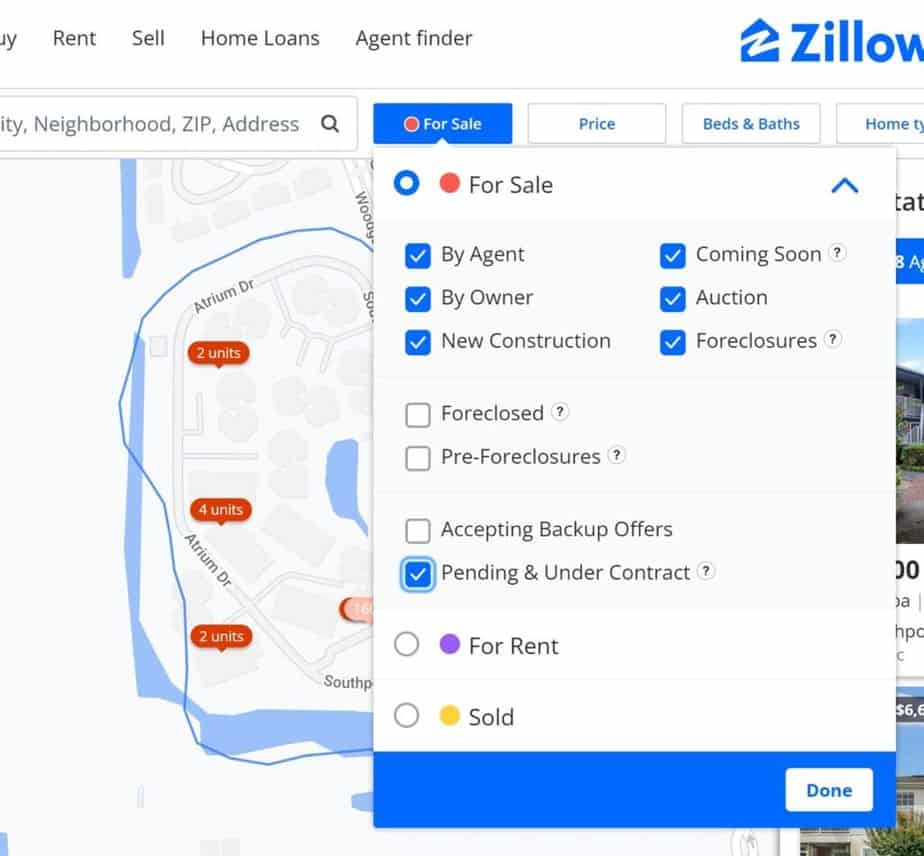 You can also use other online databases to determine value, such as Redfin or Realtor.com
Other factors to consider when determining how much to offer on a house
How's the Market?
When looking at the results of your analysis, keep in mind the type of market we are in. Knowing current market conditions is important and your Realtor can help you with local market conditions as well. How busy is the agent? Is this a seller's market where inventory of homes is low and you need to be aggressive with your pricing and terms? In the sellers market we experienced in Central Florida local real estate market this past year, you could feel the tension in potential buyers as they lined up outside of an open house just waiting to start the bidding war.
When you're in a buyer's market, which we may see more of soon, the inventory of homes is higher than the demand. In this situation properties may stay on the market longer. You may see price reductions or incentives given by sellers (like money toward closing costs). This way sellers make their home more enticing than the neighbor's.
How's your financing?
Price is not the only factor when looking at how much your should offer on a house. Sometimes a cash offer will beat out a higher offer. This can be simply because the cash buyer doesn't have an appraisal contingency. It can also be because the home sellers don't want to have their home sale dependent on your finances. Cash takes away that uncertainty for a home seller.
Even if you don't have all cash for your purchase, you financing does make a difference. A listing agent will often point out to the seller which offer has the highest down payment. This is evidence of a strong borrower as well. I know that there are great programs out there with low down payment options. However, I'm sure that you can see that home buyers putting down 20% are seen as less risky than those putting down 3.5%.
With the recent rise in interest rates, mortgage payments are getting a little more expensive. Make sure you keep in touch with your mortgage lender to lock in your interest rate when appropriate. Also, be sure that you know what your monthly mortgage payment will be for your new home, and how much money you'll expect to pay in closing costs. You really need to know how much house you can buy. At the end of the day, when assessing how much to offer on a house, you need to be comfortable with your monthly payment. All of these are factors in determining the purchase price that is ultimately acceptable to you.
Here's a link to a mortgage calculator if you'd like to run your numbers.
Do you have other contingencies?
Other contingencies in your offer may also affect how your initial offer is received. Show a strong earnest money deposit, keep your home inspection period low, and select a closing date that best accommodates the seller. Keeping these other factors in mind can make a low offer look more enticing. Working on contingencies is the best way to beat out other offers that are in a similar price range.
Some buyers have also asked me about writing up an offer letter to accompany the contract. I've seen these used in a competitive market when buyers want to stand out and tell the sellers why this property is the perfect home for their family. It's nice to see these letters from first time buyers. It may mean a lot to sellers who have a lot of emotional attachment to a long time family home. I have seen this type of letter persuade a seller to take a lower price than they might have otherwise, when there are no other offers on the table and a family shows genuine appreciation and feels this is the right home for them. However, I've never seen one of these letters beat out competing contracts with a much higher price in a hot market.
I hope this article has helped you determine the right offer for your dream home or investment. Looking at comparable properties is the best tool that real estate experts use when determining the fair market value of a property and helping you figure out how much to offer on a house. Whether you're looking to place your first offer or if you've been doing this a long time like I have, knowing how to calculate a fair offer for your purposes is a very valuable tool.
My Analysis of the Southpointe Condo
When I look at the investment condo I'm purchasing, I see that it's been on and off the market multiple times. It seems that the seller has had several buyers back out on her. So this makes me feel that the seller would be motivated by an offer that is more solid and sure to go through.
As a result of learning this, I felt that my offer would be best received with a very short inspection period and no contingency on financing. I viewed the unit and the air conditioner was working well and there was no evidence of plumbing issues or moisture damage. Everything else is handled by the condo association (windows, exterior, roof, etc). So, I felt confident in making my inspection period 0 days. I placed a $5,000 deposit (nonrefundable).
With those contingencies I felt I would make the seller take notice of my offer and that the terms would be comfortable for her. Now I could negotiate the price. After all, the other offers she'd had could have been at full price, but they'd backed out. So, I was going to offer less but show that I wouldn't back out.
Now the answer to my own question: how much to offer on a house.
I offered $155,000 for the property. I pointed out the softening market, the other property that had sold for 157k, and that my offer was absolutely rock solid with no contingency that would allow me to cancel out. of the deal. stated that I'd close on the property asap. Good news is that my offer was accepted! Please follow along as I renovate and sell the property and share the expenses and info every step of the way.