Create your own office nook or study nook at home
Create your office nook, then give it the perfect finishing touch with a custom accent wall. Here's how we created an office nook in just one day.
Recently, I taught a group of teens how to flip a property. They were involved start to finish and completed most of the projects themselves.
One great transformation came when they took a plain small nook and turned it into a perfect office nook and made it look great with the addition of a gray accent wall. It only took them a day to do, and the results were amazing.
If you prefer to view this as a YouTube video on creating a study nook, click here.
Here's where we started: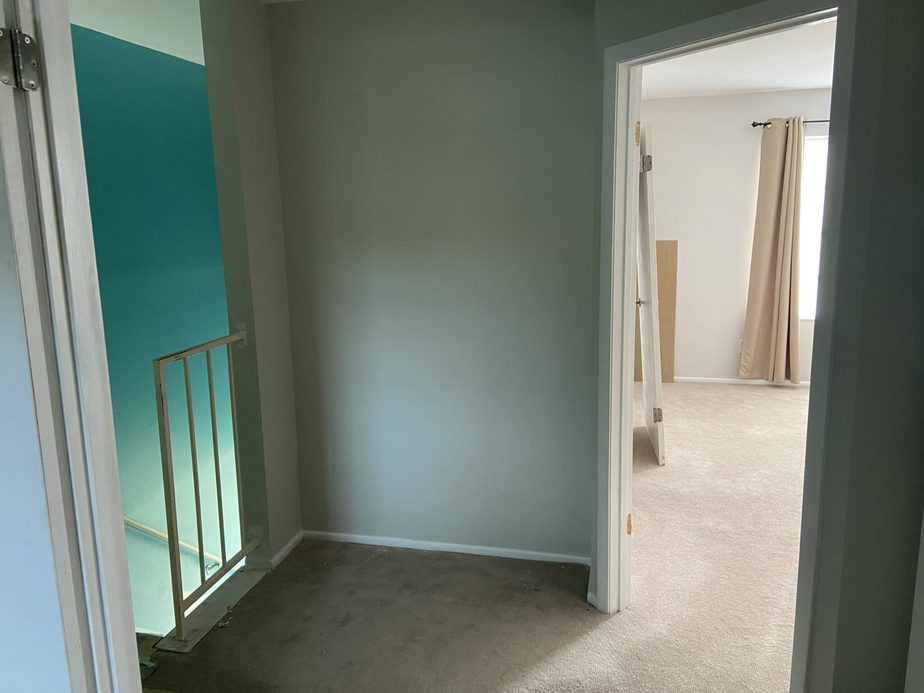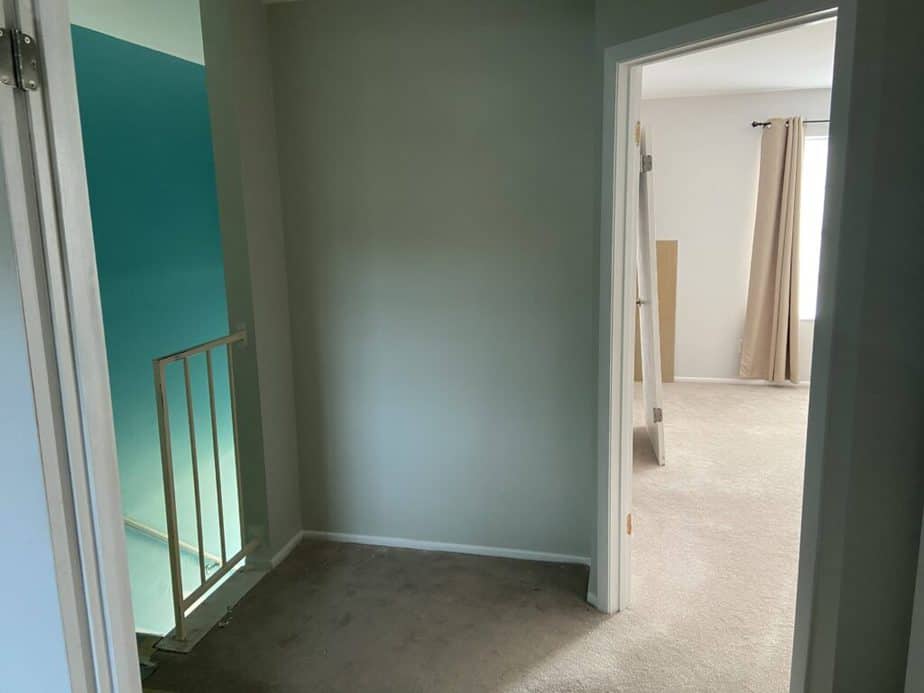 How to create your own DIY office nook (or study nook), step by step
Materials List:
Links provided in the hopes that they'll be convenient to you. As an Amazon Associate, I earn from qualifying purchases.
1. Choose the right study spot
We created our study nook and accent wall where there was a natural indentation in the floorplan. As you can see, right when you come up the stairs of this townhome, there's a small nook. It seemed like an ideal spot to squeeze in a designer space that could be used for online learning, work from home, or just a homework spot.
A lot of others seem to be creating office nooks in their closets, and I think this could work very well in that space too, as long as you can fit a small desk inside. The basic steps are the same in terms of adding visual interest to the back wall to make it a great accent feature, then adding shelving for storage. If you're creating a study nook in a closet, I would also recommend using the side walls of the closet. Here you could simply add some command strips and then hang frequently used items that you don't want cluttering up your desk space (like tape, scissors, etc).
I measured to make sure that the addition of a desk to this area wouldn't block the walkway to the stairs or to the rooms, and used a small IKEA desk that would help serve this purpose.
Here are some small desks that you might want to check out.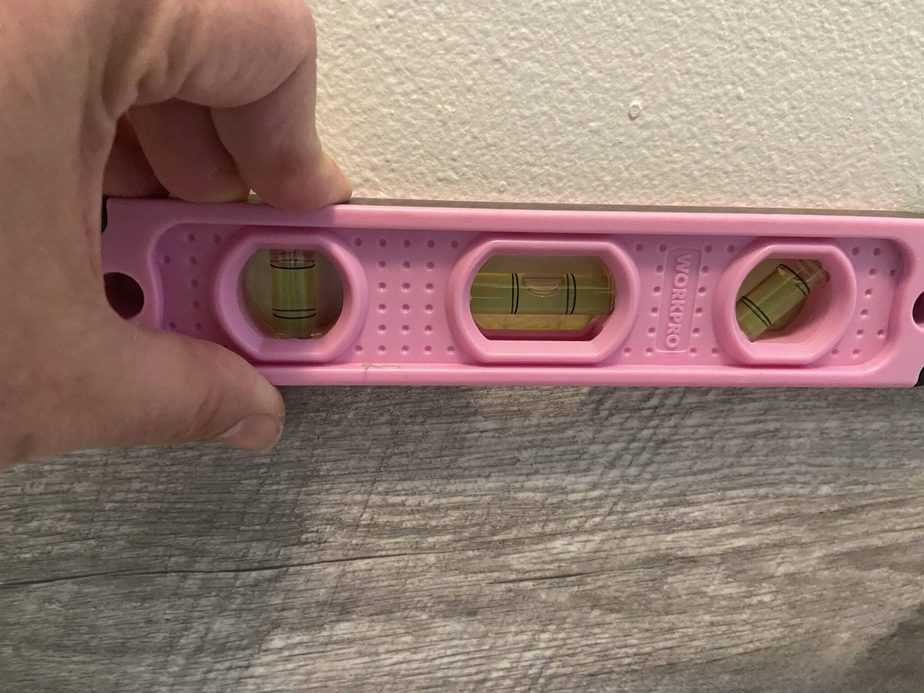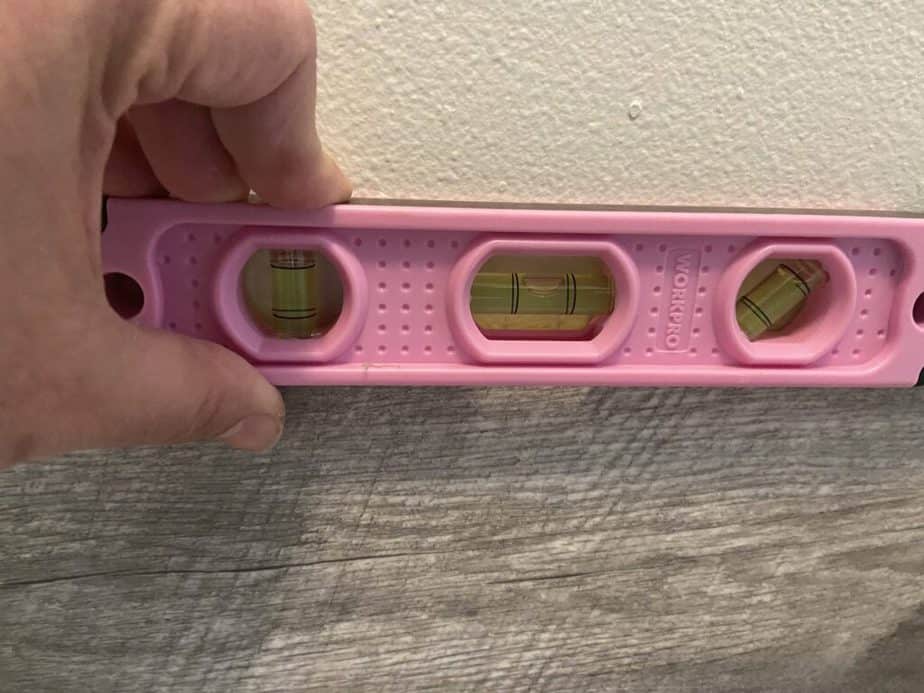 2. Level the First Accent Wall Piece.
Place your first piece of wood at the very bottom left of the wall. Be sure to level it.
You can decide what material you want to use. Whether it's wood planks, shiplap, or click and lock style vinyl flooring like we used, you must level your first piece so that your project will come out straight as you travel up the wall.
I started at the very bottom left, leveled the vinyl plank piece, and screwed it in.
If you're using click and lock vinyl like we did, remember to keep the orientation the same so that the pieces will lock together at every level. For example, we started with the tongue parts of the plank facing up and to the right and we continued with this same pattern all the way up the wall (see the photo below). You can view this in the video if that helps to clarify that part.
Here's a link to some inexpensive vinyl plank flooring similar to the one we used. We had these pieces left over from another project, so it didn't cost us anything to use these pieces.
First Two Rows of Office Nook Accent Wall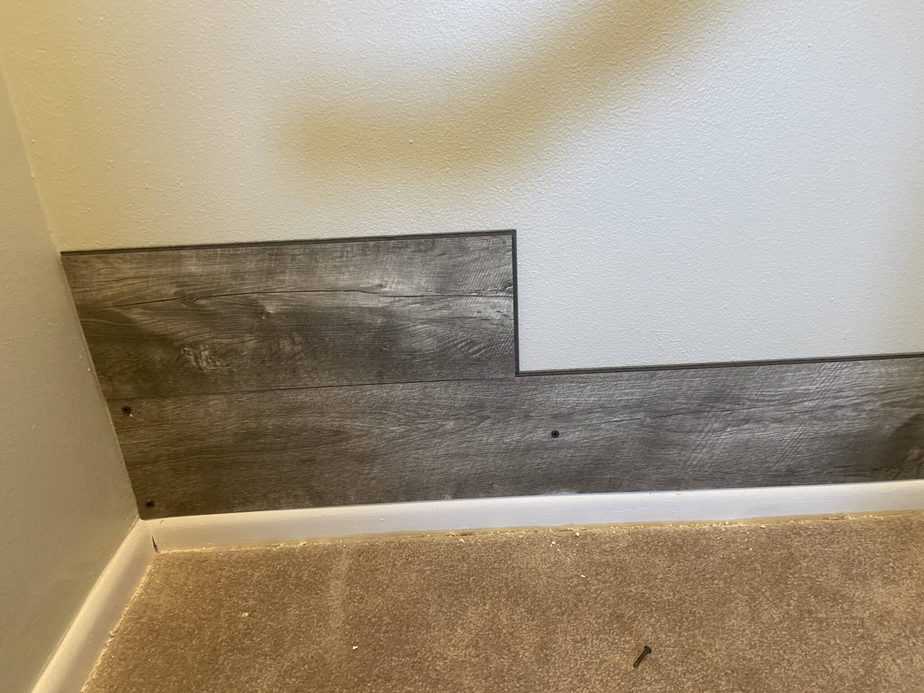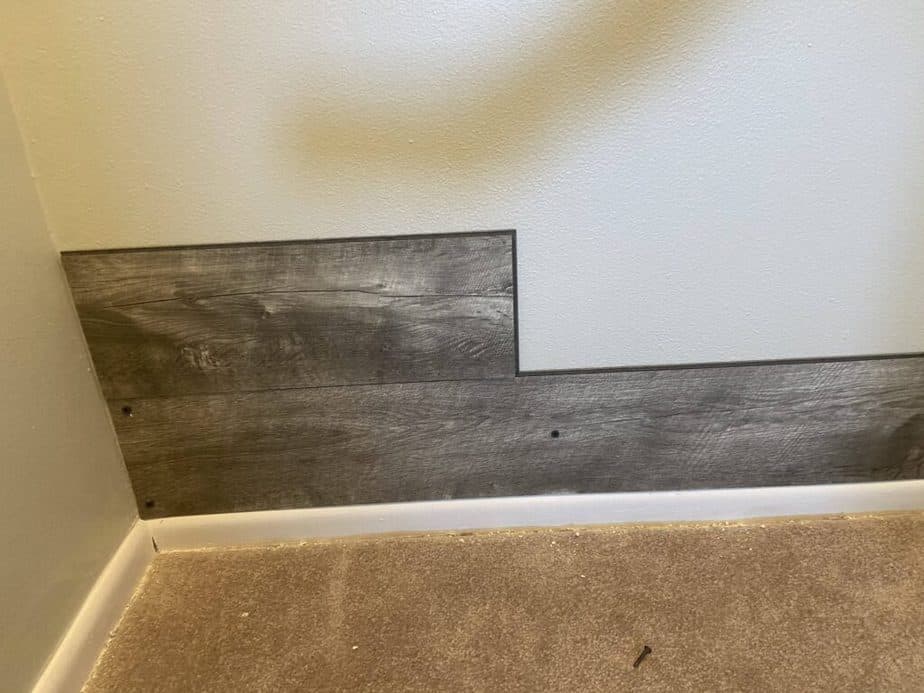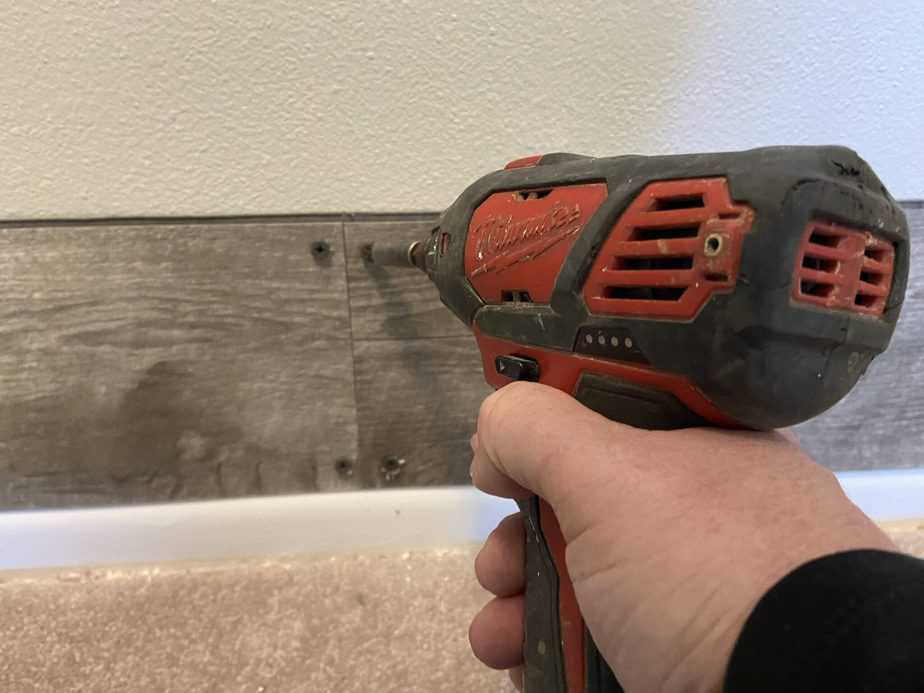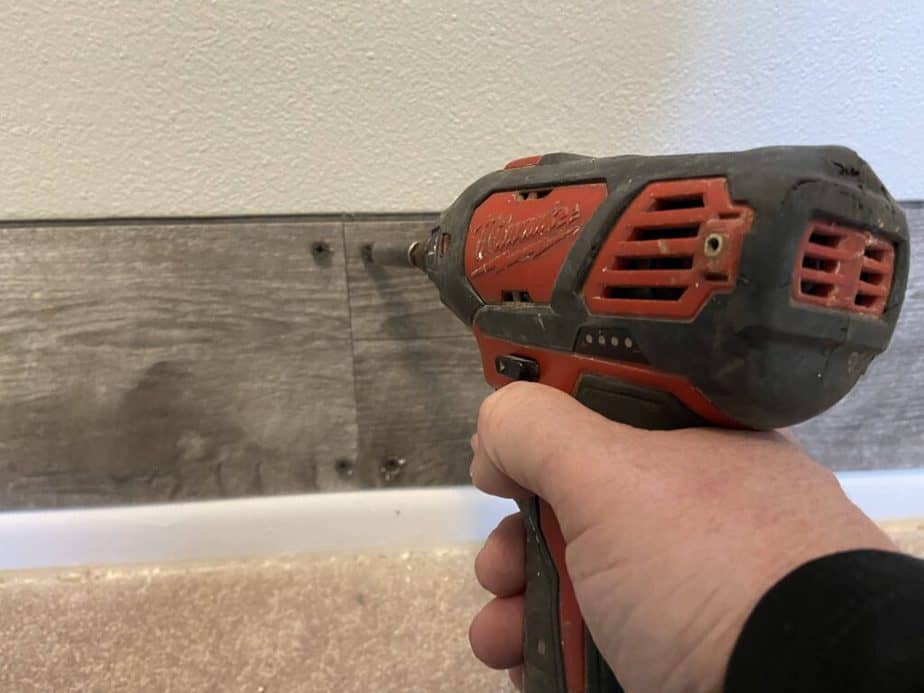 3. Attach accent wall piece to the wall
For the first pieces, I used a drill and screws to attach our vinyl click and lock pieces to the wall. However, I didn't like the way the screws looked. They were too big for my taste and I felt like they were going to take away from the finished look.
So, I switched to using liquid nails along the back of the boards and then we secured them using a nail gun with pin head nails. View the video to see how easy this is. My teen daughter and her friend actually did it themselves!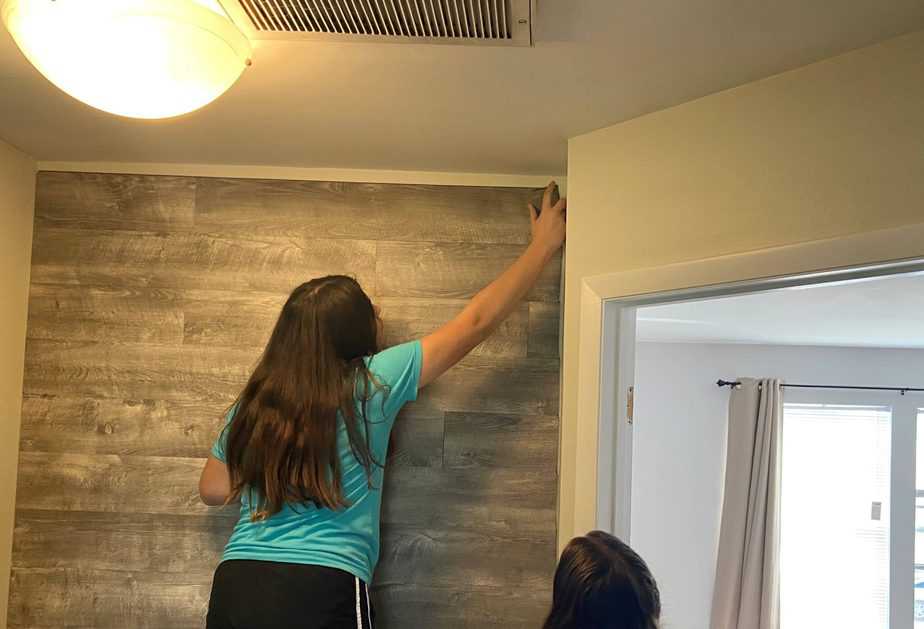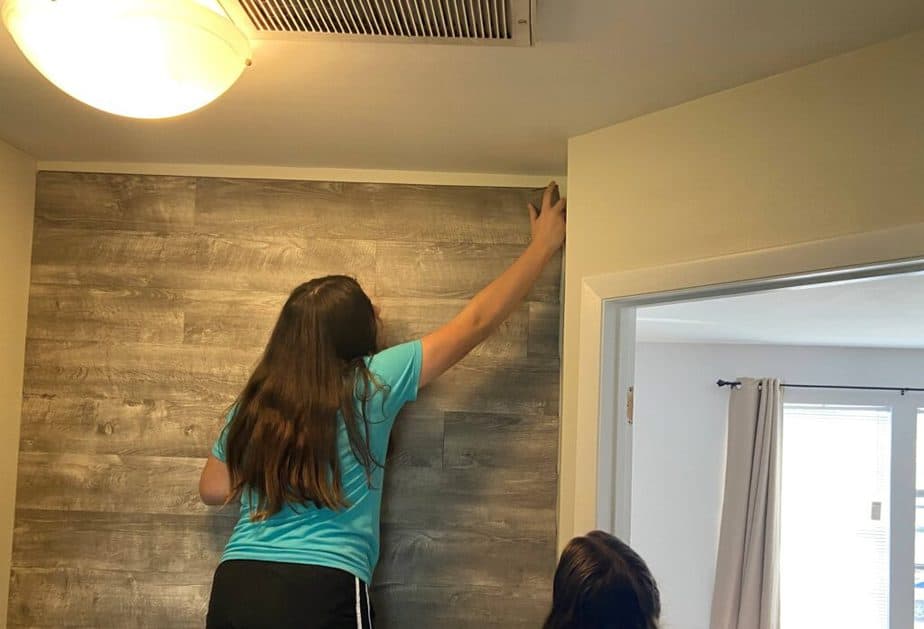 4. Cut the end piece to size
When you get the to the right edge, you'll need to cut your material to size. For the vinyl plank flooring pieces, all it took was cutting them with a razor blade. You do have to go over it several times to get it to cut all the way through. The edges didn't come out as perfectly as I would like, but we took care of this below in step 6.
5. Continue upward along the wall, making sure to check your level every time
Continue this process up the wall and you'll see it start to come together. Be sure to continue leveling it, and you can use another piece of vinyl to tap down your pieces as needed. This way you ensure a good seal between planks all the way up. Again, view the video to see how my daughter did this.
6. Trim the study nook's edges if necessary
Since the right edge didn't go all the way to the wall perfectly, and the top edge was a little short. We added a piece of white trim along the top and sides and that gave it a great finished look.
If you zoom into the photo below, you'll see the white trim border.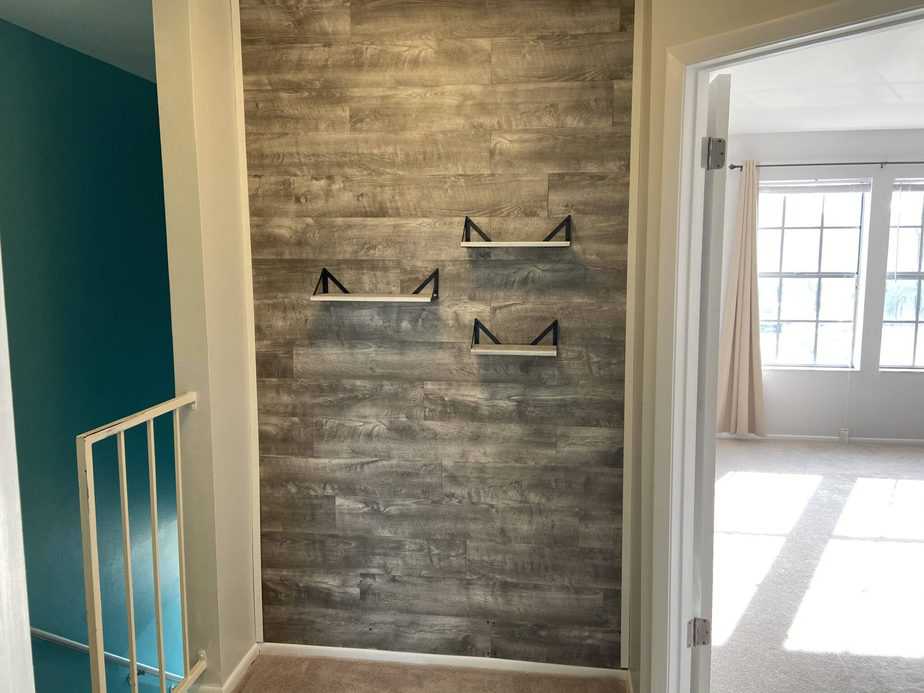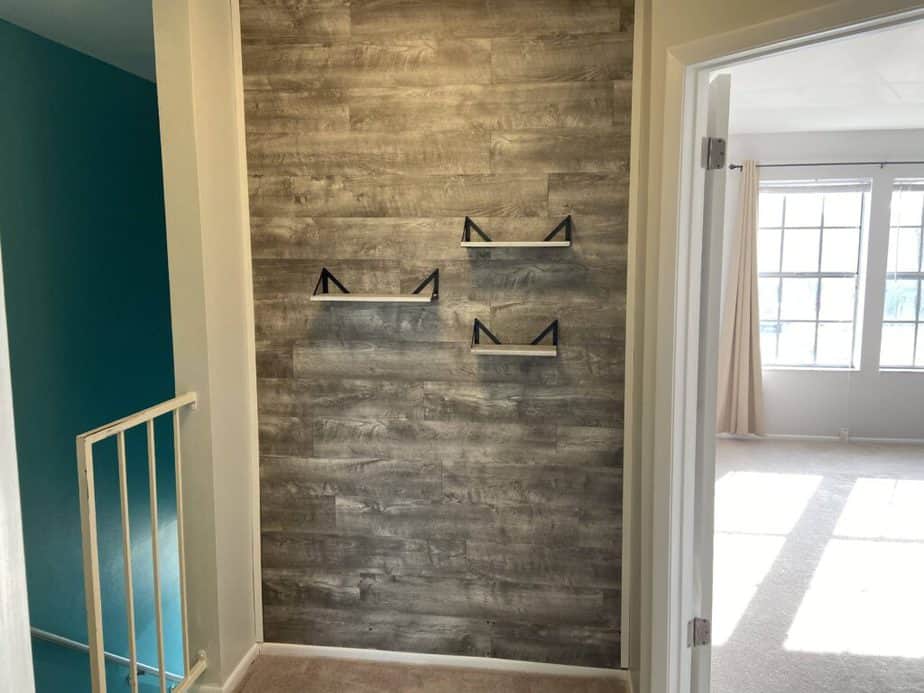 7. Attach shelving
Adding shelving helps make this space functional and adds to the look. I like to group my shelves in 3's because it seems visually pleasing to me.
The shelves I used in this study nook were less than $30 and they were very easy to attach directly to the wall. You can just screw them right through the vinyl plank.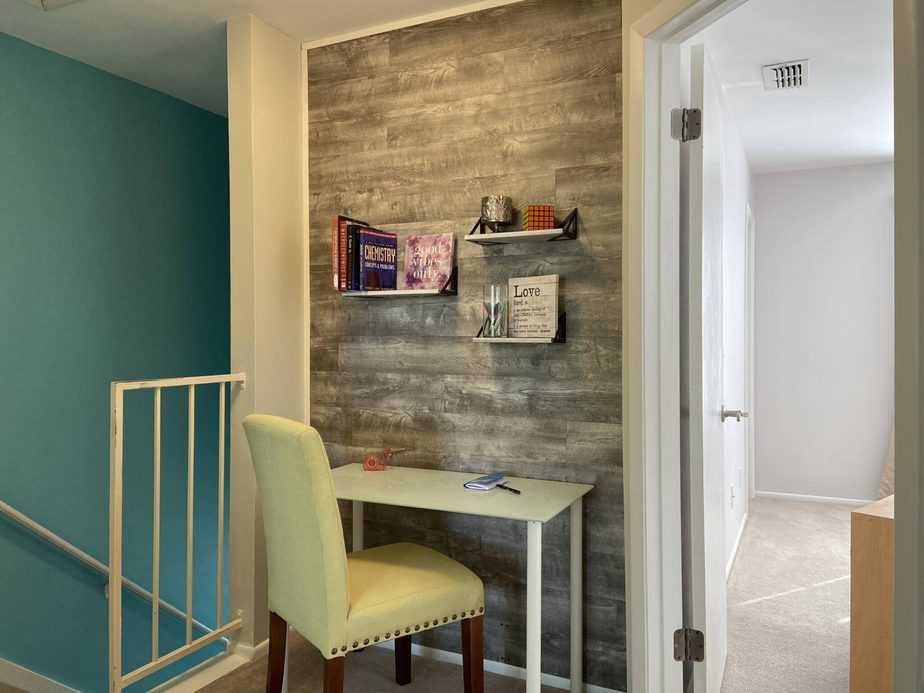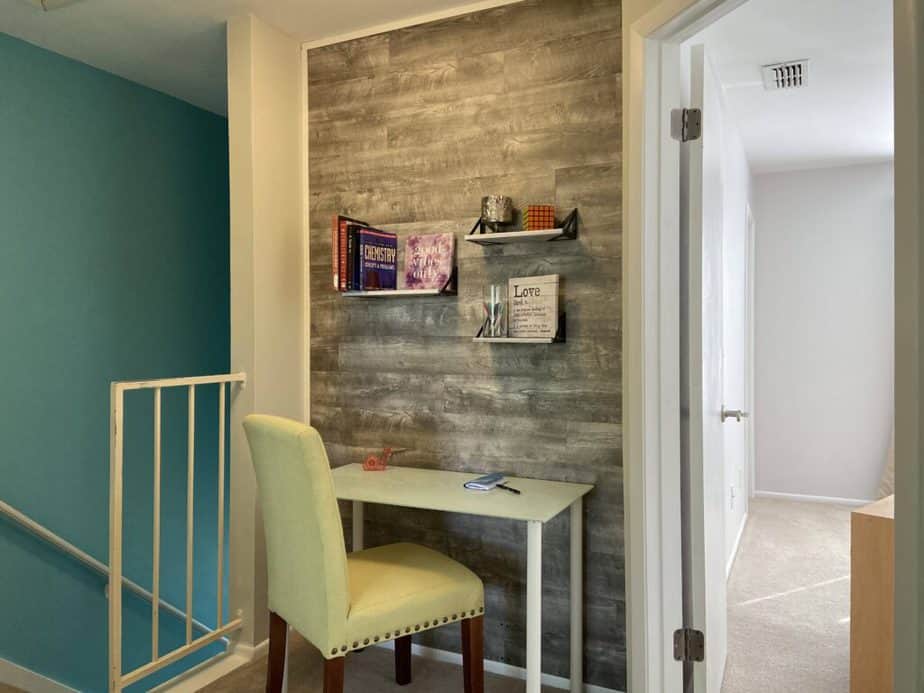 8. Add a desk
Now you can add your desk to finish off the space. I used a small desk from IKEA because I didn't have a lot of room to work with. I paired this with a chair that's comfortable and nice looking.
Again, if you're creating a study space in a closet, make sure to measure for your desk in advance. I do have a desk in a closet in my home (I use it as a gift wrapping/crafts closet). In order to get the desk to fit, I had to cut a small corner of it, but now it looks like a custom fit. So don't be afraid to modify a piece of furniture if it isn't expensive and the results will fit your needs.
9. Enjoy!
I hope you enjoy your space and find it as easy to complete as we did.
On this project, my daughter and her friend worked together. It was part of a larger project in which I was teaching a group of middle and high school aged kids how to fix and flip a townhouse. If you're interested in viewing more of that project, please sign up for my website at the bottom of this page. I'll be posting the projects and the access to the expenses and actual profit on my site as I have the write ups completed.
Thanks!
Here's the video of the Accent Wall and Office Nook Project:
Here are some other posts you may like:
Pinterest Link and other Study Nook ideas: Below you'll find a pin-able link to this project in case you want to revisit it later. Also, take a look through my Pinterest and you'll find other Study Nook / Office Nook / Computer Nook / Desk Nook ideas
Other Items to Consider when finalizing your Study Nook / Office Nook / Computer Nook / Desk Nook:
When working on your nook idea, try to keep practicality in mind. Some photos of office nooks in closets look beautiful. However, if you don't have lighting or electricity then it doesn't become a practical study nook space for a child, or computer nook space for yourself. So keep this in mind when choosing your location. You don't want to spend time and money creating this great wood accent wall and desk nook, only to find that you can't use it.