The best blue exterior paint color combinations for your house
If you'd like to jump down to inspirational photos of blue exterior color schemes, and bypass our home's transformation, just click here.
Recently, in one of our home flips, we made the renovation choices "interactive". People who follow our posts voted on their favorite paint colors and finish selections, so that the group had the opportunity to walk through the house flip with us and participate.
One of the major decisions had to do with the exterior paint color for the house. Exterior paint colors are vital, since of course the home's look and curb appeal, as well as how well it photographs, is essential in the first impression for potential buyers.
The exterior paint choices we started with were:
Sherwin Williams Salty Dog :
I'd never painted a home a deep blue color, but thought it would have a major impact as the home's exterior color.
Benjamin Moore Gray Huskie:
I do love the grays and think this would look great with either black or white accent and trim.
Green Smoke: We've painted homes green in the past and it looks really nice with black shutters and white trim at the roofline.
Sherwin Williams Greek Villa :
This is the color I have on my own home. It looks crisp, clean, and beautiful. However, my home is a Spanish/Mediterranean style whereas this flip home is a Florida ranch style home.
Popular Exterior Paint Colors
Ultimately, and overwhelmingly, the paint color chosen was Sherwin Williams Salty Dog blue paint for the home exterior. We realized right away how strongly people felt about the idea of blue house colors. So, we needed to figure out how to do it right.
This meant knowing just how to coordinate the blue color with a vibrant front door and a crisp white trim.
Blue Exterior Paint
Whether you're looking for a blue gray, a stormy sky, a beach blue, baby blue, a blueberry blue, light blue, or a navy blue, you have options! There are lots of blue paint shades for your home exterior. I'll show what we did, and then also highlight other blue house exterior photos that I've compiled for inspiration. I hope these will be of help when selecting your home exterior.
Our Before and After Paint Exterior: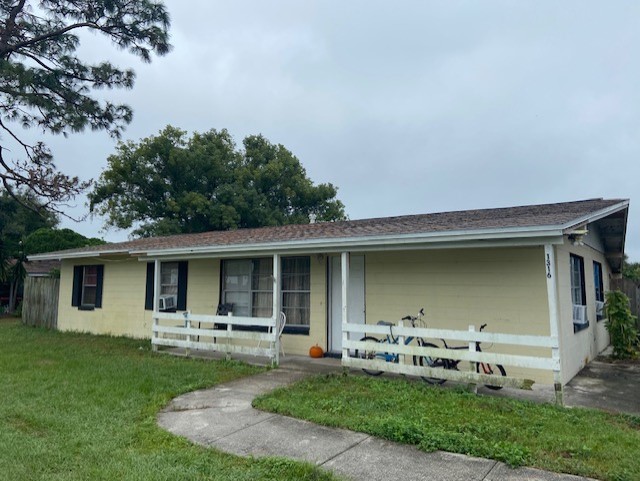 We started with a home that had faded yellowing paint with black shutters and white trim. It looked old and tired and neglected.
Here's our blue blue house, immediately after painting the body the blue exterior with Sherwin Williams Salty Dog and adding a bright white trim color to the trim and window frames: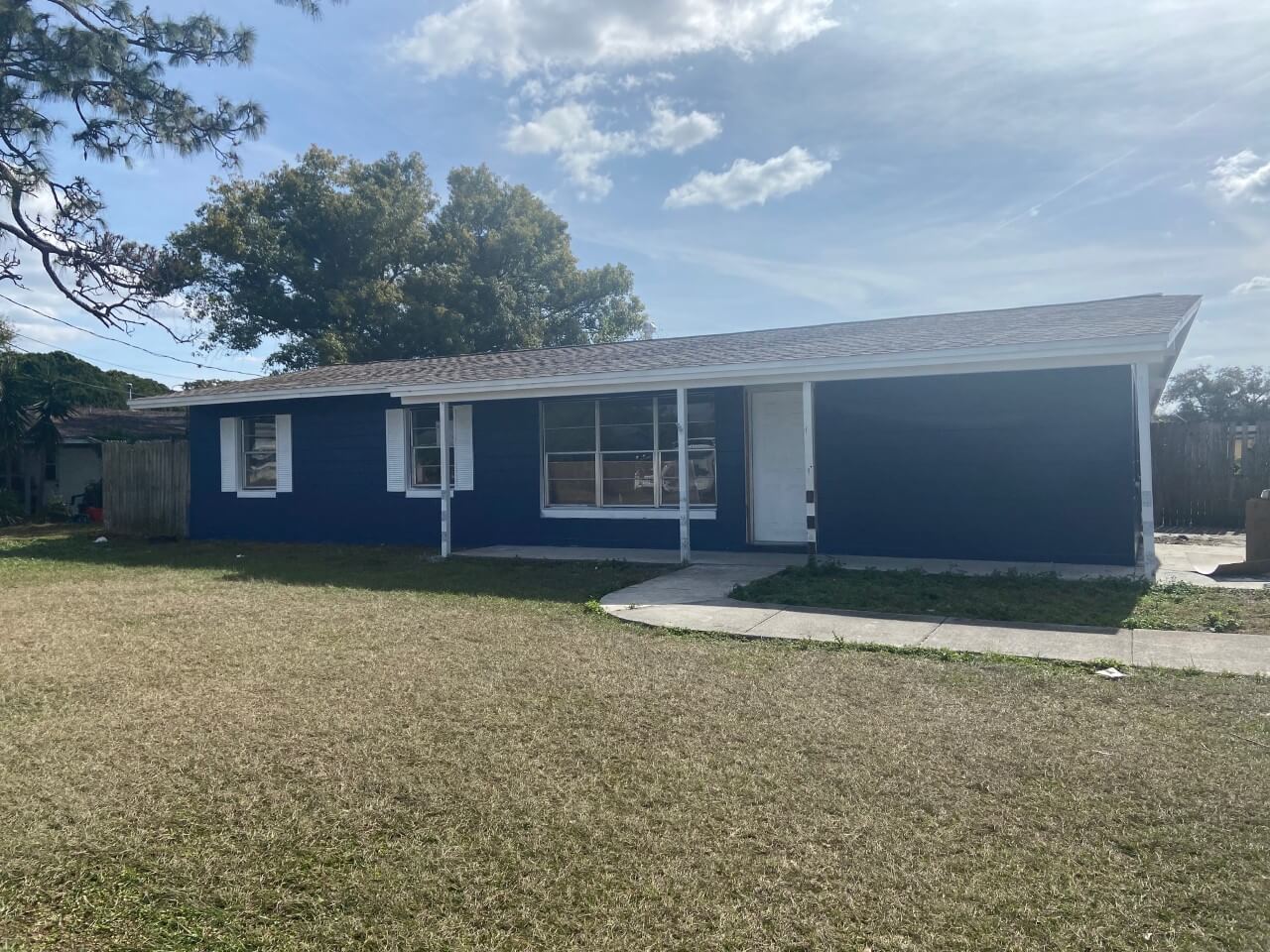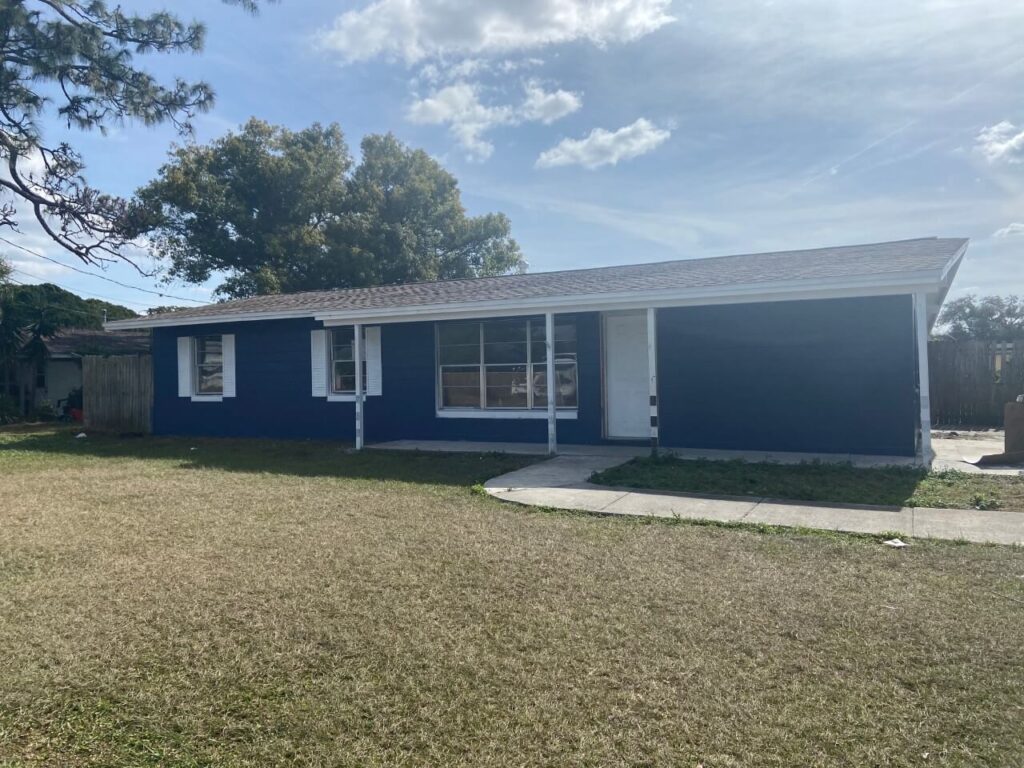 By the way.. This home was in a neighborhood with no homeowner's association, so we didn't need to get any exterior paint color permission, but this is something that you may have to do when selecting your blue paint colors.
Sherwin Williams Salty Dog is a dark blue but it's also vibrant at the same time. This particular photo above doesn't do justice to the dramatic impact of this blue shade. However, the house was still missing something. It was too plain.
We needed to add a pop of color with the front door to make this home stand out. The best way for us to do this was with a bright yellow door. Take a look: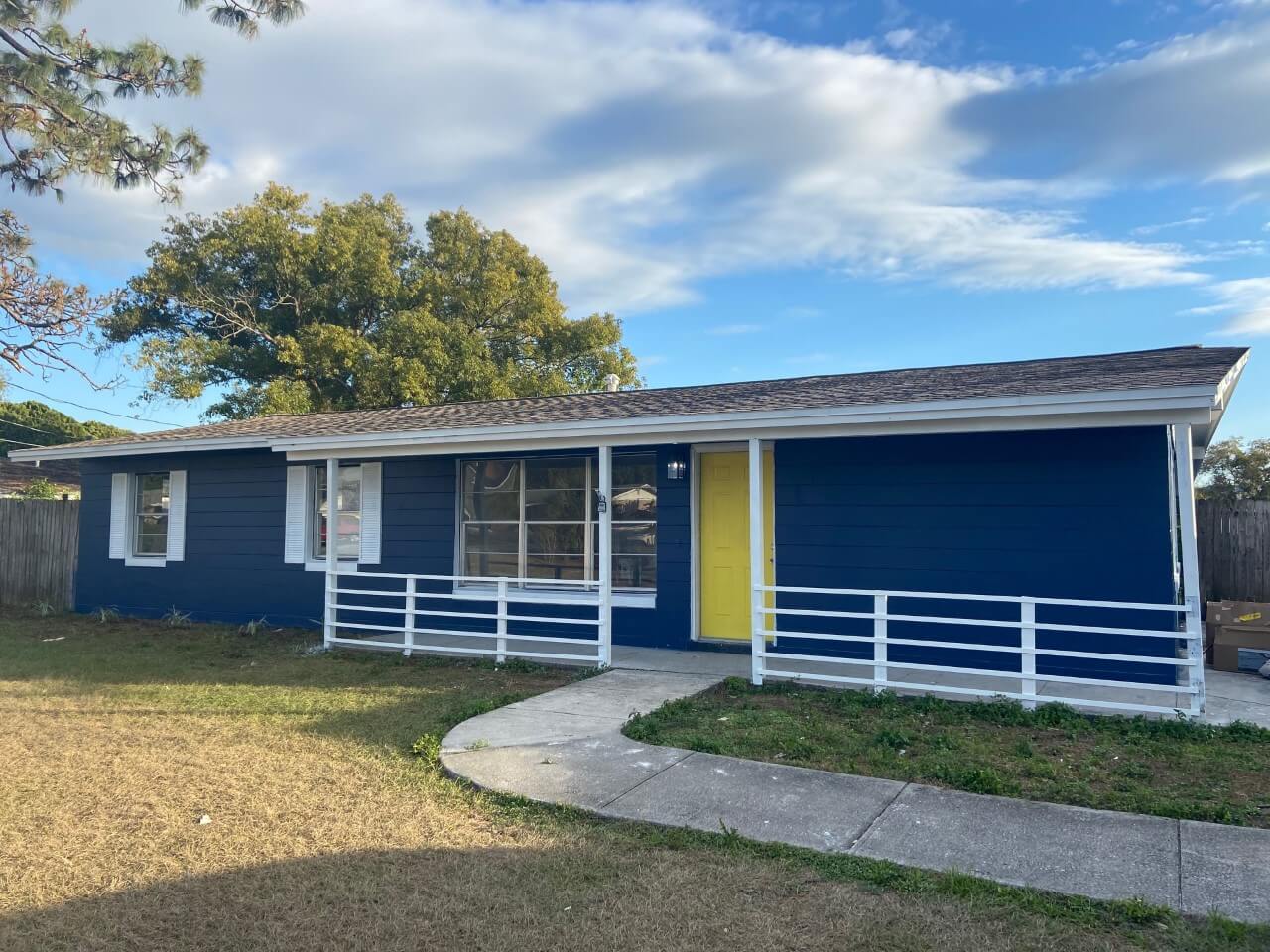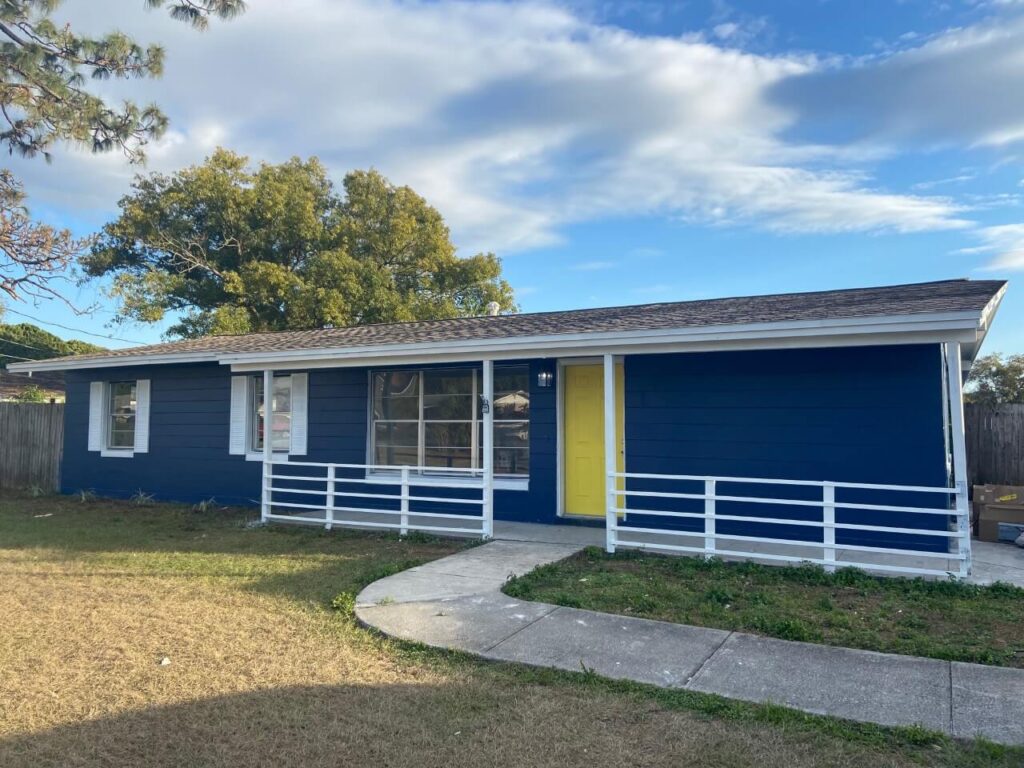 Doesn't that yellow door look great against the blue of the house?!
Selecting a Door Color to go with a Blue House
Colorful front doors are a great way to inject your personality and also make your blues look brighter or more muted.
Two colors that are on opposite sides of the color wheel are said to be complimentary colors. Together, these colors provide high contrast and high impact. When placed together, complimentary colors will appear brighter and more prominent.
Yellow and Blue are complimentary colors, and you can see from the photo how the addition of the yellow completely changed the look of the house. The addition of the bold color was the right decision for this home exterior paint.
Here's a door photo closeup: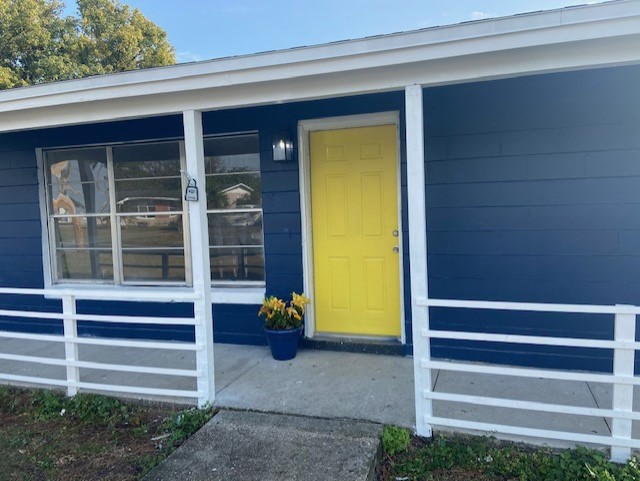 Our paint color choices were:
Exterior Paint Color: Sherwin Williams Salty Dog SW 9177
Front Door Paint: Shewin Williams Daisy SW 6910
Exterior Home Trim: Extra White SW 7006
Other bright door options that would have gone beautifully with a blue exterior are pink or red. Red would look vibrant because it is another of the primary colors (like blue and yellow are).
Trim Options for Blue House Exteriors:
The white trim makes it look sharp and clean. For us, the best trim color is Sherwin Williams Extra White SW7006. However, other popular color choices for white trim color are Zurich White SW7626 (it has a very small amount of yellow undertone), White Duck SW7010 (has some greige to it), and Alabaster SW7008. Alabaster was Color of the Year back in 2016 but remains very popular today because it's a quite neutral off white.
Any of these creamy whites will go well on the exterior of your home. But don't stop there. There are deeper gray trim options that may coordinate well with your color palette.
Inspirational Blue Houses:
I've created a board on Pinterest with Blue House Inspirations. I'll list them below, but feel free to follow my board so that you'll see new photos as they're added too.
Here's a link to the board:
This beautiful home has more of a pale blue with gray undertones:
This one returns to the darker blue but rather than have such a bright door, it stays within the yellow family but tends more toward the green. It looks more like a Benjamin Moore split pea color. Using a color like this sticks to the cool tones associated with blue, and it's a more muted but also visually pleasing effect.
Still not sold on a door with a green hue? Here's another look at the idea, with a lighter color blue exterior:
Here's more of a pale blue color. Notice that while they retain the white trim color on the porch beams, they use more of a dark exterior accent color on the door and shutters.
While most of the traditional blue home photos feature dark blues and white trims, this home showcases a bright blue exterior paint that pairs well with a natural wood colored door. We will see some more wood tones with blue color house in the next few images:
Blue Gray paint colors
This home features a color called Slate Gray by Cabot, and it does also have the classic wood accent and also warm stone which makes it look fantastic:
To me, this home is similar in basic color to the one above. The exterior paint color on this one is Deep Ocean by JP Hardie. It's another dark exterior paint that looks great.
Here's another beautiful blue exterior home with a wood accent door that looks fantastic. I love that this also has some red brick, as red tones also pair well with a blue color home:
Look how nice it looks when you have a red door against the blue exterior paint. A good color for a red door would be BM Caliente or BM Hot Tamale:
Wondering what blue exterior paint looks like on a different style of home? We all know it looks great on a craftsman and also on a ranch style home, but here's another home to take a look at as well:
Popular Benjamin Moore blue colors:

One of the great things about Benjamin Moore is that their website allows you to see their paint colors prior to buying anything. You can link to their color sampler here and see which blue color photo style you like best:
Color a Room | Benjamin Moore
Benjamin Moore Navy
BM Hale Navy
This is quite a popular color and you can take a look at it here, paired with a lighter color door:
Gray / Blue exterior colors
Both BM Stormy Sky and BM Ocean Floor tend more toward the gray/blue color. Here's a look at Ocean Floor:
BM Storm is another popular color, but note that it is much more gray than blue. It would pair well with a blue door, if you weren't feeling bold enough to commit to a totally blue home. Here's a glimpse at how that would look:
Benjamin Moore Trims
BM Classic Gray is an off white color that would go well with the Hale Navy above. However, Benjamin Moore Pale Oak is also a nice off white for trim. BM Chelsea Gray is a much darker gray that would pair well as well.
Sherwin Williams exterior blue paint colors:
Sherwin Williams also has a color adding program that allows you to color photo images of your own home to help you in choosing exterior paint by changing the photo color and choosing your favorite combination. Here's their link:
ColorSnap® Visualizer for Web (sherwin-williams.com)
Salty Dog sw9177 – This is a bold blue, and you can see how great it looked on our home flip above.
SW Cyberspace sw7076 – This is a dark blue gray color which looks beautiful on a home exterior. It is more of a dark exterior and I find it looks great on a northern home. Here's a photo showing this blue black paint color on an exterior.
This home (above) features Paint colors: Body: Sherwin-Williams Cyberspace SW7076 Trim: Sherwin-Williams Extra White SW 7006 Door: Sherwin-Williams Rustic Red SW 7593
Sherwin Williams Naval Blue – I personally love this navy blue paint and I used it in a different project in my home. I actually used in it my living room interior ceiling. It's a little off topic, as it isn't related to exterior paint, but I wanted to share the photo since it's just a striking navy blue paint color. I love the way this interior paint accent color looks in my home. To me, it's the best navy color I've ever used.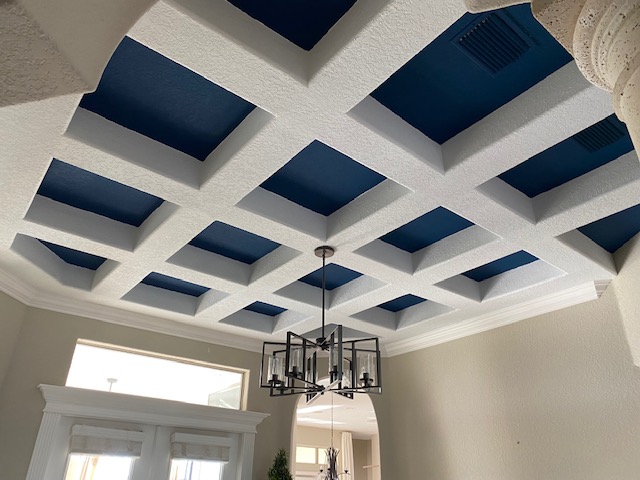 Sherwin Williams Slate is considered a deep rich blue / gray. This dark color is another one which is worth considering.
Best Blues
Which is the best blue paint for you? Don't forget that while the blues may look a certain way in these photos, when choosing exterior colors for yourself, you'll want to test paint colors on the house. This is a great way to see how your exterior paint color will look at different times of the day.
Good luck with your project, I hope you get bold and that you love your blue home!