Genius Science Themed Bedroom Ideas
A room made for science projects and clever ideas!
I recently viewed this Science themed bedroom in a model home that I was touring, and I loved it. The interior designer and decorator really showcased a room that isn't built on the traditional sports theme or princess theme.
Instead, the focus is on scientific pursuits for a child's room.
Take a look, and I'll also provide examples below of other science themed bedroom ideas that will inspire you!
Beakers and Test Tubes Science themed bedroom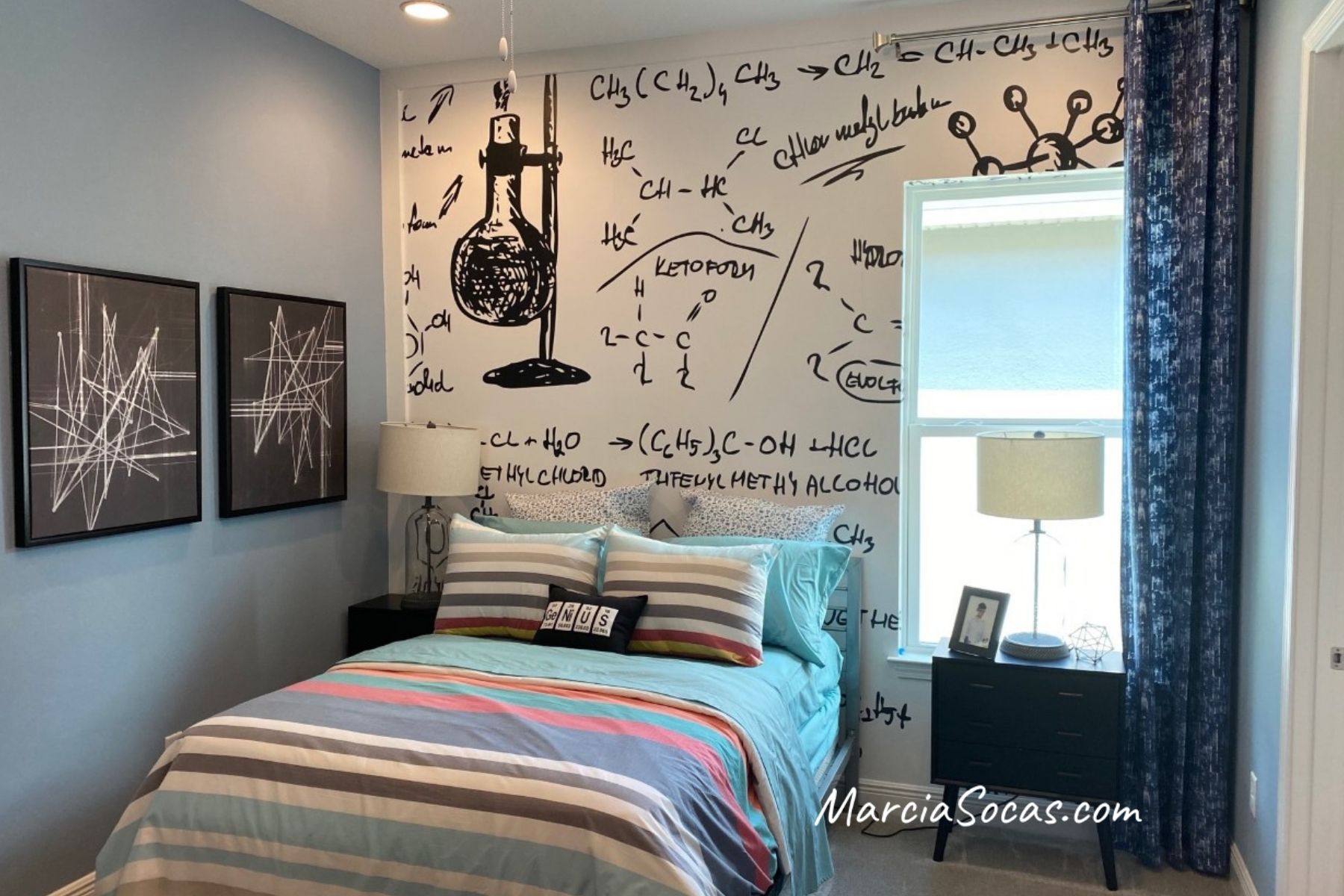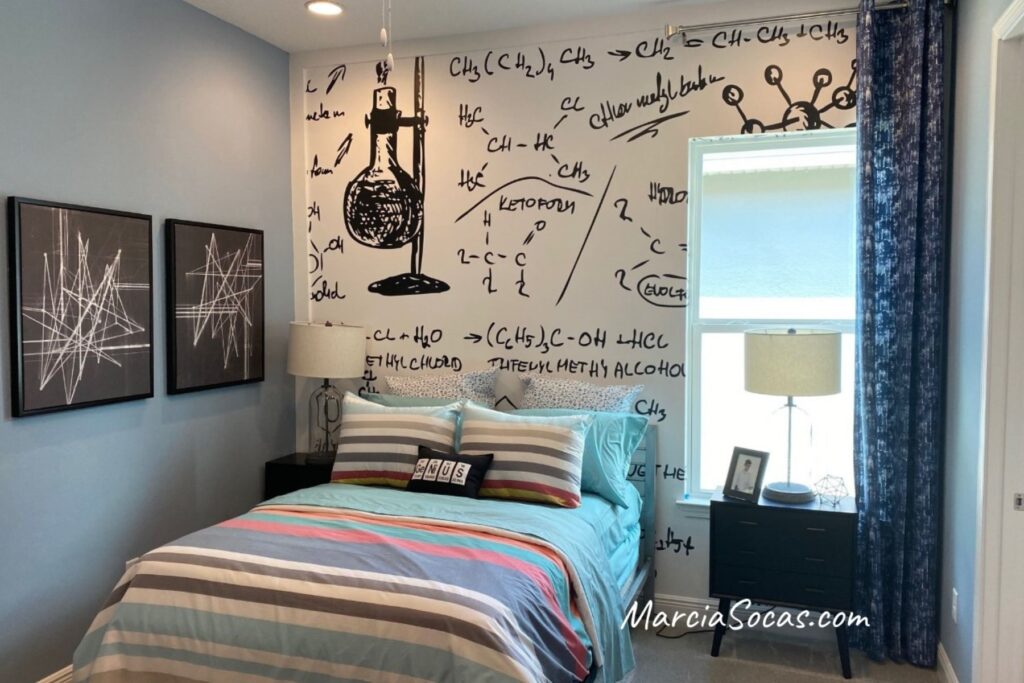 (By the way, I love themed bedrooms, and if you'd like to view other ones, you can visit my ever growing themed bedroom page or follow my Themed Bedroom Pinterest Board).
I'll provide links to items that you can purchase to recreate this look in your own home.
Some of these links may be affiliate links and I may earn a small commission if you buy the items. As as Amazon Associate, I earn from qualifying purchases.
The showcasing of the periodic table is always a fun way to play up to young scientists.
A great way to do this is through the use of these pillows. I love the way the periodic table elements wall hanging highlight that this is the room of a Genius. The pillows can also be a colorful way to bring in color to a kids room. Especially if you're using a black and white wall mural as seen in this themed bedroom decor.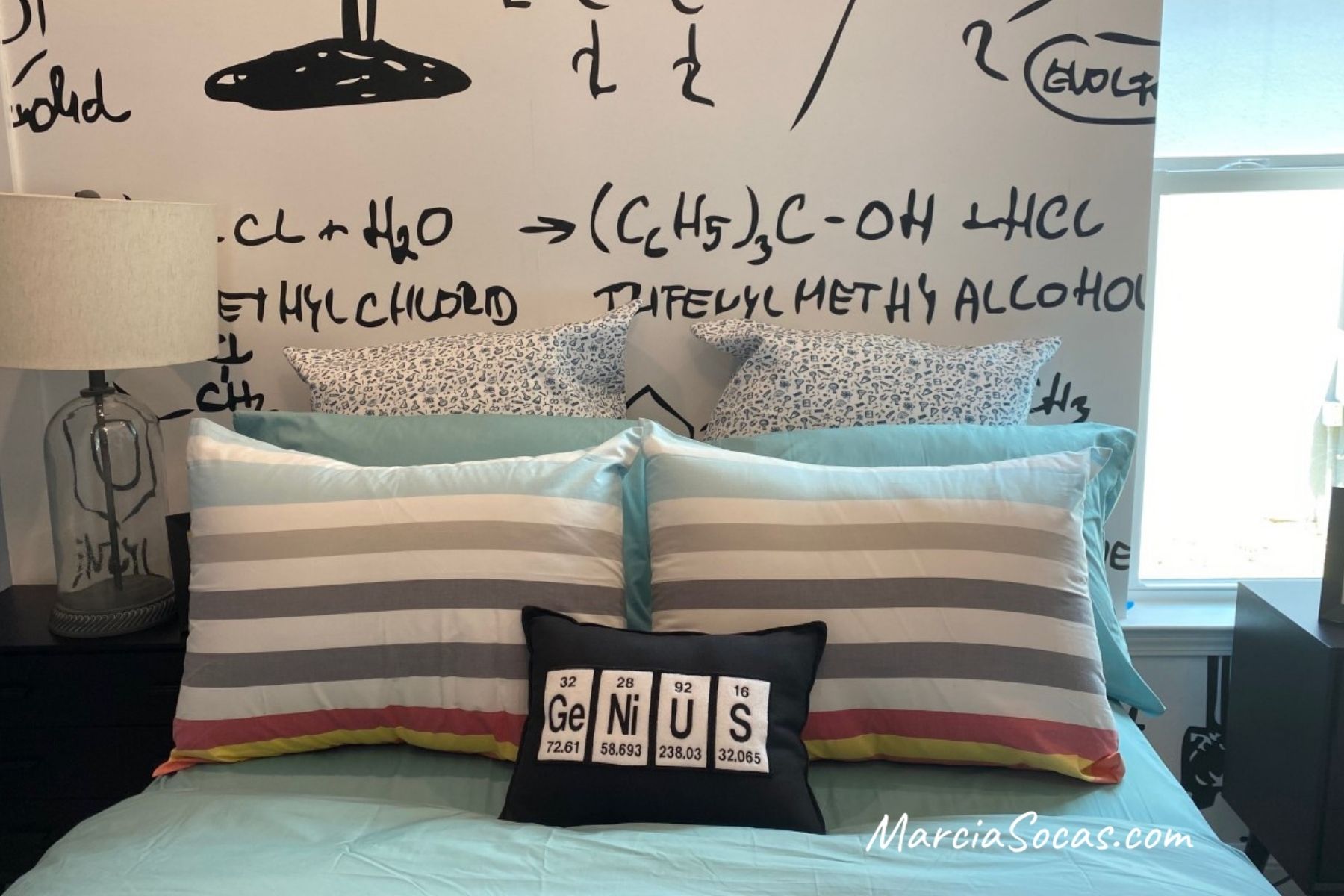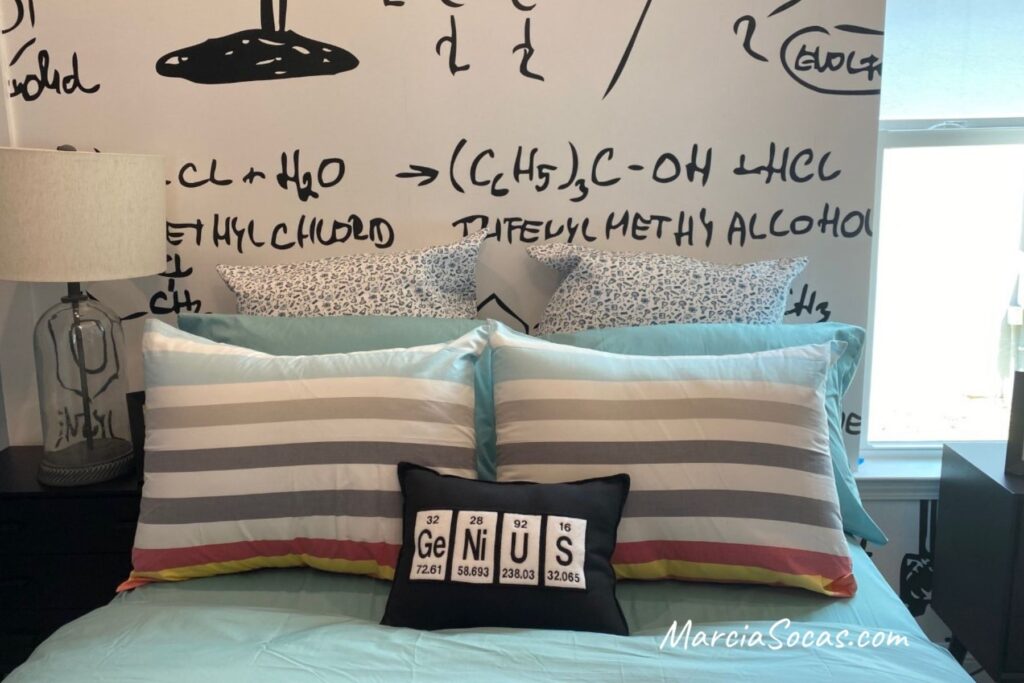 Of course, the wall mural is the focal point in this science bedroom, but if you're renting or don't want to permanently add a wallpaper feature, you can always use removable wall decals so that you can continue to change your themed room decor as time goes on.
In order to view a short video of this room, you can see it on the Pinterest page:
Science Themed Bedroom Wallpaper and Wall Decals
Here are a few ideas of science themed wall paper murals:
Science themed bedroom wall decals:
Science related wall hangings:
There are some great science themed wall frames.
However if you don't want to spend the money on ordering items like these, you could just as easily create some printable science signs. You can create them on your own home computer and have them printed at the print shop of your choice (Staples or Office Depot are usually quick and easy for me and often have coupons you can find online). Or you can use your own home printer and print out the names of famous scientists and have those framed as wall art.
If you're not sure what to print, you can get inspiration from the digital art prints on Etsy and you can often buy digital downloads of the artwork for your use.
Science themed accessories:
Think of test tube crayon and pencil holders or an amazing beaker light. You can use lab "equipment" to decorate and accessorize.
Here's a cool idea for a light or to hold flowers or other things:
And of course no room would be complete without a plasma ball or moon light:
These ideas can be implemented in your son's room, but they work equally well in a girl's room in case you're looking for themes for your young female scientist!
In contrast to the traditional science classroom elements type of theme, your little boy or girl science lover might want something with a different feel. Check out these additional science themed bedroom ideas to inspire you.
Space Traveler
If your little scientist is more solar system based. I do have some outer space themed rooms for you to check out. These are great products that'll help you create a perfect space for a future astronaut.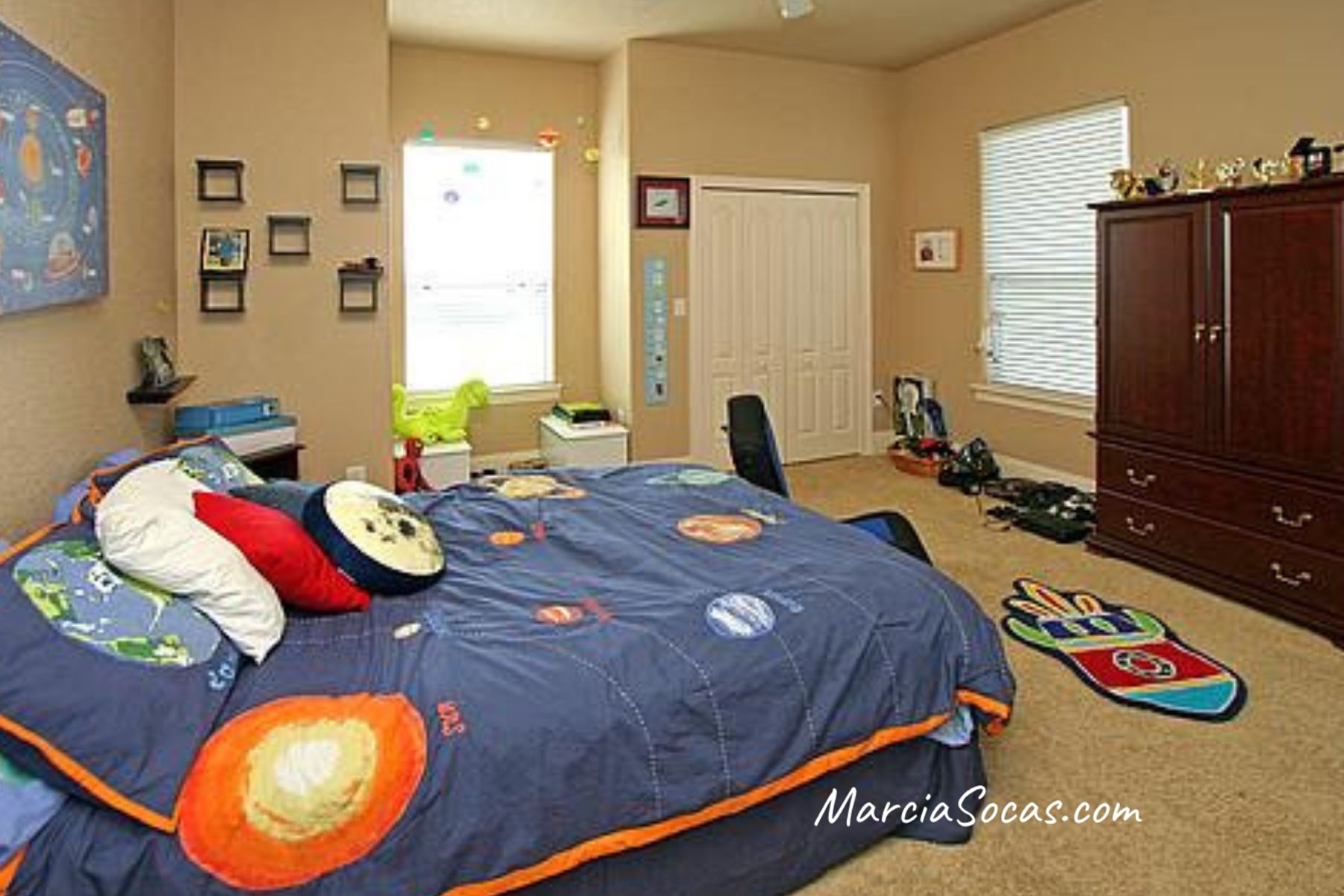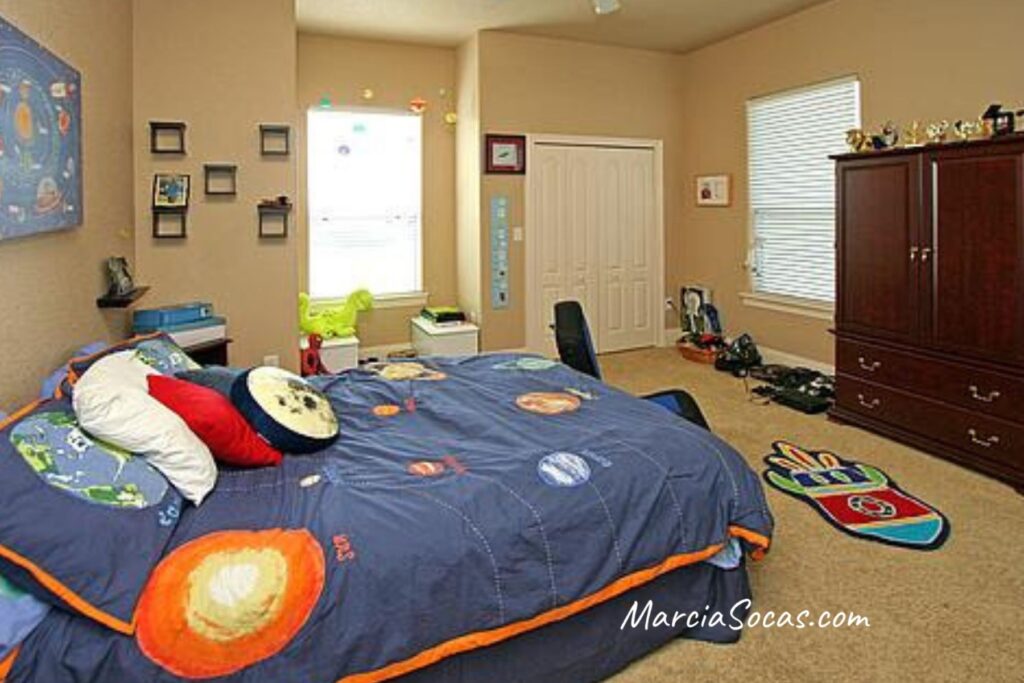 Solar system based bedding easily sets the mood.
Also add in some glow in the dark stars along the ceiling, and hanging planets.
However you can go for a larger wow factor by making your explorer's room the inside of a space traveling spaceship! I love this idea and it can be created by using a wall mural.
Evolutionist / Dinosaur room
Of course, not all science themed bedrooms are focused on labs or space stations. There's also the study of life long ago, when dinosaurs roamed free! The dinosaur themed room works great for little boys who love that era.
Botanist
Maybe you have a girl who loves to study floral science. You can create a great room with floral designs.
In this room I'd add the scientific touches with the use of plants in test tubes. And then add some other scientific accessories to the room along with some pressed flower sheets framed and on the wall.
Engineer
Physics and engineering are of course not to be forgotten in our science themed bedroom ideas.
I love the idea of integrating gears and other engineering features in the room
Here are some cool products to help with achieving that look and feel:
and of course I love these engineering gear themed accessories for the room
Biologist
I love these items for a budding biologist or medical student.
Science themed nursery
In addition to creating a great kid's room, the science them can start in the nursery. Here are some photos of some nursery ideas:
Look at these adorable mobiles!
I hope you have so much fun designing your child's room. Many of these great decorations can be implemented in a single day. The hard part is finding the items you want at a low price as an affordable way to achieve the science themed bedroom you're looking for. I hope the links above have helped!