Condo renovation and flip, start to finish.
Follow along this condo flipping project and see first hand the work done, materials used, and the cost and profit. Please note, this site contains affiliate links to products used and I may earn a commission from products purchased, in case they are of help to you. As an Amazon Associate, I earn from qualifying purchases.
Jump to sections:
Average Net Profit for Selling a House
How much do House Flippers Make in a Year
Finding a Flip Property to Purchase
Cash or Financing for Condo Flipping
How to Read The Real Estate Settlement Statement
Assessing the Condo Flip Property
Renovating for Condo Flipping (what we did and products used)
Marketing your Flipped Condo
The Sale of our Condo Flipping Project

Before getting to the details of the flip, you may have some common questions. As a Real Estate Broker, Investor and house flipper for over 20 years, many people have asked me about going into flipping/investing. One of their main questions is:
Average Net Profit for Selling a House
In general, we personally look to make 20% profit over the money invested. So, for example, if we purchase a home at $100,000, I would like to make $20,000 profit after all expenses. Every project will be different depending on whether you're flipping a condo, single family home, townhouse, or luxury property. Here, I'll walk you through our most recent condo flipping project and provide you access to our final income and expense sheet.
How Much do House Flippers Make in a Year
Based on my flipping strategy, it's 20% over whatever deals I can find to invest in, and how many I can find in a year.
Each flip ends up taking, realistically, about 2 months start to finish. That means that we can do 6 house flip deals per year if we can find them. Condos are much quicker, with our condo flips taking approximately 30-45 days from start to finish.
Finding a flip property to purchase
The most difficult part of flipping is often finding the deal. You can search Zillow for homes that have seller financing if you need to buy with little money down. You can search the MLS or Realtor.com for short sales or sales with "motivated sellers". Searching auction sites is also a great idea. Another option is getting onto the mailing lists of wholesalers in your area.
But the most important thing is to be ready and open to an opportunity when it comes along. Engage in conversation and you'll learn what people want and need. If you can get a great deal because someone else doesn't want to do the work themselves, and they just want to get payment quickly and move on to something else, then you can find a place where you both get what you want and need.
In this condo flip, the sellers were elderly and lived in another city. They contacted me because I've worked with them before as a Realtor. I reviewed the recent sales in the community with them (one unit sold at $56,000 and another at $60,000). They said their unit needed work. I offered to help them find tradespeople that would do the work so that they could sell for the highest possible price.
After talking it through, the seller told me he'd really rather just sell the unit as-is. I spoke with the seller about what price he wanted, and I told him that I felt that I could purchase the unit, pay for his closing costs, and make sure that he got the money he wanted within 10 days. Understandably, he wanted to review with his wife.
Later that afternoon, he confirmed that they agreed that selling the property as-is was what they preferred. They liked knowing that they wouldn't have to keep driving down to the property, they wouldn't need to worry about anyone entering the empty property illegally, and they wouldn't have to keep paying HOA dues or utilities while the property was renovated. Additionally, they didn't want to have to interview workers and negotiate pricing.
So we agreed to the following:
Cash Purchase
Closing within 10 days
Purchased as-is
I would pay their closing costs so that they would walk away with $45,000 (minus the amount they owed in property taxes).
Cash or Financing for Condo Flip Properties
Should you finance your condo flip? This flip ended up taking us only 2 weeks to renovate, but then closing on the sale took another 2 weeks. So, it was a quick one month project. Most projects would take longer. Keep this in mind when assessing whether or not you should get a hard money loan on a project.
I personally prefer to pay cash and not feel the pressure of financing. This way I always have the option, if the rehab/sale doesn't work out the way I anticipated, to rent the property for a while. You wouldn't necessarily have this option if you have a high interest loan pressuring you.
How to Read the Real Estate Settlement Statement
I'd like to share the settlement statement so that you know what it looked like. I'll prepare another article which reviews the entire document and explains all of the line items. That would take too long here though, so I'll provide a link to that as soon as it's ready and I'll send it to my mail list if you'd like to sign up for that.
For now, here you can see the settlement statement in our condo flipping project, and you can see that the total out of pocket expense to us was $47,978.03. At the bottom of the page, you'll see it says $46,978.03, but then notice on the second line that it shows we had already sent in $1000 as a deposit, so we have to add that in too.
That's how we get to the total purchase price of $47,978.03.
Here's a picture of the settlement statement, sorry about the drop of water on the page!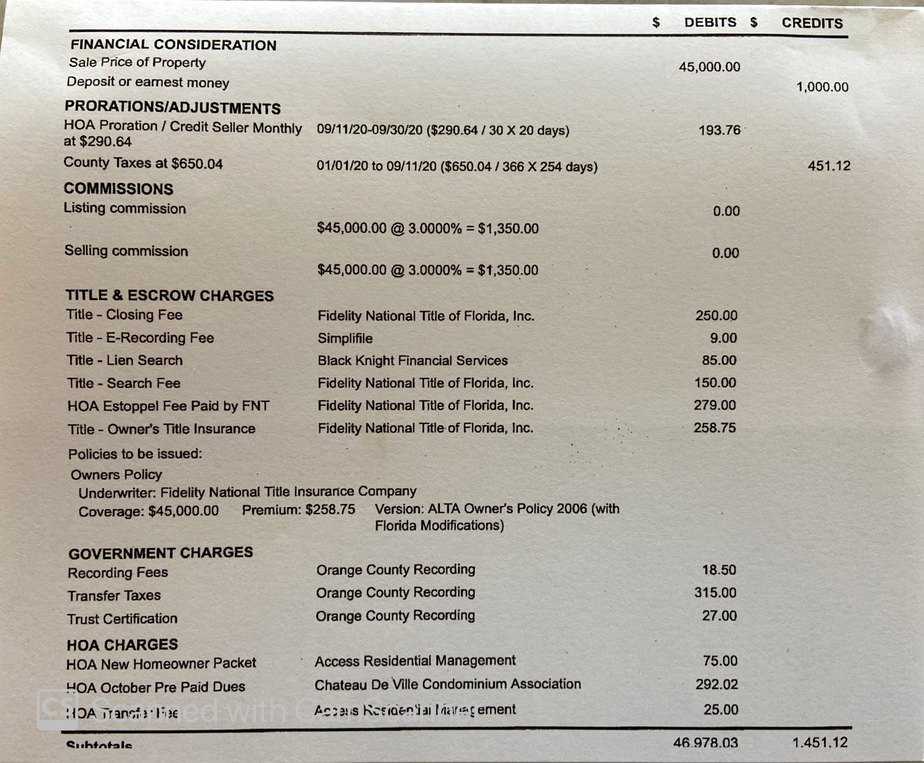 Assessing the Condo Flip Property
I did walkthrough of the property (by the way, I did this prior to entering into contract of course). Here's a video so that you can "walk through" it as well and see what you would have done. What you can't see is that the a/c was functioning well and cooling well. The water heater also worked well. That's important since those are potentially expensive repairs.
Renovating for Condo Flipping
Here are the projects we undertook…
Extermination:
The walkthrough video clearly shows that there were roaches, some dead and some alive. Fortunately for us, the sellers had already contracted with a pest control company to do a series of 3 treatments to kill the existing bugs, plus the upcoming hatched eggs, plus the potential left over hatched eggs after that. So by the time we got to closing, the roaches were gone.
Painting walls:
The interior paint may not have looked so bad in the video but in person it was easy to see that the walls needed paint. We painted with the popular Sherwin Williams Agreeable Gray color and added bright white trim.
Lighting:
Removing the old light fixture in the kitchen, and adding canned lights instead, went a long way toward modernizing the kitchen.
In the living room you also see that the canned lights were updated. It seems like a small thing but it makes such a big difference in the look and feel of the unit.
In the bedroom, we kept the existing fan. We did, however, buy a set of 4 glass coverings so that the fan would look fresher and newer. One of the old ones was broken and it was better to get 4 new matching ones rather than go crazy trying to match the existing ones.
Here's a link to the glass in case you need them. We paid less than $25 for all 4 pieces!
In the dining area, the existing light was a fan. The upgrade here was a beautiful and amazingly well priced chandelier from Amazon. Look at the before and after on this one. I'll also give you a link to the light so you don't need to spend time searching for this style of light.
Notice the fan here over the dining area: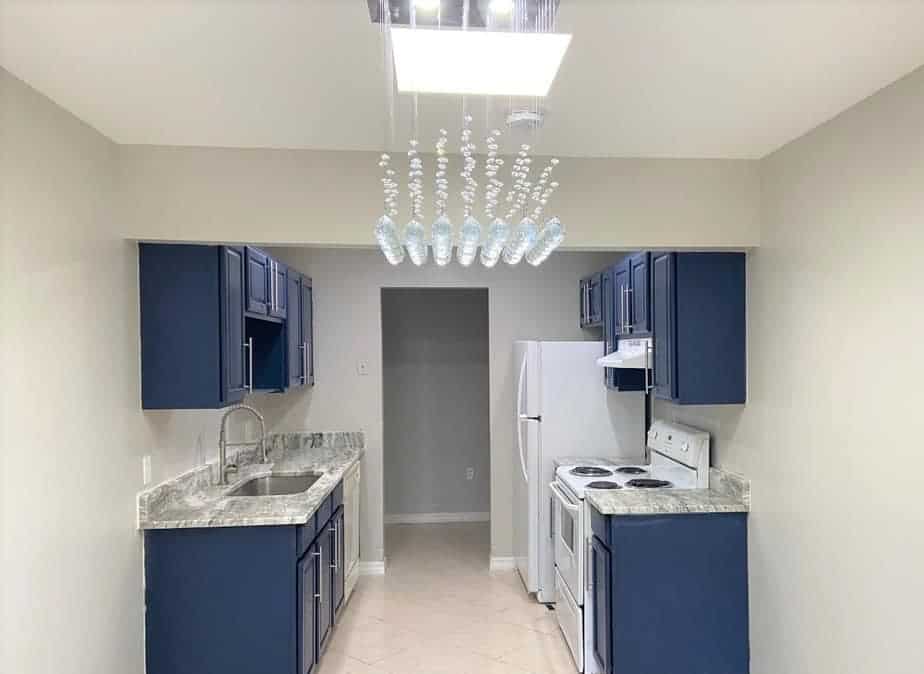 Here's a link to the light:
Kitchen updating:
Oh the kitchen was so much fun and so easy! A look through of the cabinets showed that they were in solid condition. I decided that painting the cabinets would be the most cost effective way to go on this small unit. I've done two other recent condo flips and we made white kitchens in both of those, so I was ready for something a little more fun. Here's a link to one of those recent condo flips with it's income and expenses if you'd like to see a larger project:
Anyways, continuing on with this project–I chose to make the cabinets blue! It's not common, but I felt this space needed a pop of color. Naval is the Sherwin Williams color of the year and a beautiful shade of blue.
If you'd like to see exactly how I painted the cabinets, you can view it here.
If you'd like to see how I installed the pulls (and all the mistakes I made!), you can view it here.
Here are links to products used:
Here's the faucet and then also the cabinet pulls:
For the granite in the kitchen, we purchased a slab of Fantasy Brown granite. It's my favorite because pricing is great on it and it looks expensive and goes with either shades of gray or light brown due to the veins running through it. I've used Fantasy Brown is all of our recent home and condo flipping.
Bathroom: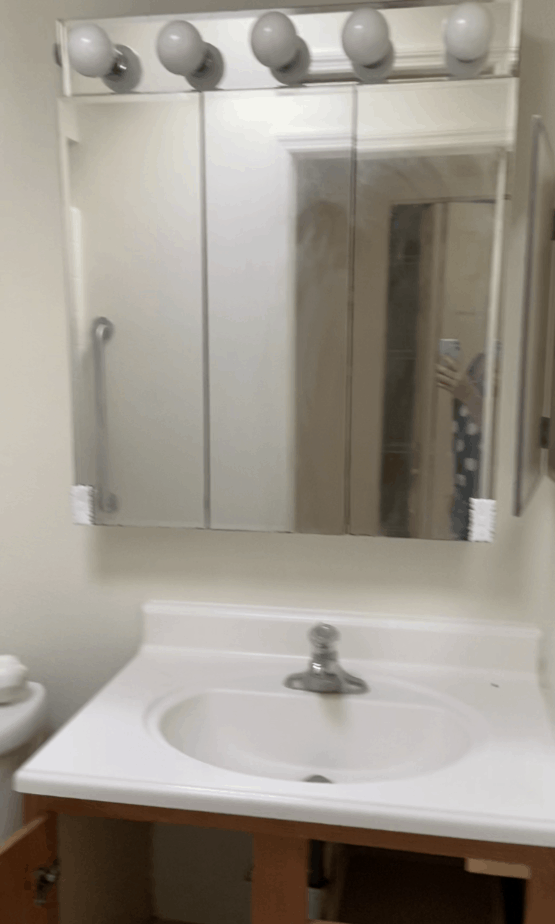 In the bathroom, we changed out the old lighting fixture and made it more modern. We also updated the mirror. In addition, we added a shower head since what was there before was a hand held unit that hung to the floor. Here are links to those:
A new vanity was inexpensive. I'll provide a link to it below for you. We had plenty of leftover granite from the kitchen, so we had the installer put granite here in the bathroom.
Click here for a link to some inexpensive vanities at Home Depot.
You'll never believe how inexpensive this vanity faucet was. So much so, that I'm not going to tell you or show it in the Amazon link. Click on this image link to it, and you'll be taken to the Amazon price online. You'll be shocked. Seriously, think about how much you think it'll cost, then click on the photo below and see…
Kitchen Appliances:
I've gotten a lot of questions and opinions about the appliances. Yes, I agree, stainless steel appliances may have looked better. But sometimes you need to focus on what works, what doesn't, what's necessary, and what isn't. I didn't feel that new appliances were going to be required on this condo. It is possible to save money by using some of the existing items. A good cleaning of the kitchen, new burner pans, and a new range hood, went a long way.
You may not be aware, but Amazon sells things like range hoods at great prices. I ordered this one and had it delivered. At the time I purchased it, it was under $40 because it was on sale. I'd say that's the right price to pay for it. Hopefully using this link you'll still see it at under $40 if the pricing hasn't gone up:
Cleaning:
This seems like a silly line item perhaps, but it is vital. Having the property professionally cleaned and smelling wonderfully makes a huge impact on buyers touring the home.
Marketing Your Flipped Condo
Normally I insist on professional photos for the projects. They really make a big difference in marketing and they aren't that expensive if you shop around and research companies that take real estate photos for Realtors. For this condo flipping project however, I felt there would be high demand due to the low price point and I thought I could capture it well with photos from my iPhone.
Marketing included the MLS, as well as the major outlets such as Realtor.com, Redfin, Zillow (although they didn't list the property properly for some reason–a problem with the address I believe).
As usual for me, the MLS was the best source of marketing and advertising. The same day that we listed the condo, a buyer went to view it. I happened to be at the unit when he came by. (I was still doing some finishing touches to the kitchen cabinets). He made a cash offer on the spot.
The Sale of our Condo Flipping Project
The buyer of our unit was the investor who viewed it on the first day. However we didn't accept his initial offer. We negotiated a bit and within 24 hours we came to an agreement. We agreed to:
Cash purchase
As-Is, no inspections
Closing in 10 days
No commission to be paid (he had his own real estate license but waived commission which saved 3% in fees)
We sold this unit at 12% higher than any other unit in the complex had sold!! It was a record setting sale, and it didn't require very much money or time.
I'd like to share the final expenses and profit with you if you'd like to view that and see the real income and how much house flippers make.
In order to view the final numbers, please view them in the Resource Library. Once you sign in, you can also view the expenses for other projects and download all of the resource booklets and tutorials on the site. You'll find the final income and expense statement in the Flipping tab, titled "30 day condo flipping project income report".
Best Book for Flipping Houses
Whether you're looking to work on your first flip or you're already an experienced flipper, this organizer will make it easier to keep track of everything! Just click on the photo for more info: