If you're looking to create a little girls dream bedroom with a fairy theme, these suggestions should help inspire you.
I saw this design in a model home that I toured here in Orlando, Florida. I love this girls room.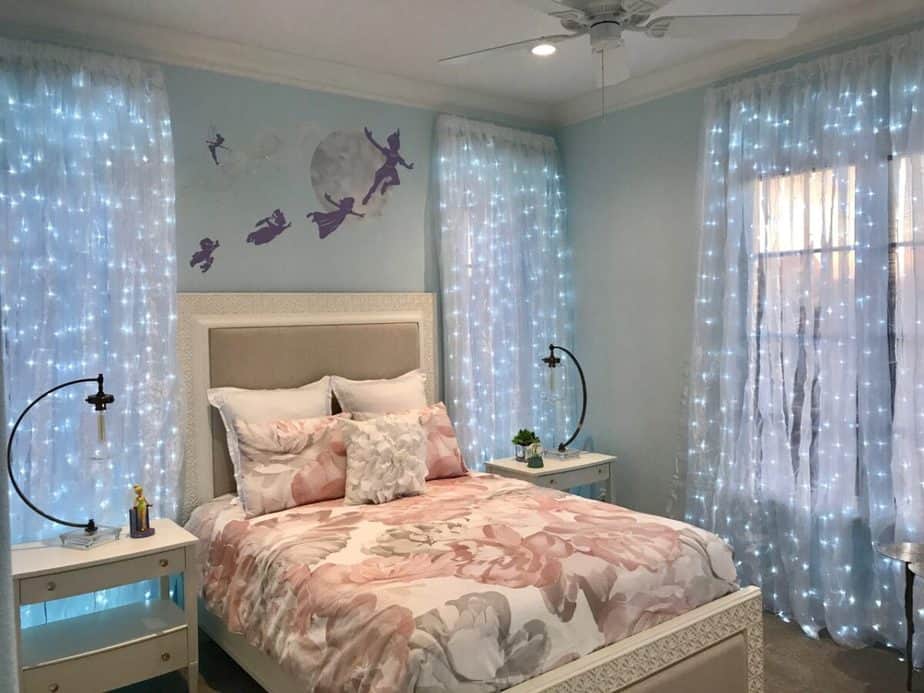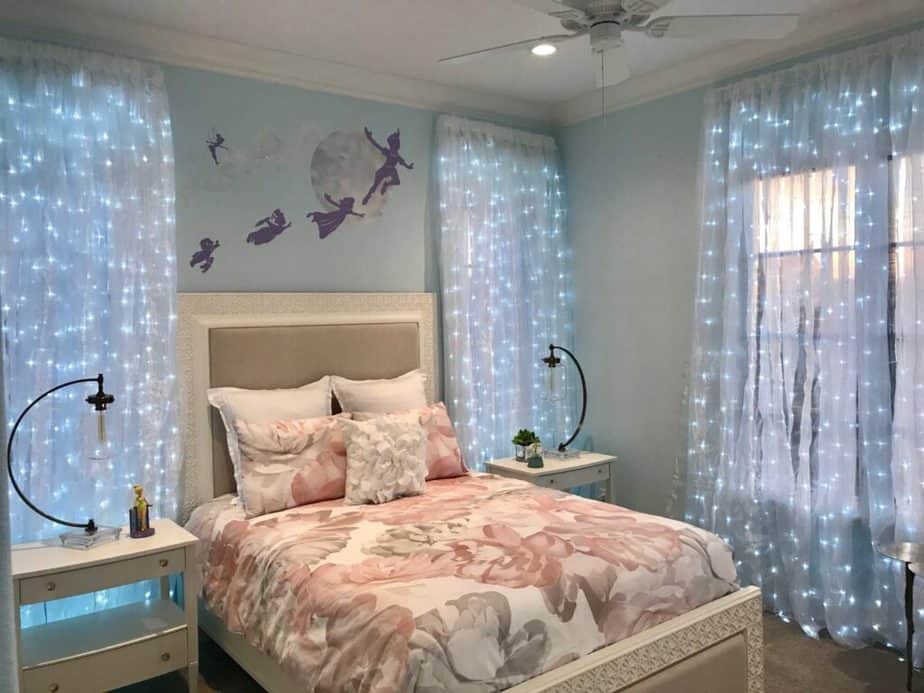 Click here for Shoppable Photo showing these or similar items on Amazon
Throughout my site I provide affiliate links to products that I hope will help you with your DIY project supplies. As an Amazon Associate, I earn from qualifying purchases. This means that I may receive a small commission if you use these links to purchase products, but it does not change your price in any way.
Fairy Lights
Adding well placed lights in interior design has always been a great way to invoke a mood in a room. In this model home, long string lights were used behind sheer fabric curtains. They were the first thing you noticed when entering the room and they made the whole room feel special.
While I absolutely love the fairy light idea in the curtains, there are other great areas that designers have used to create a great bedroom.
One involves using twinkle lights that are strung along the wall. While this bedroom below isn't itself a fairy bedroom, I think it provides a great fairy light bedroom idea. Adding these small twinkle lights to the wall may be the only thing you need to light up a small space in the room and give it the feel you're looking for.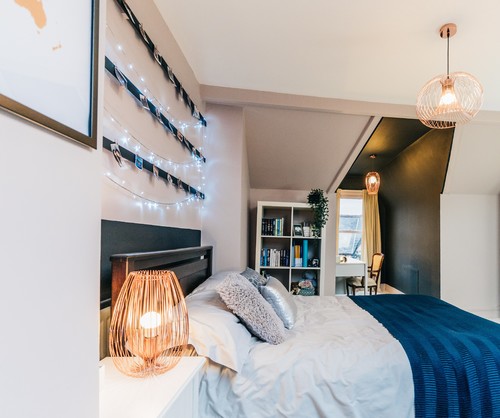 And this example is so much fun. Below I'll give information and photos of forest murals but this designer literally brought wood into their woodland fairy bedroom ideas. I love the way the lights around the branch make a fairy tale place come to life.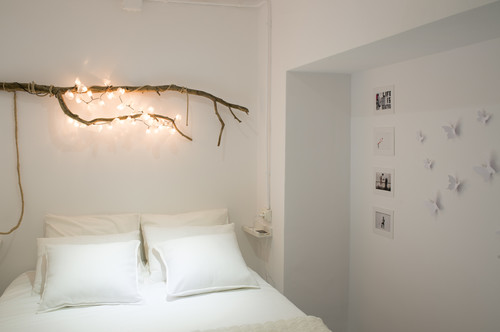 Another lighting idea involves just accent lighting, using fairy lights in a jar can create a magical effect.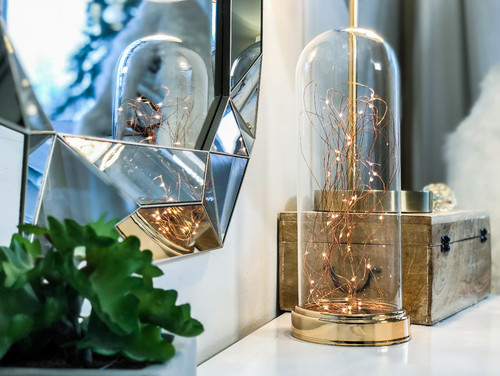 A lighted tree like this one is an affordable and easy way to bring the enchanted forest into a room (click on it to view it on Amazon)
Murals
Murals are a simple way to instantly add a theme to a room. They take little effort and provide a magical feeling instantly. You can create a fairy garden or a woodland fairy theme in an instant.
There are choices when it comes to wall murals. You can use wallpaper to create a large mural or backdrop. This is great if you want to use the mural as a background for your fairy realm.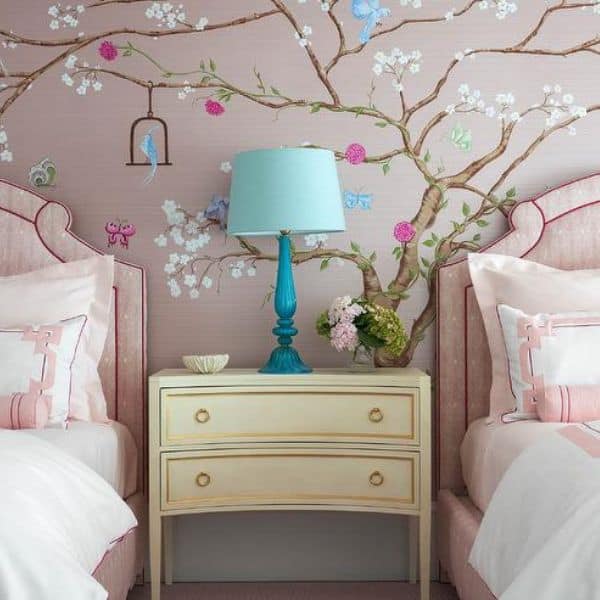 Here's another view of that room, you can see how the mural can create the perfect fairy forest and still stay light depending on your color palette.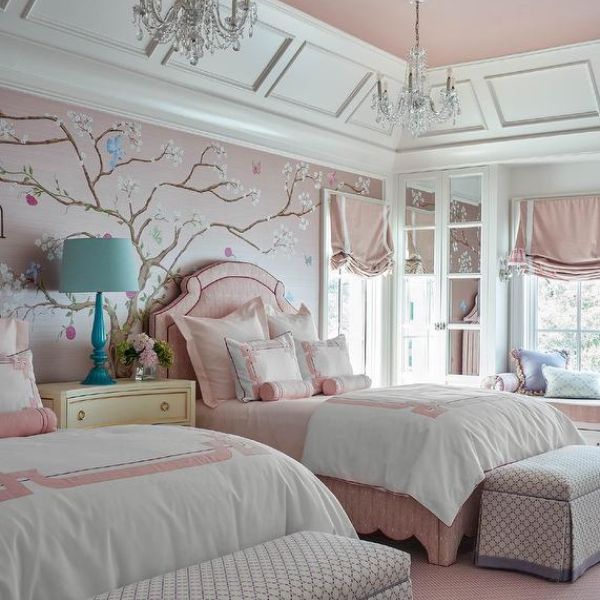 Alternatively, you can use a darker wallpaper mural to design an enchanted forest bedroom feel.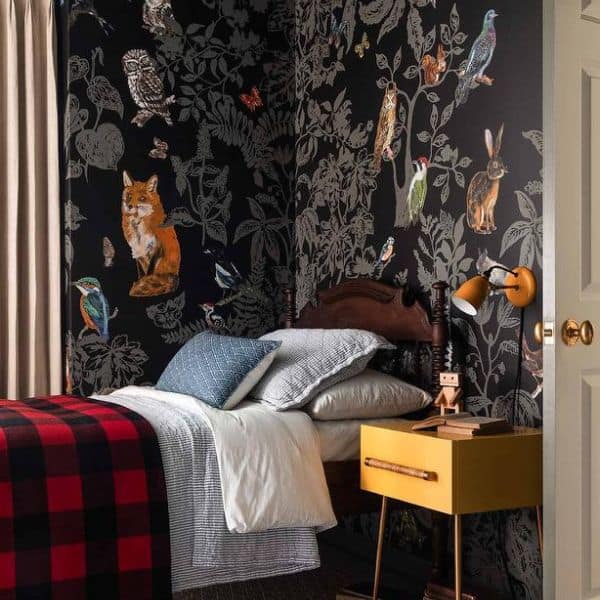 Here are lots of ideas and examples of products that you might like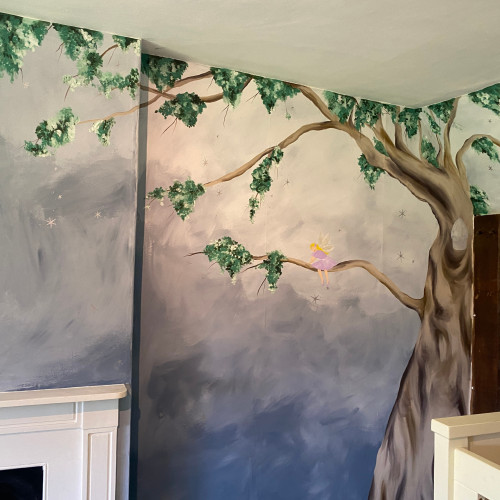 Photo by The Creative Decorator –
Fairy Bedroom Wall Decals
Alternatively, wall decals typically take less space. They're a great idea when you want to introduce a character into your room. They can also usually be removed so they're often seen as the best way to add to your bedroom decor when you might need to remove it in the future. Your child's bedroom isn't going to remain a fairy themed bedroom for many years. It's also a good idea to use removable decals if you're renting and need to keep the walls in original condition.
The room in the model home I toured had a "Laughter is timeless…" decal on the wall. This is fitting since it's a quote attributed to Tinkerbell.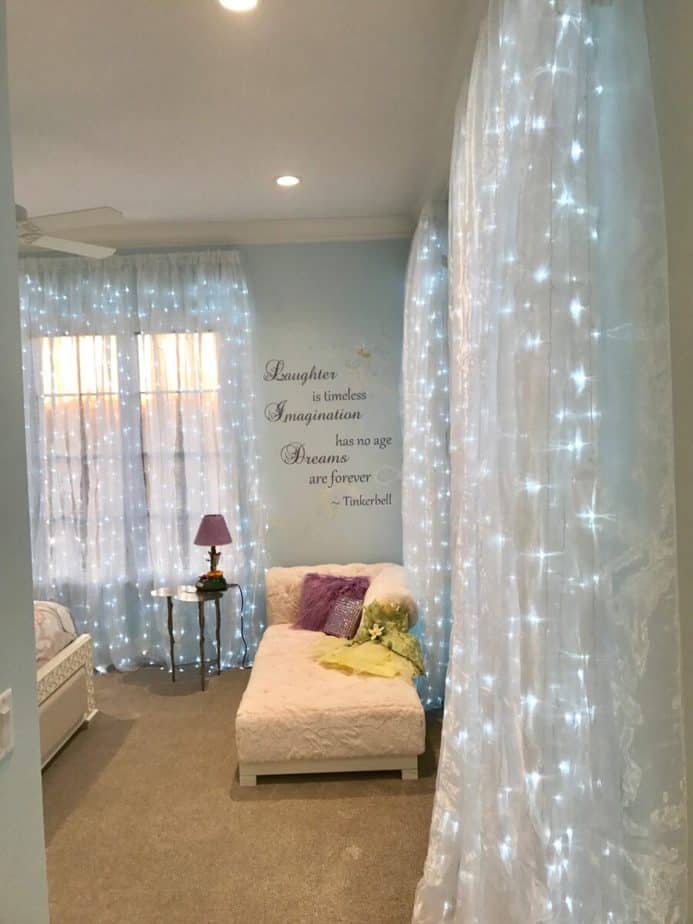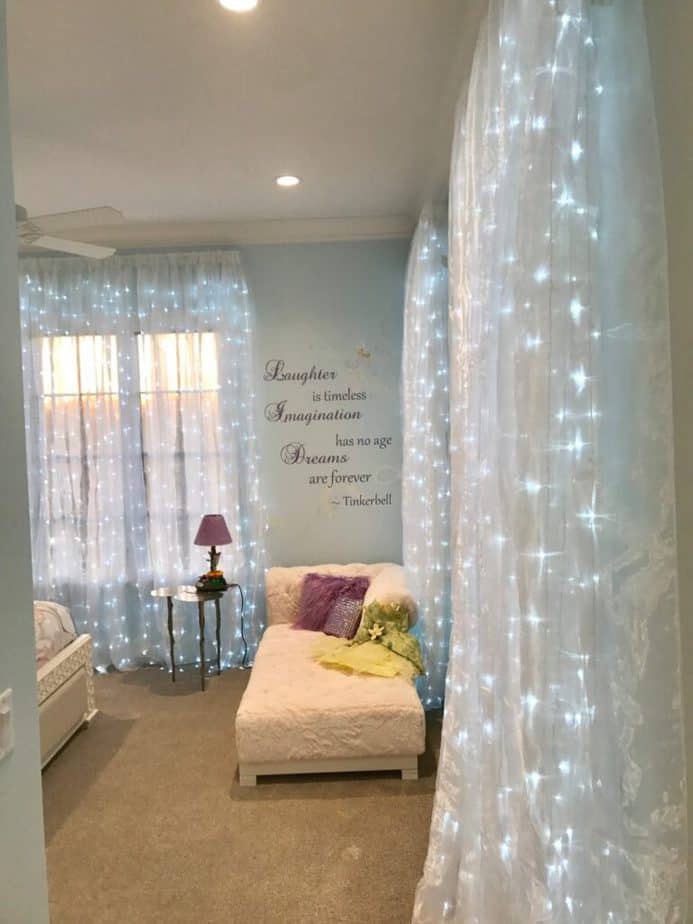 Here are some other fairytale bedrooms decals to incorporate into your children's bedroom.
And sometimes what you add can be small. When creating magical spaces sometimes just a hint of something can look great. I used to have an Airbnb just 2 miles from Disney and I themed the bedrooms (Princess and Harry Potter). In the little girls bedroom I added this silhouette of Tinkerbell decal and sprayed glitter to the light switch. This made it look like fairy dust on the switch. It was a small but really great detail in the room.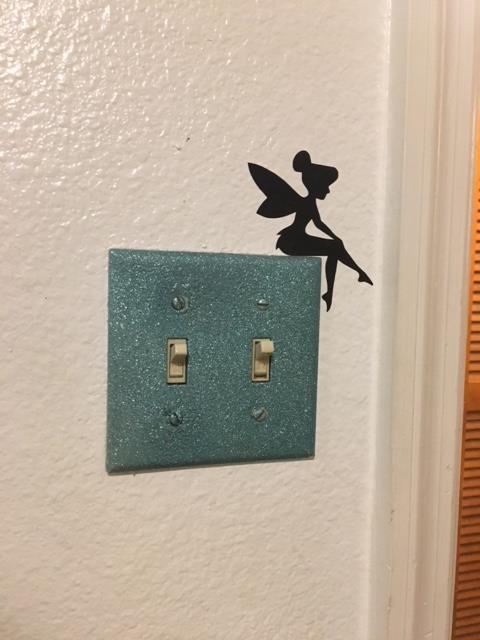 Fairy Bedding and Furniture
Bedroom furniture for a fairy tale room can range from a beautiful canopy bed as pictured below, or a regular bed outfitted with great fairy bedding and pillows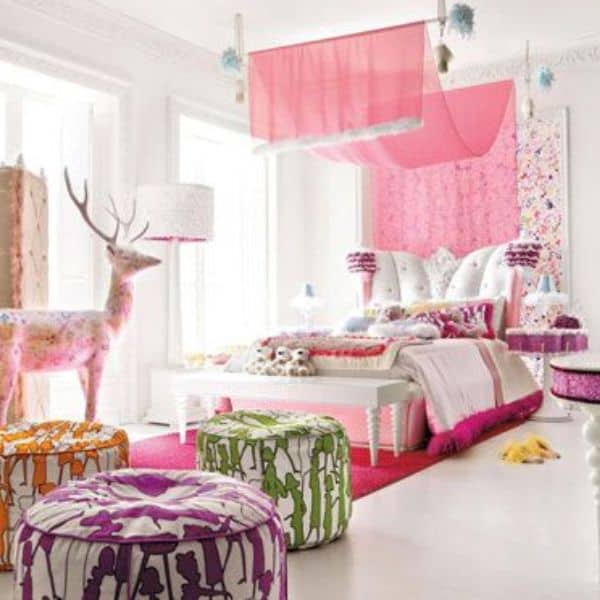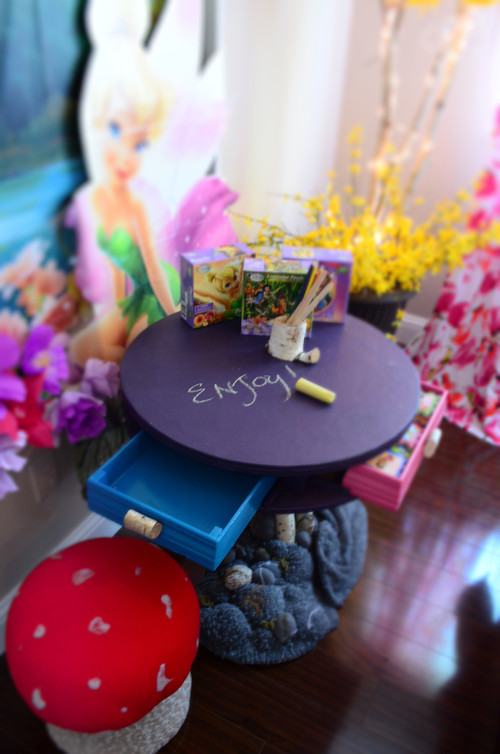 Photo by Roshini Padmaperuma – Browse bedroom ideas
Larger fairy theme items
If you have the time and the budget, you can truly transform a room with a large installation like this one.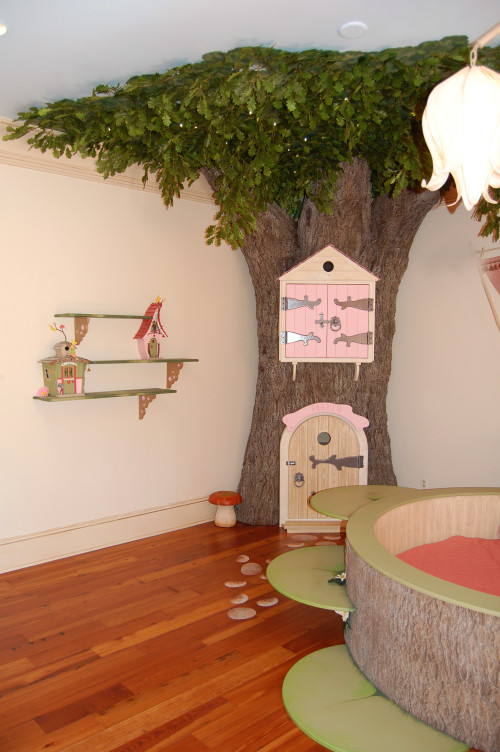 Photo by Adaptiv DC – Browse bedroom ideas
Have fun creating your fairy bedroom.
Your room will be the stuff that fairy tales are made of and I hope that your little princess loves it!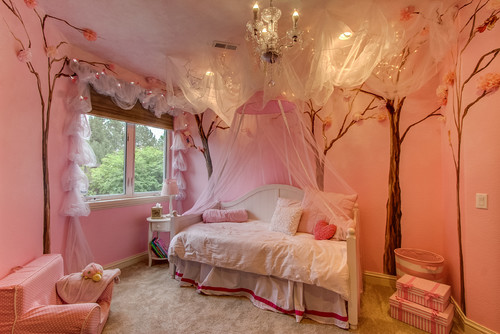 Photo by Haven – More bedroom photos