Here's a great way to replace an old drawer front on kitchen cabinets. This works specifically for false front old drawers.
Throughout my site I provide affiliate links to products that I hope will help you with your DIY project supplies. As an Amazon Associate, I earn from qualifying purchases. This means that I may receive a small commission if you use these links to purchase products, but it does not change your price in any way.
Recently, I flipped a condo. You can view that flip, the projects involved, and the finances and profit here.
As part of the kitchen renovation, I painted the 1980's cabinets and gave them a fresh new look for under $120.
The old doors on the cabinets and the kitchen drawers were well-preserved. However, the false drawer fronts under the kitchen sink were not in good condition. They were swollen from water damage and had not stood the test of time as well as the old kitchen cabinet doors had throughout the rest of the kitchen.
Replacing drawer fronts was vital as you can see.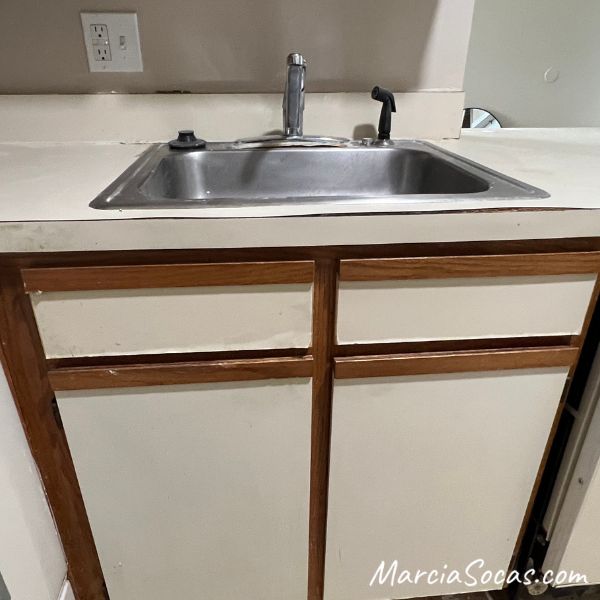 Replacement drawers were not an option here since they're just false fronts.
New cabinet drawer fronts from the 1980s that would match the other cabinet drawers simply don't exist. So, the best option for me was to install a new front panel. But how?
The first thing I had to do was to find replacement drawer fronts that were the right size.
The front of the drawer just needs to cover the hole in the sink base.
I needed two kitchen drawer fronts. Accurate measurements weren't necessary, I just had to be sure to cover the openings and make sure that the false new drawer fronts were spaced apart well.
Replacement Drawer Front
Measure the opening with your tape measure and see if you can use an existing drawer front. Several are sold on Amazon and they come in standard sizes.
I used an old Ikea flat drawer front that came from the Haggeby collection. That collection has recently been discontinued though. So, if you're looking for something similar using Ikea products, I recommend that you search for the Enhet cabinet system and check out their drawer front color and sizes to see if they work for you. The white one only costs around $6.
If you're updating your kitchen and also need replacement kitchen doors, you may also want to see the new cabinet doors in that same Enhet collection. You can view a kitchen where I kept the existing cabinet boxes and only added new kitchen cabinet doors. You can view that original post here. We saved a lot of money and time. The most difficult part was retrofitting new hinges for all of the replacement cabinet doors would fit properly.
Alternatively, depending on the size of your drawer front opening, you could use a simple piece of wood (like a 1×6) and paint it for use as your false drawer front face. This would allow you to achieve the look of slab drawer fronts at a fraction of the price.
Installation Process
I didn't want to use glue or liquid nails to the attach the new false drawer front because I was afraid this would not be durable.
The first step was to add a piece of wood (1×4) to the back of the back of the new drawer front. You may want to use a pilot hole and then a screwdriver so that you don't insert the screw too far. Be sure not to screw it all the way to the other side so that the front stays smooth. This creates a sort of makeshift mounting plate.
Use another 1×4 (or any scrap piece of wood you have works as a great option and is free) perpendicularly on the inside of the cabinet walls. Double check that your drawer front is straight, and attach.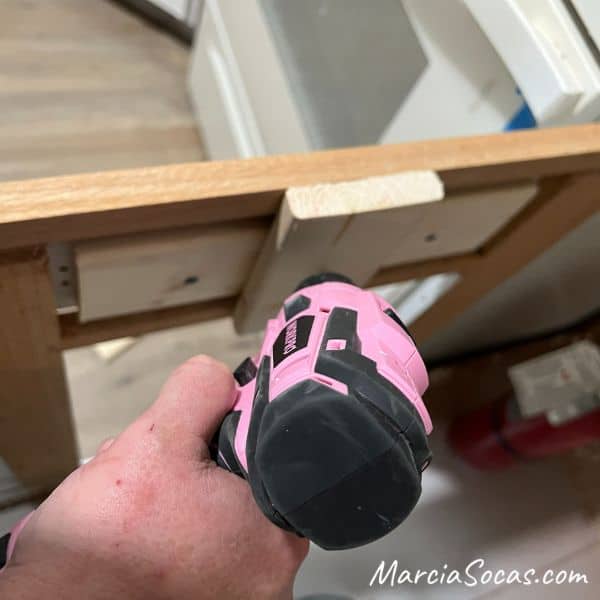 Here's how it looks from the back when installed.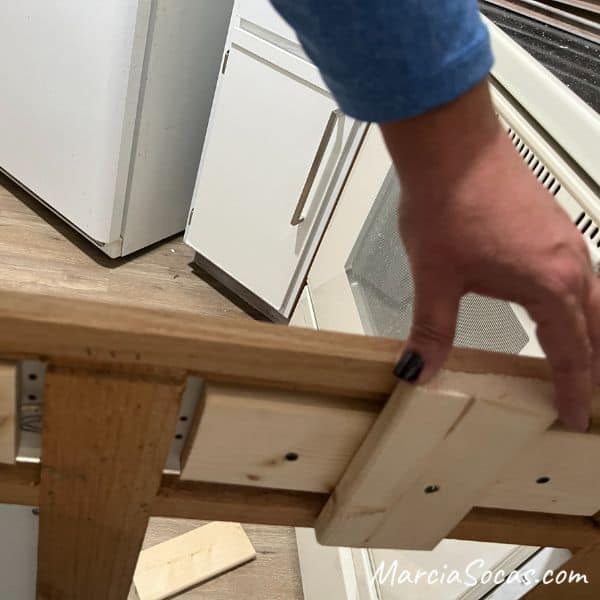 Here's how it looks from the front. Make sure your new drawer fronts are in the correct locations and secure them and that's it!
Halfway done: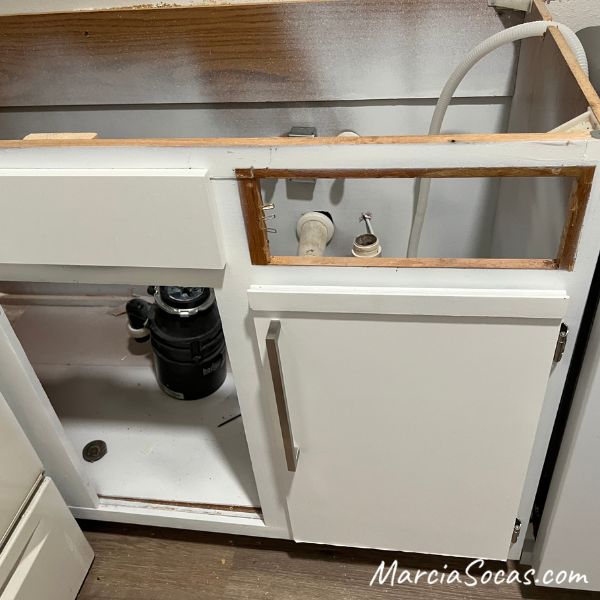 The good news is that replacing drawer fronts is quick and easy and you can add the fronts that work with your shaker, modern, or traditional style.
The final product
As part of the renovation, we changed out the sink and faucet to modernize them. It cost only around $200 total for those items. The pulls were a bit over $50 for the whole kitchen. You can view all of those items here. We also installed granite counters.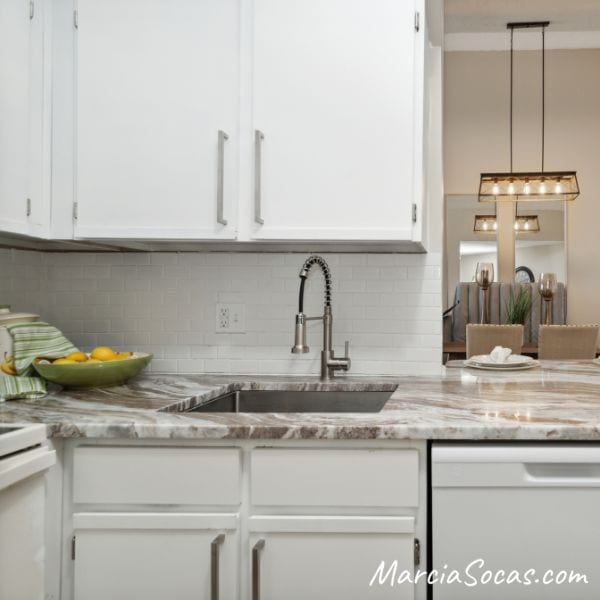 Adding new pulls is an option. However, I didn't install them here because I don't like the way the pulls get in the way when someone is standing at the sink.
I hope that you love the look of your kitchen and that this tip for replacing drawer fronts served as a great option for you to replace your broken drawer front easily and at a fraction of the cost that it would have taken for you to replace the entire kitchen cabinet.