Volleyball themed room decor
Searching for bedroom inspiration for your little volleyball player? I hope the custom design in this model home will inspire you. I love to use the amazing style in these model homes as a guide to creating a great themed bedroom. If your child loves playing volleyball, you can easily decorate your child's room with similar vibrant volleyball bedroom decor.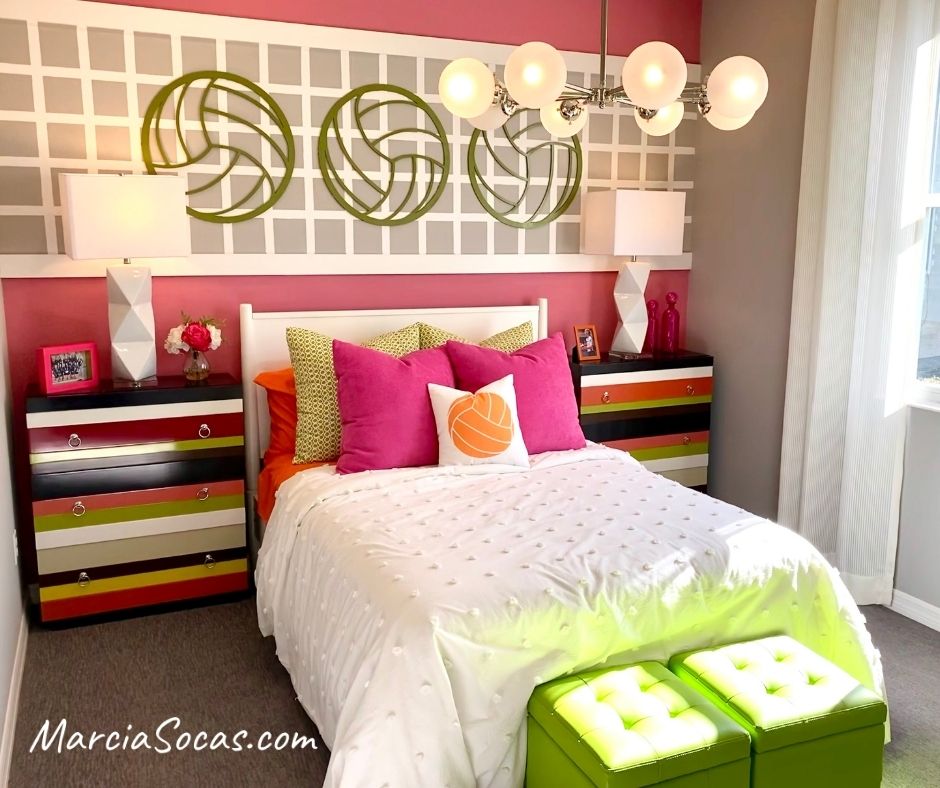 But themed bedrooms aren't just about making them visually appealing; kids' room decor should also be versatile, so that it grows with your child from their early years to later teenage ones. Our inspiration for today is a stunning themed bedroom for a volleyball girl player. Of course, you can customize the colors to set it up for your boy(s).
So, put on your interior designer pants as we go discover how you can create a themed room with volleyball room decor — it's time to up your room decor game!
But before we dive into it, here's my list of Amazon products for your Volleyball themed room where you can purchase all the related decor from the picture below — plus more — in one place. As an Amazon Associate, I earn from qualifying purchases. (This does not affect the prices of items).
Ready? Let's Play!
Here's our game plan for this volleyball themed room:
Set, Serve, Ace! Volleyball Room Decor game plan!
Ok, I know those don't work in order of the game, but it's the order we need to use to get the volleyball themed room completed.
Set!
Let's first set the stage in the room by getting the basics set up.
Paint The Walls
The walls play a big role in home decor. And so, to start off, choose the colors for the walls of the room. You can use a mixture of tones that coordinate with your child's favorite volleyball team. For example, if the team's colors are blue and yellow, you can paint three walls blue and one yellow.
You can see how striking color can be when looking at this tennis room design–the idea would work well for volleyball too.
Alternatively, for the volleyball team colors described above, you can paint three walls a neutral tone, and paint the fourth wall a striped blue and yellow to act as the focal point.
For our model home's room, one wall is pink and the remaining are grey — these may be team colors or just colors the child likes.
Generally, a pop of bold hues for one or more walls looks great in kids room decor, so be sure to keep that in mind while picking out the shades.
Non Paint Wall Coverings for Volleyball Themed Room Decor
Aside from painting, one easy way to set the feel of the room is through the use of a wall mural or wall decal. I won't go into detail regarding any custom murals, because I'm trying to keep the idea simple and easy to replicate.
I love how quickly high quality wall murals can create a feeling in a room. Here's an example of a volleyball wall mural. You can see how it defines the volleyball theme in the room.
Here are some great volleyball wall mural ideas you might like.
In addition to the volleyball wall murals, you can use vinyl stickers. These volleyball vinyl designs may work better if you have a room that you plan on changing in the relatively near future. Sometimes we don't want our kids room decor to be permanent, and this helps with that. Also, if you are renting, the volleyball vinyl decals are easy to remove without the long term commitment of painting or wall murals in your volleyball room decor.
You can see here how this decal adds to another volleyball themed room:
Set The Bed
Once the walls are done, move towards the next major item: the bed.
Look at this adorable headboard from another model home here in Winter Garden, Florida
Because the bed is one thing you wouldn't want to replace every often, you should opt for a high-quality piece. It may mean investing more at the moment, but it will save you in the long run. Believe me, I have been through a loft bed, a sideways trundle type bed, and now a platform bed for my daughter. I wish I had just gotten one great bed from the start and just changed the surrounding decor through the years.
Some of the options you have include a single bed, bunk bed, or queen bed. Opting for the latter means you'll have a roomy option for your child, plus optimum living space and additional sleeping room for guests' stay after your child moves out.
After the bed is in place, it's time to work on the details.
Serve!
Serve up some fun with accessories.
Covering The Bed in your Volleyball Themed Room
A volleyball-themed bedspread is a great way to anchor your design. For that, you can choose to go bold with a colorful comforter, or keep it simple with a solid colored comforter.
If you want to strictly follow the design I viewed in the model room (which, by the way, is a fantastic idea), you can purchase a white tufted dot comforter set. That's especially true if you're team room-decor-white! For a little variation in pattern, a bright white pinch pleat bedding set is something you can check out.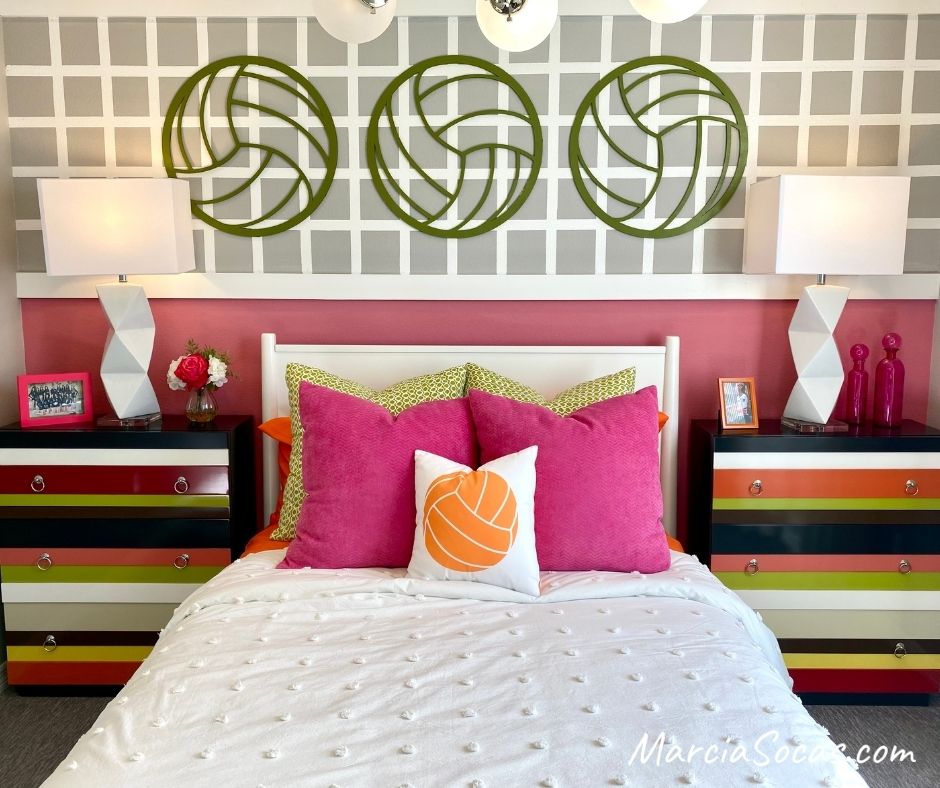 Also, here's a link to brightly colored sheets if you're looking to duplicate the bright orange sheet set in the volleyball themed room photo.
Topping With Cushions
Cushions add to the aesthetics of the room and make it look more inviting.
To purchase the exact setting shown in the picture, begin with two fluffy, textured throw pillows (here's a link to their covers), and proceed with two pink velvet cushions. Finally, place a single orange and white volleyball throw pillow at the front.
There are plenty of other cushion cover options you can choose to mix and match; head over to my Amazon Volleyball room decor product list to see my top picks. Amongst them, the LOVE volleyball cushion is a personal favorite — it would make a great gift for a volleyball girl, too!
Adding Texture With A Throw Blanket
Incorporating different textures is a popular design technique, and rightfully so. You can create texture in your child's themed bedroom by draping a plush blanket with a volleyball print over the edge of the bed.
TIP: *Don't forget that you can add texture to your room with your curtains too! A solid color but waffle weave fabric works great for this
Bedside Table options in your Volleyball themed room
Bedside tables enhance the overall impression your bed creates, so they require careful attention.
Keep it minimalist by using contemporary LED-light bedside tables or add a pop of color — similar to the one in the model home — and incorporate colorful bedside tables with white edges. The latter really complement the volleyball theme, too!
Table Lamps to compliment your Volleyball room decor
Table lamps are a versatile addition — they provide light and double as decor.
If you're sticking to monochromes, opt for a glossy geometric table lamp or a much less expensive but similar looking elegant glass lamp. On the other hand, you can give your room a punch of green (or choose from 6 other color options) by adding a garden lattice table lamp.
Storage Seats in your Volleyball themed room
Our final touch surrounding the bed area is using two storage seats for your volleyball room. These will perform the role of a bed-front bedroom bench while also providing storage space.
Whether you go for a brightly colored tufted-top box or a less expensive plain cover one, a green leather cubicle will be a fun way to add more storage space for your child's toys and other necessities. Plus, it will provide extra seating space your child will need to entertain any visitors!
Ace!
Now ace the design by really taking it next level with your volleyball themed design skills. Be bold with these ideas:
Toss In A Volleyball (or two)
The aesthetic sports-loving flair in the room would be incomplete without using actual volleyballs. Place a couple of balls in one corner of the room or line them up on a mounted shelf. Alternatively, you can mount half a volleyball onto a wall or the exterior of the front door.
If real volleyballs aren't much of a possibility, you can also go for DIY volleyballs — perhaps some paper volleyballs — to fill up the space.
You can also incorporate other pieces from a volleyball set, such as a pair of volleyball shoes or a volleyball net (more on this below).
Mounted volleyballs and creative paint are the only wall items in this adorable volleyball bedroom
Use A Volleyball Net
A volleyball net system can be used as functional decor. Attach it to the wall for extra storage pockets, use it to partition the seating area and bed, or hang it from the ceiling to act as a ball holder — there are numerous cool ways to utilize it if you let your creative juices flow!
I love the feeling of the volleyball net created in this room using the wood millwork grid. It provides the idea of a volleyball net without the flimsiness of netting. Since creating the millwork would involve more time and expertise, I'd recommend using a premade grid that you can easily hang on the wall and that could serve the same function.
You can then create the unique look in this bedroom by using 3D wall panels with wooden volleyball circles. This helps create a stunning 3-dimensional effect.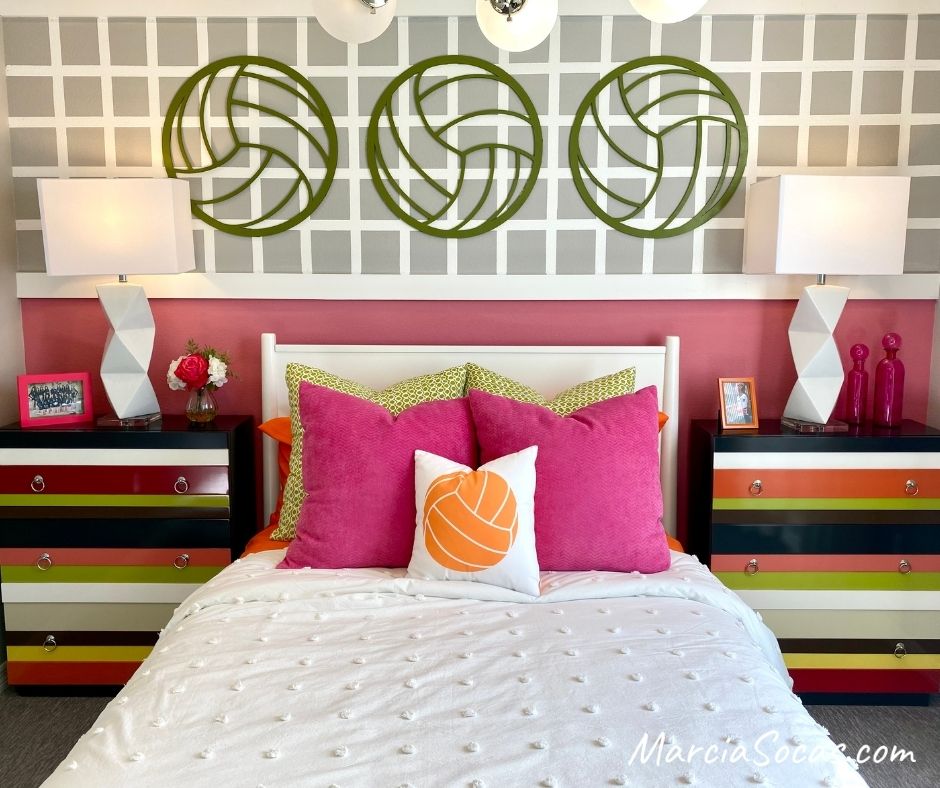 Add A Themed Statement Rug
Want to warm up a room, add a decorative touch, and incorporate texture simultaneously? Add a themed statement rug!
If you have a seating corner in the room, you can lay it there. Otherwise, it's a great addition partly under the bed as well. Here's a personalized rug with a volleyball print that could work wonders.
Use Decorative Lighting as Volleyball Decor
Interior designers say aptly-placed lighting adds a whole new dimension and energy to a space.
For your volleyball-themed bedroom, a sputnik chandelier would massively enhance the overall ambiance. Especially these that have the large balls at the end that are reminiscent of volleyballs. From a black hardware one to a gold-detailing fixture, there are plenty of options to choose from for this particular type.
Another super cool addition is a 3D LED night light with the shape of a volleyball!
Put Up Volleyball Decorations & Wall Art in your Volleyball themed room
As we discussed above, wall decor plays a big role in setting up themed bedrooms. Silhouette decals featuring your child's favorite volleyball player can act as the focal point in the room.
Additionally, you can hang volleyball posters — black and grey volleyball prints make a great purchase, while you can also opt for more colorful options, such as aqua volleyball posters. If your child would be interested in pop art, you can pick such wall art posters as well.
Alternatively, you can create your own by picking volleyball printable custom designs and get them printed as a vinyl or flex banner. The best part of doing so is that it allows you to get a custom name on it as well!
If you're on the hunt to purchase personalized volleyball decor, there are custom wall decals that can instantly help you out!
Canvas wall art is another great option, while wall decor murals and wall stickers serve as quick and easy-to-change options for wall art kids. You can also utilize volleyball locker decorations in the room — it's all about thinking out of the box.
Finally, The Ceiling in your Volleyball Themed Room
Your child is going to be looking at the ceiling whenever she lies down, so it's your job to make sure the view is worth it.
Add a volleyball pattern to the ceiling millwork — as is done in the model home. You can also spread it to cover the entire ceiling.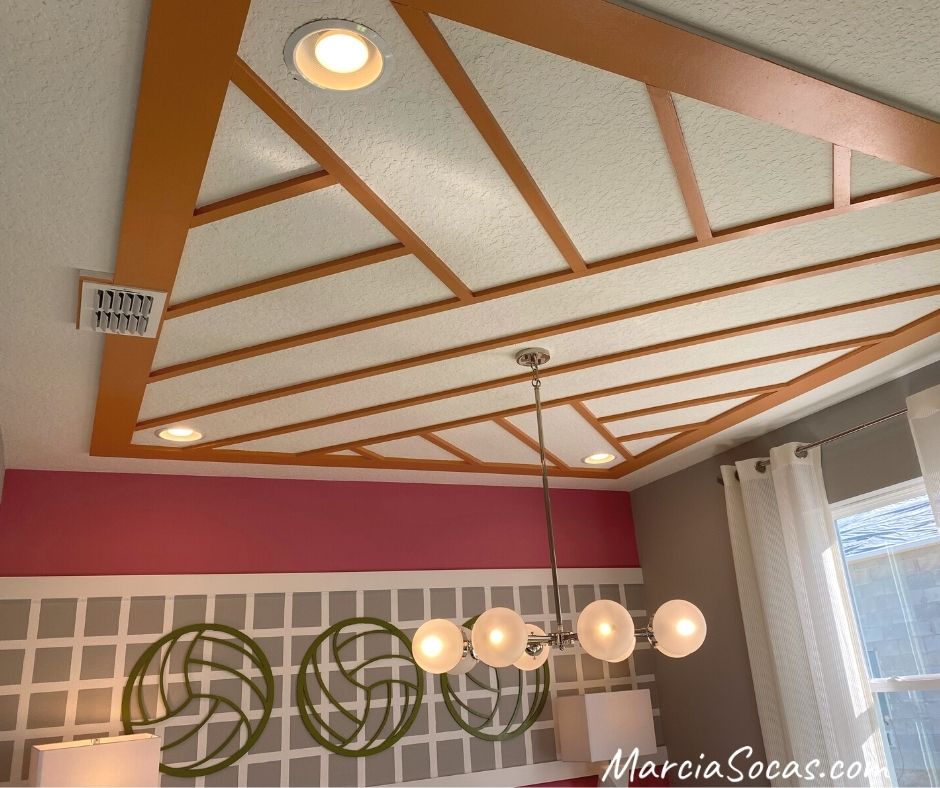 While I love the look of this woodwork, especially since it mimics the volleyball pattern, this would be custom work and could be expensive. As an alternative, here's a link to premade products that can easily add the volleyball feeling to the ceiling.
Boom, Your Child Has Their Volleyball Themed Room! 
If you've been bookmarking your items as you read along, you're just a couple of steps away from surprising your child with the room of her dreams! The good part is, you can find plenty of low priced items — or even do DIY tasks — so you can set up the volleyball-themed room without breaking the bank.
Also — why not host a volleyball-themed party once the room is done so your little one can flaunt her new space?
Good luck and have fun!
More themed Bedrooms!
I loved themed rooms and have been keeping a list of my favorites. If you'd like to view more, please visit my Themed Bedrooms Page.
Also, follow me on Pinterest for more inspirational photos