It's Fall! Although we don't have much of a change of seasons here in Florida, I did want to make my front door look festive and Fall-like. So, with the use of Hay bales and pumpkins and fairy lights, I'm on my way to achieving this look.
I wanted to share the steps in my Fall door decor and hope it'll help and inspire you. View the finish door on video here.
I'll also provide product links, in case you want to find any of these items. Of course, I must disclose that as an Amazon associate, I may earn from qualifying purchases. So, I may get a small commission if you purchase something using one of the links I've provided, but it does not affect your price.
If you're interested in seeing more of my Fall decor, you can see these other project tutorials I created:
Creating Fall Vases with Fairy Lights for my Fall Dining Room Table: This will show you my dining room table set up, and the centerpieces I made using pine cones, acorns, fall foliage, white pumpkins, and LED fairy lights. It really came out nicely and brought the fall season inside.
How to sew Fall Throw Pillows: I updated the outdoor sofa by recovering the seat cushion and by sewing fall themed throw pillows. You can sew these pillows in under 15 minutes each!
On to my Fall Front Door Decor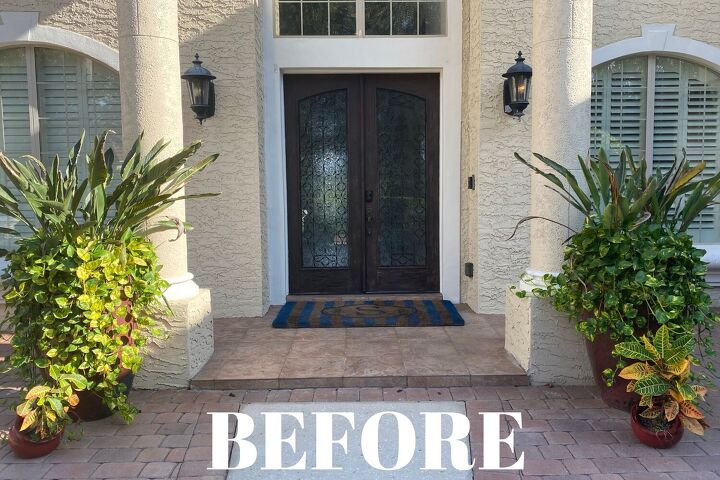 Here's a photo of my "before" door. It's a pretty entry but it certainly doesn't look like Fall is here.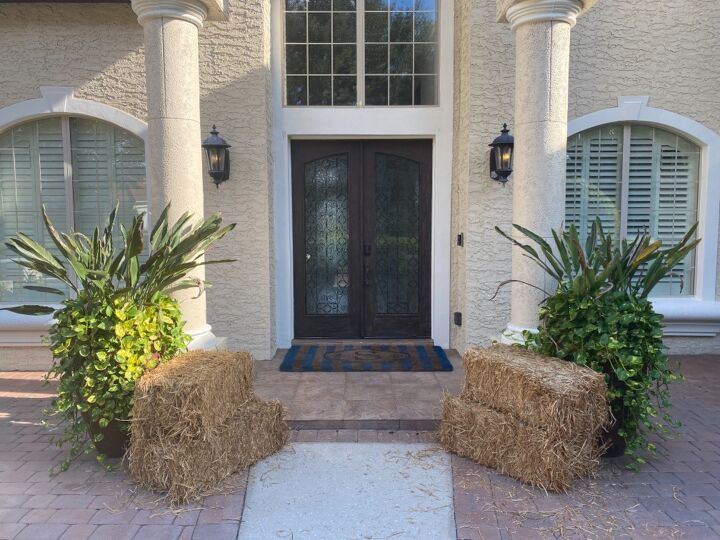 I bought some Hay bales at the local feed store. Actually, I recently found out that what I was calling a hay bale is actually a straw bale, I really had no idea there was a difference! They cost me a total of $42 for the four bales. I like to stack them a little bit staggered so that I can then situate the decorations on them.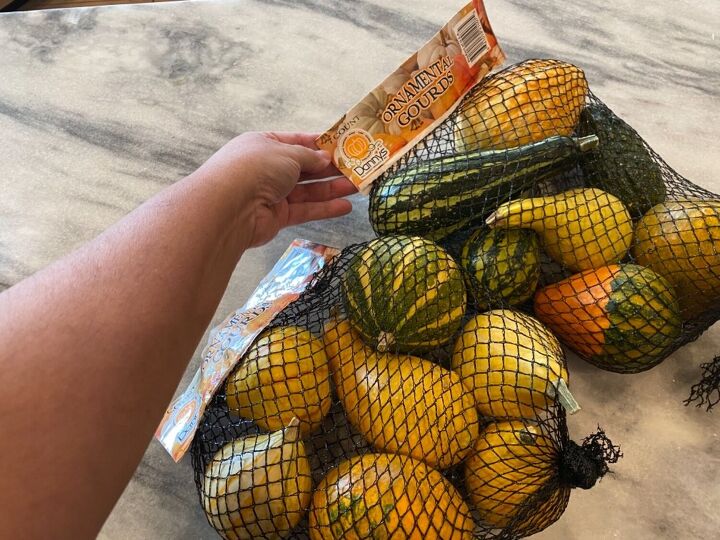 I used these pumpkins and gourds from our local supermarket. I'm sure they have something similar at your local market too. I love the way they represent and encompass the fall harvest season feeling. They are the real thing though, so please know that they may rot after being left outside for over a week. (Mine did!)
They're perfect to add a little more dimension, different heights, and different colors then just decorating with pumpkins alone. I like to stick with the large pumpkins and use the gourds to vary the height. However, you could also choose to use mini pumpkins. Pairing mini pumpkins next to corn husks which lay more flat would also be a great way to add to the fall decorations.
I'm sure you can come up with your own creative ways to use other items in your front door decor ideas as well, depending on what you have available close to home. You could incorporate corn stalks, a wheat bundle, wooden signs with sayings or a welcome sign, and give your fall door a rustic look. Or you could create a color theme. Using either just white pumpkins, or ones that are shades of bright oranges but in different sizes would be beautiful too. Imagine a fall porch with just tons of small pumpkins, miniature pumpkins, and larger pumpkins as a focal point. If you put those on the straw bales it could be a fun way to make your front door entryway look like a pumpkin patch, especially if you're using fresh pumpkins.
You can really use your imagination with these fall themes and give it your personal touch.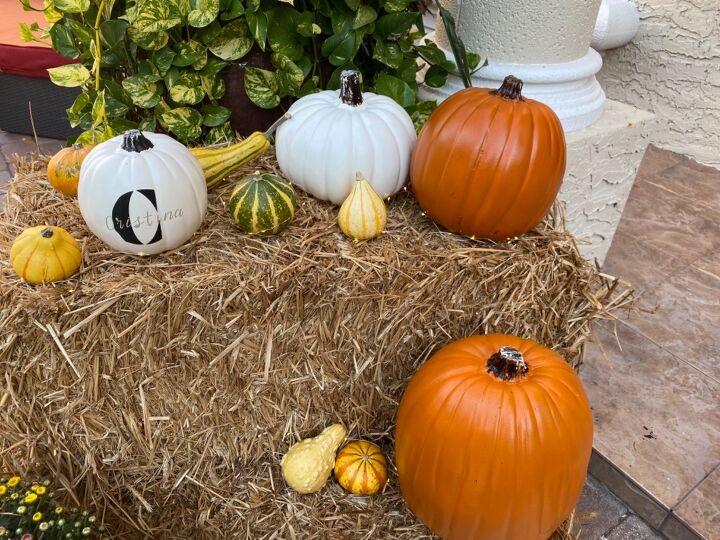 Here's how it looks with some real pumpkins, a plastic one I decorated using a Cricut machine, and the gourds. I like to make sure to very the heights so it looks kind of natural.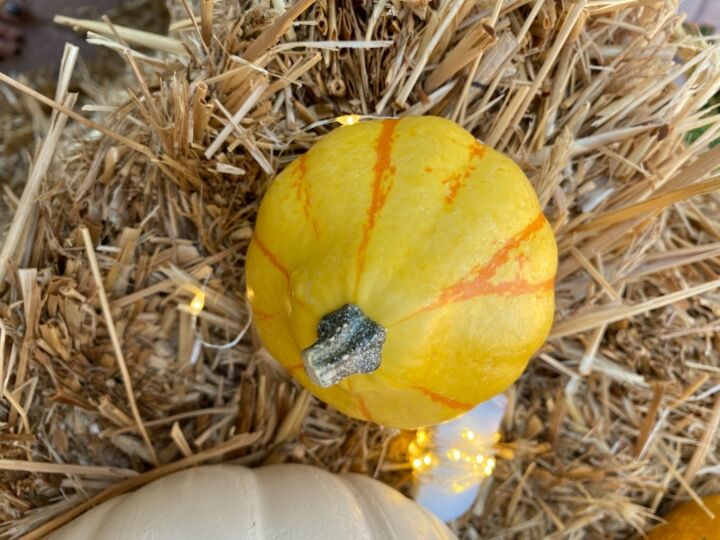 Wrap the fairy light wire around the gourds and pumpkins. I find it best to go around and then stagger the wire back and forth, weaving it between the decorations rather than just having it in a straight line.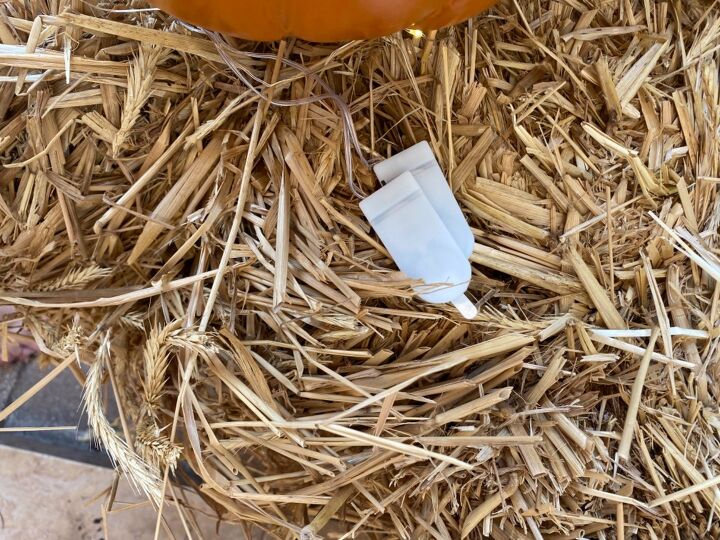 I used two strings of lights on each side and I kept the power switches together so that it would be easier to turn on and off.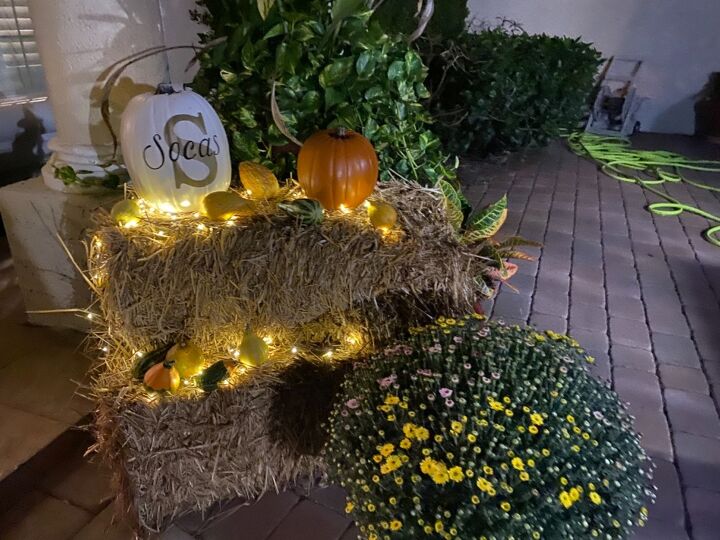 By the way, look at the huge bright yellow mums that I bought at Lowe's. They are huge and beautiful and add to the amazing fall colors that only nature can provide.
Here's how the decor looks once the fairy lights are turned on!
And here's the other side.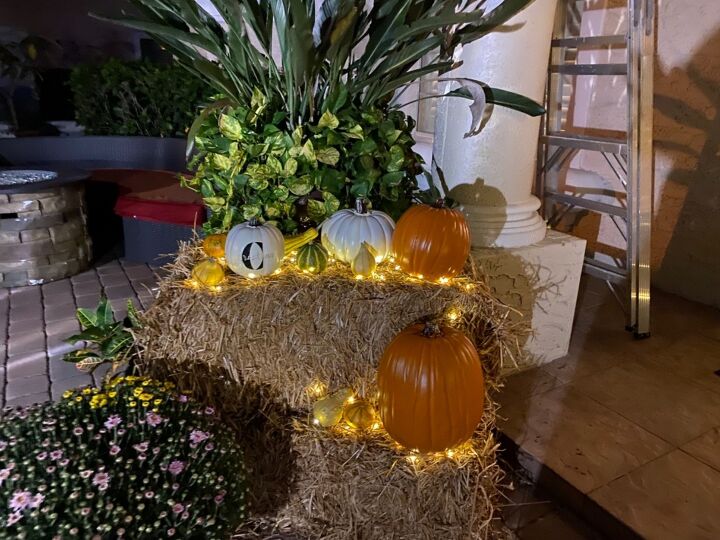 Adding lighted colorful fall leaves garland to Door frames
Now to decorate the door frame with fall decor….
The first thing I did, as you can see, is that I also removed the welcome mat and replaced it with a black and white striped rug. I love that this rug allows me to use this front porch decor as part of my Halloween decor, and not just a Thanksgiving door.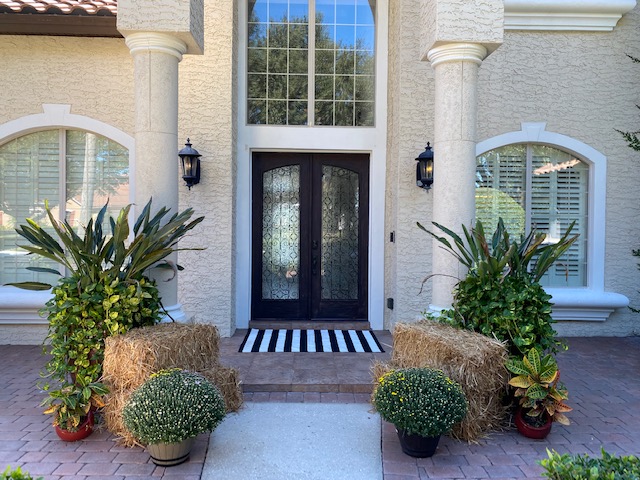 I've had this Fall leaf garland for several years now. I see similar products sold every year at craft stores like Joann's and sometimes even at the Dollar Store.
I love it, but wanted to jazz it up a bit. So, I illuminated it! Here are the steps I took.
Step one was just hanging the garland around the door. I have some little nails that are permanently mounted around the door and at the top of the door for seasonal décor. They're painted the same color as the house so that they don't show too much when the house isn't decorated. You can use floral wire or just twist ties to secure the faux fall leaves garland to the nails.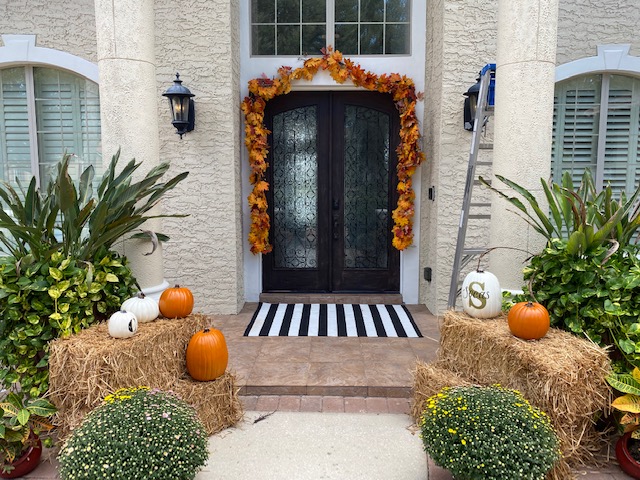 Placing Pumpkins on either side of the door
I placed pumpkins on either end but I didn't like that weird gap between the garland and the pumpkins. It seems picky perhaps, but it just didn't look right.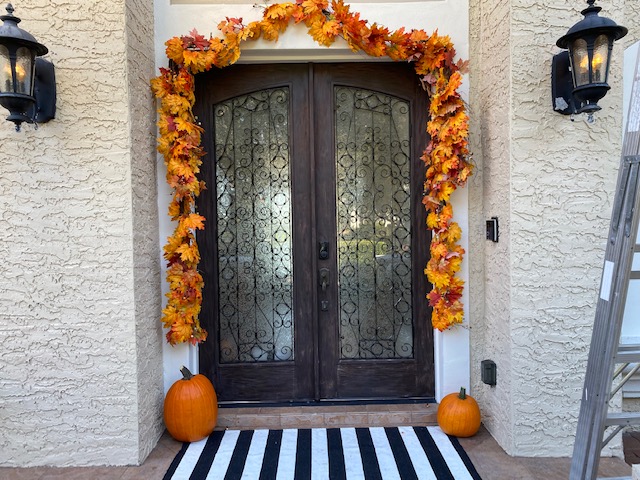 Here I moved the 2 pumpkins to one side of the door and then took another picture. I find that taking pictures helps me see the problem in a design more clearly.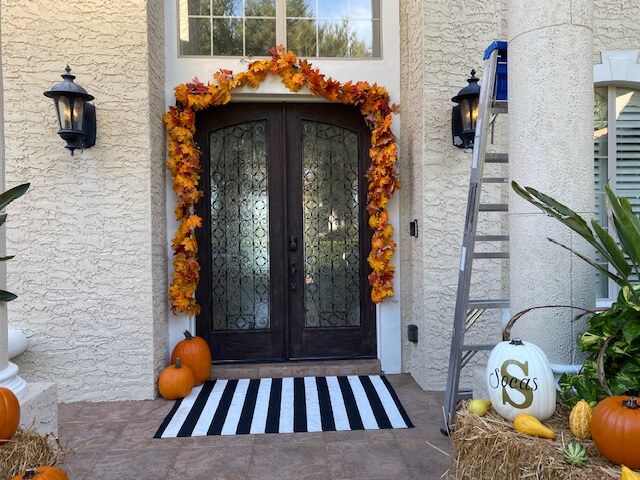 I've been a Real estate broker and house flipper for many years and, as crazy as it sounds, I sometimes tell my clients to take a picture of their kitchen and then see through the camera lens, what needs to be removed to make their kitchen look better.
So anytime I'm doing a project to the house, I take pictures and then analyze the way they look through the camera lens rather than with my own eye.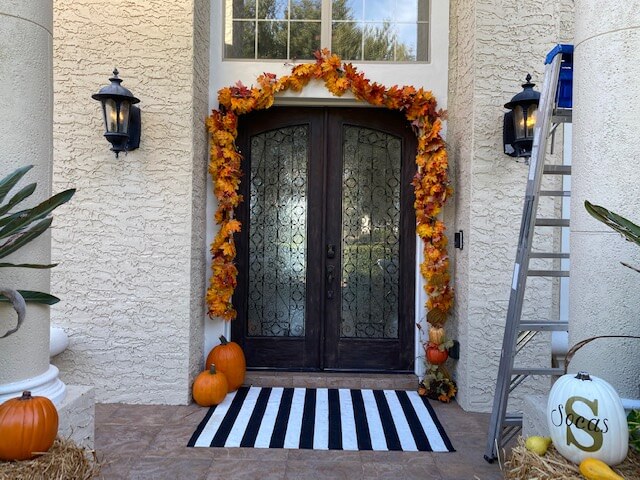 Now we're getting somewhere with these front door decorations! I added a tall pumpkin stand to the right side, and with the pumpkins on the left side, it looks more complete.
Time to light up this gorgeous fall front door display!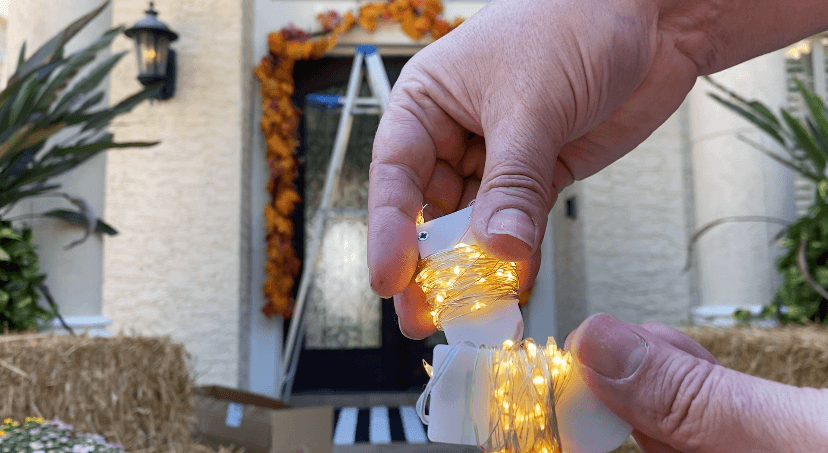 I took simple fairy string lights and twisted them around some of the colorful leaves. Twisting them helps to secure them in place. I like to place them behind the leaves so that it looks like they're glowing from within. That little bit of back light goes a long way in providing a warm welcome during this time of year when the cooler temperatures start and welcome guests and family are coming up the front steps to the front entryway.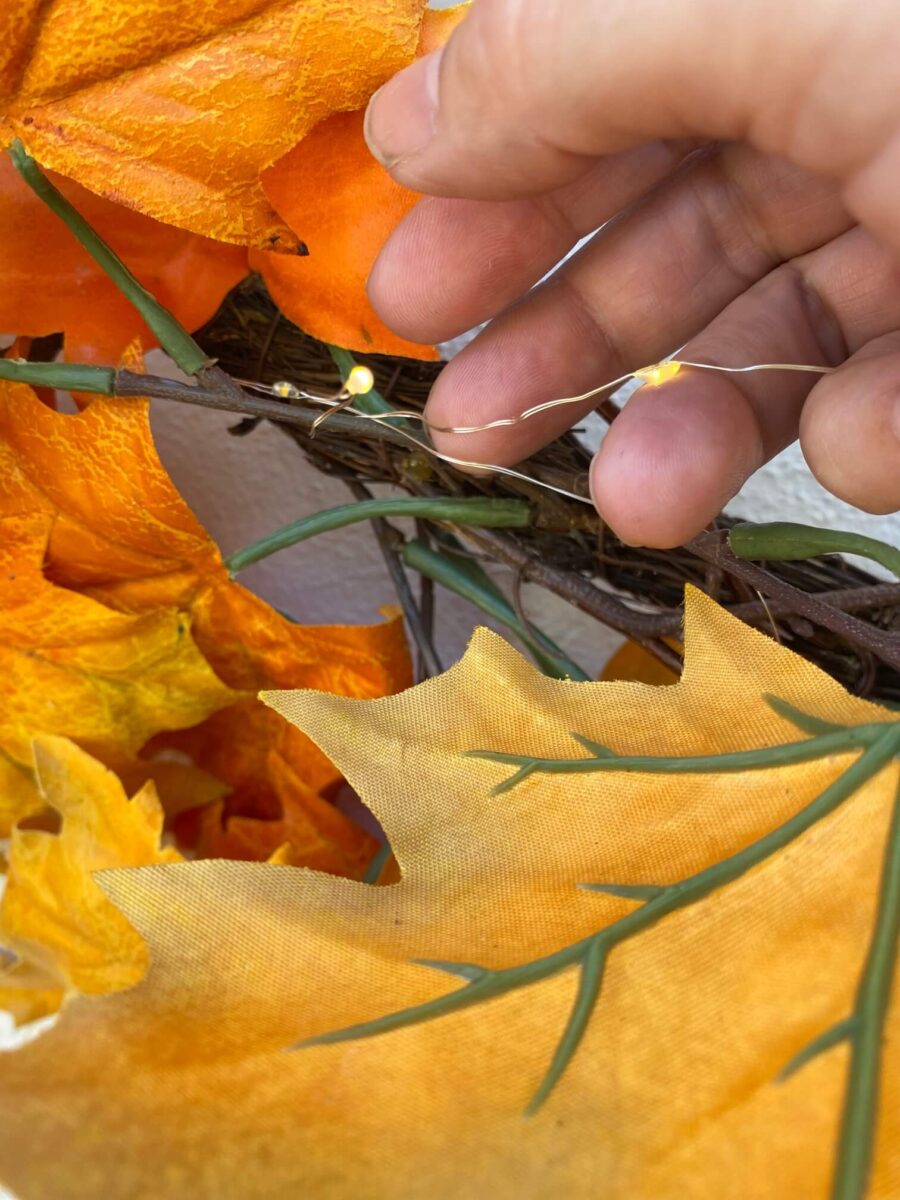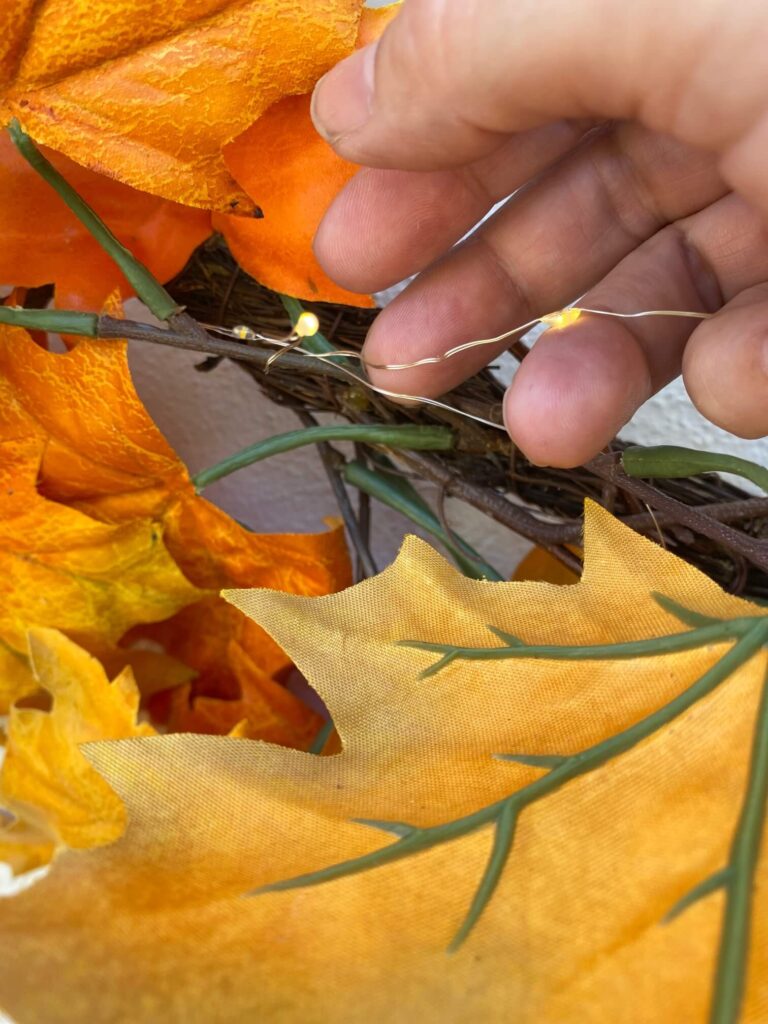 I hid the power switches behind the garland and placed them all together. This way I only have to go to this one spot to turn them on. I found that just twisting them together was the best ways to keep them in one convenient spot for turning them on. Toward the bottom and back of the garland was the perfect place for them to hang.
I did use a lot of strands of lights. I used 4 per each side. 8 total around the door. It does look nice and bright and gives the house some fantastic curb appeal
Light up the Fall Door Garland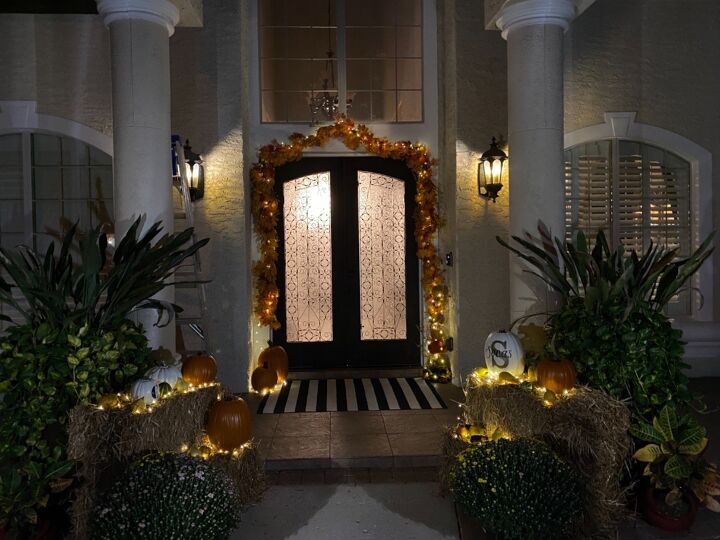 Finally, here's the completed door at night. It does now look festive and Autumnal and I hope it inspires you in decorating your door!
Once I turned them on, they looked magical! The photo doesn't even do it justice. The video here shows it a little better.
We live in Florida and getting a feeling of Fall is difficult. But these lights, straw, and the outdoor pillows I made really made our courtyard get that Autumnal feel!
I hope this can help inspire you to decorate your porch, door, or courtyard area and take it to the next level!
Please share your front porch ideas and photos and enjoy your Autumn season and Fall festivities
Please view more decor ideas and inspirational photos by visiting my website or by joining me on Pinterest!