Styling open kitchen shelving in a townhouse's small kitchen.
Recently, I mentored a group of teens and taught them about the different home renovation projects involved in flipping a property. (You can view all of the projects we worked on with this link). These teens helped remodel the entire space!
Our Kitchen
When it came to updating the kitchen, we knew this was a great place to really show off some modern design. We actually stumbled upon the open shelving concept, but it was perfect.
You see, we started with a kitchen that had a big gap in the cabinetry above the sink. We quickly saw that open shelving was a great way to fill this space in the old kitchen and add to the modern kitchen feel. We couldn't add another cabinet because it was not a standard cabinet size at all.
Open kitchen shelves allow not only for easy access to items you use frequently and would like to have within easy reach, but they also provide a focal point to showcase your design style and theme. So, we had to investigate how to style open kitchen shelves.
I go through our open shelving kitchen area, and show how I used everyday items to stage this open space. I'll also include affiliate links to products that may be of help. (As an Amazon associate, I earn from qualifying purchases.)
Before we styled the open kitchen shelves
Here's a look at the kitchen design we were starting with. You can see that most of the kitchen upper cabinets has closed cabinet doors, as do the lower cabinets. However, there was a gap between the upper cabinets on either side of the sink. We could not fit a standard cabinet in here. So we figured this was the perfect opportunity to insert shelf space and incorporate this design trend into our kitchen space.
You'll see in this video how I sampled different objects in order to find the best way to make these shelves look like the perfect place to showcase items in a townhouse kitchen with little space. When experimenting with how to style open kitchen shelves, you'll see that I added some items but then didn't like the way they looked and removed them.
Some added too much color (the green bowls), some were disproportionately large (the brown candle stands). Playing with the objects and incorporating the rules below gave the best result.
How to style open kitchen shelves
When staging, there are a few techniques that interior decorators use, and that we used in our kitchen open shelf design. These techniques to decorate a kitchen's open shelving are:
Anchoring
Grouping
Stacking
Layering
Showcasing
Consider color
First thing, clean off your existing shelves and start with a blank slate.
Anchoring:
When you have the open shelving, or even when decorating bookcases, you'll start by adding your largest pieces first. Scatter these because they'll serve as visual anchors in the completed project. In this specific kitchen, we didn't have much space at all, so we didn't have expansive spaces that needed too much anchoring. But you will see that I did ultimately use a cake stand as an anchor on the bottom shelf of our kitchen.
Grouping:
It's normal to group like items together, and it is pleasing for us to see items that have the same thing in common together. Ideally, group items in 3's. This is the most visually pleasing. Other odd numbers work well too, but you'll notice that in staging, groups of three are used quite a bit. I grouped the wine glasses in our open shelves and they looked great grouped in 3.
Here's an example of open shelving that groups items in the rule of 3's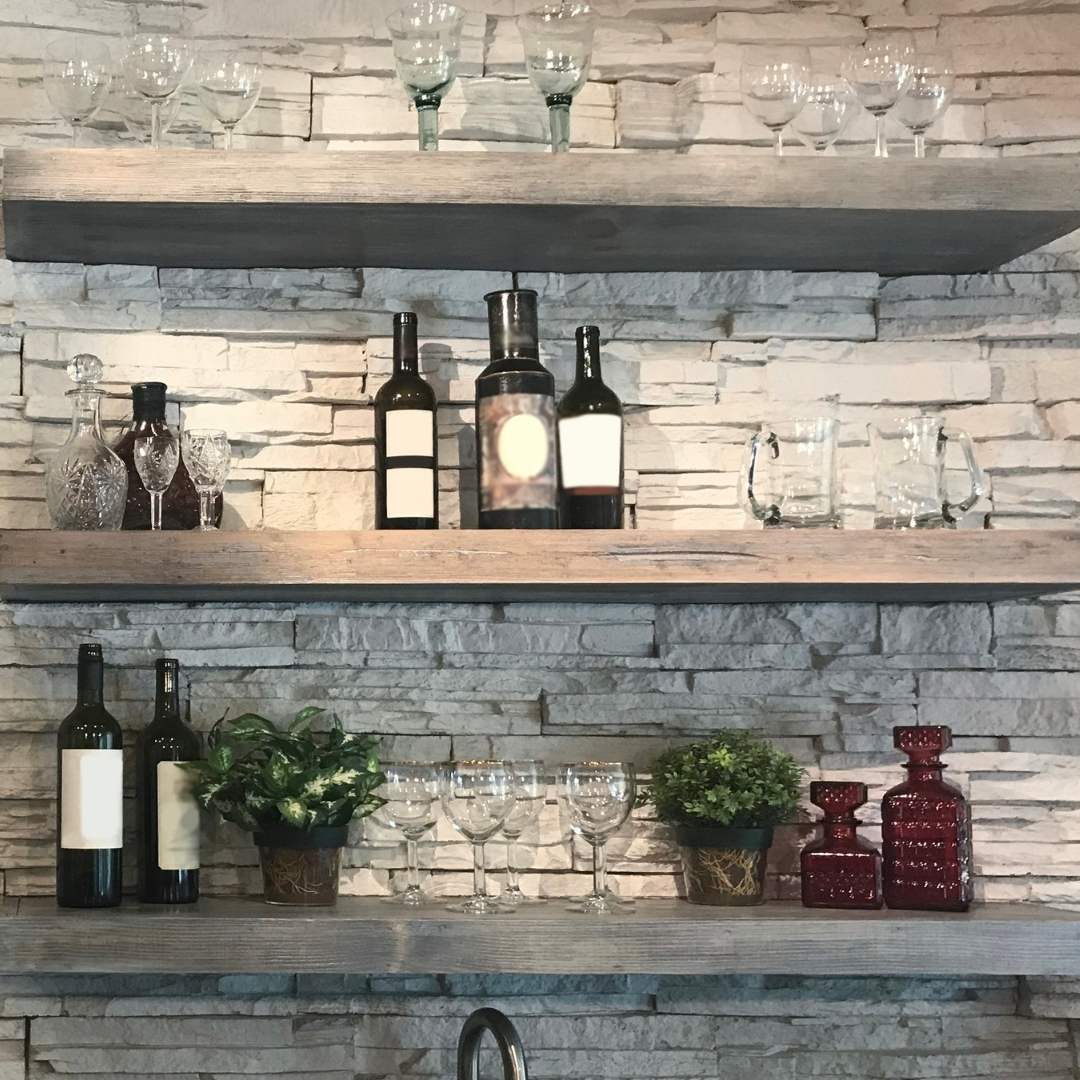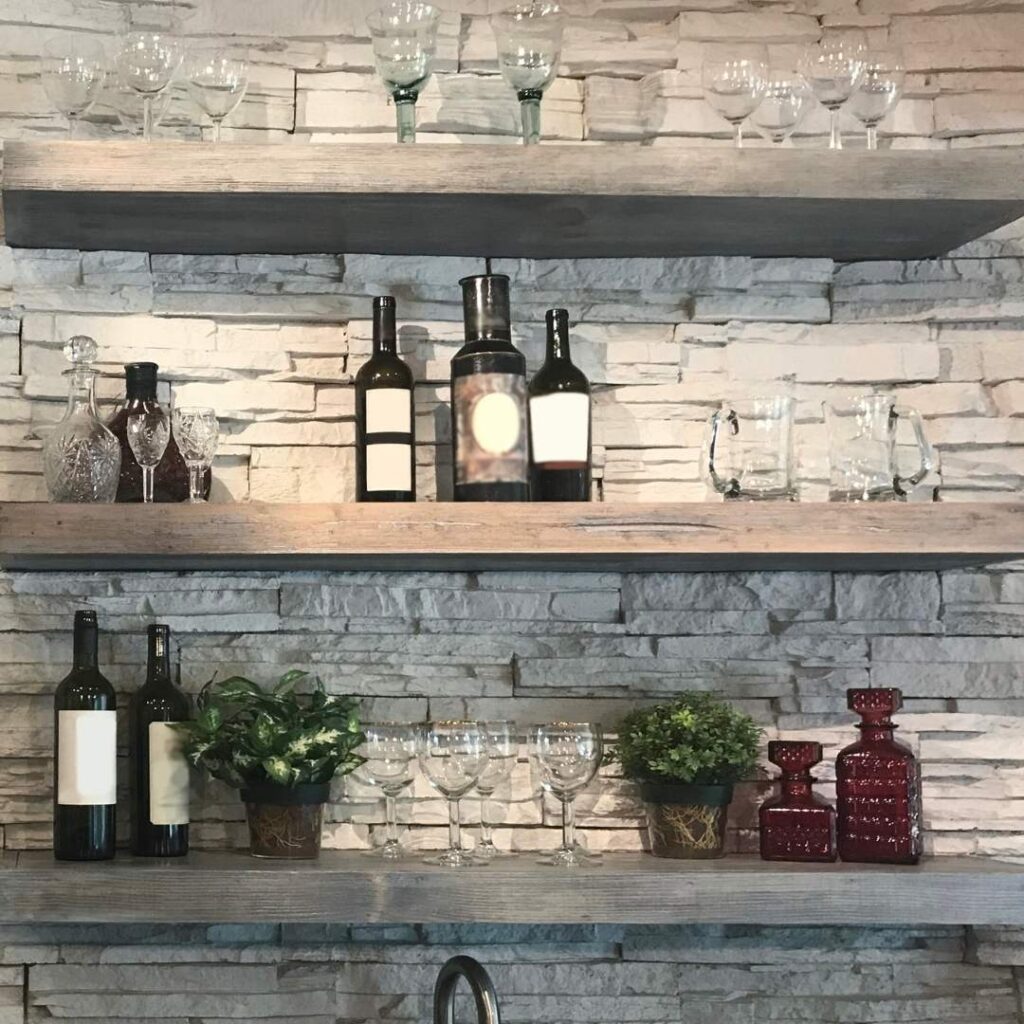 Stacking:
Placing objects on each other will allow you to vary heights of objects and group them vertically. Stacking white dishes would give a clean look. You can choose to use your everyday items on an open kitchen shelf as storage space. A stack of plates or favorite dishes on open shelves are easy ways to easily access things you use on a daily basis. Stacking books are also a great way to add to the look of open shelving. I used cookbooks for additional stacking.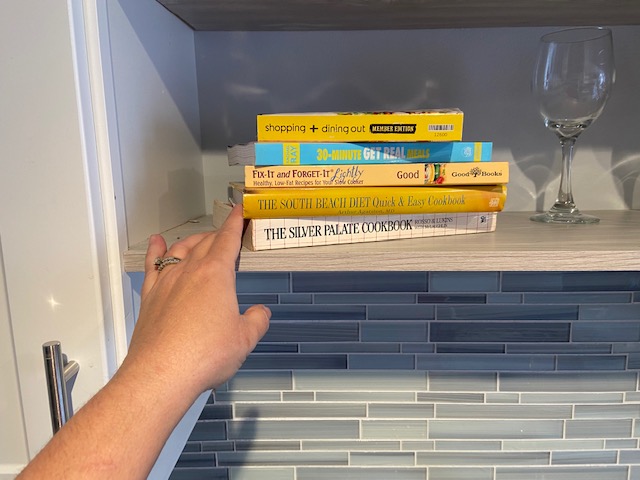 Layering:
This technique is actually referring to the placing of items in front of, or behind, one another. So rather than thinking of vertical height interest, this is more of the visual depth. You may only be able to use this a little bit in open shelving, especially if the shelving is functional for your daily use. However, it works perfectly for decorative storage of items that are used only on special occasions. I utilized a bit of the layering technique on the top shelf of the townhouse remodel.
Here's a great example of how an interior designer utilized layering. Notice how the cutting boards are layered behind the plates and make them more visually interesting.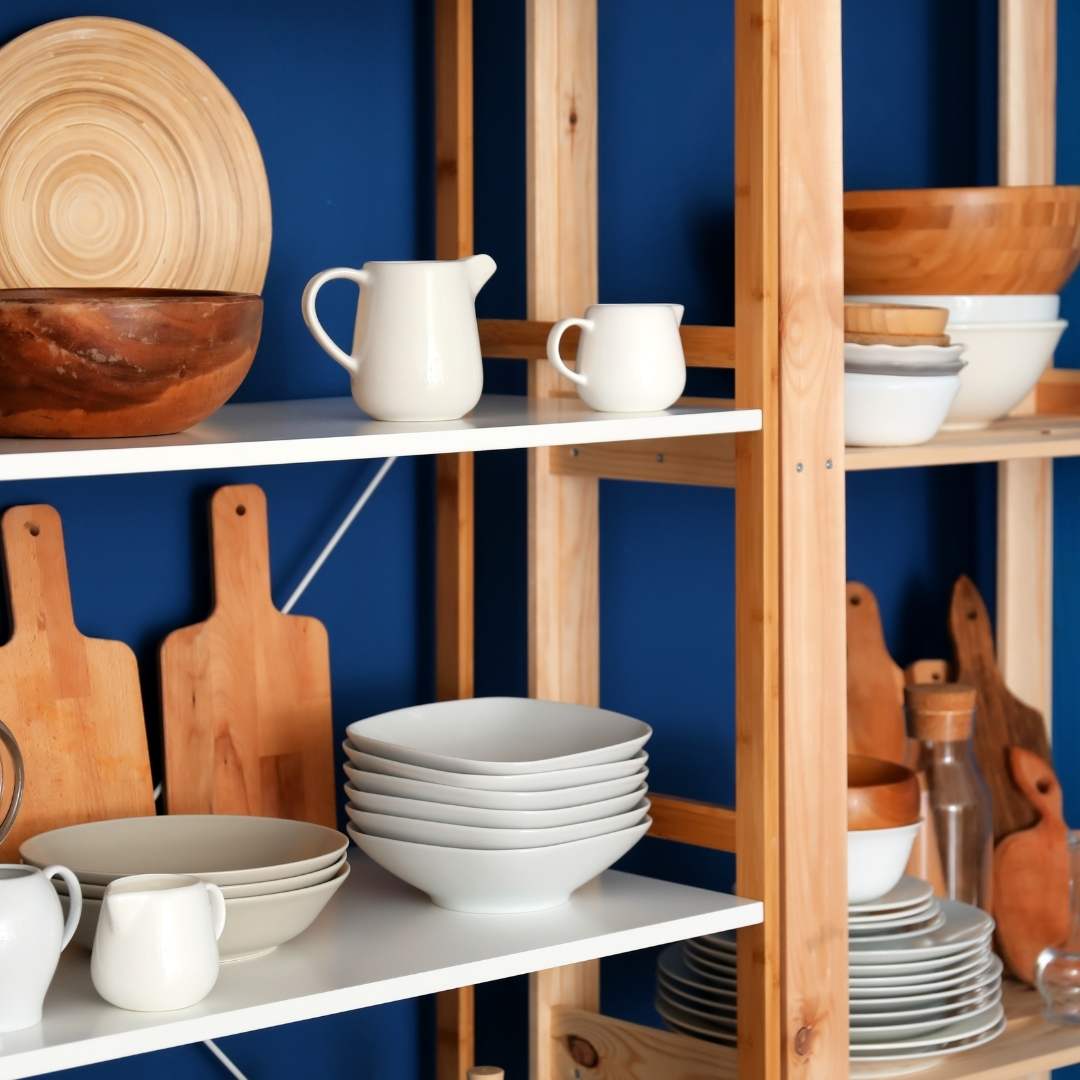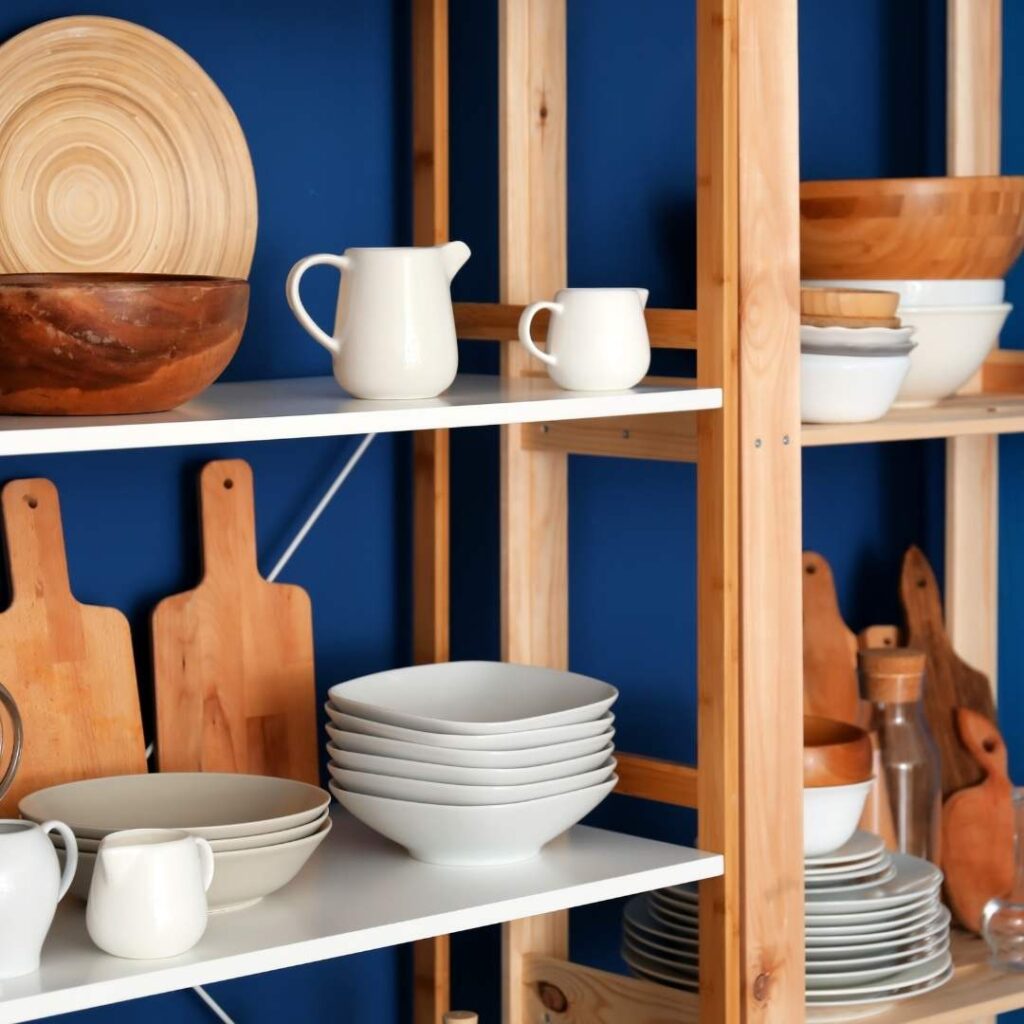 Showcasing:
Who doesn't love to show off a favorite item or something that you feel showcases your style. If you have a single thing that can exemplify your design style, this is where you'll use it. An item can be showcased if it has a light shining on it, or if it is on a pedestal, or even against a backdrop that frames the object.
Consider color:
Your kitchen certainly has a color palette. It can be based on neutral palettes or can focus on a pop of color. Whatever your choice, the only thing to do is to keep it consistent. Don't add too much color that could clash with the rest of your kitchen. Select colorful pieces that compliment your colour palette. I used yellow and blue cookbooks because I like the way it complimented and contrasted with the blue backsplash we installed.
By the way, white it may seem like color coordinating on open shelving is a good reason to run out and buy new plates, (or other decor items), remember that you may not need to incur this extra cost. You can often use what is already existing in your own home, or you can find items at thrift stores.
Here is a visual examples of muted color in a bookcase open shelving. Notice how they covered the books to continue the color scheme.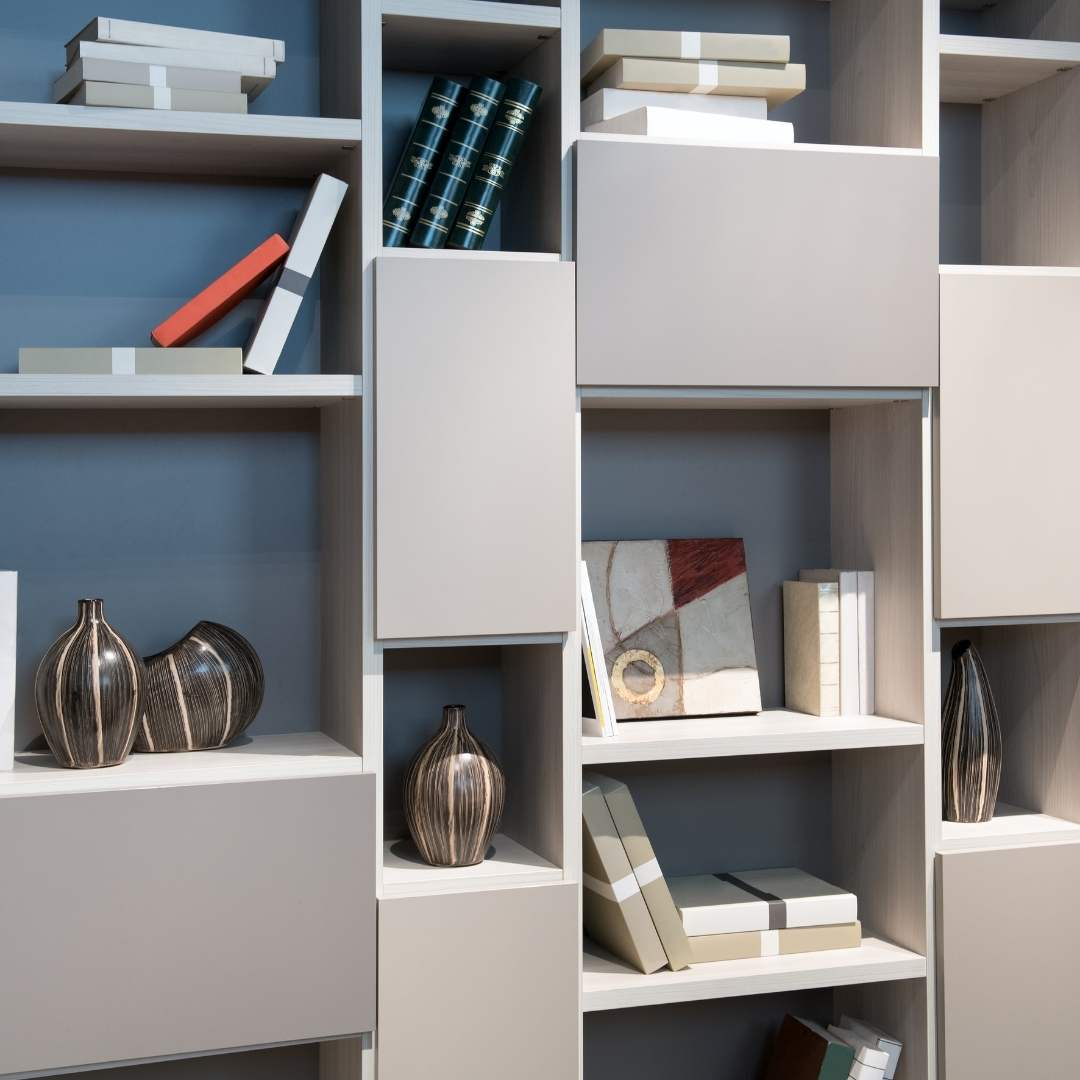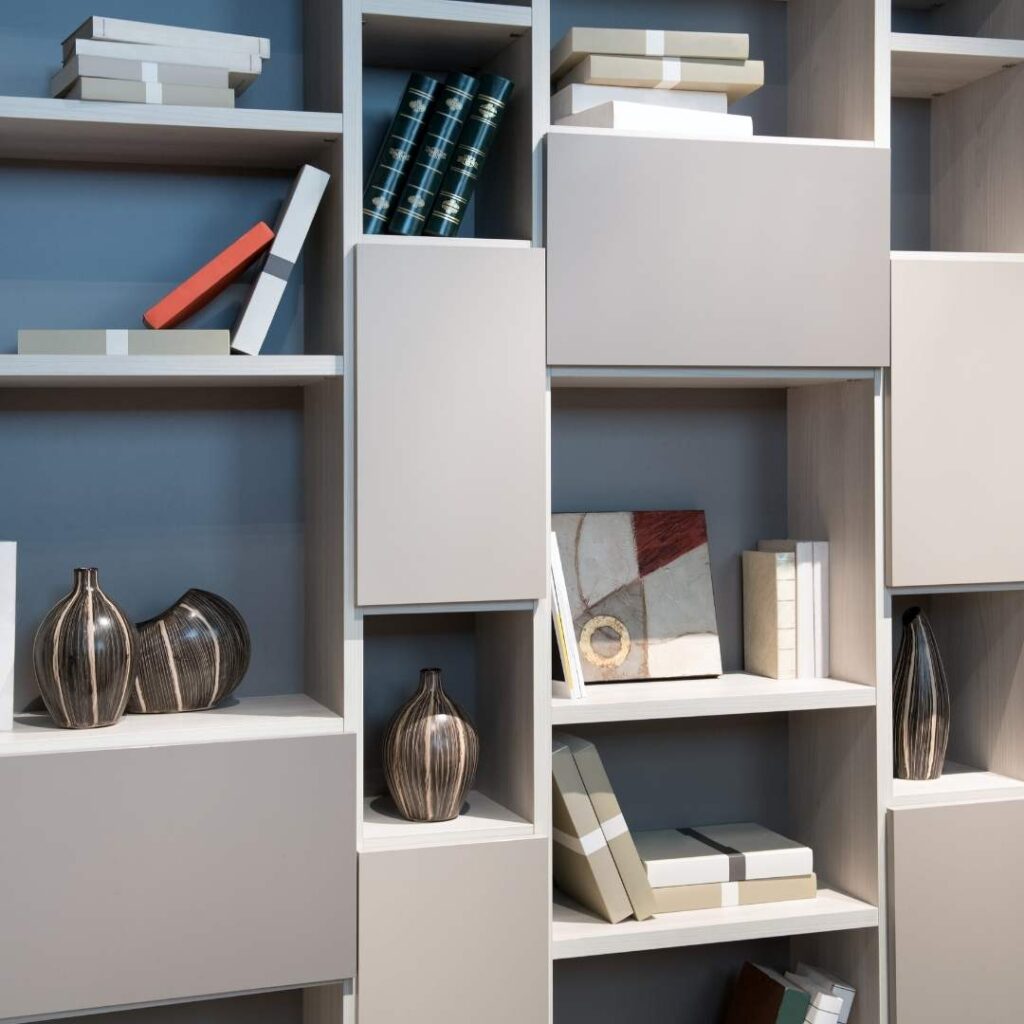 Color in open shelving–showcasing blue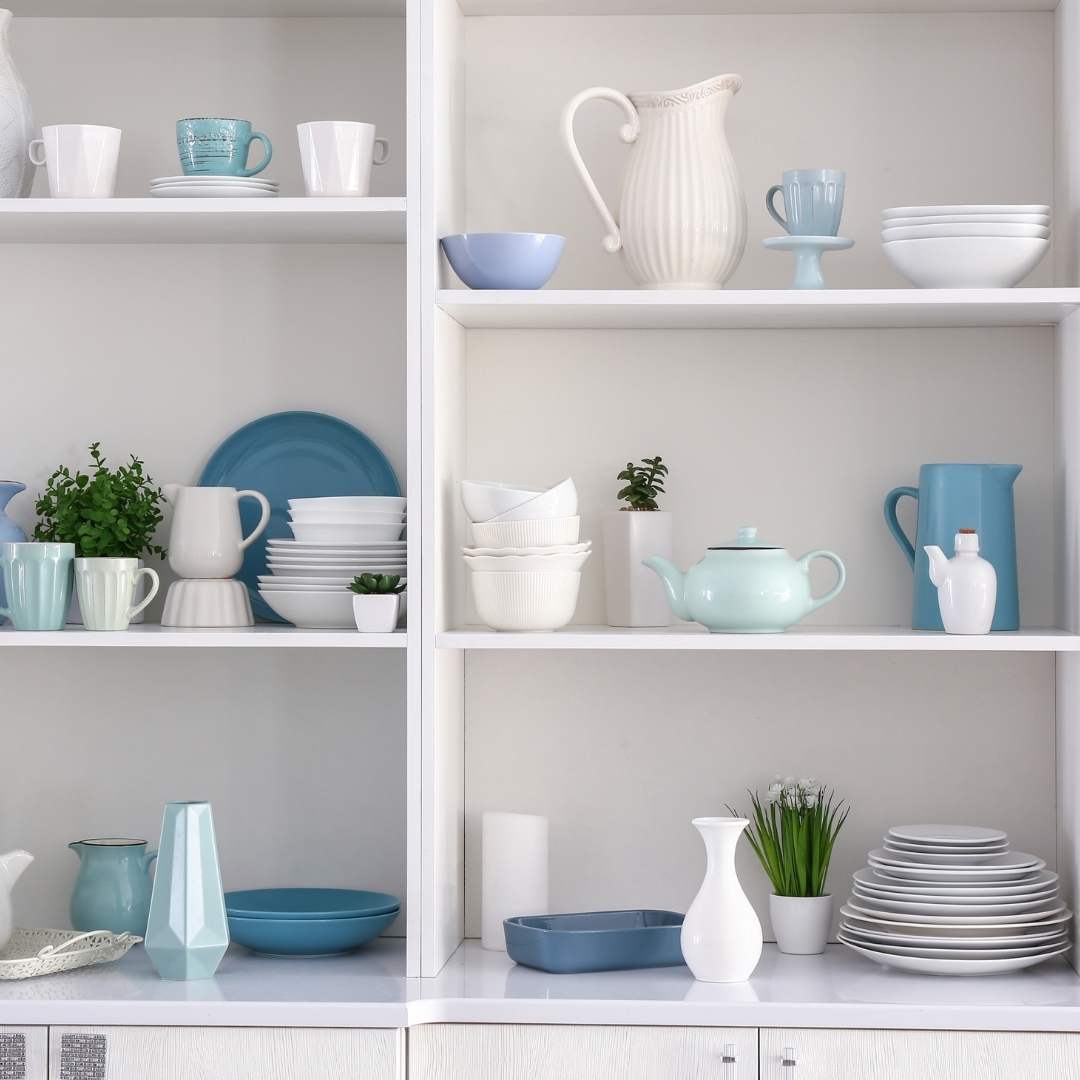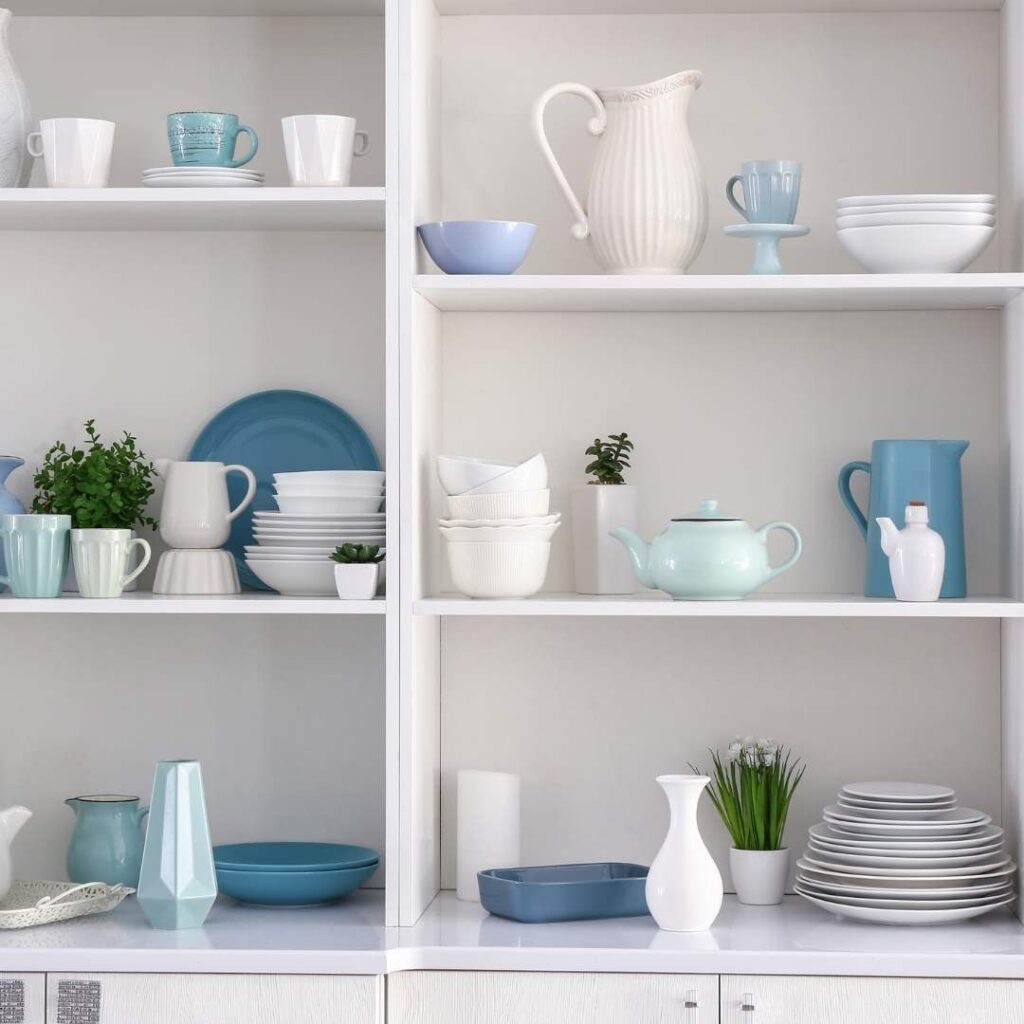 Our Final Result in Styling Our Open Kitchen Shelves
Here's the "after" photo.
Your turn to style open kitchen shelves!
Using these steps will help you think of different ways that you can show off your favorite pieces or even just bring out your everyday dishes and utilize them as decorative elements. I hope they'll contribute to the look of open shelves in your own kitchen. I'm sure you'll do a great job!
Please connect with me on social media .
On Instagram I feature some of the best things I see in model homes and show before and after photos of renovations we've done.
On Pinterest, I store photos and tutorials of kitchen trends, interior designers ideas, bathroom designers, living room photos, and more.