Decorating the room of a softball player can be easy when using a huge wall mural like the one I recently saw in a model home. Showcasing the ball is a fun idea for softball or baseball. Paired with the right softball bedroom décor, you can create the perfect softball themed bedroom. Of course, these ideas also work for a baseball theme with just a few modifications.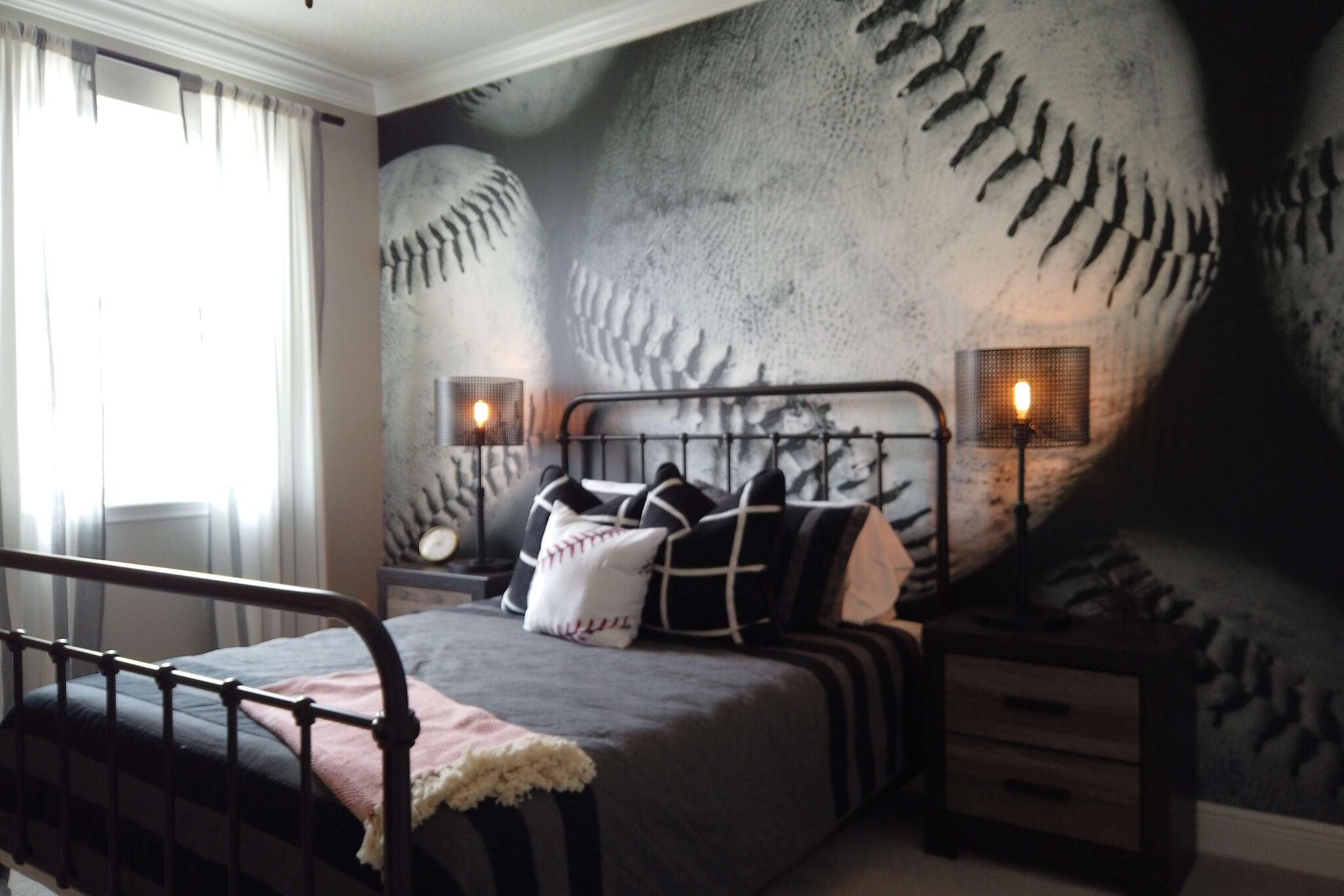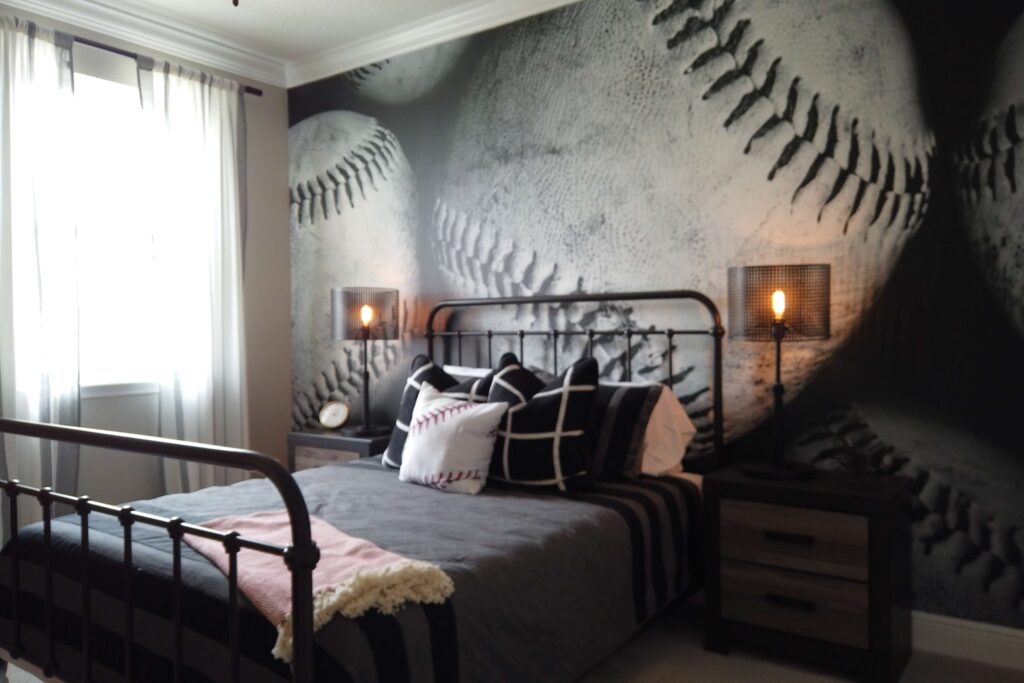 Some of the best ideas for themed rooms that I've seen, as I spend so much time in and out of model homes as a Realtor, center around bold statement pieces and then simple touches throughout the rest of the room.
There's a wide variety of softball room decor, and here's a roundup of the best one's I've found online. These make great softball gifts individually, but when put together they can really create a fantastic room with a modern design and cohesive theme worthy of a teen bedroom either in a high end home or luxury apartments.
I earn a small commission if you purchase items by using links on my site, but this does not in any way affect the price of the items. As an Amazon Associate, I earn from qualifying purchases.
Shop all of the items in the photo above in one place on my Amazon page: https://www.amazon.com/shop/castrorealtygroup
Making the bed in your Softball Themed Bedroom:
The bed is usually the focal point of the bedroom, so dressing it up is one of the best ways to anchor your design.
Cute Softball Pillows:
Here are some softball throw pillows that you might like to complete the look in you softball player's room.
Blankets:
Finishing off the bed, add a great softball fleece blanket like one of these.
These softball clocks are also a good idea for the nightstand or dresser:
The Walls in your Softball Themed Bedroom:
Wallpaper Murals:
I love these Wallpaper Murals, especially when they're peel and stick. They are easy to install and easy to change when the time comes for a different themed bedroom.
Softball prints:
Look for a print of a favorite player or a softball poster as an easily changeable way to dress up the room.
Decals:
I'll admit, softball decals are not my favorite way to decorate walls because I enjoy a bolder look that looks really intentionally designed. Like the huge mural above. However, for apartments where you can't permanently affect the walls, the removable wall decals are great.
Personalize it!
For an alternative to the large generic mural statement, you can incorporate team colors for your high school or club team. The selection of colors can go a long way toward identifying your favorite team. If your young players have a jersey number that they love, you can utilize that number in your design. One idea for this is to create wood room signs that can be hung and then changed out as your softball player gets older and perhaps changes her jersey number.
Another easy way to personalize your girls softball lovers room on a budget is to incorporate picture frames on the wall. Using dollar store frames is an excellent way to showcase some of your player's favorite things. For example, a photo of the entire team, an action shot of her crossing home plate, an inspirational quote, or her jersey number if you don't want to create a wood sign as mentioned above. If you decide to create framed inspirational quotes or the jersey number, be sure to use text colors that compliment the softball team your daughter plays on. I like to line up similarly sized frames next to each other on the wall, although you could also create a collage using a variety of sizes of frames.
This photo is not softball related, but I include it here just to show you how you can incorporate team colors onto the wall and then add a decal overlay to make it really amazing: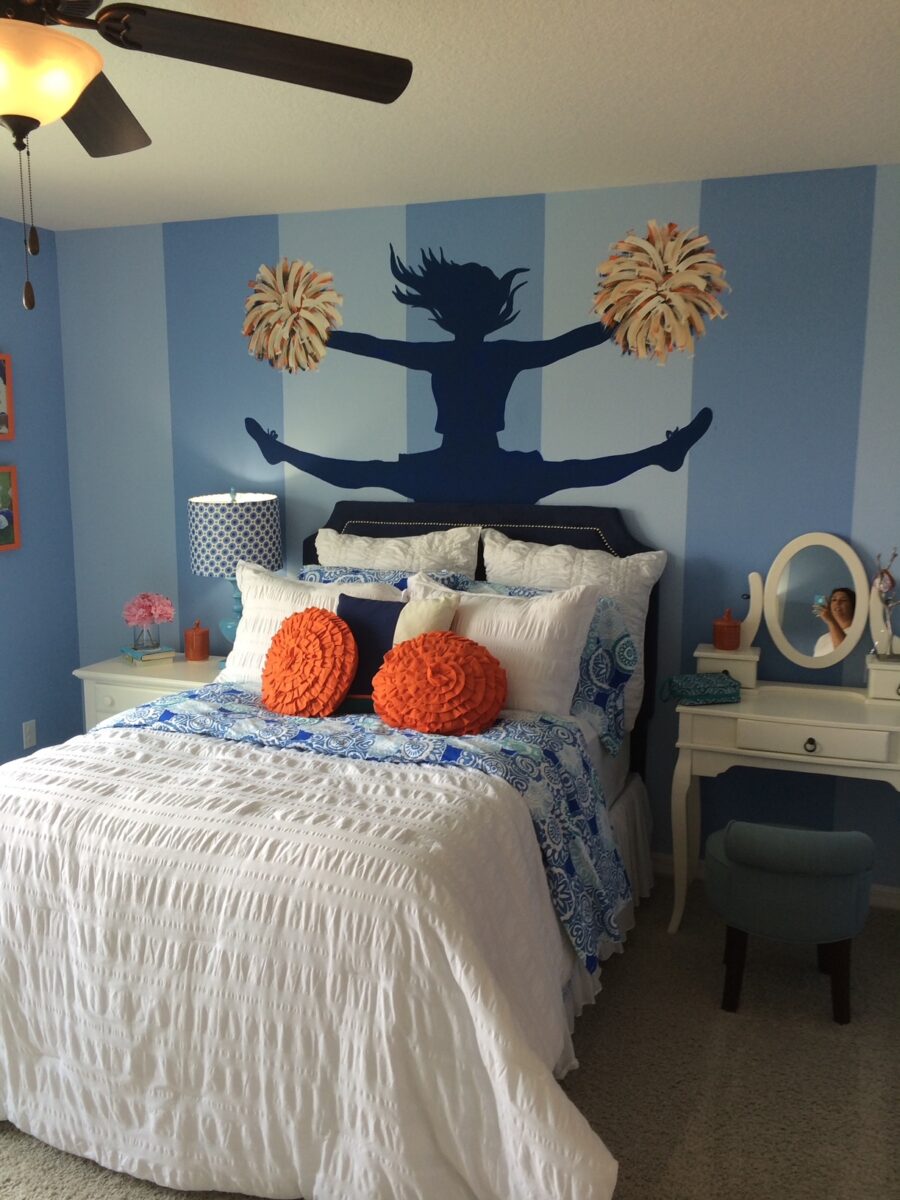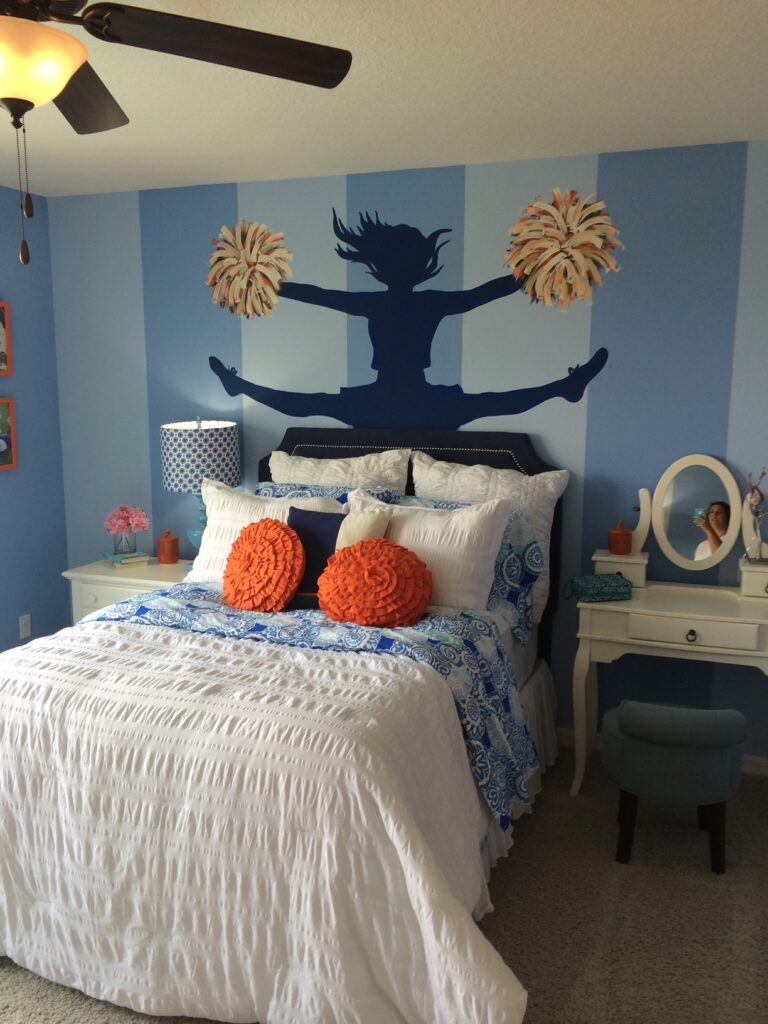 Around the Softball themed bedroom:
If you have a little more space that can be filled, either on a shelf or a dresser, you can add some other touches. Ideas range from balls, to hanging hooks with a few bats, or placing a glove somewhere in your design. I love the idea of a group of softballs in a basket or stacked together like a pyramid. You can glue them together so that they're not constantly falling down. The clustering of balls is great because it conveys a feeling of action. It's like just having the balls around implies that at anytime we could run outside and hit some ground balls, work on a hitting drill, or warm up for a game on the spot.
Here's a photo showing how a glove was placed in a boys room in the model home I viewed.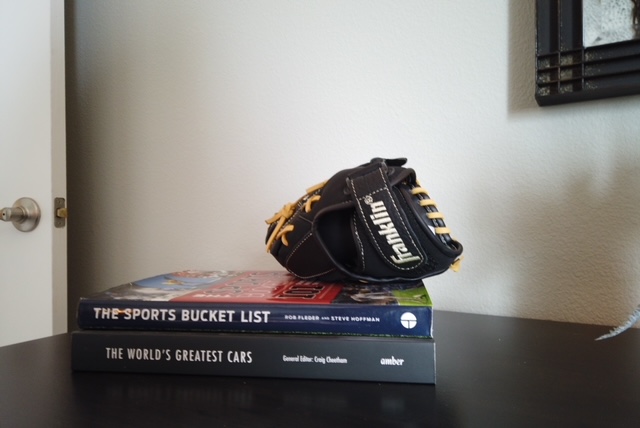 I hope this helps you with ideas to create the room your softball players will love!
If you're interested in other ideas for themed bedrooms, I've also used wallpaper to create a Harry Potter room, perfect for little boys or any wizard lovers out there! For my daughter, I used a huge Disney princess mural to transform her room, and you can also see it in this Disney condo Airbnb. There are all kinds of different directions you can go in when using bold wall coverings. They're the perfect companion to your next themed room!