How I decorated a beautiful Disney Princess Bedroom for my daughter, and what I would do differently
Creating a princess bedroom for my little girl was one of my favorite DIY decoration projects. Planning and executing it was so much fun! When she saw her room, it was as if she had walked into her very own fairy tale. Below you can find information on how I put this themed room together, along with links to products I used. I hope that I can help you create a space your own favorite princess loves.
Here's a link to an Amazon shoppable list of items that you can find on Amazon that I used in this project or recommend to create a great Disney princesses room. As an Amazon Associate, I earn from qualifying purchases.
Here's the room I created: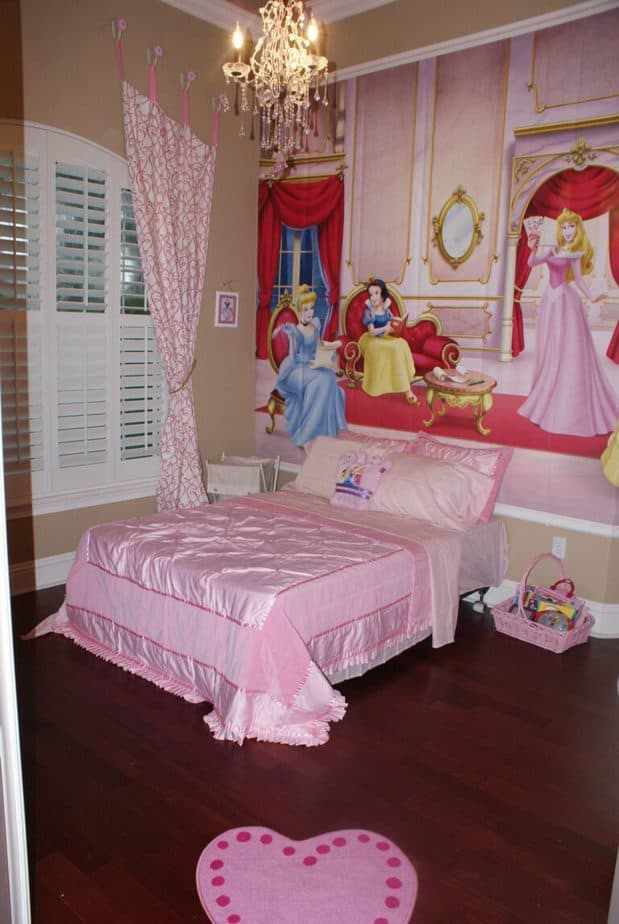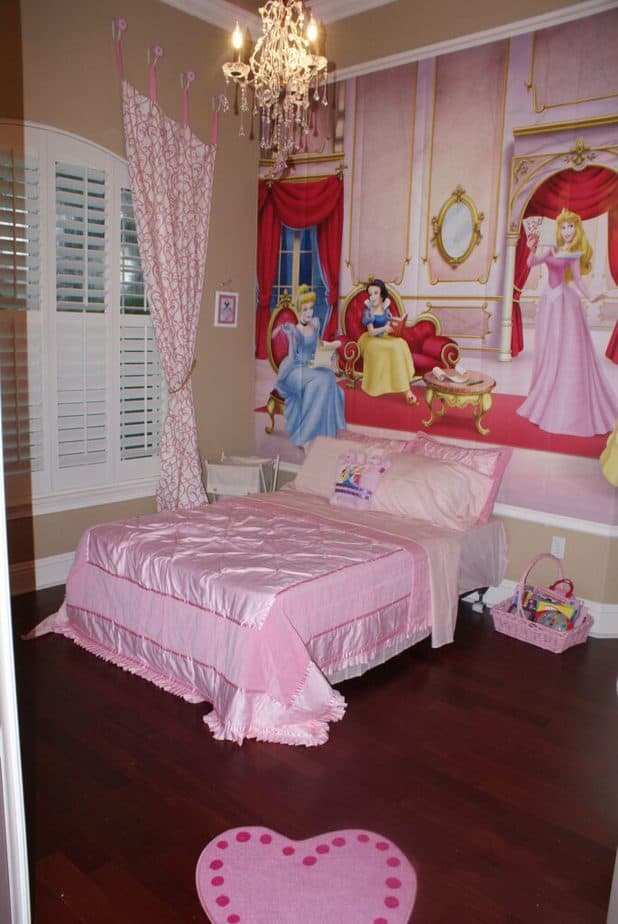 This is what it had looked like before the change, it was basically an office that we were using as a bedroom: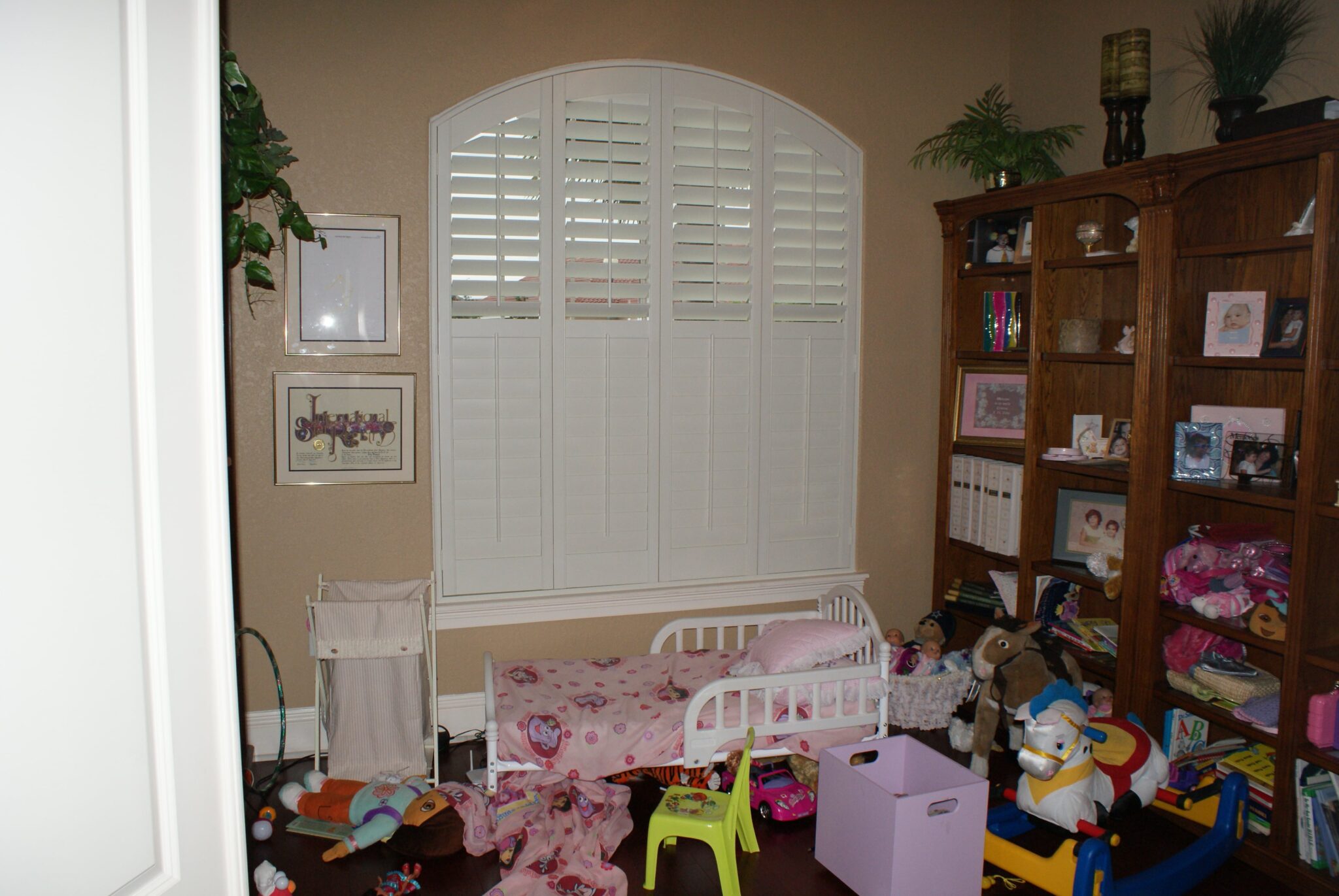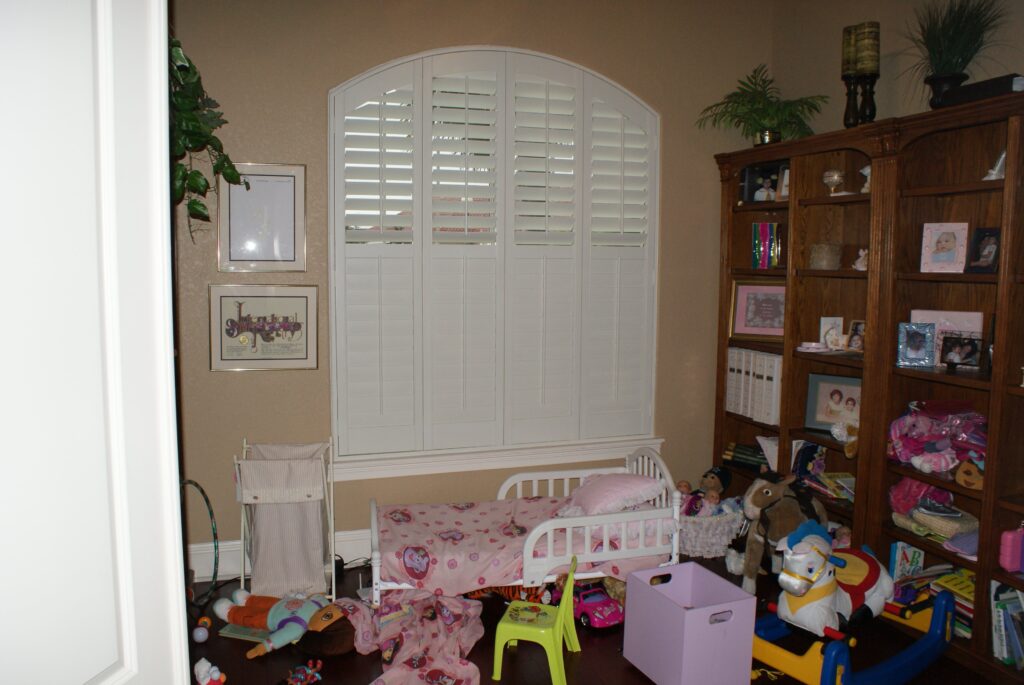 Princess Wall Art
Princess Wall Murals
There are different styles of the Disney princess wall murals available. My daughter loved Snow White and Cinderella, and all of the fairy tales; so when creating the room for her, I wanted to showcase these princesses. I also wanted it to feel like she was actually a part of living with them.
That's why a wallpaper mural that took up a significant amount of space created the perfect feel as soon as you enter the room. I was so excited when I found this princess wallpaper mural that had Snow White, Cinderella, and also Sleeping Beauty! And I love the way it looks like you're actually in a royal room with them, sitting around and chatting.
There are also different princess prints to choose from, and you can see another style on a different feature wall I created for an Airbnb condo that also utilized princess room décor. The mural is really a great way to transform a large or small room very quickly.
Here's the image of that other princess bedroom I created: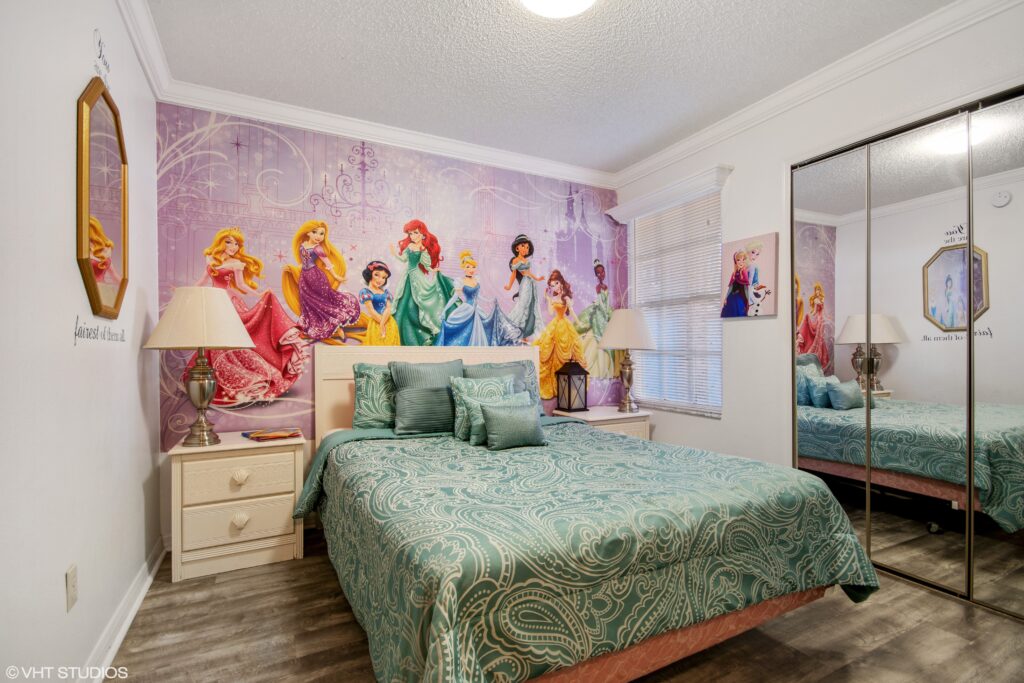 Applying the wallpaper on Imperfect walls:
A quick note about applying the wallpaper. If you have nice smooth walls, then you're in luck! But I have highly textured walls in my daughter's room. There's no way that the wallpaper was going to stick to it.
Here's how I worked around that. If you look closely at my photo, you'll see that I have molding along the top and bottom of the mural. My ceilings are very high and the mural didn't reach all the way.
I actually put up the wall paper against the wall and then used a staple gun to secure it. No wallpaper paste and no peeling and sticking because of my wall texture. Then I covered up the staples with the molding, top and bottom. It worked really well. There were a few spots where the overlap between the wallpaper sheets wasn't perfect. I was able to use a small staple there too and it wasn't visible.
When it was time to change the room and remove the mural, the staple holes in the wall were small enough that just a bit of paint actually filled them up!
Princess Room Wall Stickers
I really love the way the large princess wallpaper takes your breath away when you walk into the room. However, I understand that this option only works for those who can make relatively permanent changes to their walls.
Alternatively, I've seen several wall sticker images that can work well if the property is a rental.
Another option is to hang framed photos of the princesses around the room. Then utilize a color scheme that coordinates with the photos or princess posters you've chosen to decorate with.
Using wall stickers or framed photos also works well if your room layout doesn't provide enough space for the larger murals. For example, if you have windows that prevent one large princess mural.
Princess Room Curtains
Here is a picture my curtains in the princess room as I was hanging them: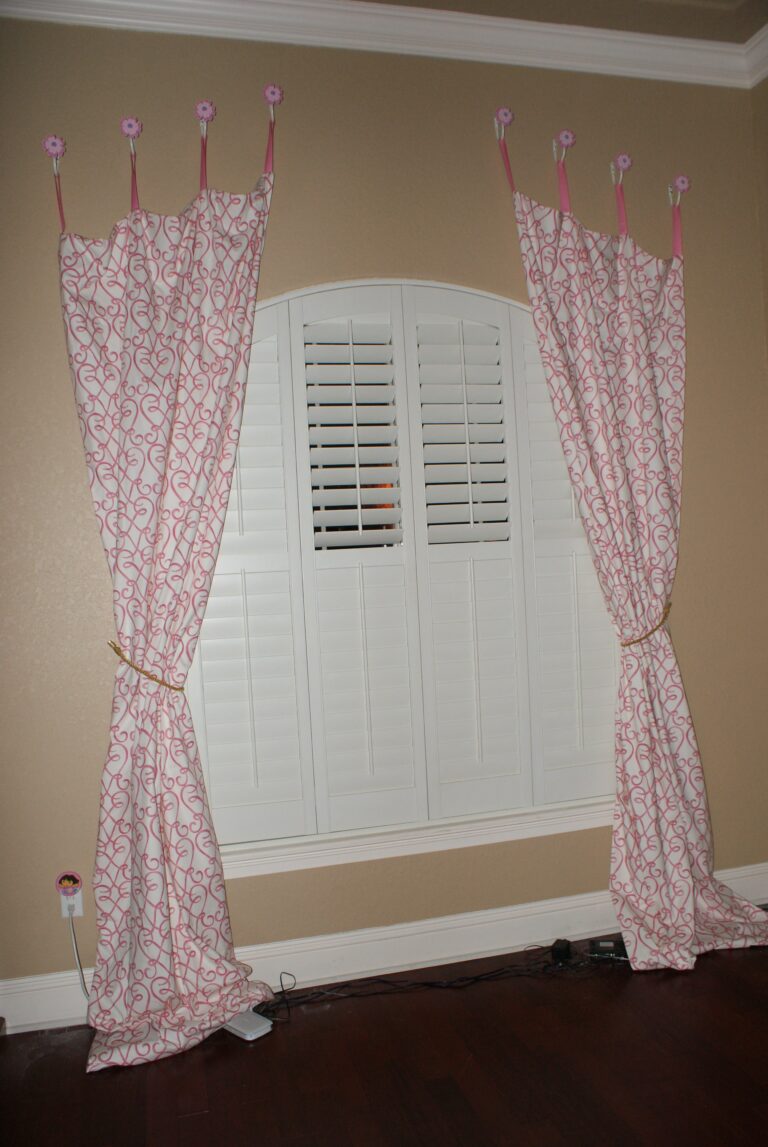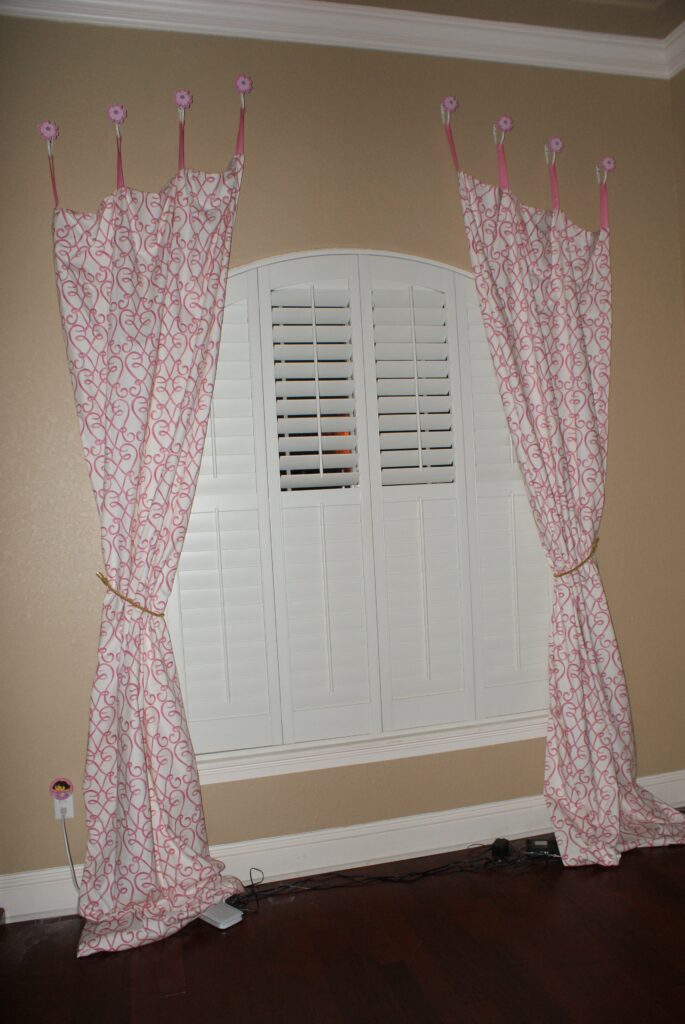 For the royal look I added some fantastic curtains with a lot of pink swirls. This way I could incorporate the pink without having to paint pink walls. I think it's a great idea when decorating a little girl's bedroom to remember that she will soon become a big girl. She may not want the different shades that she loved in childhood.
Hanging the curtains:
Sometimes when you have an irregularly shaped window, you have to come up with a different way of framing it with curtains. That was the case in my daughter's bedroom. You can see that the window didn't lend itself to a traditional curtain rod. I didn't want to cover up any part of the large window.
So, I used some wall hooks and placed them at an angle down around the window. I then hung the curtain tabs on the hooks and let the royal fabric cascade down. I really liked the way this looked. It's not really functional on a window like this though, so just tie it back to maintain the look and keep it out of the way.
Here's a closeup of the curtain on the wall hooks. I simply sewed the "tabs" onto the fabric using ribbon: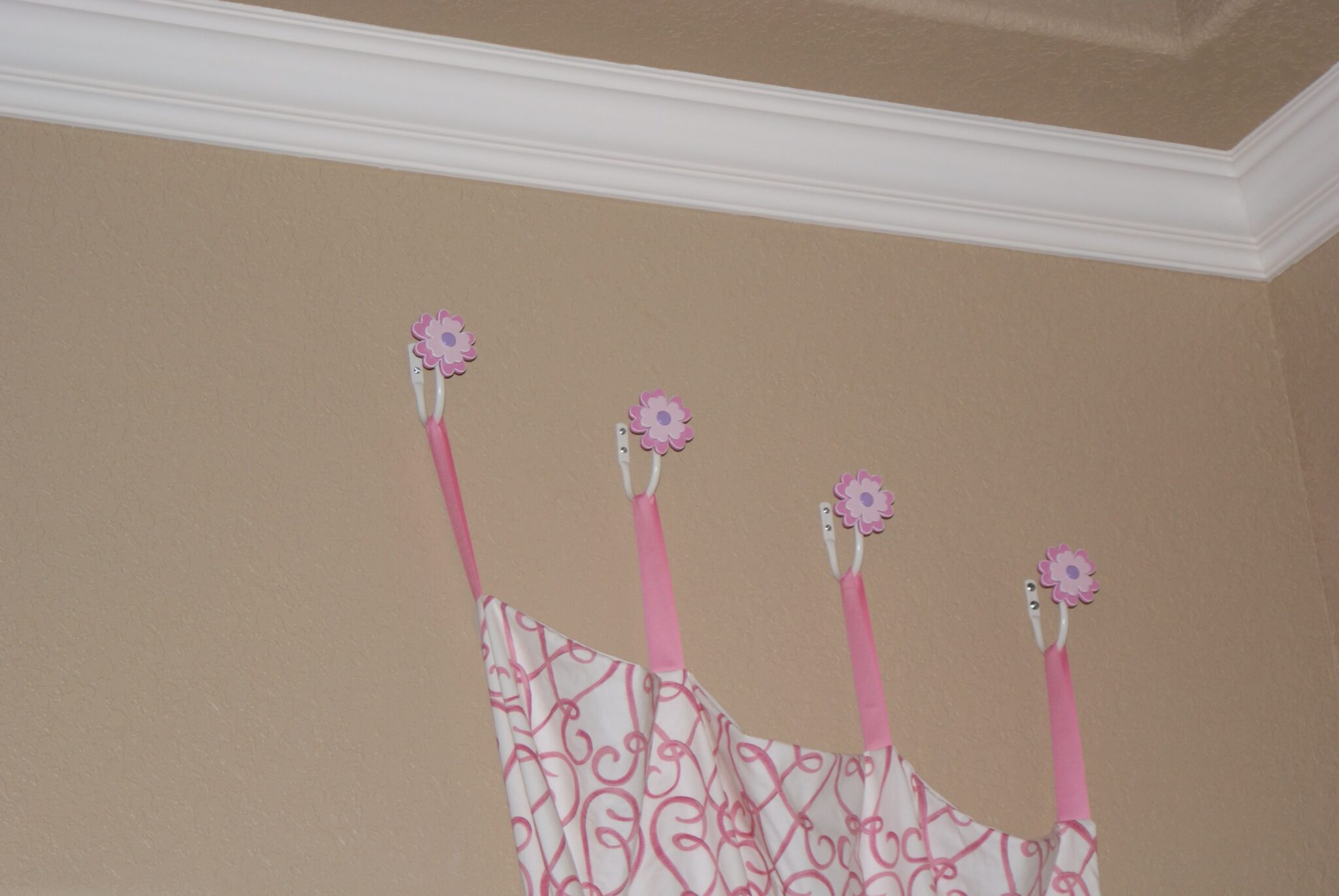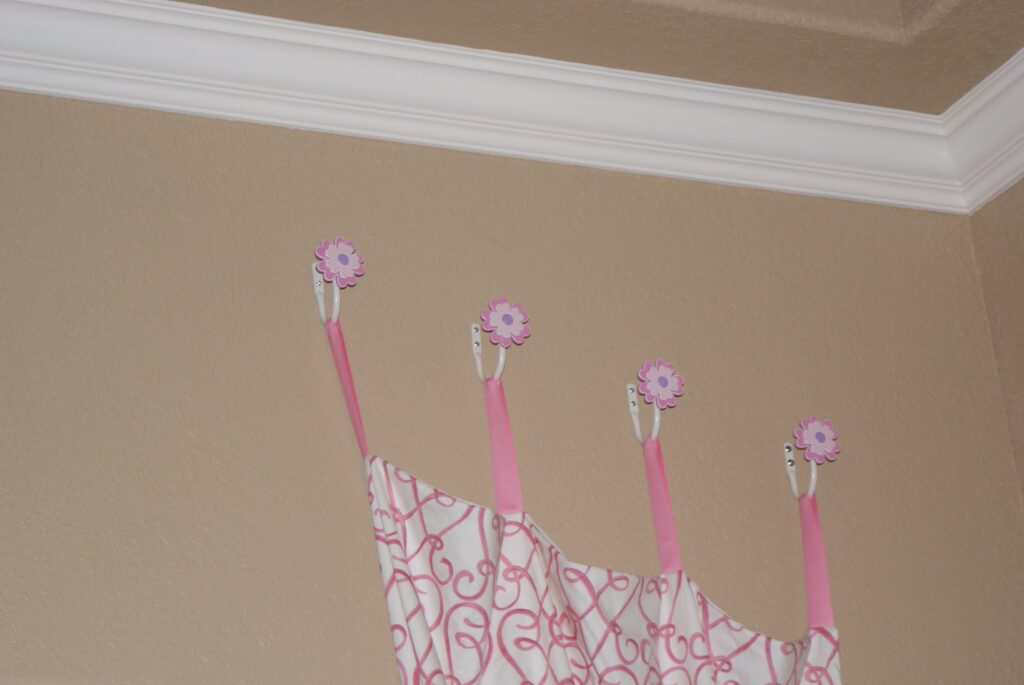 Princess Room Lighting
We hung a crystal chandelier. This became the perfect spot for hanging a small glass slipper. The slipper gave the room even more of a magical look and give a subtle nod to Cinderella.
Here's a look at the beautiful chandelier we used–can you see the pink slipper hanging down from the center? We attached that ourselves to the chandelier: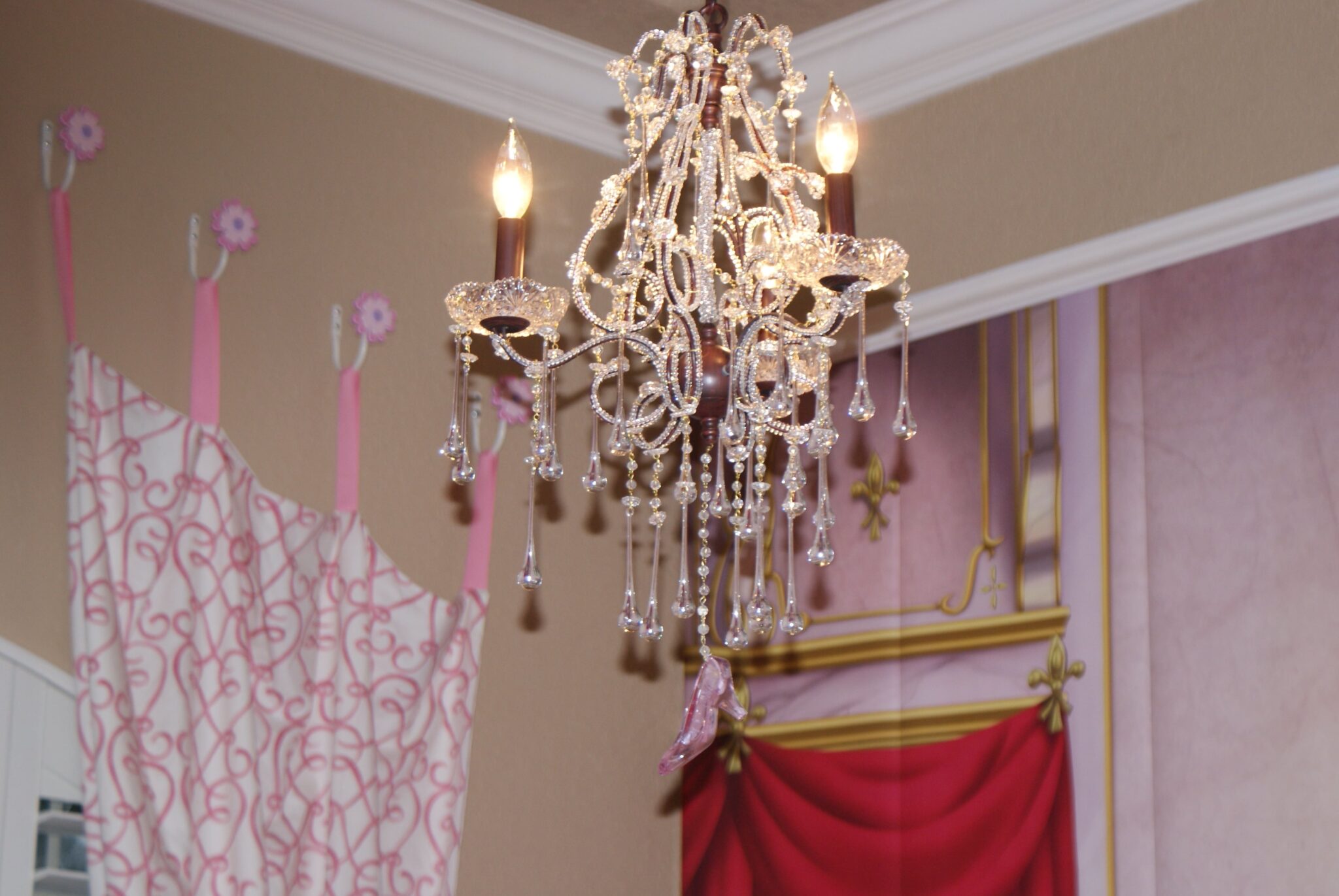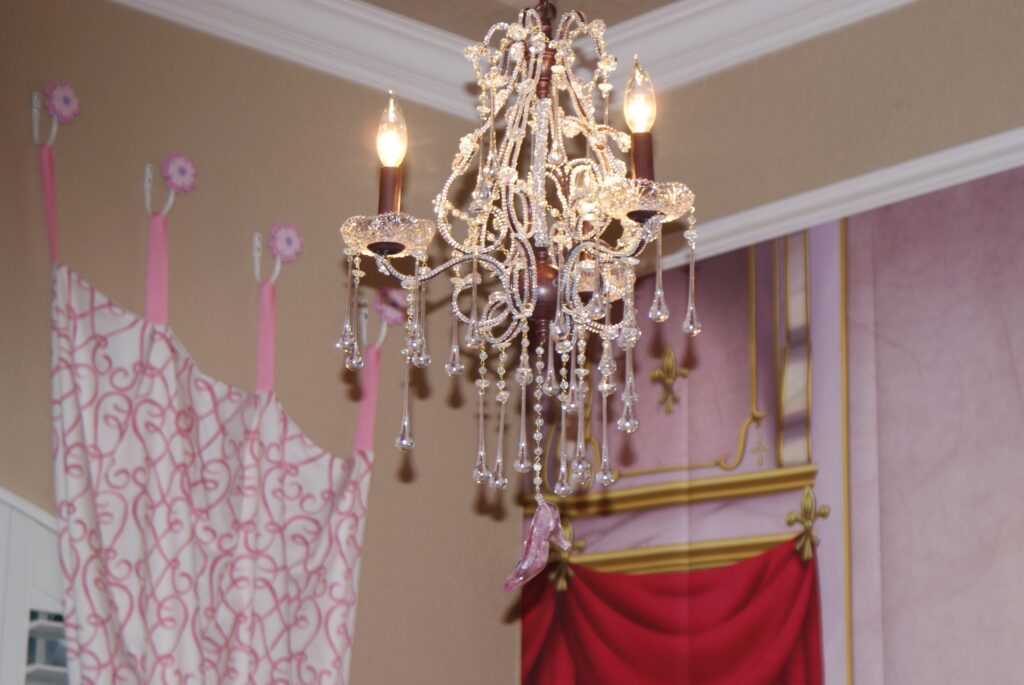 You can find similar chandeliers in the Amazon list I put together.
The Perfect Cinderella Bed
Whether you have bunk beds, classic canopy beds, or just one "queen" bed (get it—a queen bed for your princess?) in your daughter's room, you can add a regal touch with the right bedding. Crown shaped pillows are also a great addition to the room.
Now, I have to admit, it would be a dream to provide a little girl with this type of fairy tale princess bed! (You can see that it's not necessary, but oh gosh this type of bed is beautiful!)
In my little girl's bedroom, we used bedding with a pink color and some great jewels that were incorporated in it. I linked to something similar in my Amazon product list, in case you want something like that. But really any pastel color could work. You can just pull out a color from the wall decal and find a comforter that will match in order to bring the room all together. Incorporating the same color will make your daughter's room feel much more intentional and cohesive.
And don't limit yourself to soft colors only! Bright colorful bedrooms look great too. Here's how we incorporated bright bedding into the other princess room, you can see this yellow comforter looks fantastic too.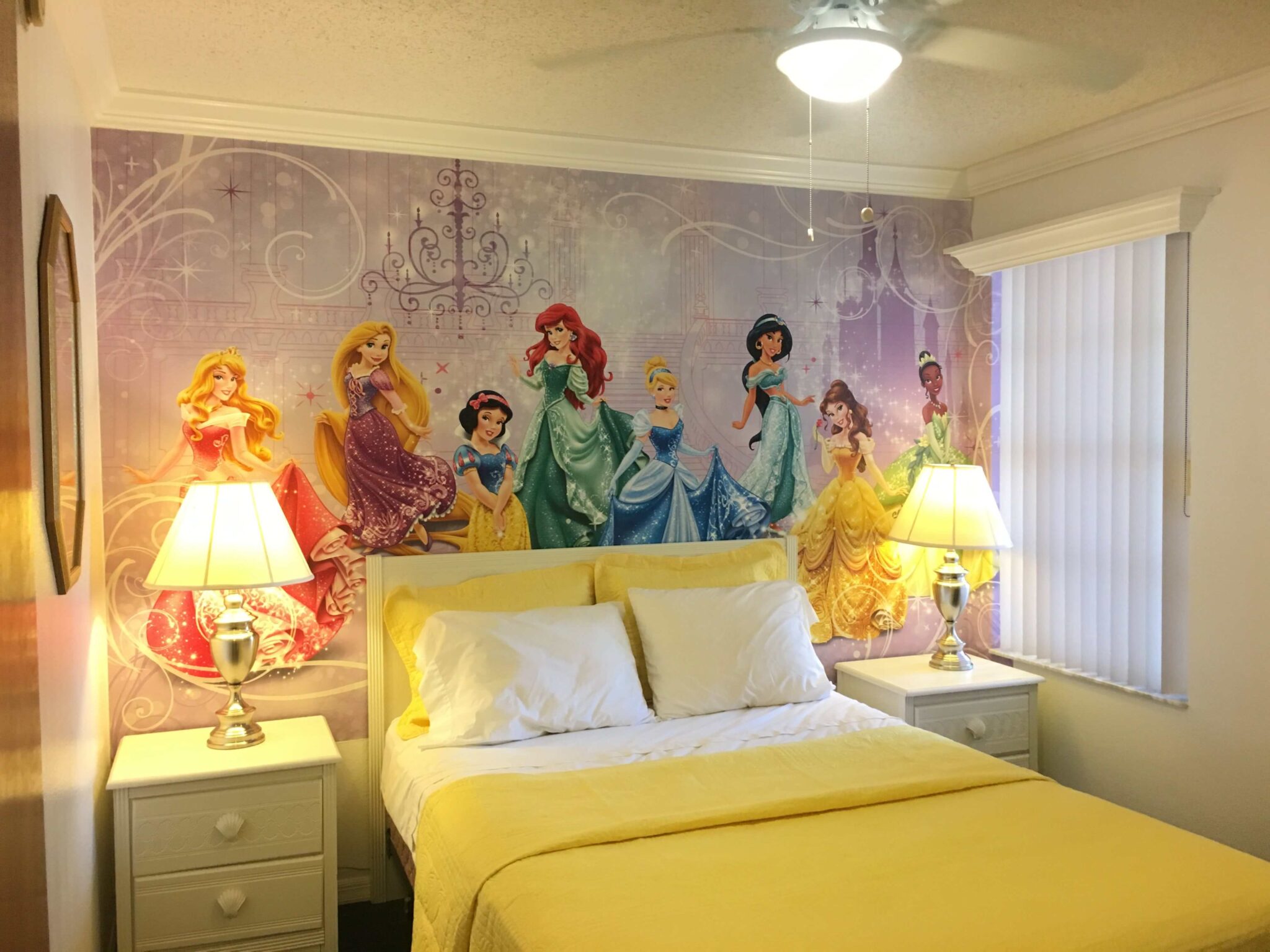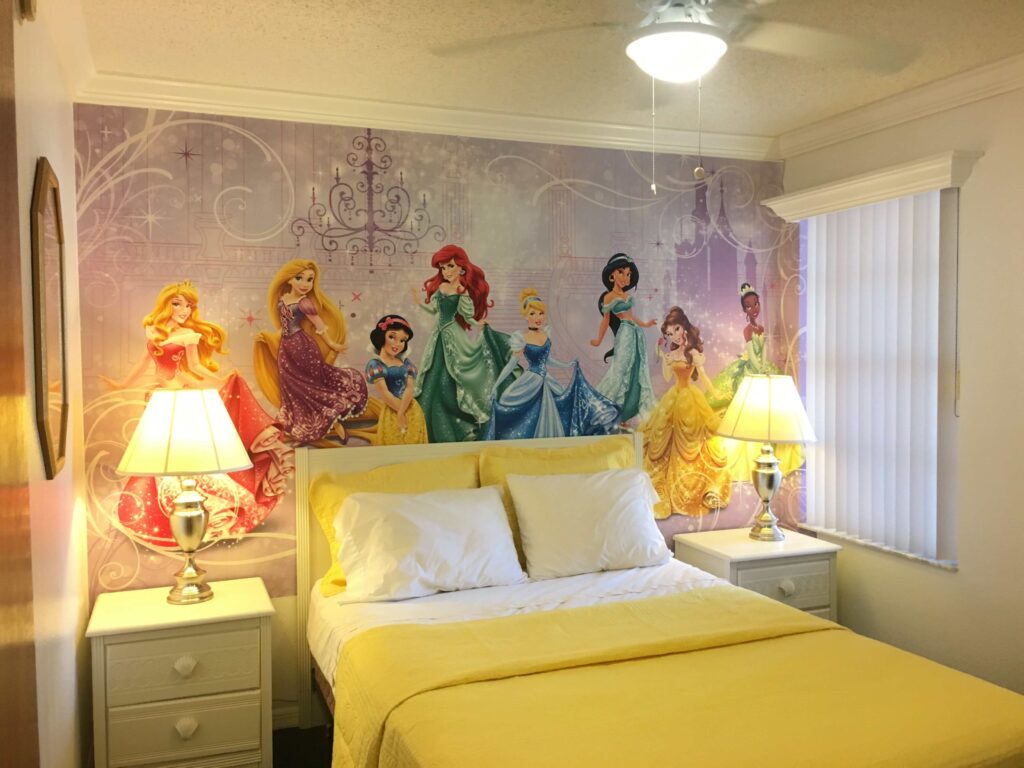 Décor around the Princess Bedroom
I also used decor elements around the room that added to the theme while understanding that the room needed to remain useable. It's not just a themed bedroom in a model home. Over on a side wall (not seen in the picture) we had hooks. Here my daughter could hang her dress up costumes and feather boa. This provided a play area for dress up.
We also had an area where she could sit and look in the mirror. There are some great decals that have sayings like "You are the Fairest of them All" and these can certainly add to the theme when placed around a mirror. I used one of these decals in our Disney Princess room in an Airbnb and it looked cute, here's a picture of that: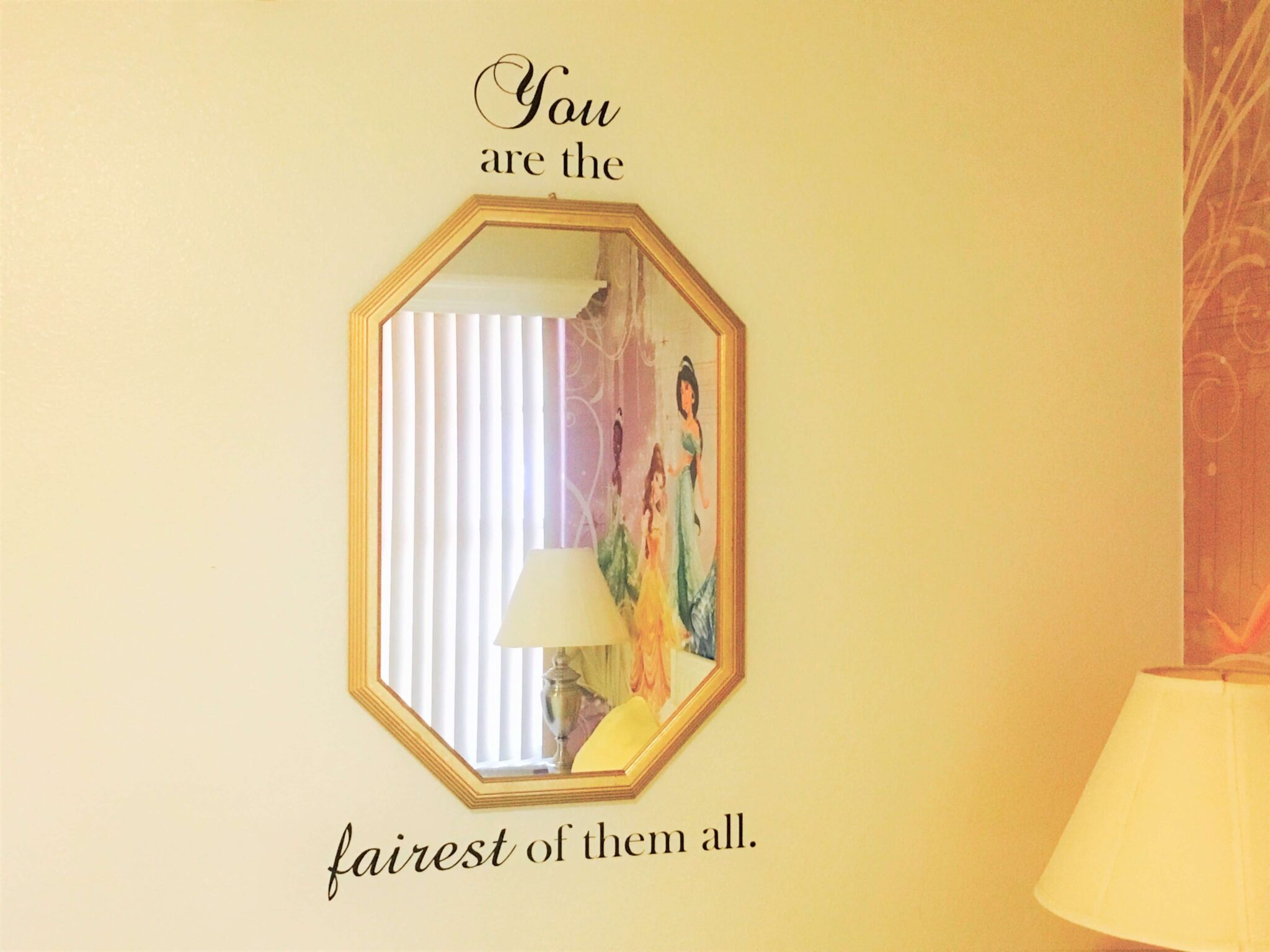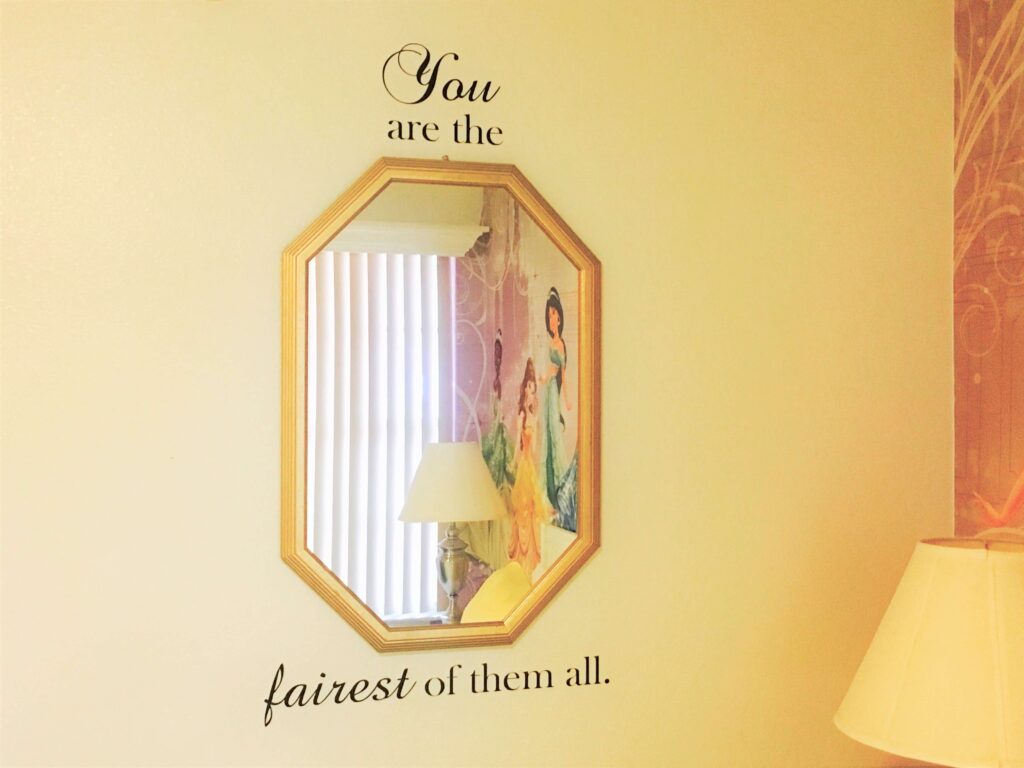 There are some beautiful glittery nightstands that would look amazing in a princess bedroom, but we didn't use any bedside tables for my daughter. Instead we had a basket for books. It was easy for her to see the fairy tale she wanted to read and to gather them up and put them away when it was clean up time. The basket was actually a great space saver for us, as the lack of nightstands provided extra space for toys and other items.
Things I Would Incorporate Now:
I created this princess themed bedroom for my daughter years ago, and while I still love the whole room and feel like it was the perfect choice for us; I've seen some other dream bedrooms in my work as a realtor and I wanted to show you one of the best things I would incorporate into a little girl's bedroom if I were to do it again.
It's these fairy lights that I saw in a model home's Peter Pan and Tinkerbell bedroom. You can see how the soft light adds such a dreamy and unique look to a child's room. With these lights you may not even need a night light.
Peter Pan and Tinkerbell bedroom photos: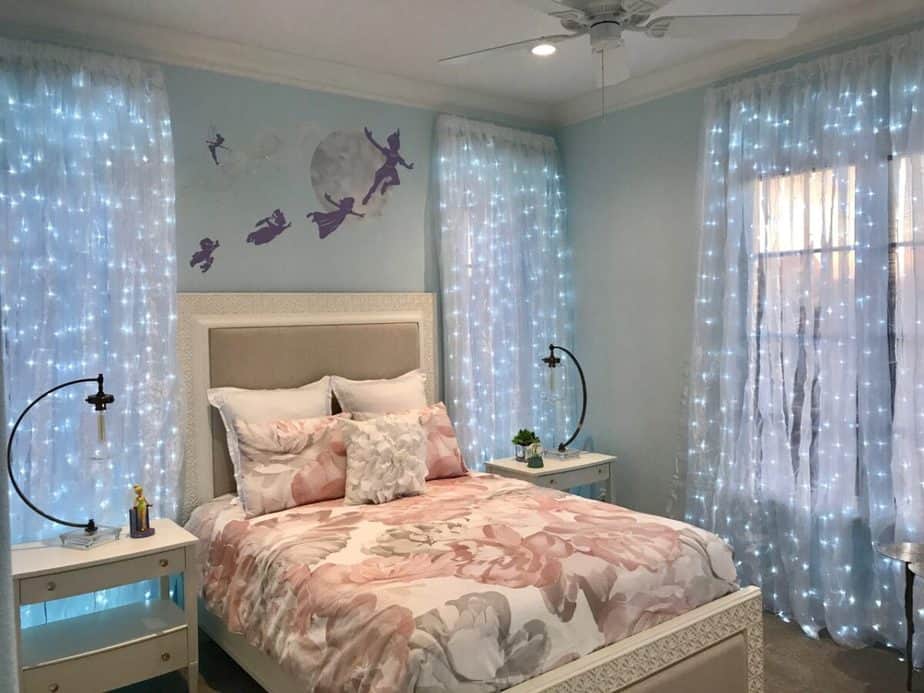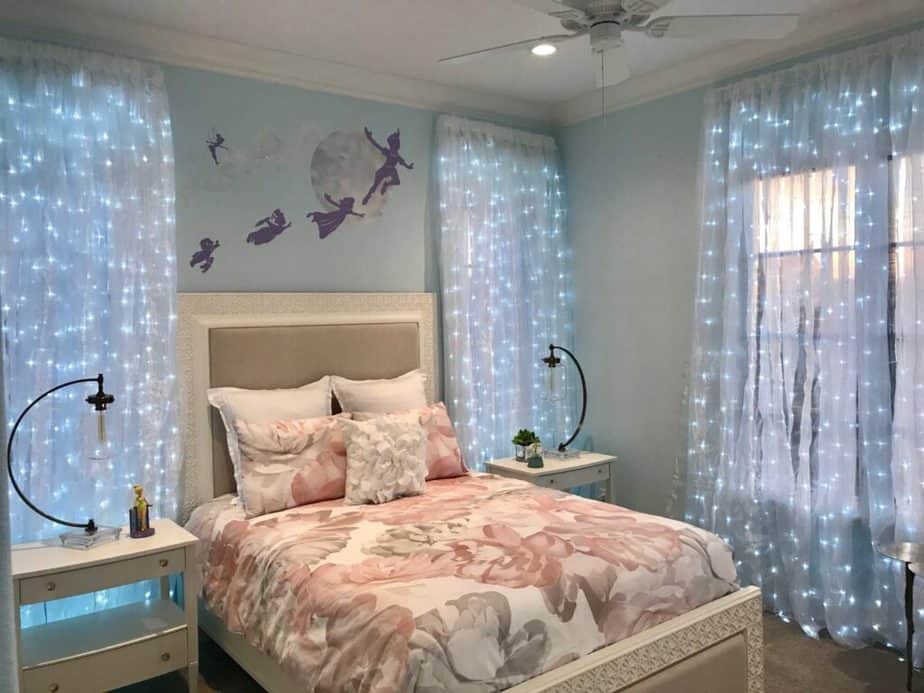 Here's another view. It has a cute quote from Tinkerbell in the themed room and shows the curtains from a different angle. I felt like the curtains were the best part of the room: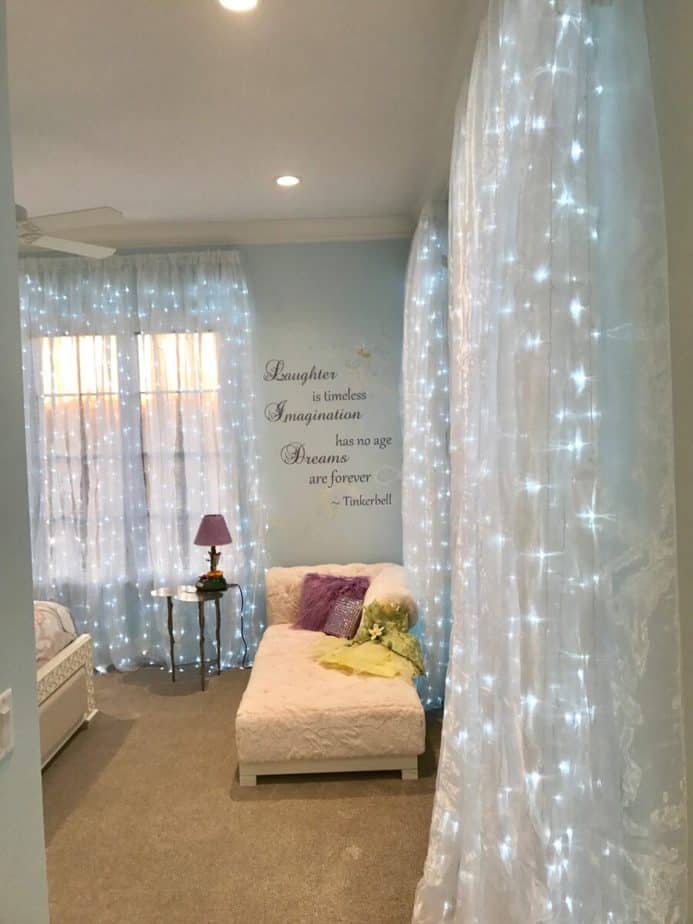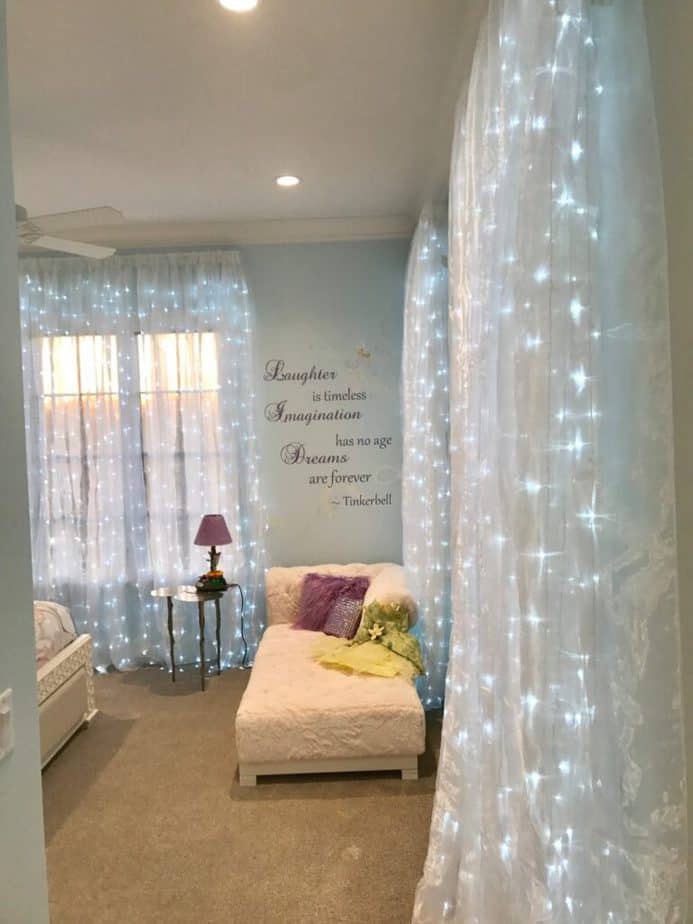 You can order the lights here. Please note that the lights are not sewn into the curtain You need to make that modification or hang them behind sheer curtains.
Princess Themed Nursery:
If, instead of creating your princess theme bedroom for a young child, you are decorating a princess nursery, you can still use many of the same princess decor ideas.
Since little princesses grow so quickly though, I would keep the majority of the decor a bit neutral with just one strong focal point or accent wall.
For example, you could use pink curtains which would still carry through to a child's room even if you changed the princess theme.
Similarly, the furniture in the room could remain neutral and just be stylized by changing out the lamps, etc. Silver or white furniture would lend itself well to this idea.
Another Fun Princess Room Project Idea:
Aside from the more traditional Disney princesses, I think it would be so much fun to create an underwater feel to a room designed after Disney Princess Ariel. You can let your imagination run wild with the colors you'd see underwater.
I love the idea of the greens and blues rather than just feeling like every girl dreams of a pink bedroom. That comes down to knowing your daughter's color preferences so that you can create her own personal sanctuary based on what she loves.
I hope you love this Princess themed bedroom and can utilize some ideas for your girls room decor and make your little Princess feel like she has walked into the perfect room of her own.
Other themed bedrooms for kids and teens:
In addition to this princess themed bedroom, I've created a Harry Potter themed room that was a lot of fun.
Since I work in real estate, I see lots of great themed rooms. I try to highlight them and share them when I can.
Most recently I saw this Softball themed Bedroom that you might like for young women who love to play softball.
Feel free to follow me on Pinterest to see photos as I upload them with other themed rooms.
You can also sign up for my newsletter. You'll receive a message whenever I have new blog about designs I've seen or home decor projects I have made tutorials on.
Thanks for reading, and I hope your princesses bedroom turns out wonderfully!
kids room, kids' room, princess bedroom