Fall Table Decor using Fairy Lights
Fairy lights aren't just for Christmas décor.
This year, rather than the orange floral centerpiece I usually use, I wanted to make the dining table come to life with twinkling fairy lights. These string lights have a thin wire to them and are perfect for the glass vases I have left over from my daughter's Quinceanera table centerpieces.
*Affiliate links included. As an Amazon Associate, I earn from Qualifying purchases.
Here's how to create your own DIY fairy light pine cone vase.
Vases with Fairy Lights Supplies list:
Tall Glass cylinders
Pine Cones
Fairy Lights
Pumpkin Potpourri
Gold colored Acorns
Fall Leaves
Glue Dots (lines version for borders and ribbon)
Decorative Ribbon
Here's a link to go my Amazon page which has all of the items already grouped into a shopping list that you can choose from.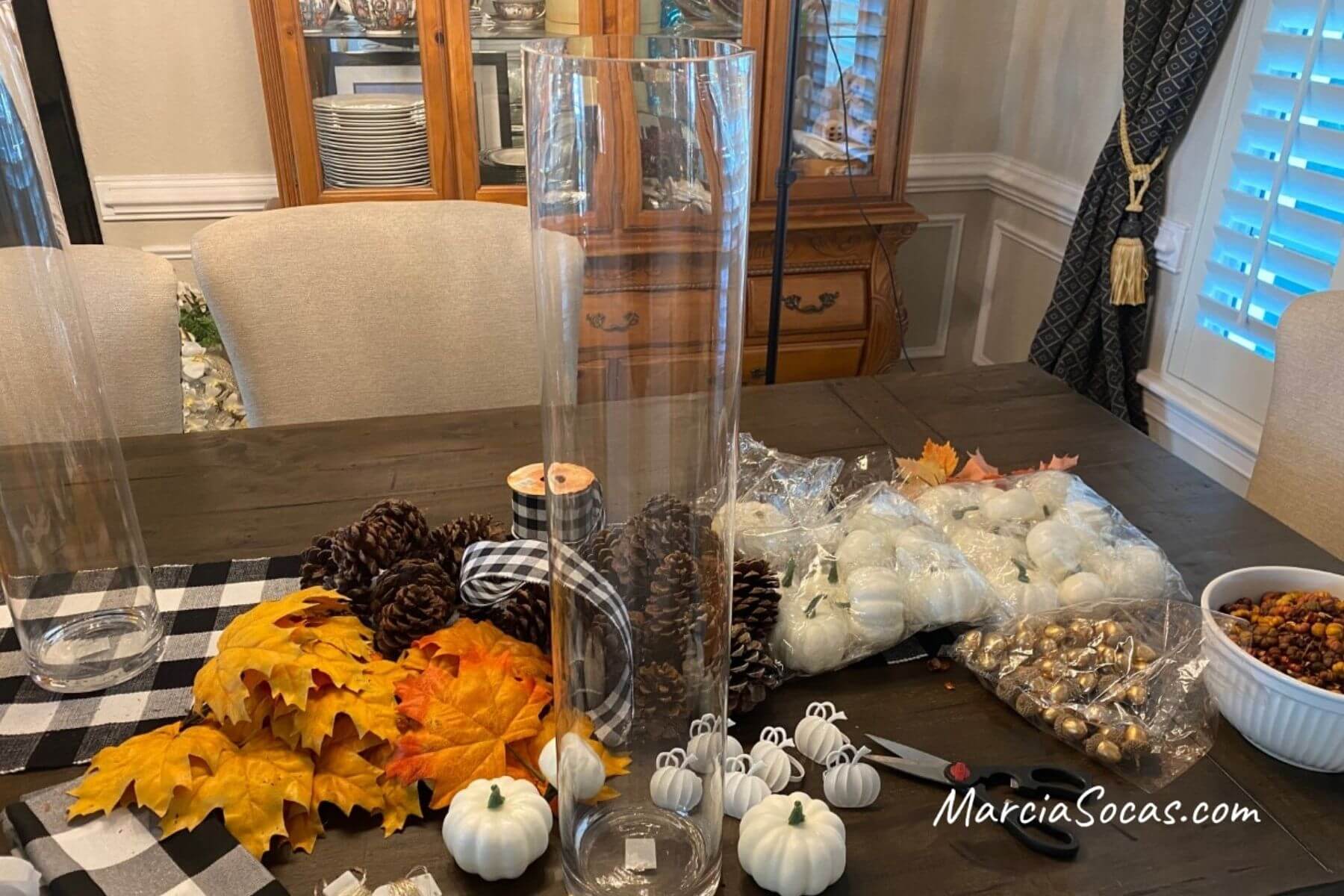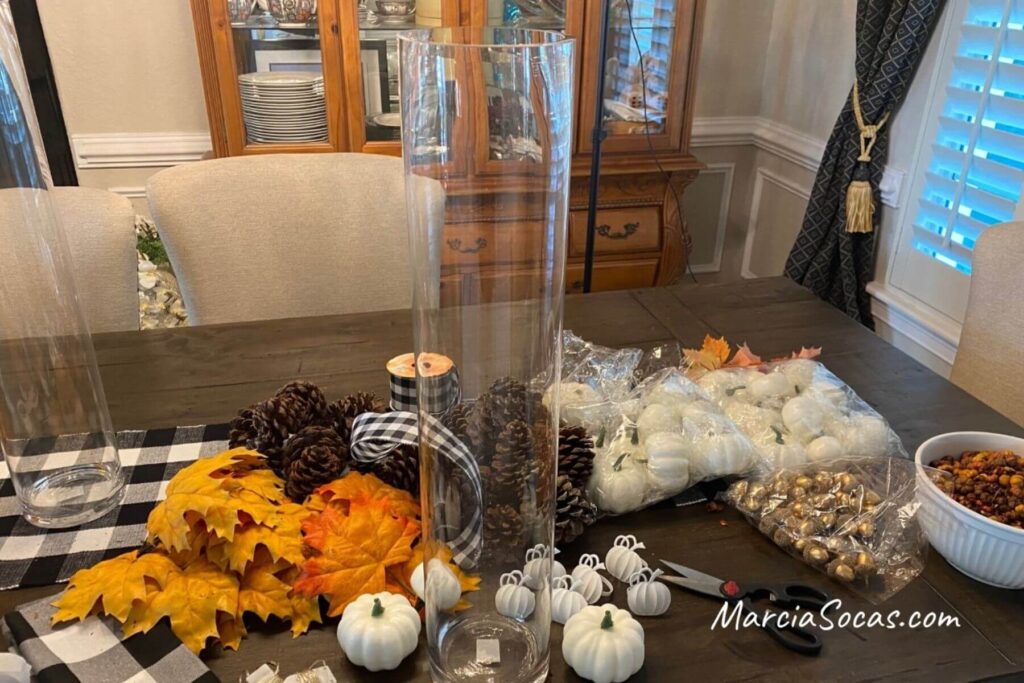 Start with a tall glass vase.
I prefer this tall cylinder shaped clear glass vase.
I took the twinkle lights and wrapped them two or three times through the pine cones. The trick is to wrap them clockwise twice and then counterclockwise once.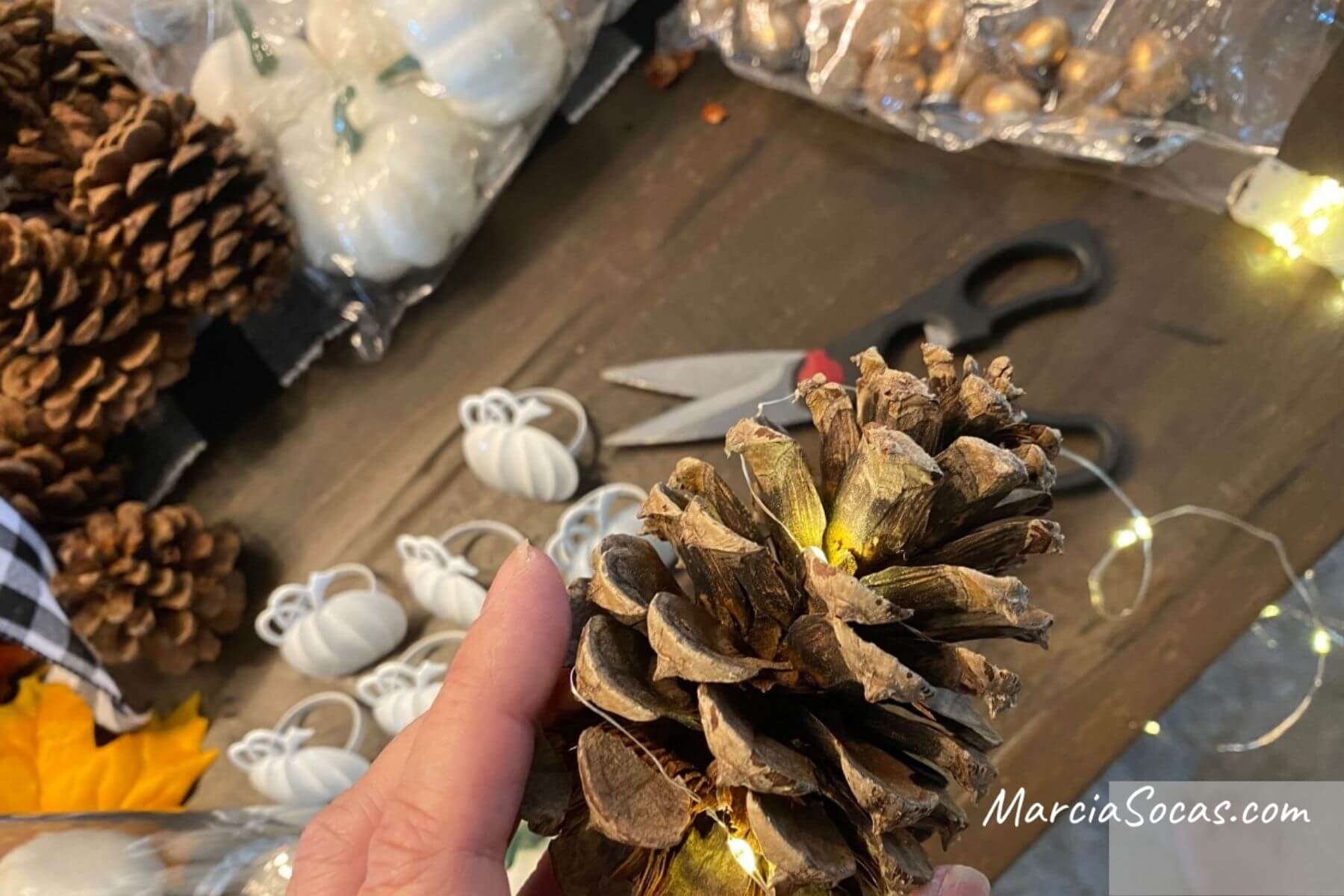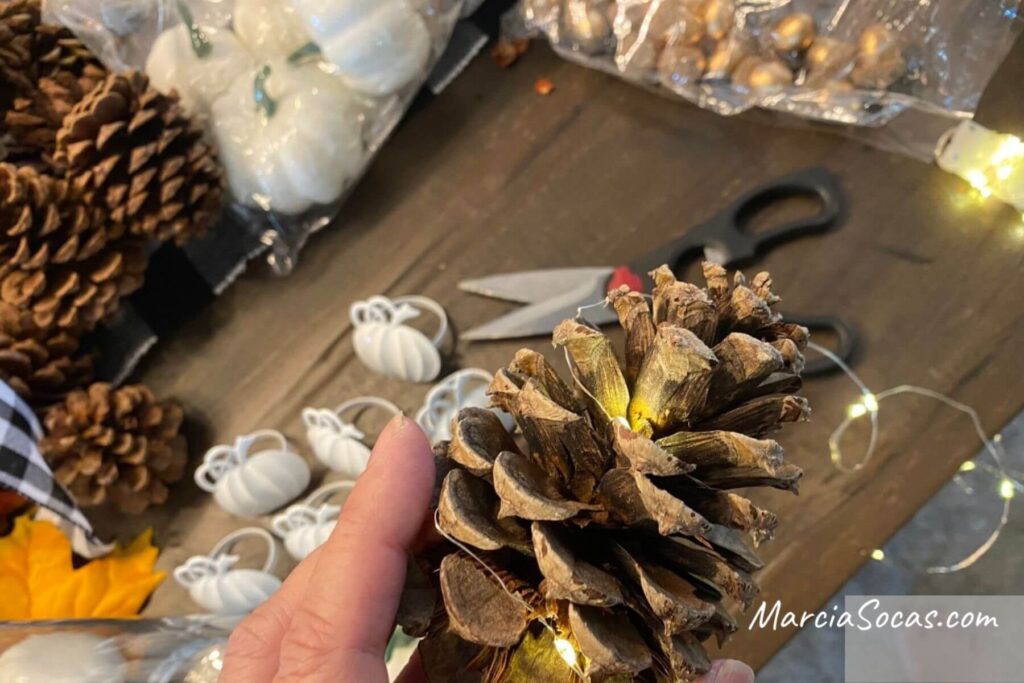 Basically, you're just trying not to wrap it all the same way because if you do that, then when you put it into the cylinder, the pinecone will just unravel from the wire string and fall down to the bottom of the glass vase.
Place the lighted pine cones with their decorative lights into the cylinder.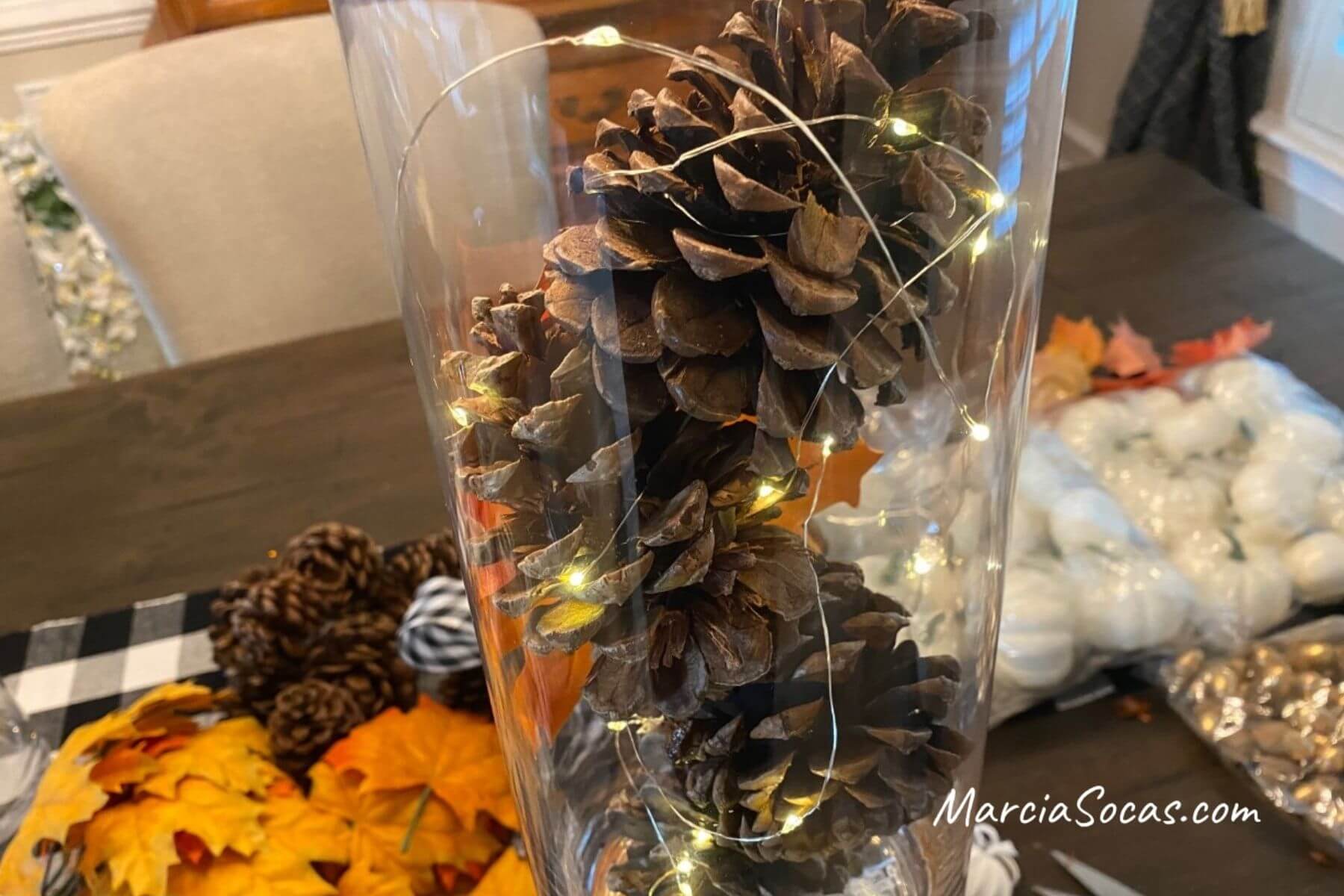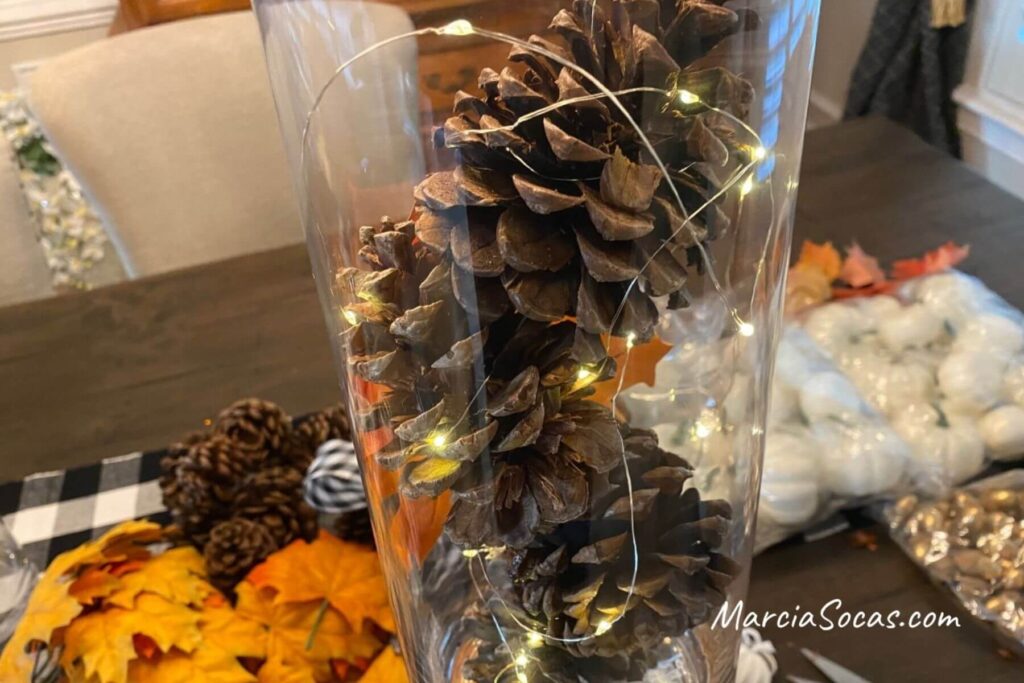 Fill in the Space
Now start filling in the space and make it more visually interesting by adding some leaves and some small potpourri. I also added some golden acorns that gave it a nice touch. You can also let the fairy string lights hang a little in these spaces to add a bit more light and glow to your glass containers.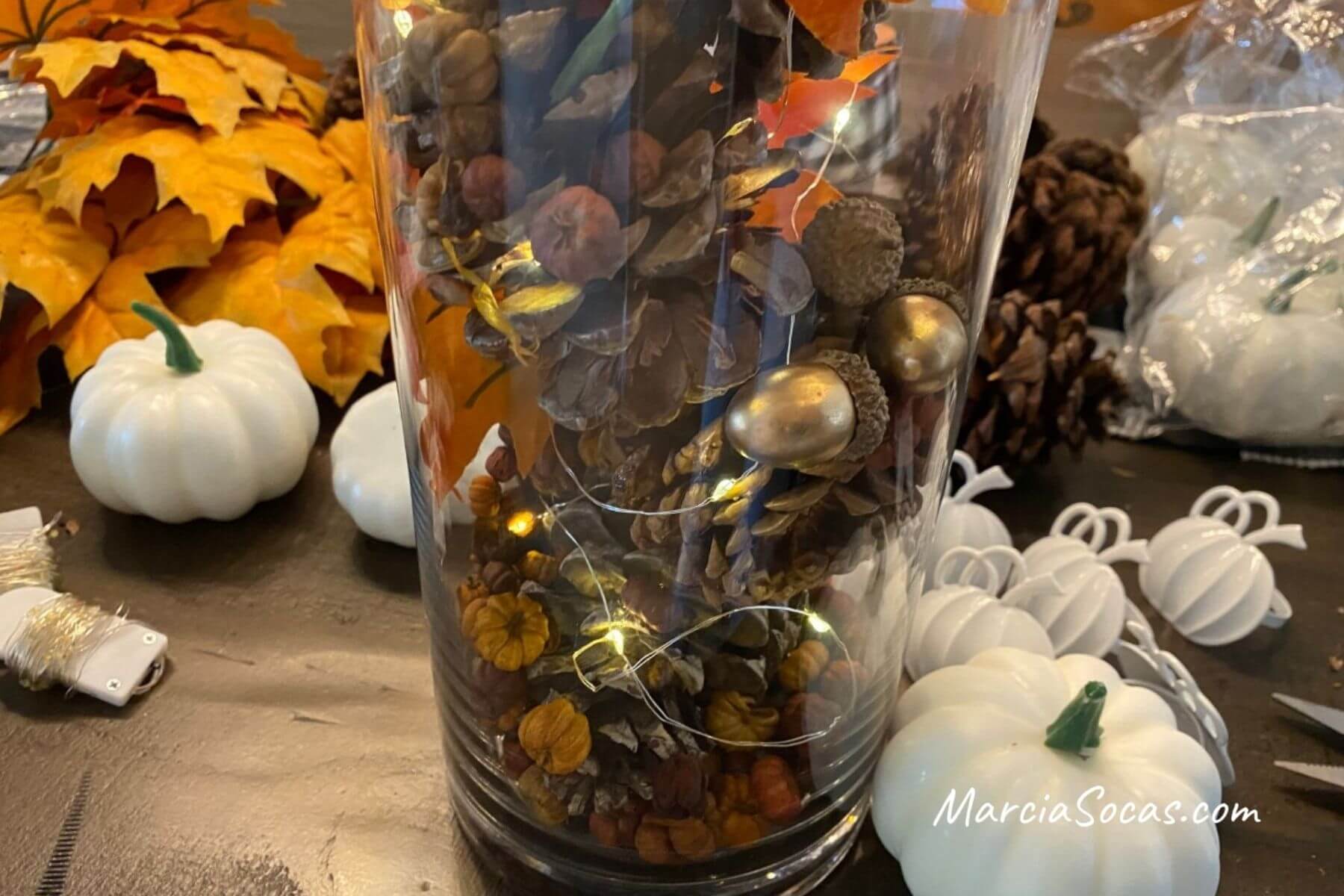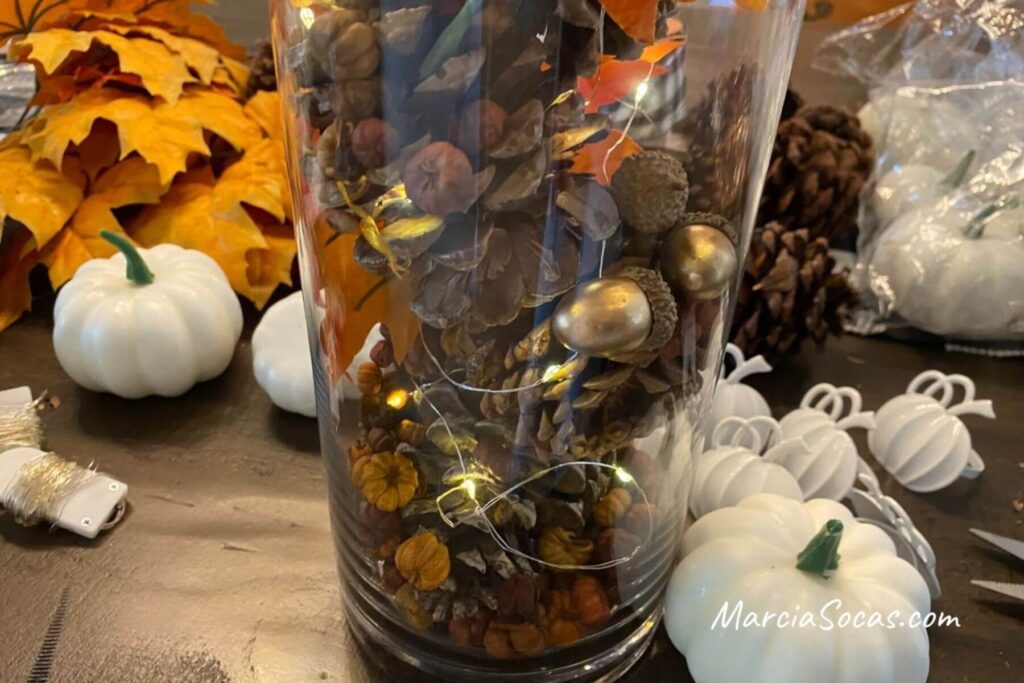 Here's how it's coming along after adding in those filler items. Don't add so many that you'll cover the lights, just enough to make it look like a centerpiece rather than just a collection of pine cones.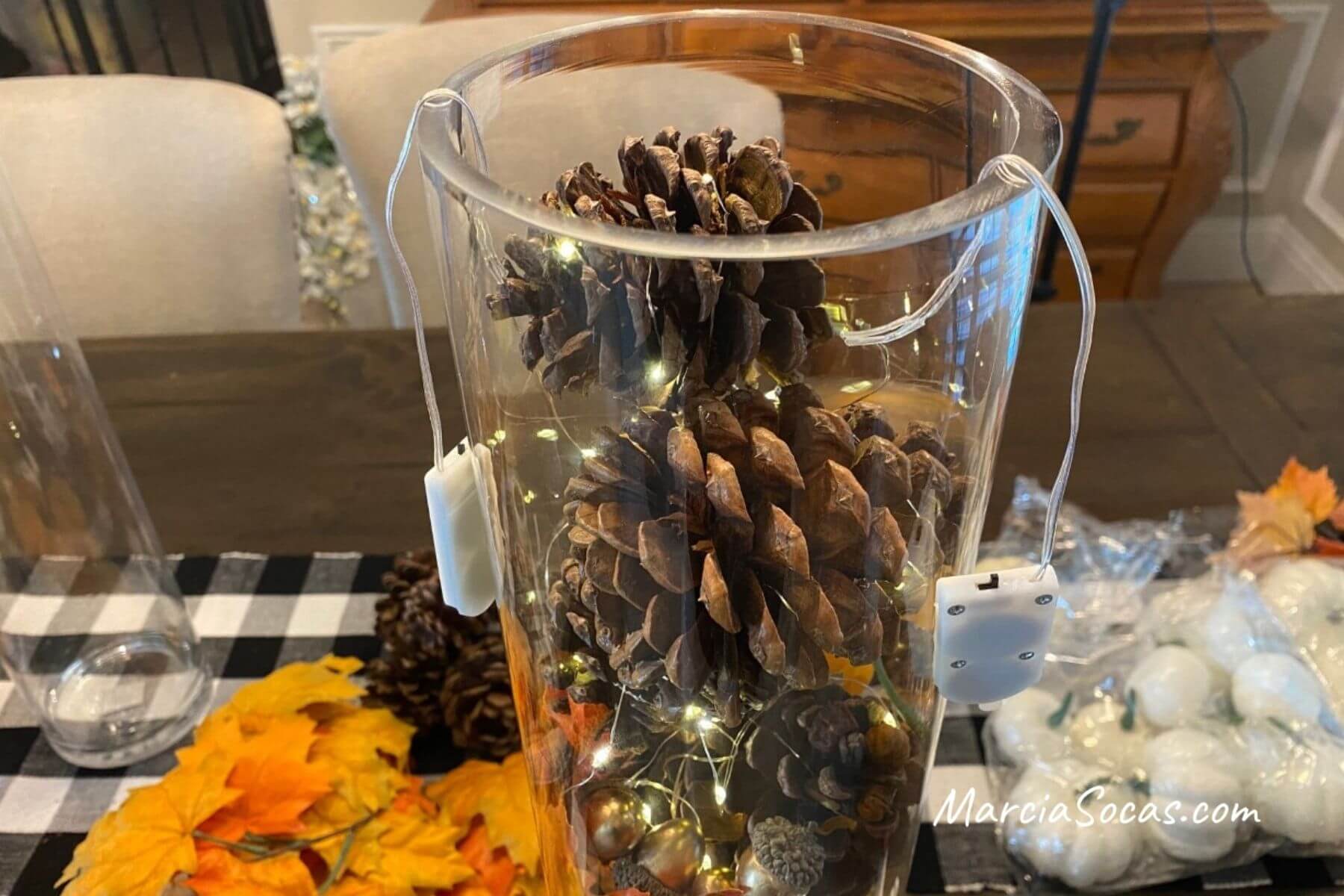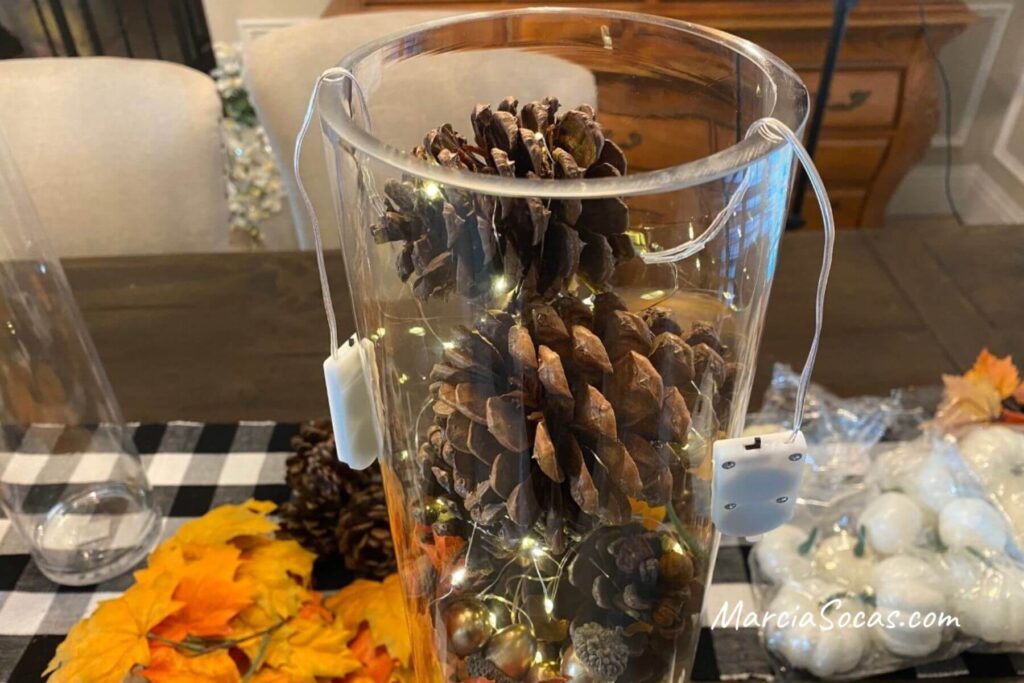 I used two different sets of fairy wires. That gave me a good amount of light and let me wrap through several pinecones. Make sure to keep the on and off switch is located at the top of the cylinder. Of course, as you can see here, the switches look terrible just hanging out of the vase so we'll need to do something about that.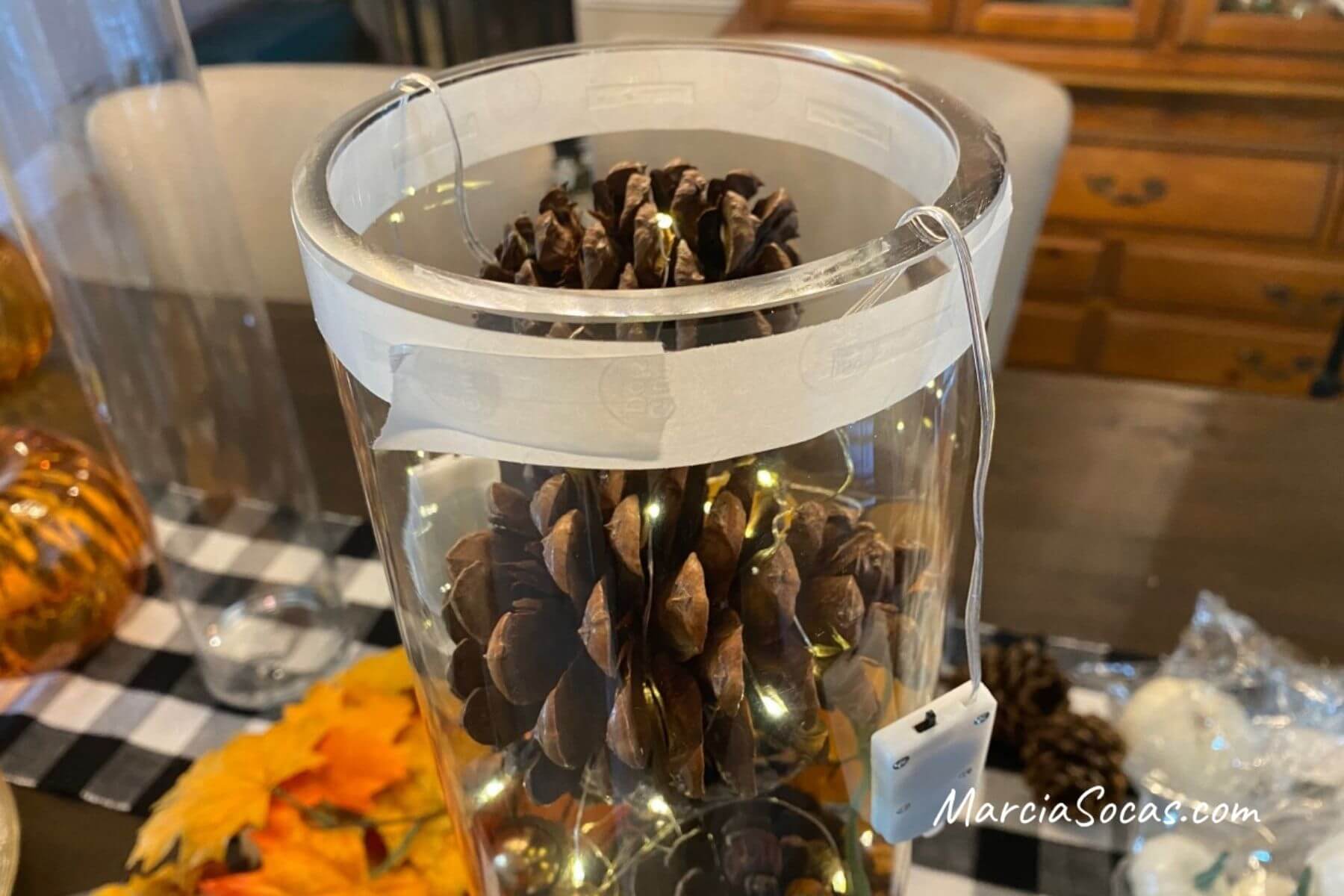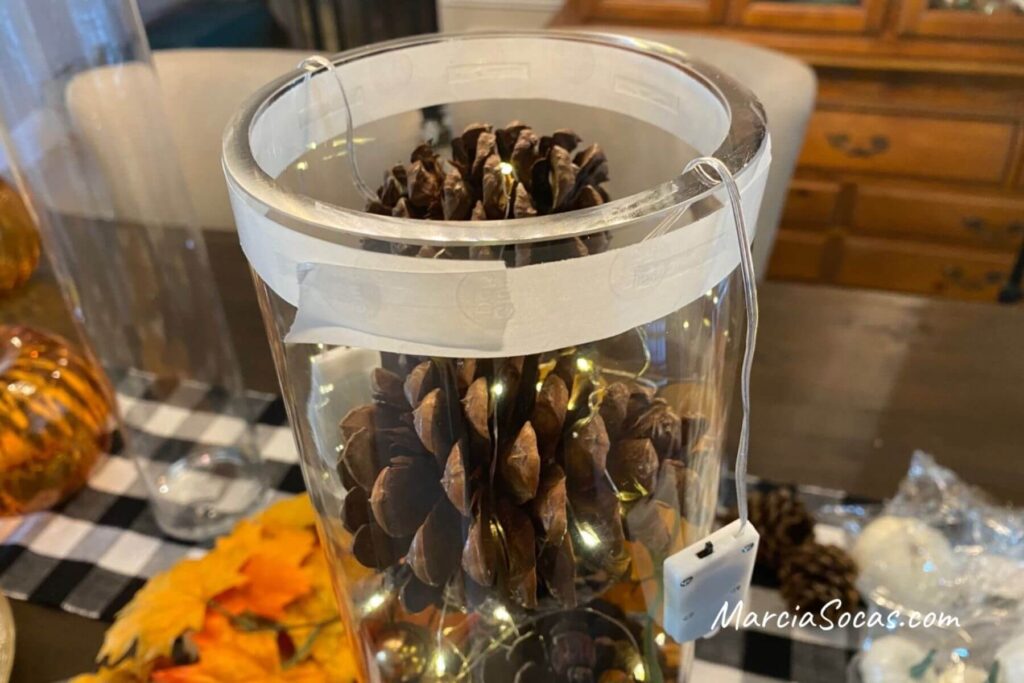 Secure and Hide the LED Light Batteries
I used glue dots, but rather than the dots, they have a product that are actually glue lines so that they are made for borders and edges. I found that this worked very well for attaching a ribbon and also attaching the power switch is for the twinkle lights.
The led fairy lights have a small battery pack.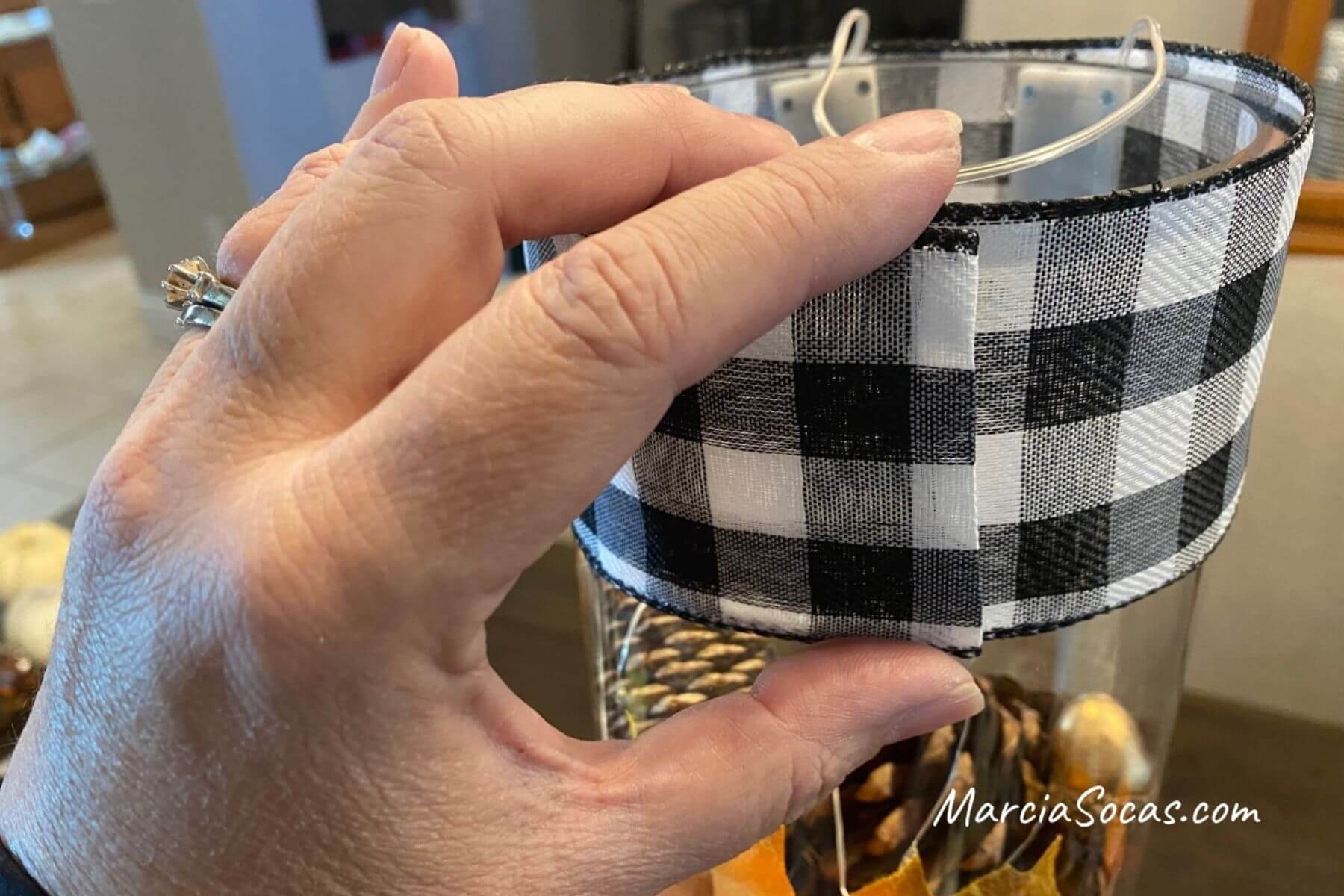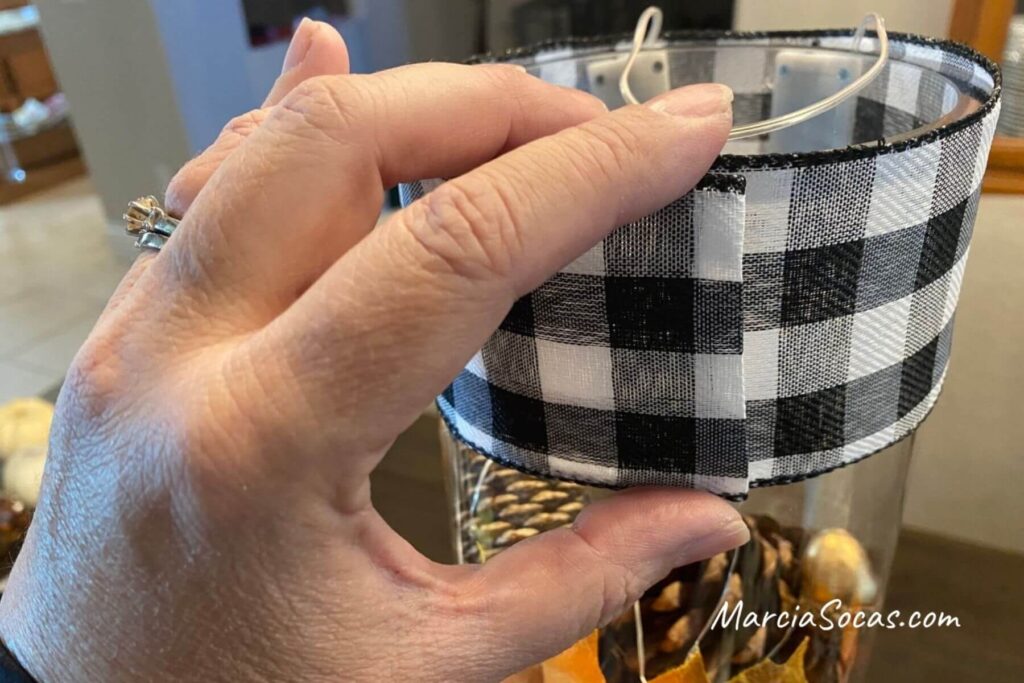 Here you can see how I stuck the battery box on to the glue lines, made sure the power switches were oriented the same way (so they would be easy to turn on and off) and then covered them with a piece of ribbon that coordinated with my table runner.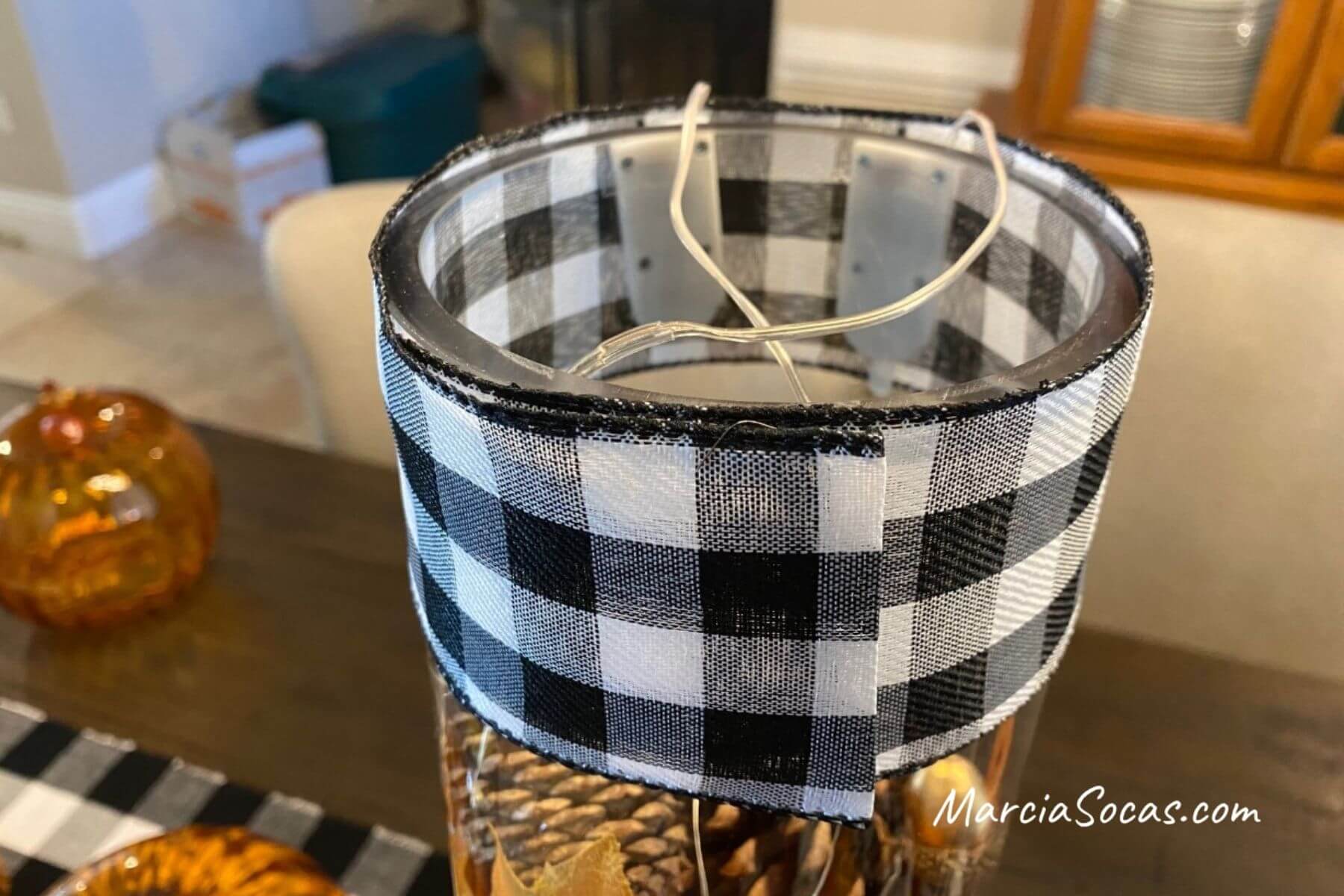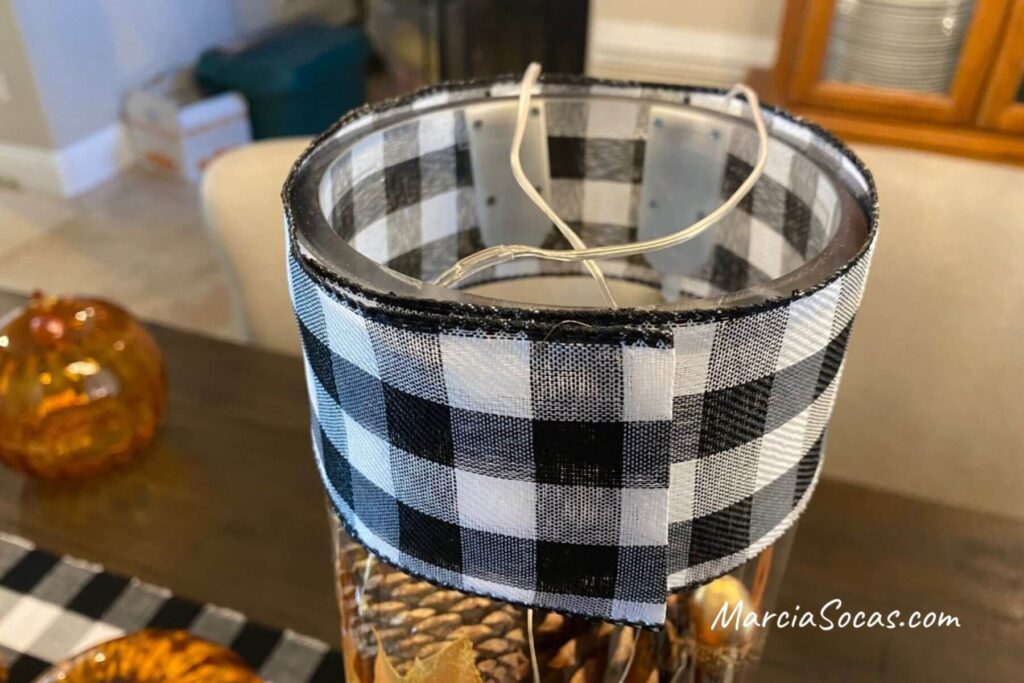 When finishing off the edge of your ribbon, just fold it under to create an even finished edge that matches up with the patter underneath. It helps to use wired ribbon for this. With this step, your vases with fairy lights are complete!
My Vases with Fairy Lights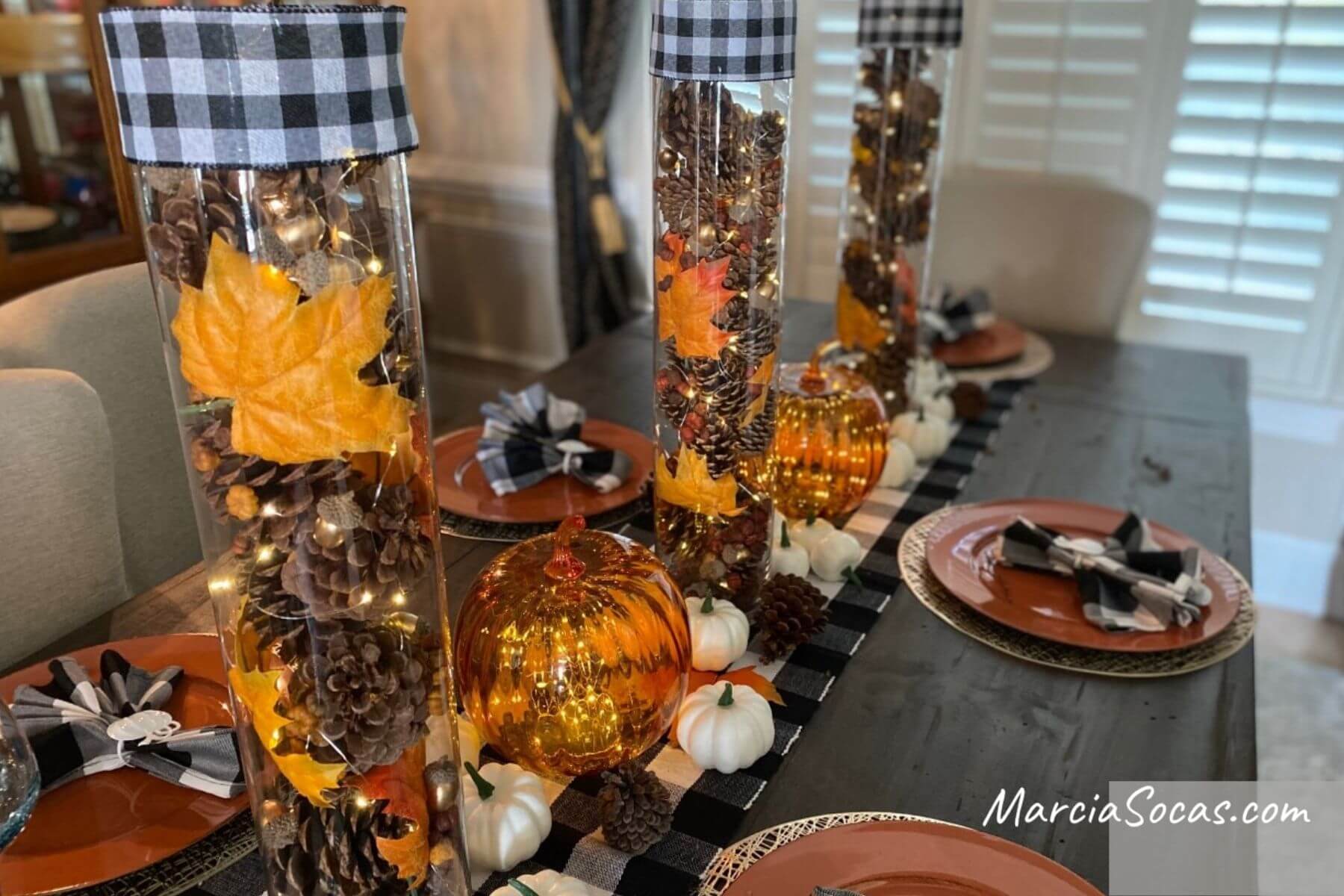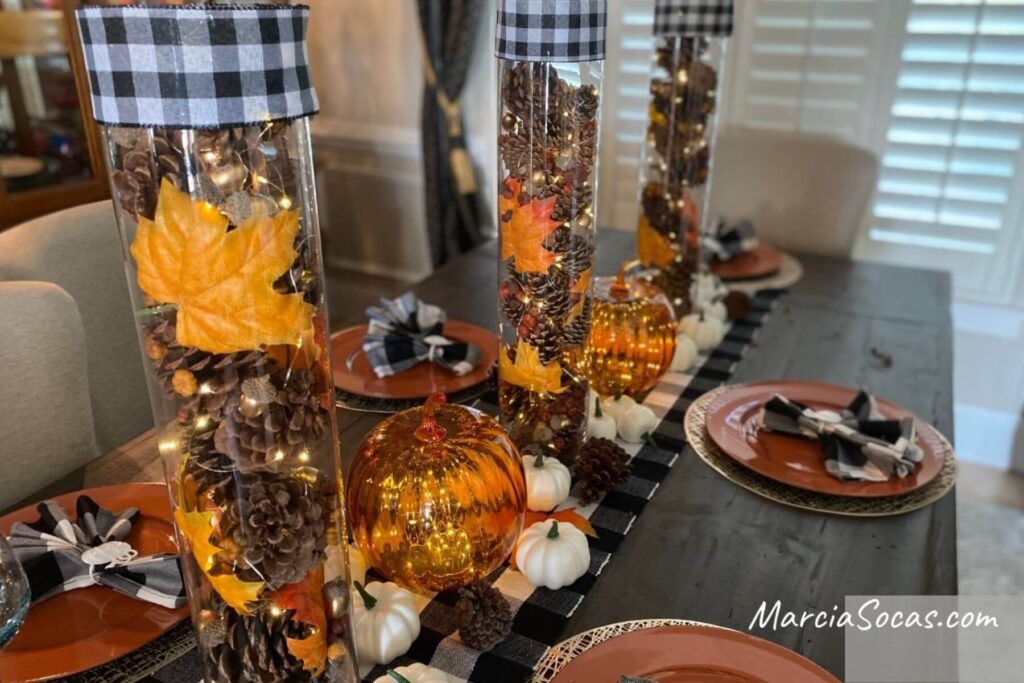 Add Interest to the Table
Here's how it looks when it's complete! I created 3 vases with fairy lights ann then added some extra elements along the bottom to give it some height variances. I added some plastic pumpkins and I also had some glass pumpkins which I inserted the fairy lights into from the bottom. So now, the entire table looks really lit up.
I also added some gold placemats under my orange plates. Of course, the napkins coordinated with the buffalo plaid fall decor for the table. And, the napkin rings are also white pumpkins. These additional items can be found here in the Amazon list.
Keeping the color scheme consistent helps make the dining table look elegant and allows the light in the vases with fairy lights to be the focus. Black and white are neutrals, the pine cones give it a natural and earthy basis, and then the orange and gold are really the only colors that are introduced.
Video Tutorial: Fall String Lights Centerpieces
You can view the video tutorial here
Summing Up and a Fairy Bedroom
Here's one more view, I hope you can see the lights in this photo. It looks so beautiful in person, I'm not sure that I was able to capture the twinkling of the lights with my phone camera, but it really does look fantastic and everyone in the house loves it!
I love how these LED lights make the table look warm and cozy. I love the warm white glow.
By the way, if you're looking for a different way to use fairy lights in bedroom lights décor. I once viewed a model home that had the most stunning hanging fairy lights behind sheer fabric curtains. It was eye catching and magical.
You can visit my themed bedrooms page to view that fairy bedroom and see other decorating ideas as well.
Other fairy light string home decoration ideas:
As part of my Fall home decor, I also used fairy lights for outdoor use. I don't know if they're recommended for this purpose, but I weaved the micro string light through pumpkins and gourds on hay bales and hid the fairy lights battery in the decor. I also strung them behind a garland of leaves around the door, weaving the wire around the leaves. When turned on, they show a glowing white light from behind the leaves.
The bright glow is beautiful. View that outdoor fairy light decor here. These little fairy lights have definitely played an important role in my Fall decorations this year!
Durability: So far these string lights have lasted a long time for me, so I haven't had to make any changes or adjustments. But, if they go out, it does look like they have replaceable batteries that I can change out.
Have fun with your table decorations and I hope that this has inspired you in creating your own vases with fairy lights table centrepiece.