What a perfect room for surfer girls!
I recently saw this surf décor bedroom in a model home I was touring. It was impossible not to fall in love with the overall look of this beachy bedroom.
In this particular teenage girls room, the primary design features a paddleboard on the ceiling. I would, instead, modify this great idea by replacing it with a surf board secured to the ceiling with 4 surfboard hooks like these. This would give the room the surfing décor I'd love to see.
It's so clever when interior design utilizes all of the room, including the ceiling! It really takes the beach vibe bedroom theme to the next level.
(This may not work well in a room with bunk beds.)
I love how the feeling of the beach surf is incorporated into the room using the blue colors of the water in the wallpaper accent.
You can find similar wallpaper here on Amazon.
(As an Amazon Associate, I earn from qualifying purchases.)
If you want to view the shoppable photo of this room that I created, you can visit it here.
Designing the Framework and Focus of the Surfer Girl Room
The blue water feeling is contained by adding thick trim pieces on either side. In this way the room isn't swallowed up by the vibrant colors and pattern in the shimmering blue.
As a way to finish off the room and not have the water strip "floating" in the room, the wood boards that are the color of sand extend to the wall's edges. When rooms have plenty of natural elements such as this wood, it anchors it and makes it feel warm. Additionally, utilizing the trim and the wood boards provides a way to incorporate 3d wall decorations.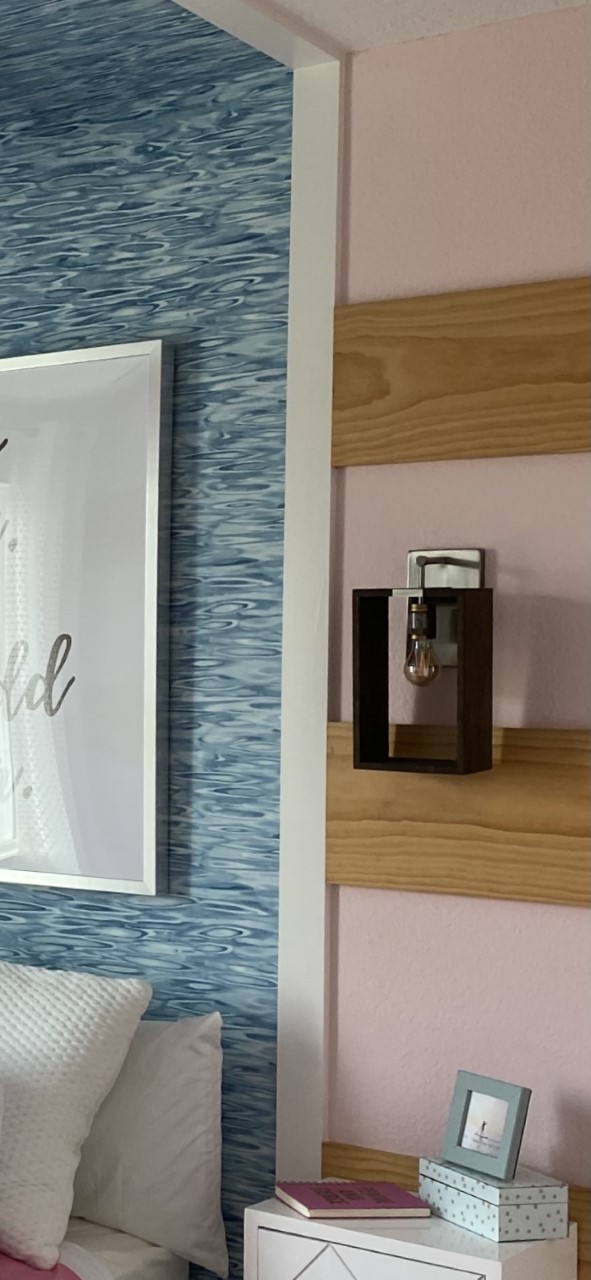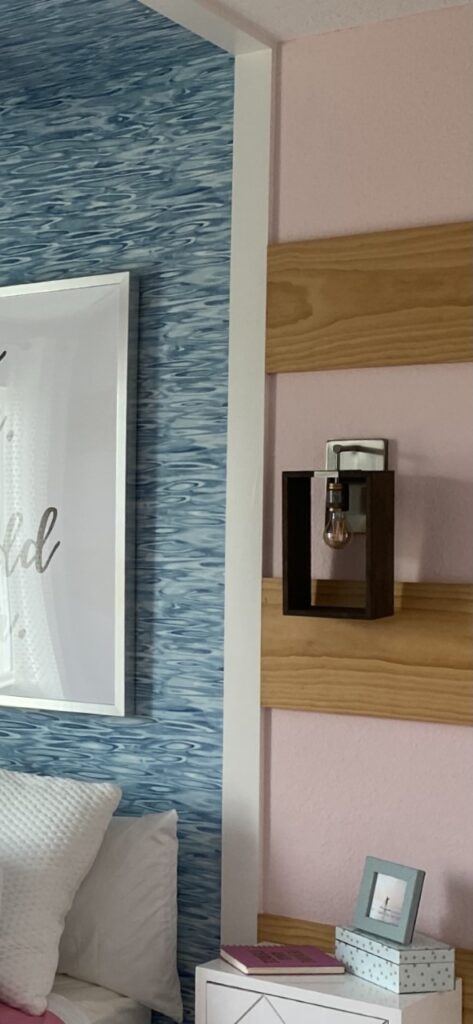 The water wallpaper sets the mood right away, and having the surf board mounted on the ceiling creates the focal point.
Walls and Windows in the Beach Themed Girls Bedroom
The wall art in this particular room is minimal. With the bold look of the ceiling, you don't need too much more to vie for your attention. A simple saying on a white background with the silver frame is perfect. The white nightstands also look great with a bit of pattern but nothing to compete as the focal point. There's some great texture there. Similarly, the curtains are white sheer, letting in the natural light, and remaining simple as well. You can almost feel the soft breeze coming through them. But notice, they're textured too!
In fact, texture plays a big part in the room. Texture is a great way to stick to a neutral color but keep it from feeling plain and dull.
Notice also that the walls are not white. They are actually a light pink, which keeps the room feminine feeling. The pastel colors are perfect for that. If you wanted to incorporate some of these ideas to create a surfer boys room, I would keep most of the décor style but use some different colors. Imagine how the look would change if the pale pink walls were changed to dark blue just along that back wall.
Bedding in Beach themed bedrooms
The bedspread in this primary bedroom allows for showcasing the surfer girl's style. This bedroom's surf bedding is actually taking on more of a hippie or tie dye vibe. They're not bright colors, they're just a great pink watercolor style.
The comforter can of course be tailored to your surfer girl. Polka dots might work well, or palm trees on the bedspread would be cute too. Look at the white throw pillows. They're white again, and yet again, textured in this girls bedroom. Notice the white splashes everywhere throughout the room that all have texture to make them look more interesting and upscale.
The bed linens in this room are white. However, beach themed bedding could also coordinate so well with the ocean theme and be a great addition to the beach décor.
Lighting
Having a surf board, or paddle board, on the ceiling obviously won't work if you have light fixtures in the way. So you may need to incorporate canned lights to incorporate this particular décor style in your beach-themed room.
This room also has wall mounted lighting above the nightstands, which I see in a lot of model homes and which really looks great and saves space. But it's not practical for everyone. So there are some great beach inspired table lamps that would look amazing in a beach themed room.
Flooring
The room in this photo had carpet, and it works just fine. But hardwood floors would be absolutely gorgeous and add to the coastal style and feel. Of course, if your kids are like mine, they don't love the hard feeling of the hardwood floors and may want to add area rugs. Here are some great coastal living style area rugs that add texture and warmth with raffia.
Other Beach Décor Ideas:
Want to take this look a different way? Maybe you could still utilize the use of the ceiling but rather than mount a surf board, you could mount sea life. Something like sea urchins, sea creatures, or coral reefs being showcased.
There are lots of different things you can do. If you want to create the feeling of a little cottage in a beach town, you can utilize shiplap walls. They're easy to install yourself and are a popular choice for many homeowners.
Lots of beach themed rooms also incorporate other beachy items on nighstands and dressers, as space allows. For example, a vase with sea shells that've been collected on beach trips, or books on surfing or surf locations.
I hope you were able to find beach bedroom décor inspiration in these photos and product links.
More Themed Room Inspiration
You can find other teen bedroom ideas in my Themed Bedroom Photos page. Here you'll find themed bedrooms ideas ranging from little girls dreams to teen's room ideas, and even master bedroom ideas or great ideas for a guest room or ideas for decorating Airbnb homes for beach vacations.  There's also another tropical themed bedroom design idea there that has more of a tropical vibe and less of an ocean feel.
Good luck with your beach themed bedroom!
Surf's Up!
Visit my Pinterest for other beach-themed bedroom ideas and follow me on Pinterest to see my other décor photos as they're posted. After all, some of the best ideas come from getting inspiration from others, seeing the different ways they incorporate themes, and then making it our own!