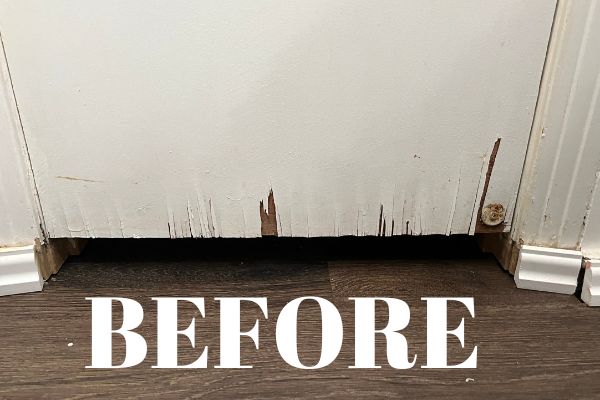 I helped my son create a college football themed Airbnb at the University of Alabama (on a budget). Some projects were large, but many of the high impact projects were actually small and easy.
You can view the entire transformation and various before and after projects and photos on my site at:
Unique Alabama Airbnb (Start to Finish)
But here, I wanted to showcase just one small door upgrade under $10.
If you're looking for something involving door panels or transforming a hollow core door, there's another more involved closet door makeover here:
Note: This tutorial isn't for creating a door draft stopper or anything having to do with a door bottom seal to prevent cold air or outdoor air from coming through. This is an easy way to decorate the bottom of your door to cover up a door that may be peeling or have some cosmetic damage to the bottom of the door.
Throughout my site, I have various tutorials and tips and I provide links to the products where I can, in the hopes that it'll save you time and effort looking them up. As an Amazon Associate, I earn from qualifying purchases.
In the bathroom, there's this small closet door that had a lot of damage at the bottom.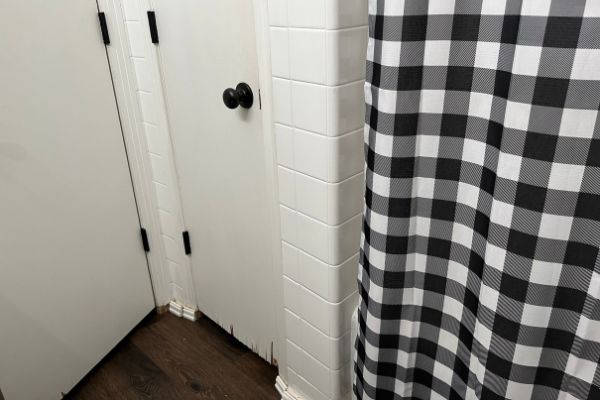 A New Door?
If we were to change the door out, we'd have to find this unique size (it's door width is smaller than normal). We'd also have to buy the new door. A hollow core door isn't too expensive, but it's still an expense my 20-year-old son setting up his first home and Airbnb doesn't have the budget for. Then there's the hassle of installing a new door…
The other factor was time. I was in Alabama just for the weekend to help him open up the kitchen to dining room area by removing cabinets. So, this door wasn't a priority. I just noticed it when I was using the bathroom and it bothered me.
An Alternative, Covering the Bottom of the Door
I wanted to find a way to fix it quickly and easily. There are door kick plates sold at hardware stores (I'm sure you've seen those silver ones) but they didn't have it in this size.
Here's another view of the door. It's just a small closet, not really noticeable unless you're inside the bathroom behind the closed door.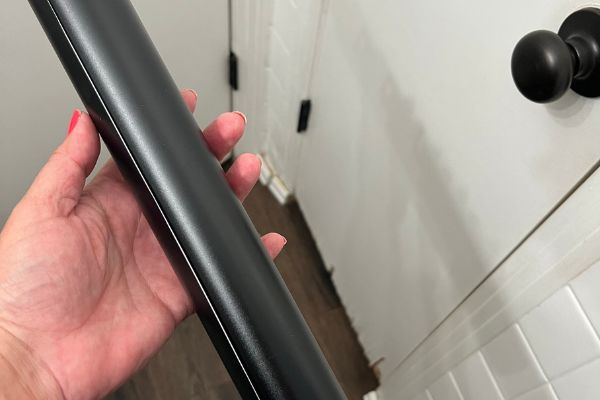 Cricut Vinyl
I purchased some black Cricut vinyl. It's basically just a sticker that you can find at Joann's, Michaels, Walmart, etc. but it comes in a 12″ x 24″ size. It's usually used for Cricut projects, which is a whole separate obsession. (I don't think that the Cricut vinyl would work as a solution for covering damage at the bottom of exterior doors, but it's a great way to cover and decorate the bottom or top of the door for an interior space).
It also comes in a variety of other colors, in case the door you're covering is in a child's room or some other room that could benefit from a brighter or different color.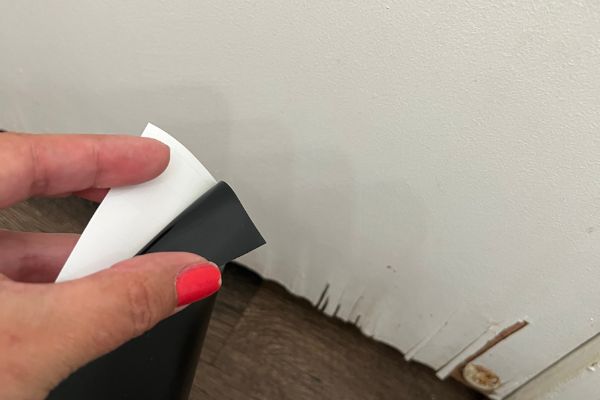 You just peel the sticker from the backing.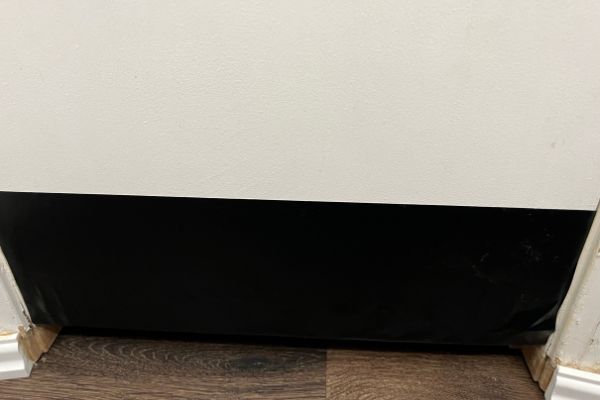 Place along the Front of the Door
Place it as straight as possible along the front of the door. Using a little level at the top before you flatten it to the door is best. Open and smooth the vinyl on the inside of the door as well.
You can still see some of the unevenness on the door here. It needs to be smoothed down a bit more, but it'll never look 100% smooth because the door is truly still damaged underneath. That's why this project is ok for a bottom of the door cover, but it would not look right at the top of the door. When it's down here at the bottom of the door, people are generally standing too far away to view the defects, but if you were covering the top part of the door then it would be much more in their line of view and the defects would be a lot more obvious.
The Side of the Door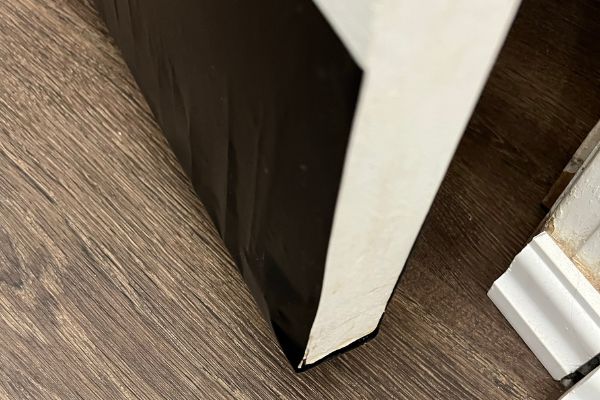 I didn't cover the side of the door. I didn't want it to rub, get stuck, or move the vinyl if anyone opened and closed the door. You can see the right side of the door in this photo. You can trim your sides using a utility knife or razor blade.
Dressing up the bottom of the door cover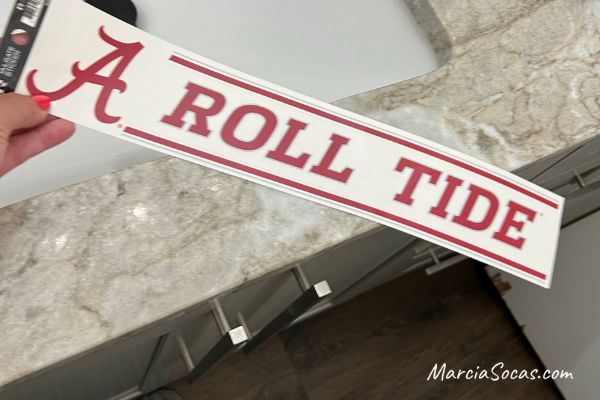 The plain black looks too boring and like I'm just covering up damage. I mean, I am, but by adding a sticker it looks like it was something done purposefully. So, someone looking at it might think we added this as a decor item rather than to cover damage quickly and on a budget. This trick might cover up relatively large gaps of damage on a door as long as no one pokes at the vinyl covering 🙂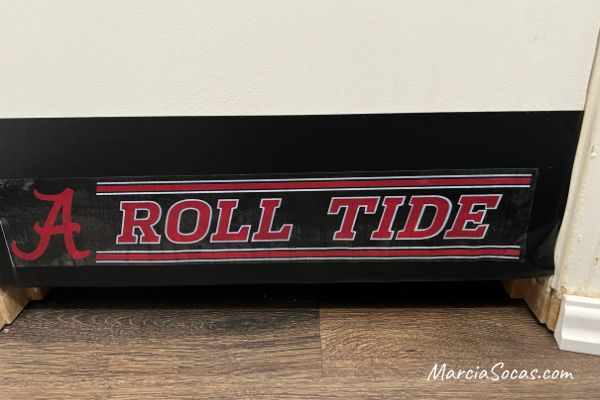 Smooth it down:
Here's how it looks–it still needs to be smoothed down. I'll need to get up and get a credit card or something to run over the sticker and smooth it down. Easy installation, right?
Another view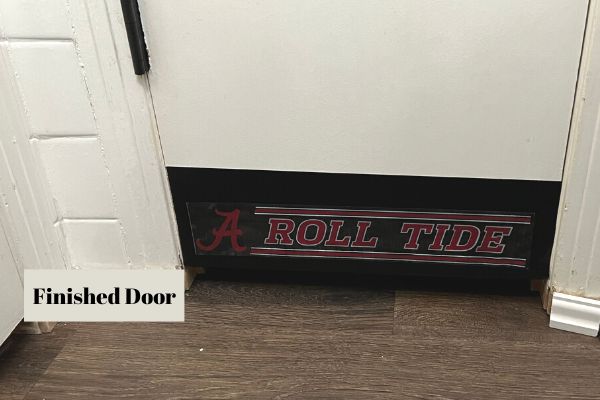 And, as you can see, it's not really noticeable in the bathroom unless you're in there with the door closed. And then, it looks like a cool detail that we added to enhance our University of Alabama theme.
I hope that you can adapt this low price easy solution to work in your space and on your interior doors too!
If you'd like to book our Airbnb, here's a link to it: