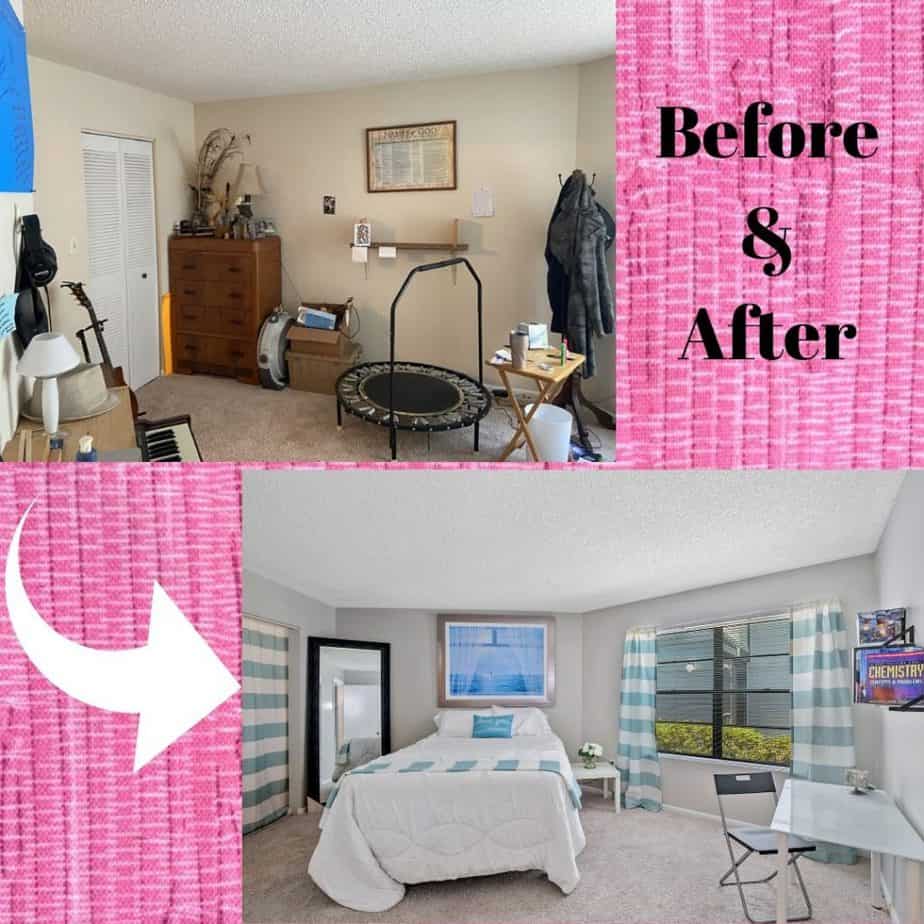 When looking and the before and after photos of this condo bedroom, did you guess at what it cost to renovate and stage this room? It's probably less than you think… The total bedroom renovation and staging cost was under $500! The room renovation itself was less than $50! A fresh coat of paint was all this room needed. We went with a modern gray paint but kept it light.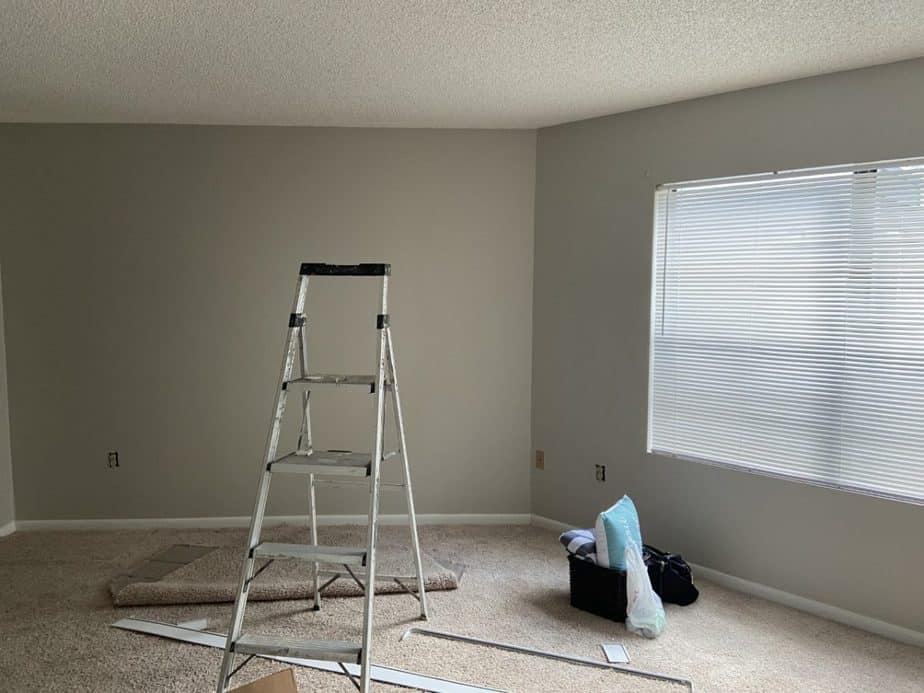 For the staging, this is stuff I reuse all the time, so I'll break down the cost, but this cost actually gets divided more and more each and every time I use it to stage a property I'm flipping.
Here's a breakdown…..
IKEA
The Ikea furniture is easy for me to carry myself and store with minimal space used. Here there's one #lack side table ($15) and one desk with legs that are interchangeable (I don't see the exact top on Ikea currently but they have the #linnmon desk set for $25), and one #gunde Ikea chair ($8).
Amazon
The shelves are from Amazon ($29) and the curtains are from WalMart ($10 for a set of two and I used two sets, so $20). The comforter sells on Amazon for $29, and the pillow cases are from Dollar Tree ($5 total). The mirror was the most expensive item, but again, I use it all the time. It was from Home Goods and so I don't have online pricing for that, but Amazon has a similar one for $159. Oh! Plus the bed! It's an air mattress! Easy to store and only $55. I place it on foldable frames from Amazon ($90).
Here's a link to those items if you'd like to see them and order any for your bedroom renovation and staging:
[adinserter name="condobedroom"]
That makes the staging total $435 (for things I can reuse all the time). So, that's a grand total of $485. That's less than $500 to totally change the look of this room. What do you think? Worth it, right?!
Other posts coming in this condo remodel include:
Condo Kitchen redo
Living Room and Dining room renovated and defined
Lilly Pulitzer inspired porch
Easy bathroom makeover
The real numbers behind an Orlando condo flip
Condo was listed for sale by Castro Realty Group. We received a contract within 3 hours of listing the property!
As an Amazon affiliate, I earn from qualifying purchases. So if you purchase one of those items, I may receive a small commission but it does not change your price in any way.