Have an unused closet you'd like to do something cool with? Have you ever thought about your own closet to wine cellar conversion but don't know how it would look?
Click here if you'd like to jump down to a Pin-able link to save to your Pinterest.
I've been striving to stick to a "one room at a time" project throughout my own home. My first remodeled spot was a small closet under the stairs. I wanted to start with a small, manageable space that could have a big impact. This type of space works great as a wine cellar and as you can see I was fortunate enough to have already had the shelving for the wine and the wrought iron door that worked perfectly as a wine cellar door.

My goal is to make the room unique and special and elegant looking all at once, while still retaining the element of fun. Here's the starting point: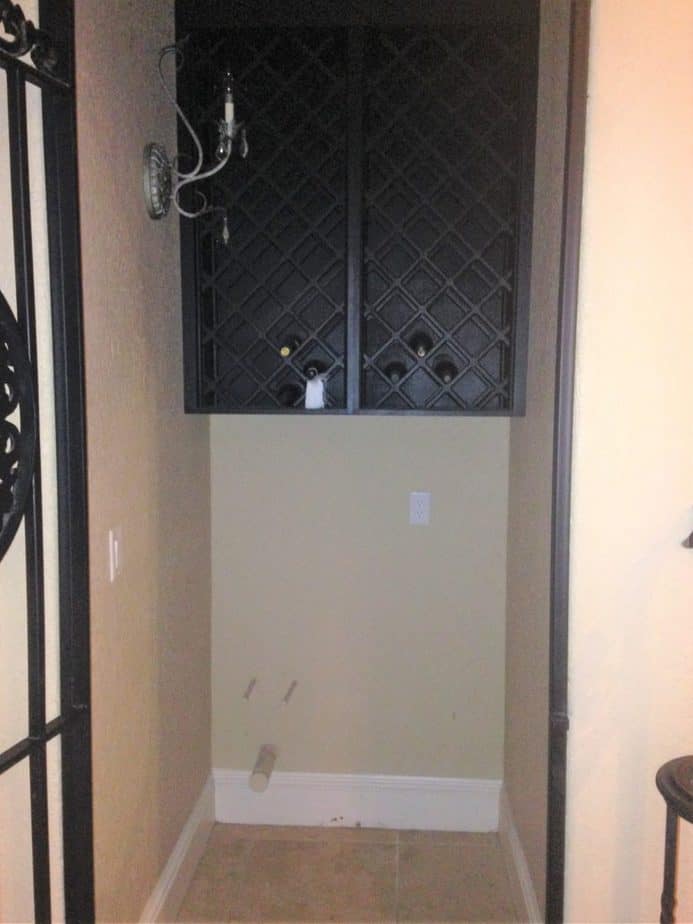 In researching the idea of creating my own closet wine cellar, I did search the internet for photos and ideas of how to best maximize this small space. I do have to mention that I was intimidated at first by sites which told me to install a vapor barrier or check for humidity levels.
I live in Central Florida. It's pretty much always on the warm side and we are always dealing with high humidity. It's not uncommon for temperatures outside to reach over 100 degrees fahrenheit.
However, I kept it simple. I'm a mom and DIY'er who likes to have wine with friends. I don't have a lavish wine collection and I'm not a wine connoisseur. I just wanted to create ideal conditions as best as I could utilizing a wine fridge that would serve my needs in terms of space and temperature.
Storing your Wine Bottles:
As you can see, my closet space already had some custom wine racks which were left by the builder. I use this built in wine cabinet to hold my red wines. However, it is easy for you to store wine in your wine closet using more modern custom racks for storing your bottles of wine. I'll link to a few of my favorite racking system samples here in case you want to check those out on my Amazon page–I try to keep a wine section together there.
Supplies to build a wine cellar in your closet
Looking through some online sites, I came across the great idea of a wine barrel sink. However, pricing is upwards of $1000 for this type of sink. Now, if you have that kind of budget for a small room, here's a link to one on Amazon. As an Amazon affiliate I earn from qualifying purchases. So, if you're sporting that kind of budget feel free to click on the Amazon link below!
However, that's not the budget I wanted for my closet to wine cellar conversion, so, I decided that there must be a way to build one for much less.

Buying the items separately, I can make my own wine barrel sink for a fraction of the cost.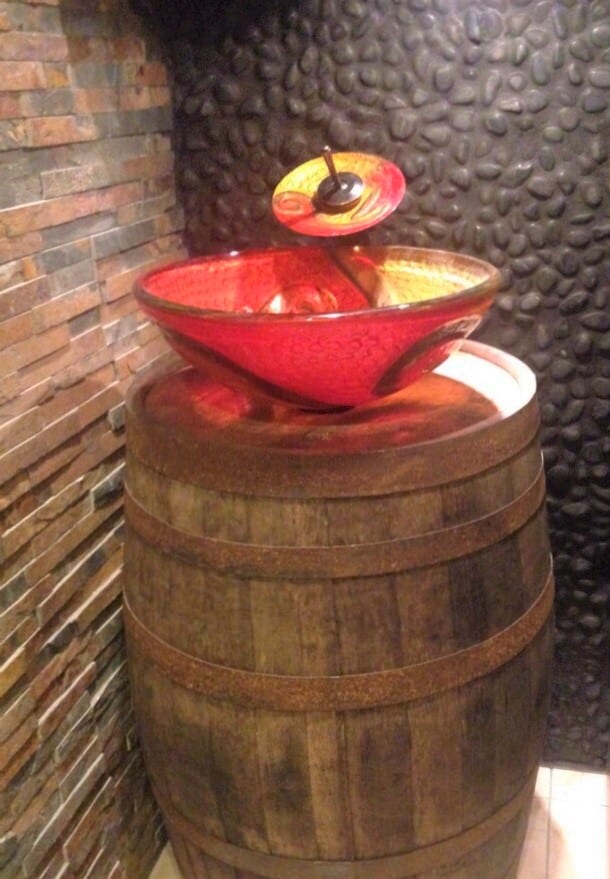 The sink is from faucetsdirect.com for approximately $200, but there are also some great options on Amazon that I have a link to below because some are actually less expensive and more colorful than mine.
The wine barrel is from from our local winery, which is called Lakeridge winery. The barrel was approximately $120.
Here's a link to some wine barrels in case you don't have a winery close by where you can buy a barrel. There are also some cool wine themed items you'll see if you click the "Go" button at the bottom right side of this wine barrel search window below:
Luckily, there's plumbing already running along the back of my closet, so this makes installation and plumbing easy. Adding this made it a true wet bar as well as wine cellar.
Creating the "look" of your DIY wine cellar
For the workmanship, I called on professionals. At that time I didn't think there was any way that my husband John and I would be able to tile these walls and have it come out the way I wanted. Now that we're much more experienced in home flipping and renovations, I feel like we can actually take on the tile installation, especially the pebbles in the back since they're so free form and come in sheets.
We looked at some samples before the project began, and decided on a stacked stone rock type tile along the walls, the pebble rock tile with black grout along the back wall, and wood along the ceiling to give it a rich finish. By the way, this ceiling detail really made a world of difference in finishing off the space.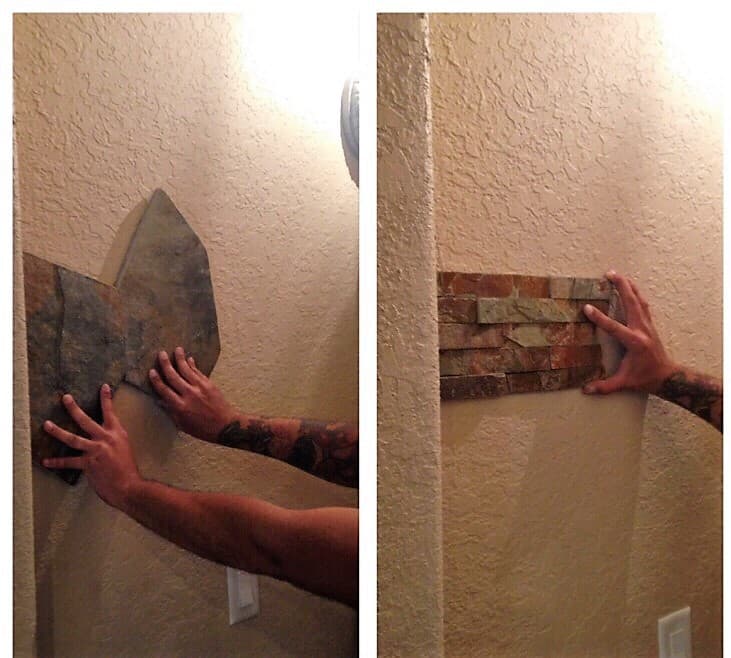 Before tiling the walls, it was important to remove the wall sconce. This sconce looks terrible and takes up space and breaks up the look of the room.
Check out how nice the ceiling and walls look. The ceiling is finished with wood flooring and it looks amazing. It really makes it feel like a completed and cozy wine cellar space, and removing the unnecessary wall sconce made the walls look much better: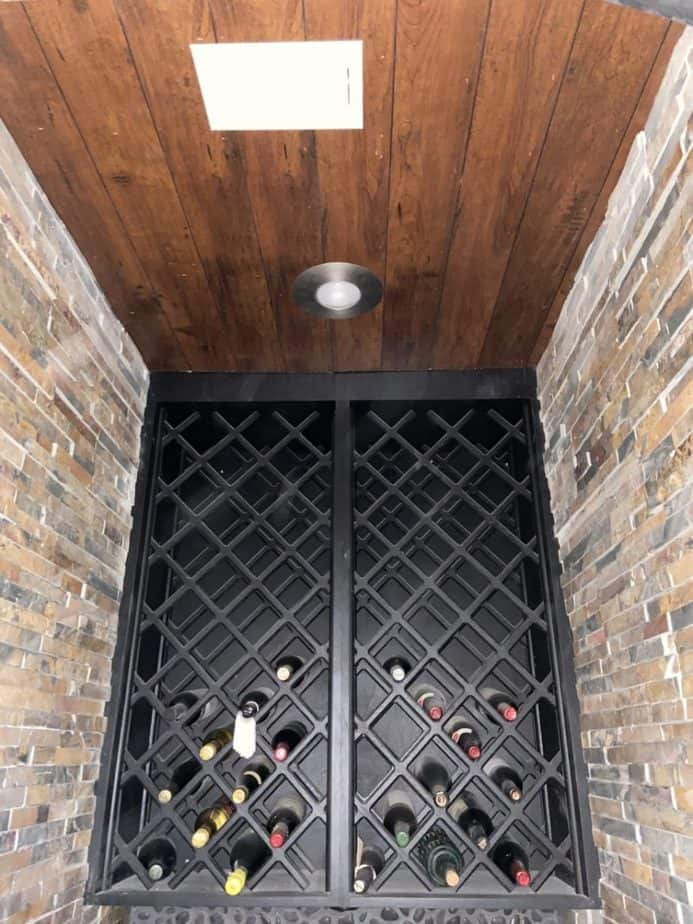 Installing a puck light under the wine rack made a big difference. It focused light where we wanted it to be.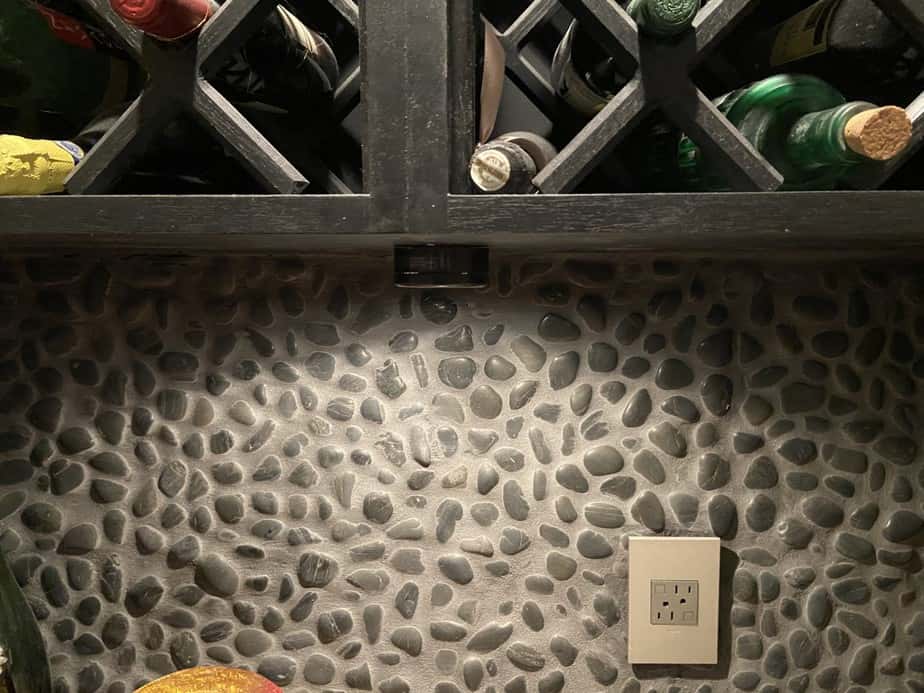 One thing I have noticed about beautifully decorated homes is the attention to details and how modern things are. So, I the installation of some new designer Legrand light switches really upgraded the look. The light switch turns on with a wave of your hand. I think it makes the entire space feel modern and cool.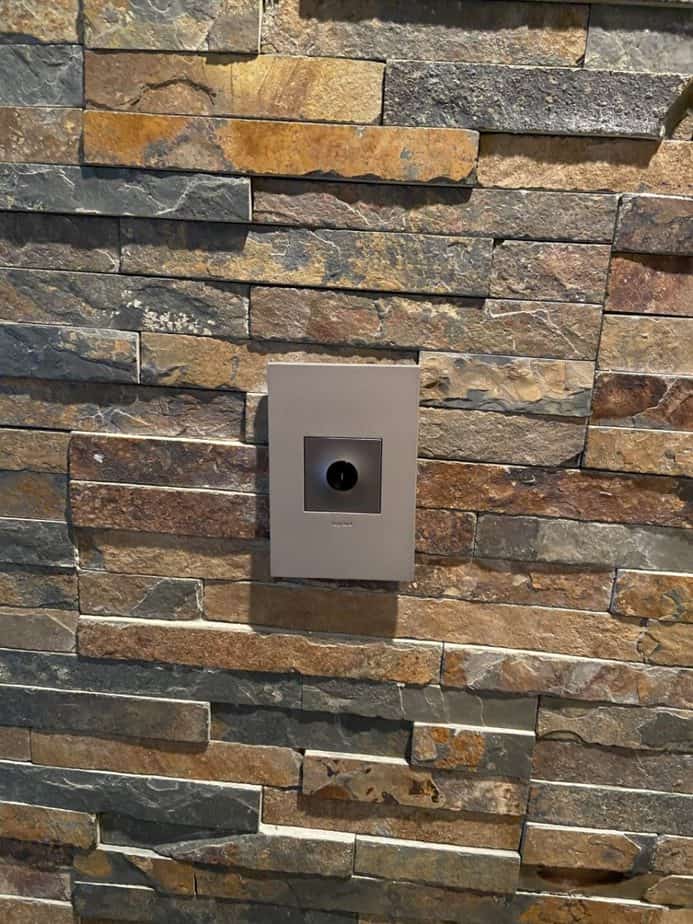 We also often install upgraded light switches in homes we remodel, adding switches with USB ports and smart home features. Here's a link to some of them if you need it and can benefit from them:
Adding the wine refrigerator to our homemade wine cellar
The next step is the addition of a wine refrigerator to keep the chilled wines in our wine cellar. I am so proud of myself for comparison shopping on this one. At the time I purchased, on the Lowe's website, this beautiful wine cooler was for sale for $521. However, a look at the Home Depot site had that exact same one for $359! I don't usually find a difference like that between the two stores but it definitely pays to cost-compare because sometimes you will find a huge difference. Here are wine coolers and wine refrigerators at the Home Depot site, click on the photo to see it on their site: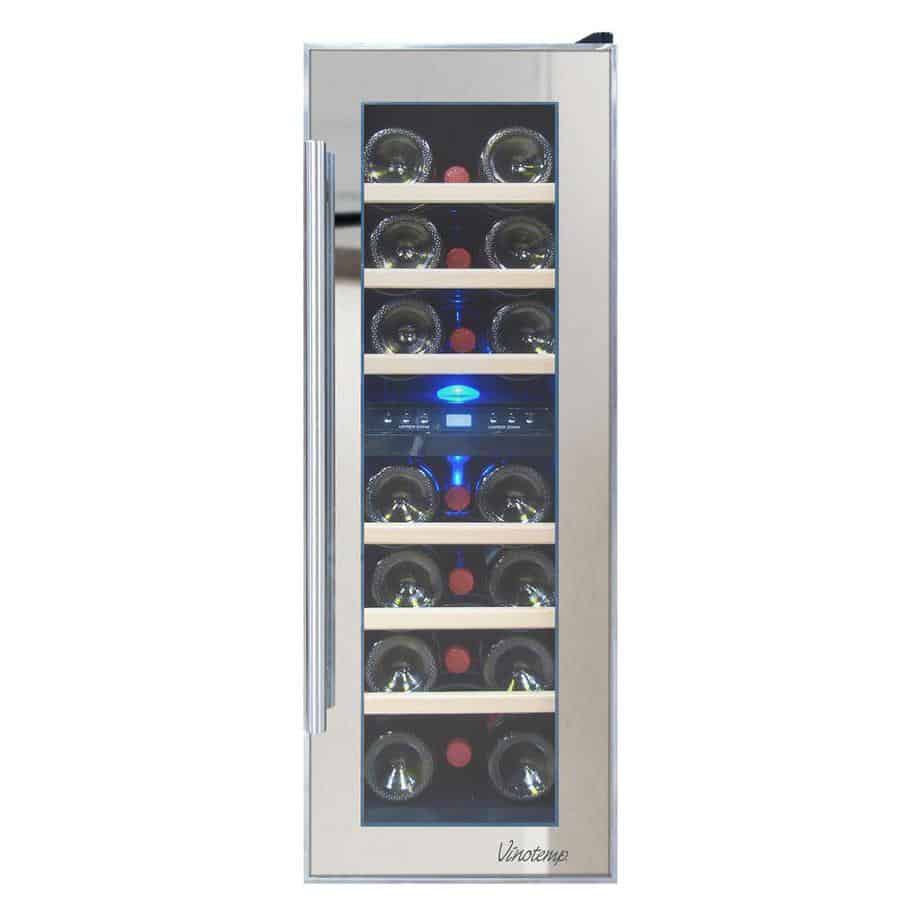 Lastly, the finishing touch is to add granite to the room! The amount of granite needed is small. A granite installer will likely have this size available as a scrap left over from another project. So, this is a very inexpensive addition. Going and speaking with an installer from a granite yard is definitely worthwhile and less expensive than you'd think.
Temperature controls
As I mentioned, I live in Florida. We run the a/c year round and have a steady temperature in the home. I store my red wines in the metal wine racks, and my white wines in the wine refrigerator.
If you have fluctuations in your room temperature then you may want to consider installing a cooling unit for enclosed small wine cellars. This will account for temperature changes.
Of course, you can get fancier than I've done here and create glass wine rooms set to an ideal temperature and relative humidity for proper wine storage. This is a more complex wine cellar build, but they are certainly beautiful and very high end. I have seen some of these small rooms and glass wine cellar spaces that control for air leaks and proper conditions. I just didn't feel that level of complexity was necessary for my home wine cellar.
You'll need to make this decision for your own wine cellar.
My Wine Cave
Here's the finished project, what do you think of our wine cellar? If you transform your closet, I hope you'll also leave a picture of your closet to wine cellar conversion!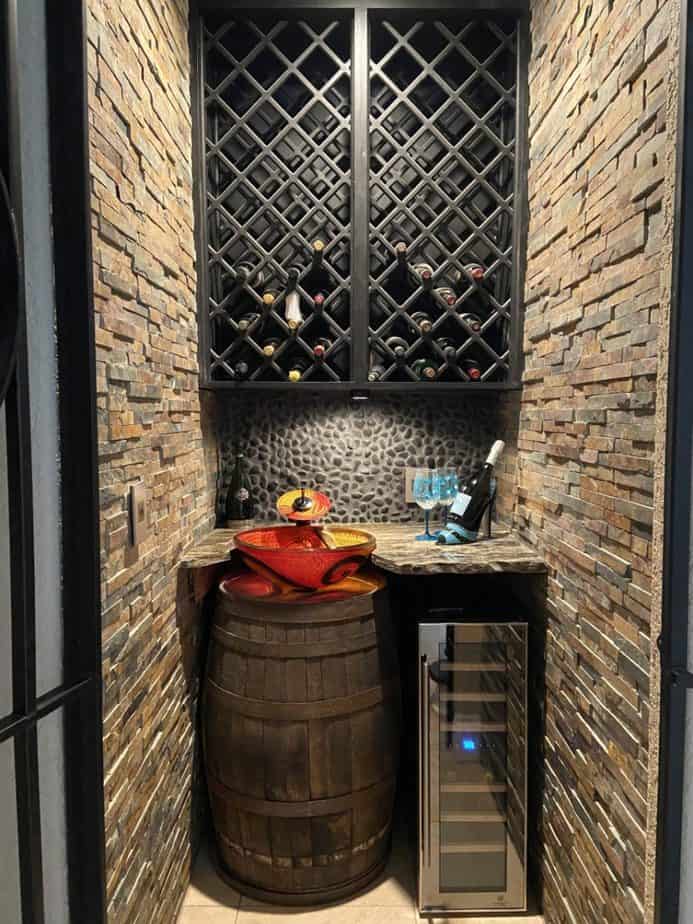 Wine Accessories and Gifts
Finishing off the room, wine accessories really make it your own. I love this cute shoe wine holder and glasses. However my favorite wine gift ever is below this photo.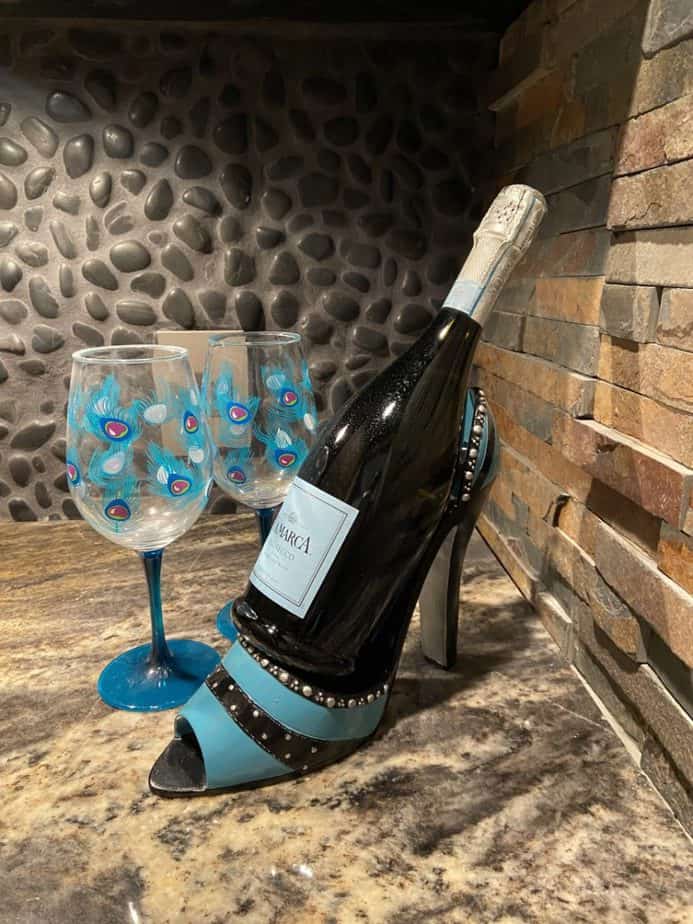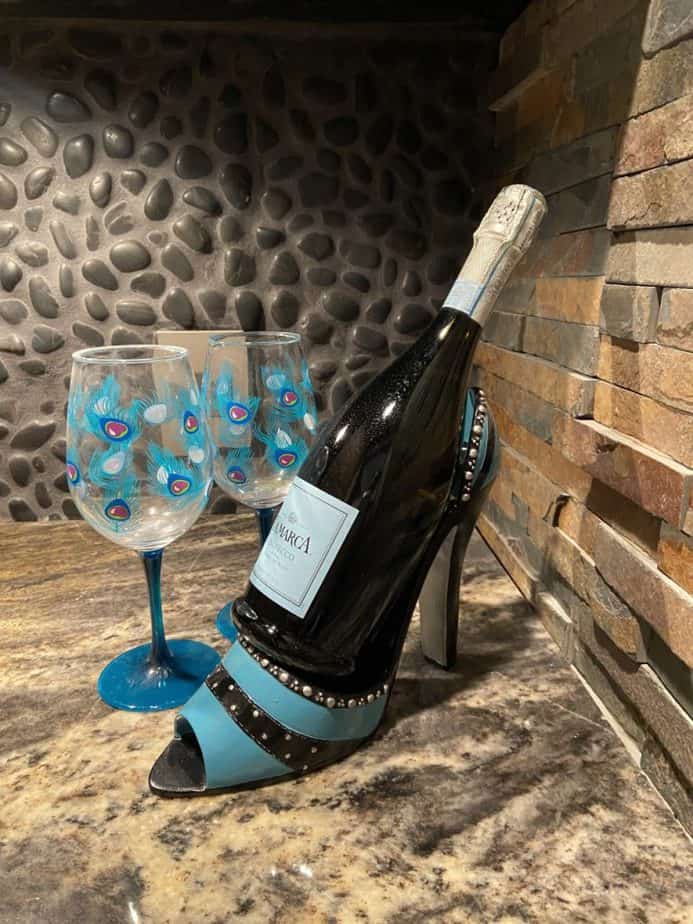 Here's my favorite item in Wine Accessories and Gifts. Click on the video pin below to see it in action. It's a CO2 cartridge wine bottle opener. Click here to see the story behind it
That's it! The wine cellar is complete. As it is, I love it and feel like our first room makeover is a success!
Other Wine Storage Room Solutions
Just as we used an under the stairs closet, a good wine cellar can clearly be made out of coat closets or any large closet that fits your needs. In this home renovation, we opened up a closet that didn't have any wall studs in the way. By doing this, we opened up the space and created a cellar wall that opened onto the living space.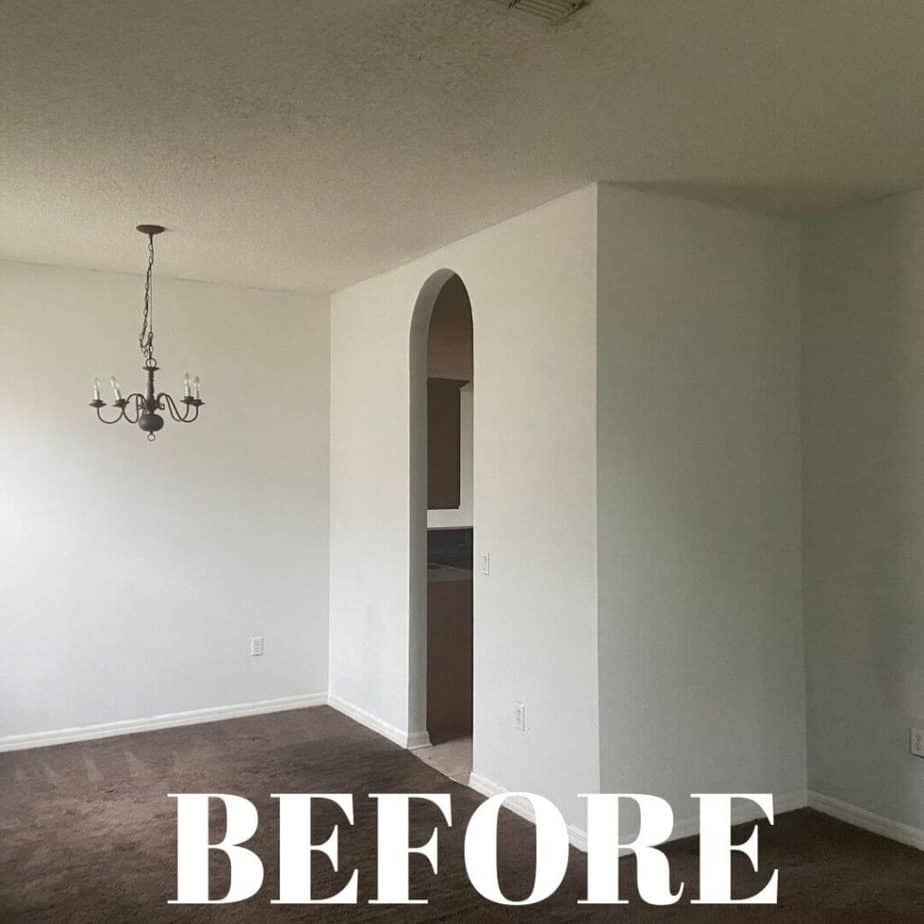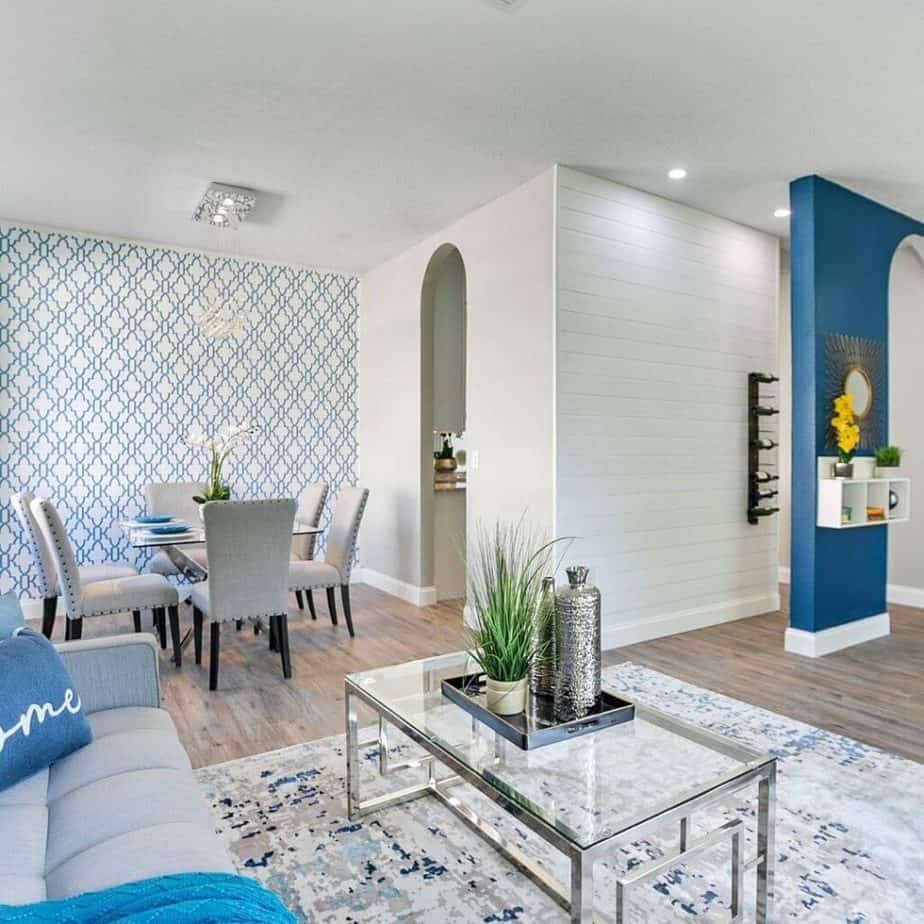 If you have limited space when it comes to closets, then you may not want to sacrifice storage space for a custom wine cellar. You don't have to. You can create a focal point in a different room, such as the living room. After all, there's nothing saying that an entire room needs to be devoted to wine.
In this home remodel and staging project, I used a small area off of the dining room to create a perfect place for wine storage. This open space didn't take up any square feet from the room's floor. It just utilized side walls that were unused.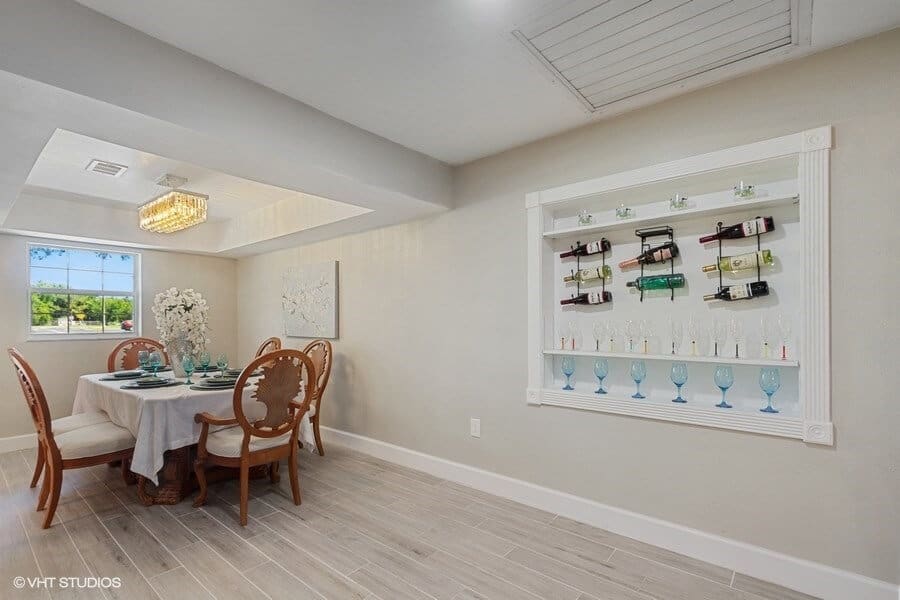 You really can use any unused space to create the perfect wine cellar or perfect wine storage solution for you. Have fun with it!
Want to view other projects we've done? Here are some you might enjoy, or visit all our posts at marciasocas.com:
Pinterest Links to the Closet to Wine Cellar conversion
Pin it by just clicking on the above photos and save for later.