So, I just got a Cricut Maker about a month ago, and I've been having a great time learning what it can do, and trying to think up fun projects to make. Fortunately, my friend Jodie was having her 50th birthday party and it gave me a chance to use the Cricut Maker to help with decor and create a personalized birthday party. Here are a few of the Cricut ideas for a Birthday Party that I was able to make.
Here are links if you want to jump ahead to any specific sections:
Easy Cricut Birthday Shirts
Inexpensive Cricut Birthday Vase Centerpieces
Cricut Birthday Signs (Cricut Chipboard Signs)
Some Awesome 50 and Fabulous Birthday Supplies
Cricut Birthday Sign (Framed Sign)
Customized Cricut Signature Cocktail sign
Amazing and Simple Balloon Decoration for Birthday Party (champagne balloon setup)


What is a Cricut Machine?
A Cricut is a really cool machine that allows you to cut various materials (you can cut vinyl, thin wood, metal, paper, iron on material, and so much more). You create your design on the computer and then send it to the Cricut Machine to cut. The specific machine I use is the Cricut Maker. It has been amazing and has allowed me to make personal items and home decor items and all kinds of personalized gifts.
If you need Cricut Maker Supplies, or you need a Cricut Maker, I'm posting affiliate links to special pricing on Cricut products below. These are only good through 2/16, but I'll try to update them after that.
Now on to the Birthday Party Decor…
50 and Fabulous Birthday Party
Cricut Birthday Shirts
Shirts with the Cricut Maker: This seems to be the item I see a lot of new Cricut users make. I belong to a few different Facebook groups for Cricut users and t-shirt ideas are what I see posted most often. This birthday party was a surprise party and it was being put together by Jodie's husband and also a group of 4 of my girl friends.
I made us these shirts using iron on glitter (HTV). The part that took the longest was coming up with the design, the rest was just setting it to print, "weeding" it (removing the unnecessary glitter vinyl pieces, and then ironing it on. A few tips–iron ons get cut in reverse because you then flip them over to iron them, so be sure to set your design to "mirror" prior to cutting. Also, don't iron directly onto the vinyl. I used a thin cotton fabric between the iron and the vinyl, this way it didn't overheat or melt the vinyl. Here's a picture of the shirt, it made it easy for me on party day because I didn't have to figure out what outfit I was going to wear!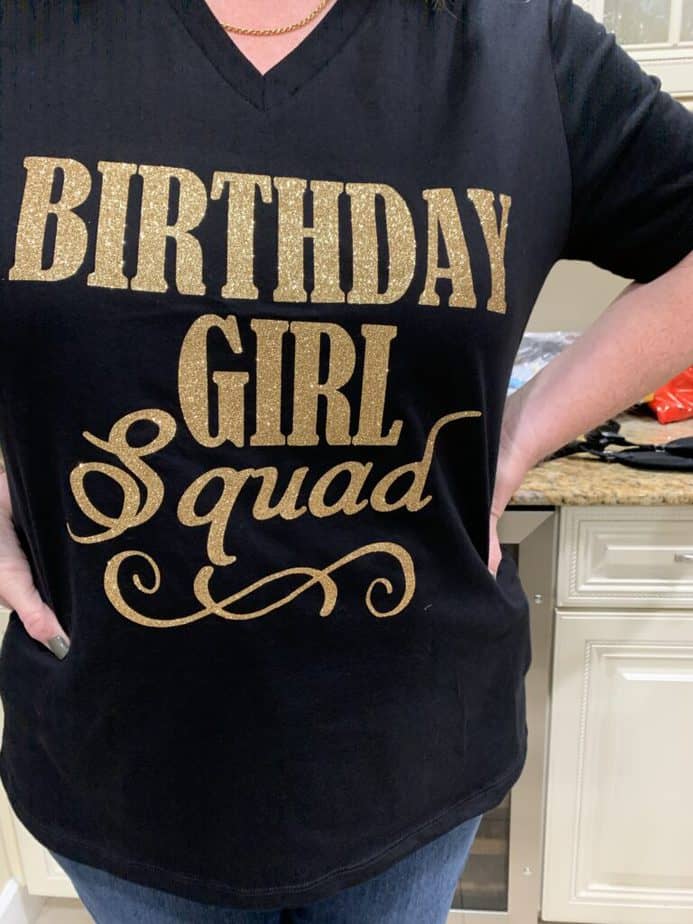 IF you'd like to download the BIRTHDAY GIRL SQUAD file that I used, you can grab it from my website's library. You may need a Cricut membership to use it, as one of the fonts is from my Cricut Access subscription. You can find the downloadables to everything in this project there. Just sign up to receive access to the library. Here's the sign up
Cricut Birthday Centerpieces
Vases for centerpieces: The colors of the party were black, white, and gold. I found these great simple vases at the Dollar Tree near me. We placed some duct tape around a few sections and spray painted the rest with a metallic gold paint. We peeled off the tape, and it made the vases look more interesting and customized. After that, it was easy to cut "fifty and fabulous" on regular black vinyl, weed it (it was a nightmare since the letters were so thin), and then transfer it to the vase.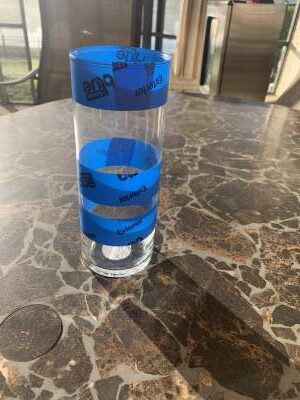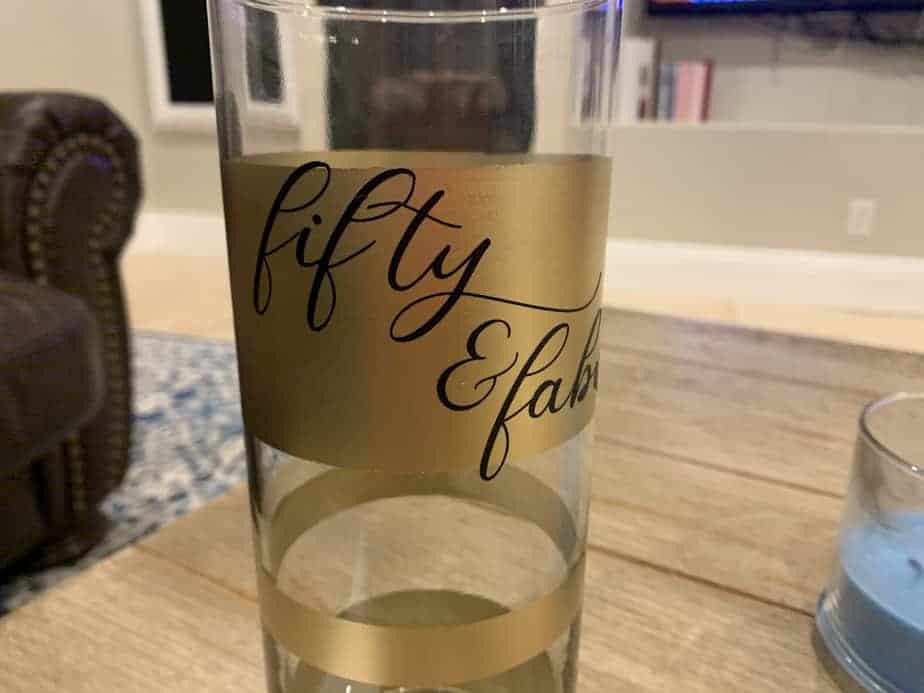 IF you'd like to download the FIFTY AND FABULOUS file that I used, you can grab it from my website's library. You can find the downloadables to everything in this Cricut Birthday Party Ideas project there. Just sign up to receive access to the library. Just use the signup form that was above.
Cricut Birthday Signs
Centerpiece signs: Now this part was fun! Using 2mm chipboard, I cut out two separate pieces. One said "Jodie's" and the other said "50th". In order to cut these, it was necessary to purchase a separate blade. You create your design in Design Space, tape the chipboard to the mat (very important so it doesn't move), and then cut.
I'll also provide the Jodie's 50th chipboard design in my website's library. You can find the downloadables to everything in this project there. Again, just sign up to receive access to the library (signup form above)
It was really easy but please note that it does take quite a while. The knife cuts the same design 25 times and so for the "Jodie's" part, it took approximately 45 minutes for each cutout. What is amazing is the precision with which it cuts. I did have some issues though, and ended up cutting up the mat completely! Look at how bad this mat looked!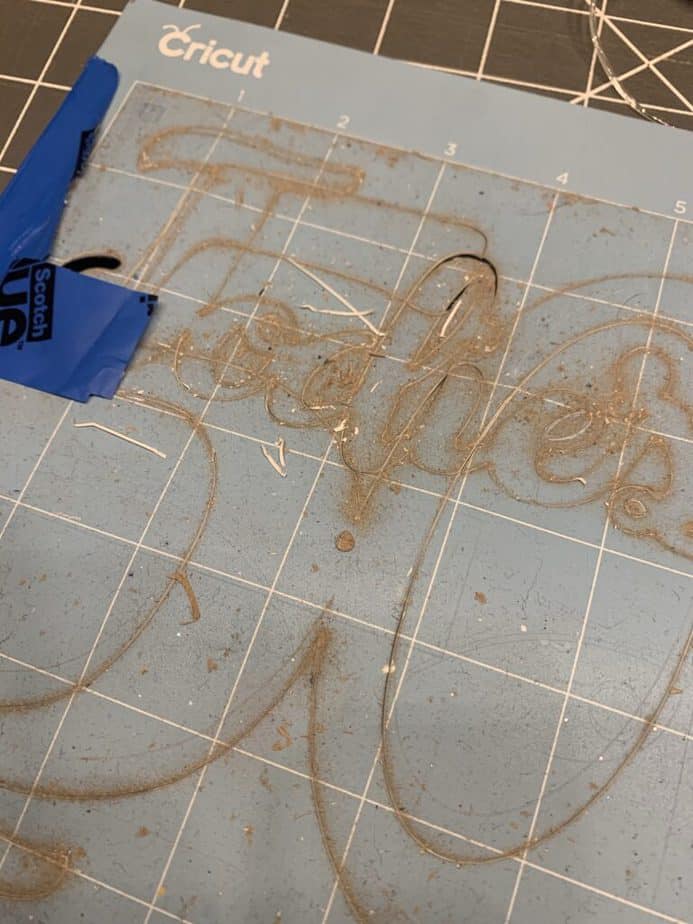 Once these were done, we spray painted the "Jodie's" in gold glitter and the "50th" in black. Then I just superglued the Jodie's on top of the 50th, and used a sturdy straw to create the "stick" part. I also added a second straw on the bottom to give it more height. Put these in the vases, add some roses, and the centerpieces are done!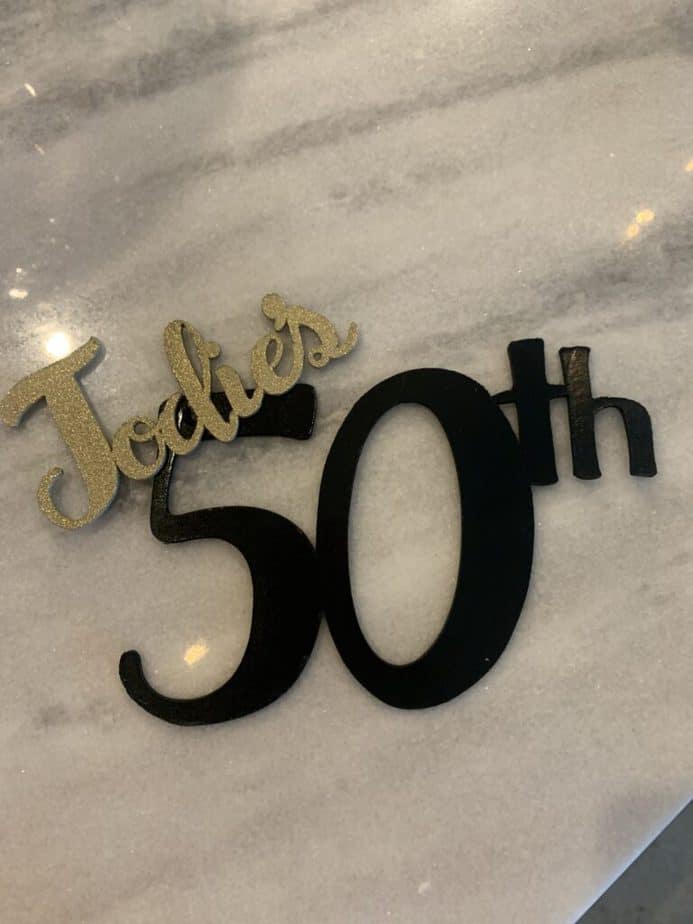 If you put someone's name right into the centerpiece, it certainly does become a personalized birthday party! Look how nice it looks combined with the roses and the vase.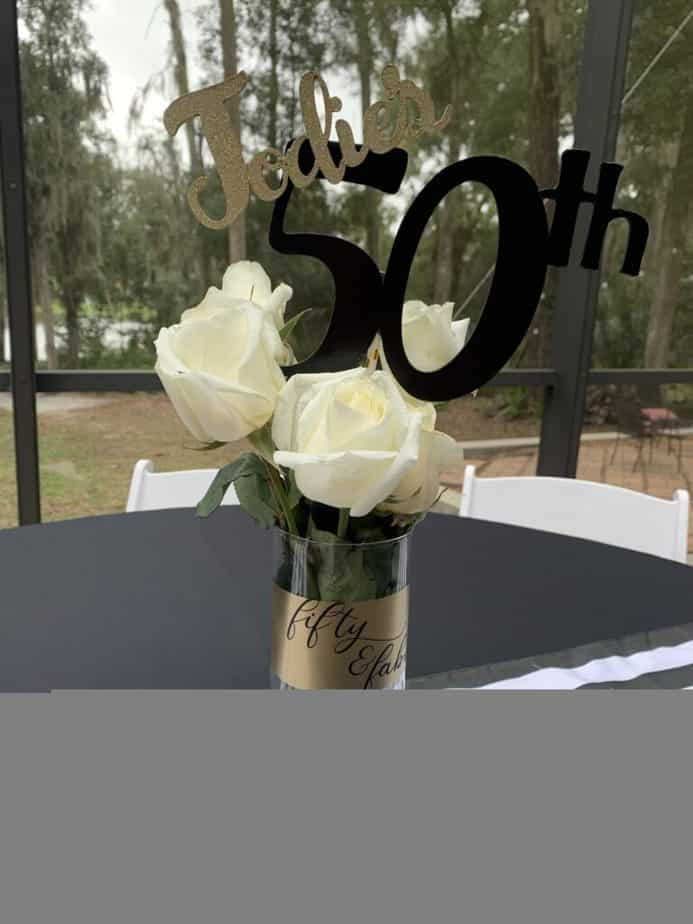 50 and Fabulous Birthday Party Supplies
The runners on the table broke up the solid black tablecloths well, and gave an "anchor" to the centerpiece.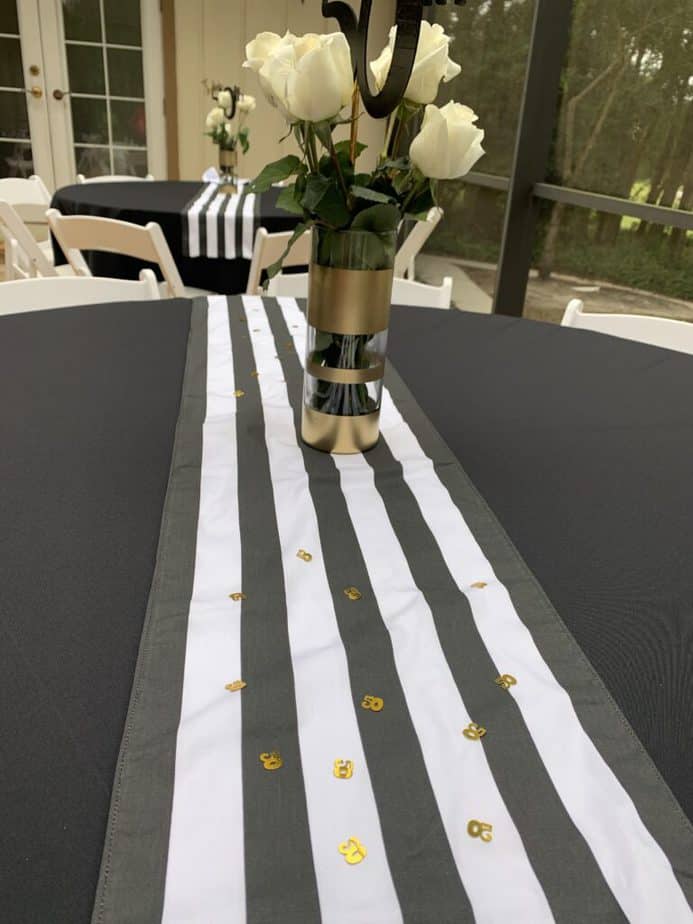 Here's a link to the runners and to the gold foil "50" pieces we scattered around. I'll also include a link to the roses, because they were waaayyyy cheaper than I could have found them at any florist, I believe they were just $1 per rose. I was really pleased with the price and the quality. Right now, as I'm writing this, it looks like the roses are currently out of stock but I'm going to provide the link anyways, in the hopes they'll have them back in stock when you click on it. I purchased all of these on Amazon (disclaimer: As an Amazon Associate, I earn from qualified purchases.)
Cricut Birthday Framed Sign
A Sign for the Bar: The bar area was a little plain looking, but it was easy to dress up one corner by simply adding a "Cheers to 50 years" sign. To make this, I cut out the wording on glitter vinyl, attached it to a black piece of construction paper, and inserted it into a dollar store frame. Done!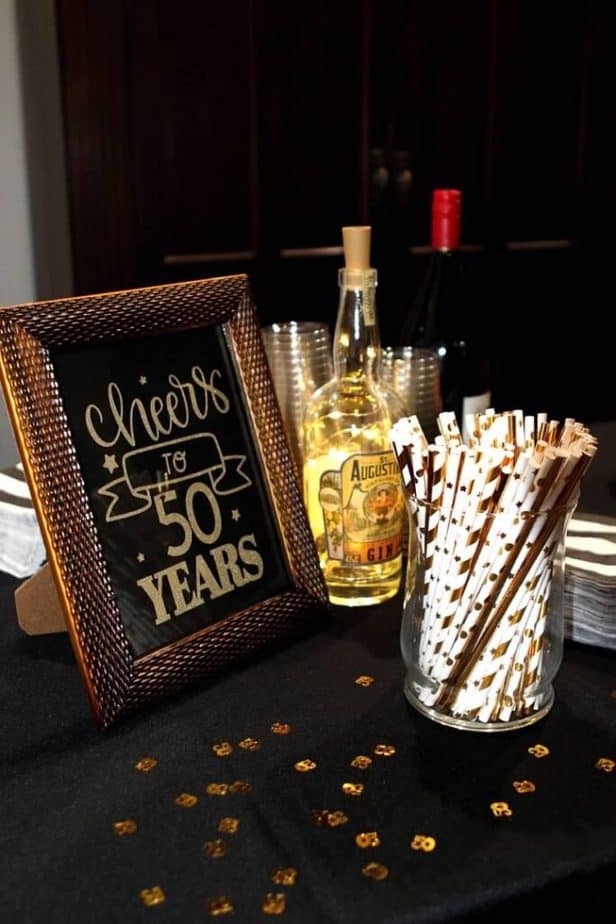 Here's a link to the straws, gold forks, and napkins we used:
IF you'd like to download the Cheers to 50 Years file that I used, you can grab it from my website's library. You can find the downloadables to everything in this Cricut Birthday Party Ideas project there. Just sign up to receive access to the library. Please use the signup form that was above.
Another Cricut Birthday Party Decoration, the Signature Cocktail Cricut Vinyl sign:
A last minute Signature Cocktail: When we were done with the party setup and heading home to get ready, Jodie's husband mentioned that he'd like it if we featured her favorite cocktail at the party. I didn't think I could make it happen, but actually it was pretty easy once I thought it through. It just took printing out a piece of paper with the Signature Cocktail, then I used Design Space to create the outline of a cocktail glass and I used a triangle as the "drink" part inside the glass. I was able to use a piece of holographic vinyl for the "drink" part, and then used the leftover glitter vinyl to form the cocktail glass. I quickly mounted this to a piece of black cardboard, and simply folded the bottom to make it "stand" at the bar table.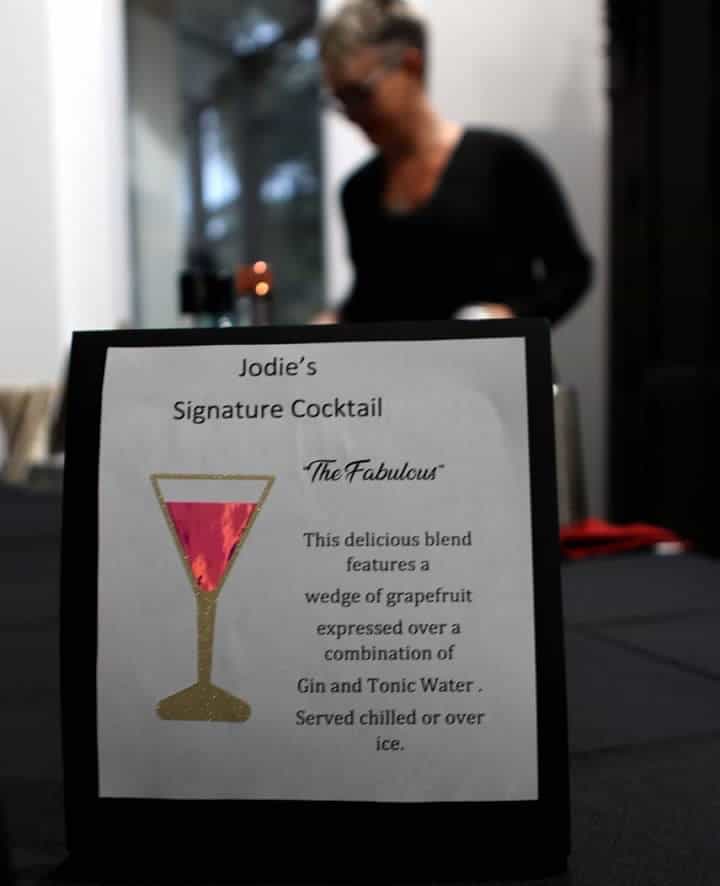 That's it! I loved using the Cricut Maker and helping to plan this wonderful party. Here are a few more pictures of my favorite decor items. Good luck with your party and I hope these Cricut Birthday party ideas were of help inspiring you to make creations of your own! Have a wonderful personalized birthday party!
Aside from the Cricut crafts we used….
We created this amazing set up of balloons for the 50th birthday party.

Another way to personalize and decorate the party is with a really cool champagne balloon setup (under $10!!) . You can also use some confetti filled balloons that you can tie photos to for a great look and conversation pieces. The confetti balloons come with the confetti in them already, so it's just a matter of filling them up with helium. I'll attach a link right below the photos.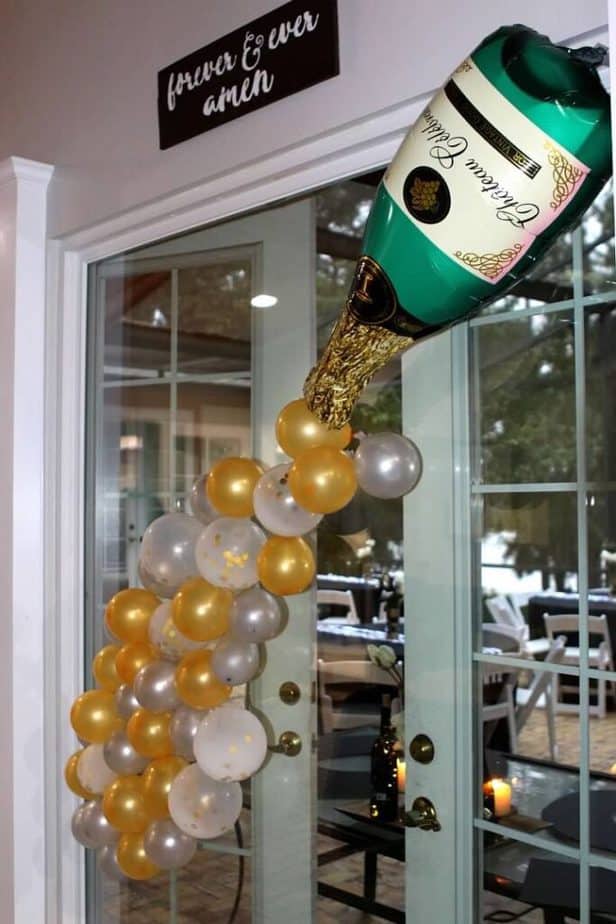 Here' a link to the balloons: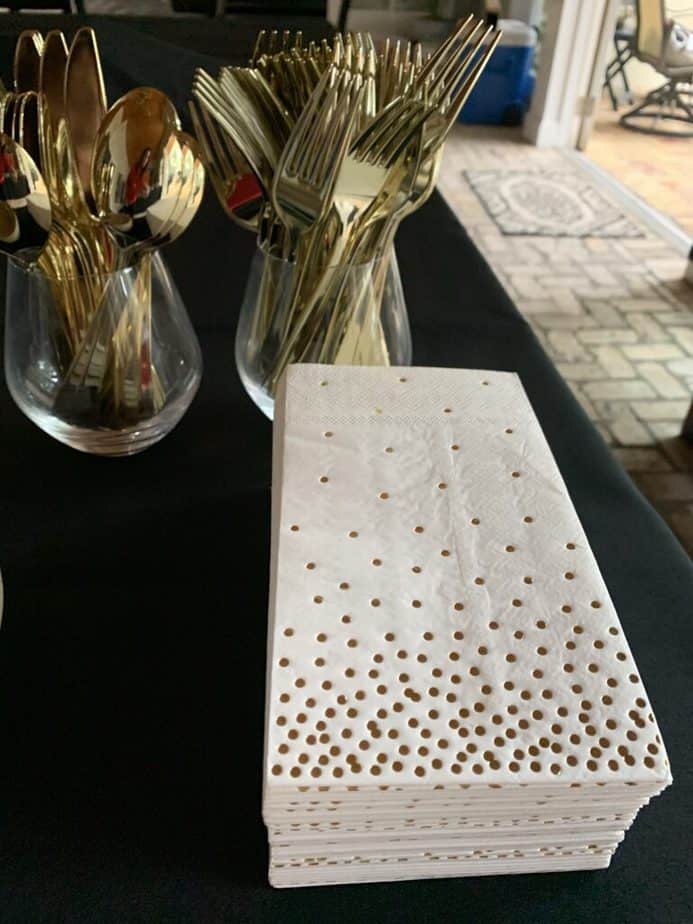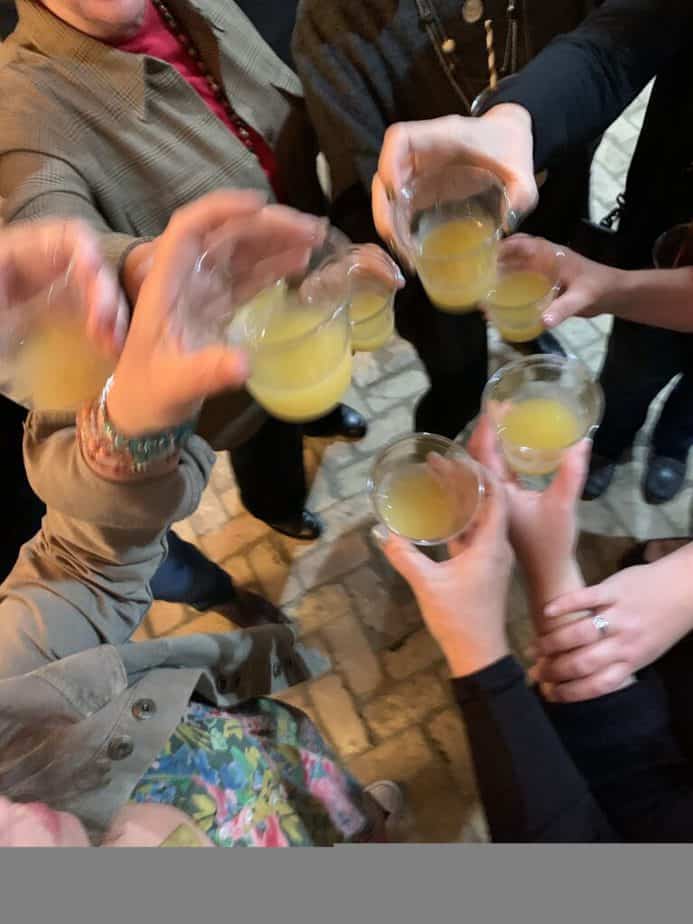 Ready to plan your next party? Here's a link to Evite. This is the site I use for most of our parties and events. It's easy to create the invite, send it via email, and Evite keeps track of RSVPs for me. (disclaimer: because I do enjoy using Evite, I am an affilliate, which means that I might earn a small commission if you use them; but it doesn't cost you anything, and I really think you'll enjoy their premade invites and templates)
I hope you've enjoyed this little list of Cricut Birthday Party Ideas.
Here are other projects you may like: