Condo Kitchen Remodel Before and After
Two months ago, we purchased a condo in a fantastic gated golf community here in Orlando, Florida at Ventura Country Club. The biggest drawback to this condo was the extremely small and narrow kitchen. I'm not sure how this type of kitchen was constructed, the opening to the kitchen is extremely narrow. We knew we wanted to fix up this condo, and make the kitchen more useable and beautiful. Of course we also wanted to do it on a budget so that we could resell the unit as quickly as possible; providing someone with a great property and allowing us to turn a profit. I wanted to share our condo kitchen remodel before and after. You'll also see other rooms, but the kitchen was the biggest change. Here's a picture of the "before" kitchen we were dealing with.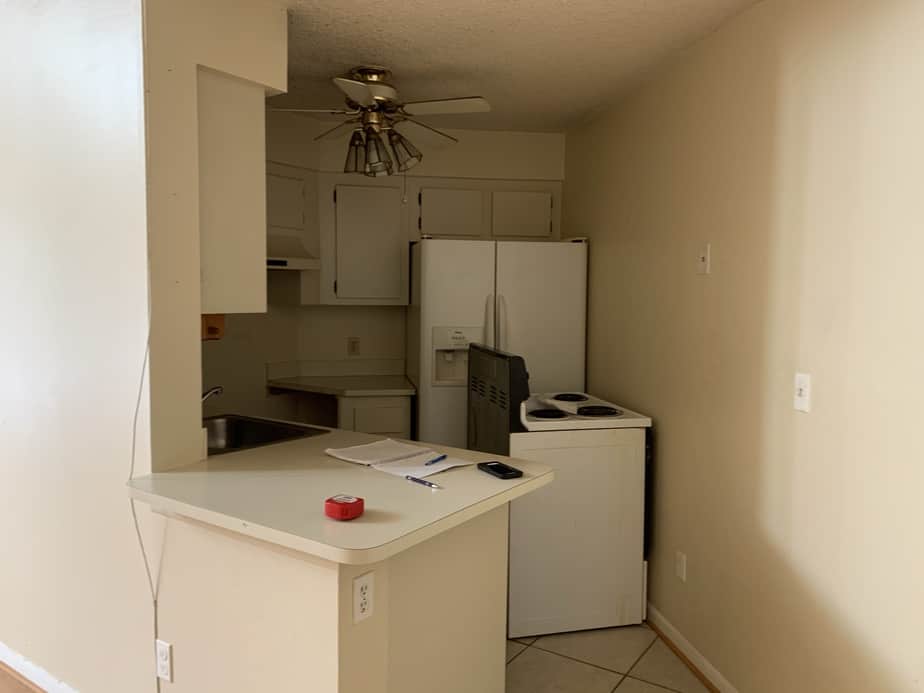 Lighting
The first job was taking off that old fan and replacing it with a slightly more modern light fixture (thanks Amazon!).
Cabinets
We quickly noticed that the cabinets along the back wall had some really weird, custom angles and sizes. Fortunately, the cabinets were in good condition inside, they were just terrible outside. We were able to remove the doors and paint the boxes, and replace them with Haggeby doors by IKEA. These start at just $2 for some sizes!!
Adding new handles and hinges finished freshening up those cabinets. However, we also needed to change the angle of the countertop that extended out from the kitchen. We removed the old cabinets that were there, and added new cabinets at a better angle. We had our granite guy come and create a custom template with the new angle and install some beautiful Fantasy Brown granite.
Once the cabinets were re-aligned, we were able to add a few more cabinets for storage and showcasing beautiful dishware. We were only able to do this because IKEA sells narrow cabinets (20″ depth rather than 24″) that fit perfectly. A great sale on stainless steel appliances from Home Depot allowed us to finish the kitchen and modernize it. Here's an after photo:
After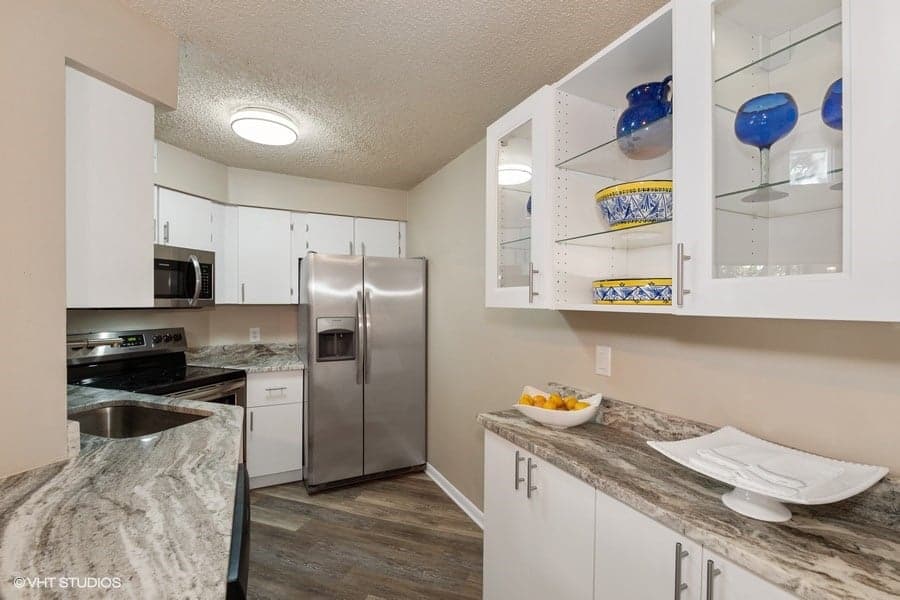 Additional Condo Kitchen Remodel Before and After Photos
This photo below shows the "before" kitchen from another angle and highlights how narrow and dark the kitchen was.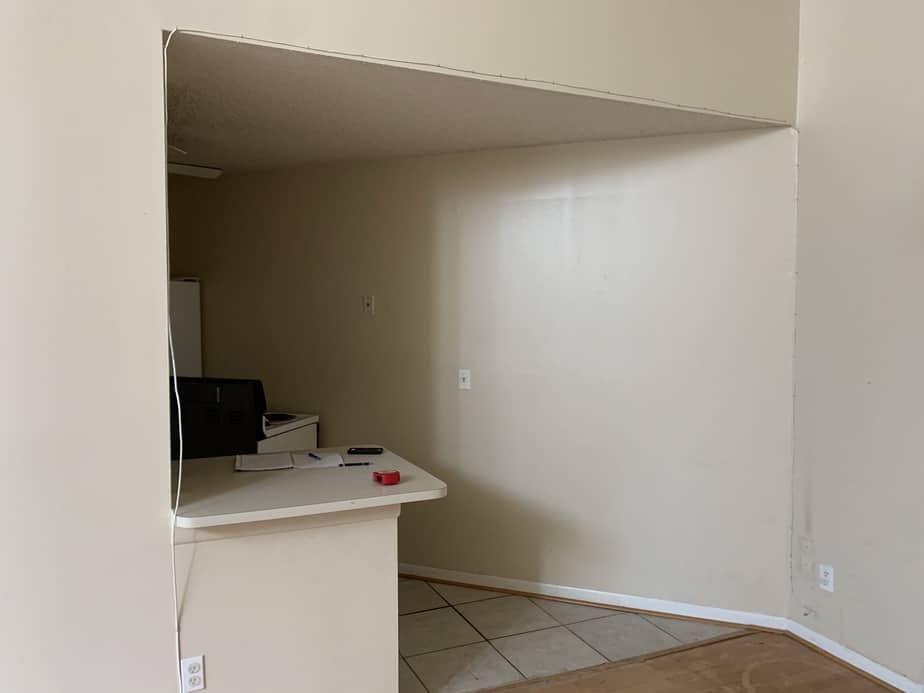 An "after" photo from the same angle shows how we were able to expand the countertop and create a breakfast bar area, and add the additional storage, and still provide a larger opening into the kitchen.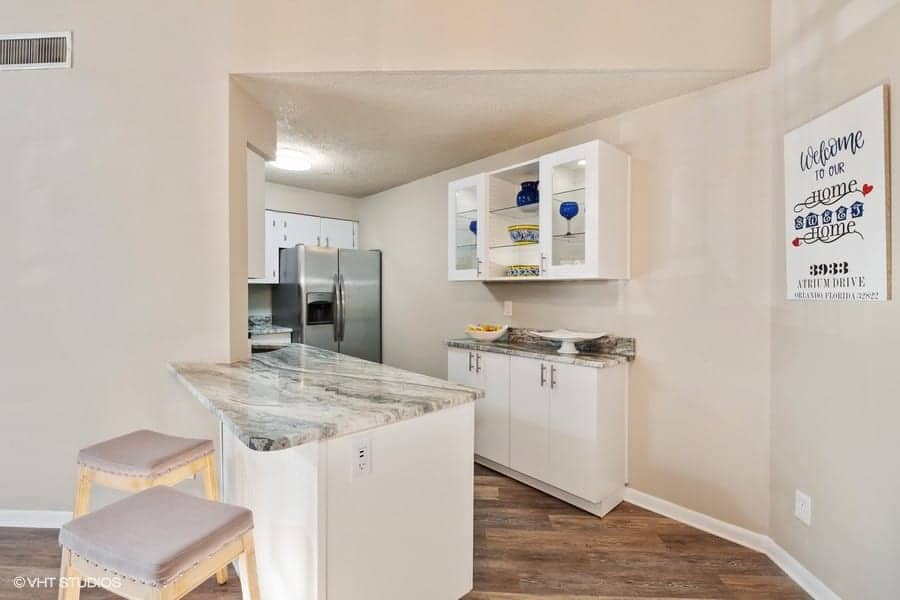 Condo Bathroom Renovation
Another quick change in this condo was in the bathroom. Here's a before photo: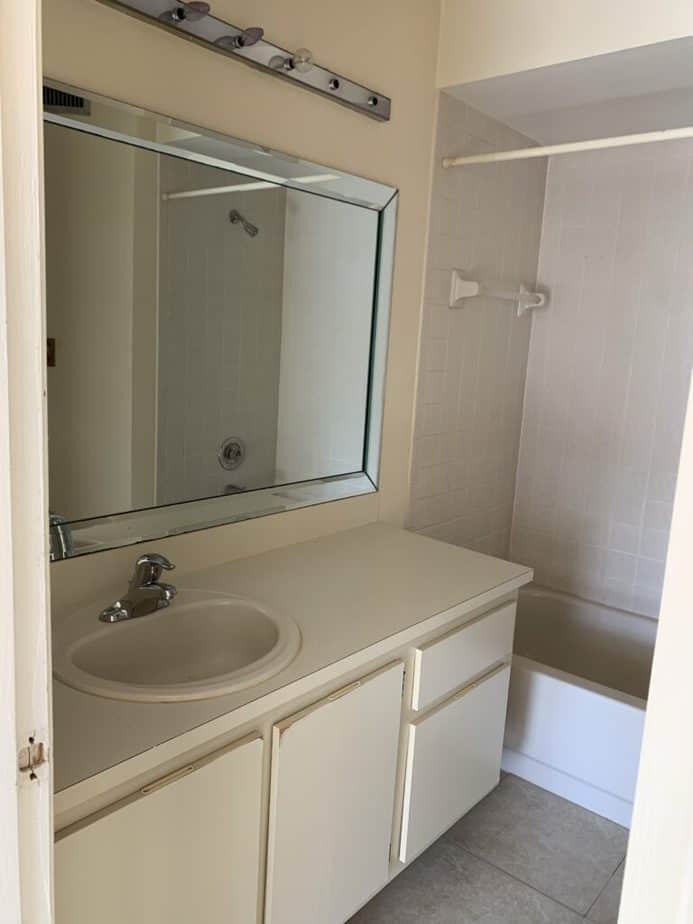 Luckily for us, the shower tile was in good condition, so we saved money on any changes there, we just updated the shower fixtures. Changing out the vanity went a long way, and we actually shortened it because the prior cabinet was actually all the way to the tub. Now we have space for a hamper and added decorative shelving and great lighting (Amazon again).
Here's a link to some lighting options if you need them–the pricing at Amazon is better than what I can find at the local hardware stores. As an Amazon Associate I earn from qualifying purchases:
Here's the "after" photo for the bathroom: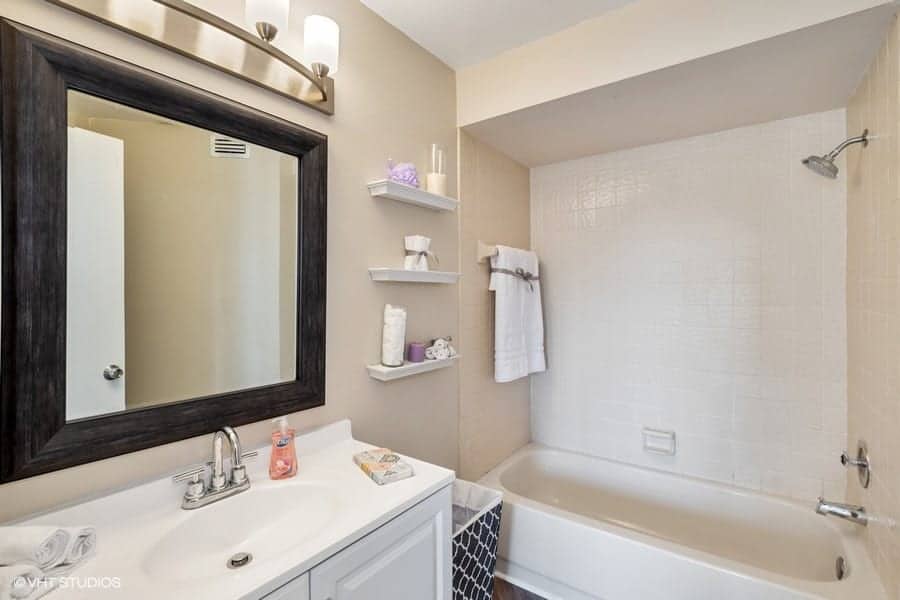 Condo Living Room Renovation
This next picture will actually showcase the importance of a good photo more than anything. In the "before" photo below, you'll see that the laminate flooring was in terrible condition, and the color of the walls needed updating.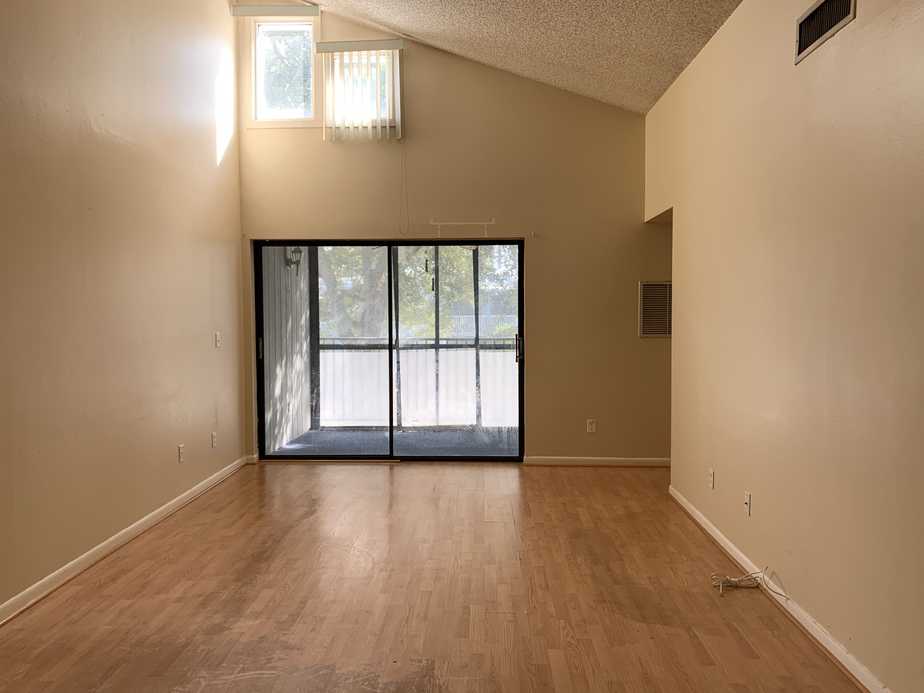 We changed the flooring using luxury vinyl plank flooring from Home Depot (we love this flooring becuase it's so easy to install and it looks fantastic). We also repainted. However, I think the most striking part of this "after" photo is not just our changes, but the most amazing thing is seeing how much better a property looks when you have a professional photo taken. The whole room is shown in one shot, and it just looks fantastic. As a Realtor, bad property photos are a bit of a pet peeve. It doesn't cost much to get a photographer to come out and take great marketing shots of your property. With so many people doing their own home searches online these days, getting great marketing photos can absolutely make the difference between a buyer selecting to view your property or not.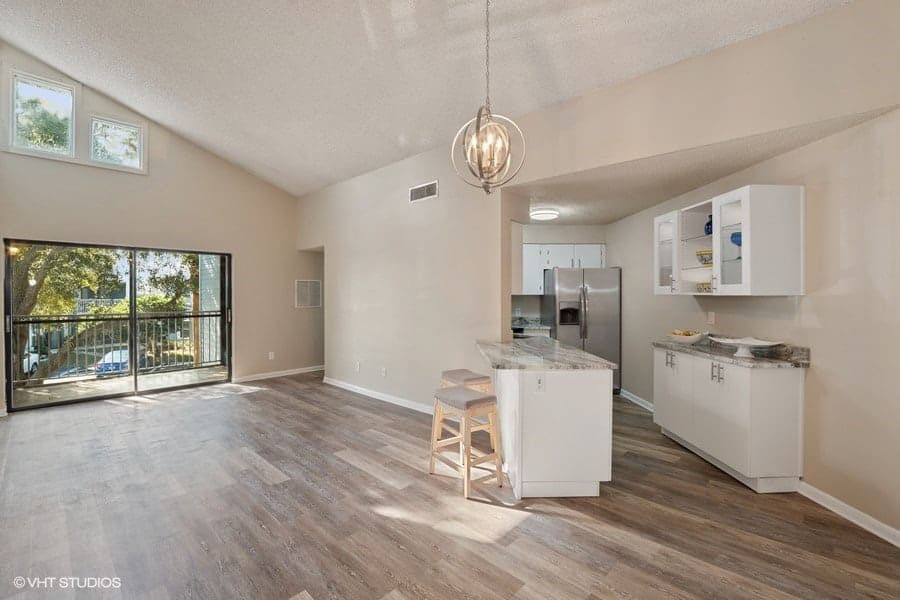 Renovated condo flip results
I'm happy to report that this fixer upper was done within approximately 2 weeks, and then it was closed and sold within just a little over another two weeks. That's just one month and few days from purchase to sale! You can do this, and I hope these photos help to inspire you to do it for yourself!
If you do renovate homes and choose not to sell right away, but rather prefer to hold the property as a rental, I highly recommend Buildium. This is a property management program we use at my company, Castro Realty Group. It allows us to track the properties, leases, maintenance requests, file 1099's at the end of the year, collect payments, and much more. I highly recommend them and have signed up as an affiliate marketer for them, which means I could earn a small commission if you love them and decide to sign up. Here's a link if you're interested in a 15 day free trial to see if it is worthwhile for you:
I hope you enjoyed this condo kitchen remodel before and after. Good luck with your renovation to flip for quick profit or to hold as a long term rental!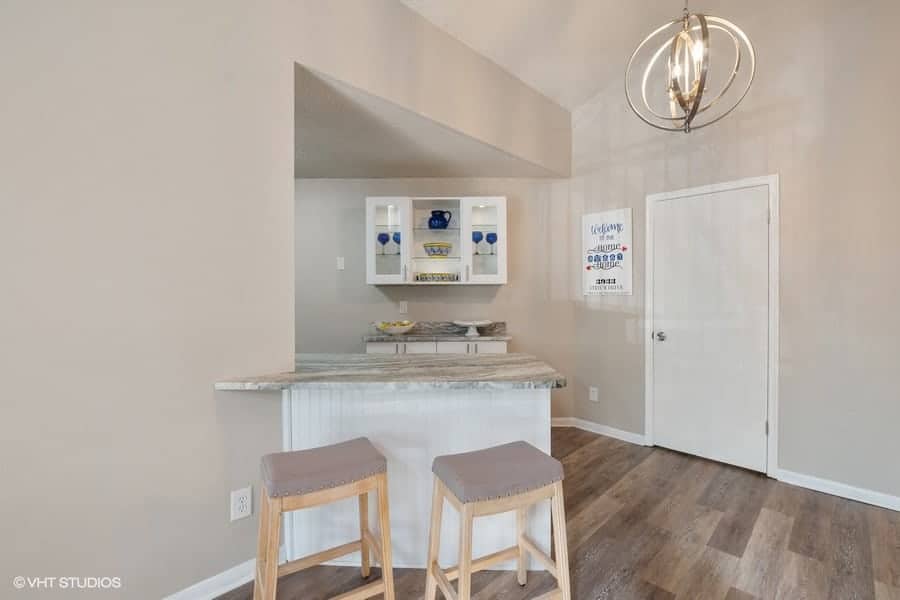 Additional condo remodel projects
Here are some more remodel and flipping projects you may enjoy:
This post is about my son's first condo flip. He flipped a condo in this same community and we also have some condo kitchen remodel before and after photos in that article as well.
Here's another flipping project that we turned around in just one month (start to sale!). In this one we painted the kitchen cabinets.
Condo renovation and blue painted kitchen cabinets