Are you a true nature lover? Did you leave your heart in the woods when you last walked through those beautiful trees? Why not bring your heart — and the forest — back to your home! I hope the custom design of a forest themed bedroom (from a model home) featured in this blog has all the inspiration you need!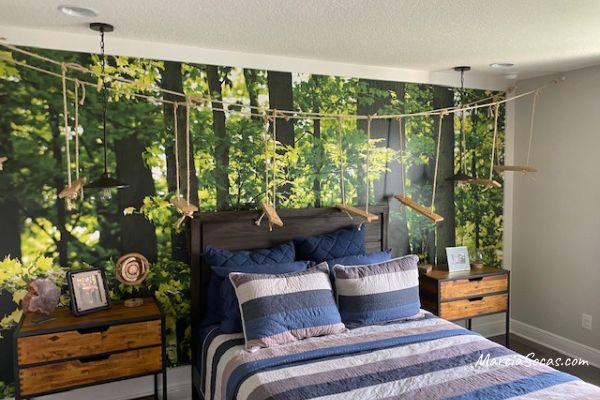 For most people, spending time in the forest kindles feelings of peace, calmness, and serenity. And by creating a forest-like ambiance in their room, they aim to bring the essence of these feelings indoors, too.
With just a few tweaks around your space, you can create a room that is not only pleasing to look at but also relaxes you, mind and soul. And so, a forest-themed room is hands down one of the best bedroom design ideas out there. Whether it's your master bedroom or a kid's room, this one idea is versatile enough to fit everywhere!
Note: In all of my posts I try to provide affiliate links to make the products easier to find. As an Amazon Associate, I earn from qualifying purchases.
If you're looking for a forest theme inspiration for your room, this article is for you! Here's are some of the best ways to create a forest-themed bedroom and bring the great outdoors inside. I'll first show you photos from a model home that I viewed, and then provide some more photos that I hope will provide another great way to inspire your room's interior decor.
Decide On Your Color Palette
What's the first color that pops up in your mind when I say a forest theme? Forest green of course.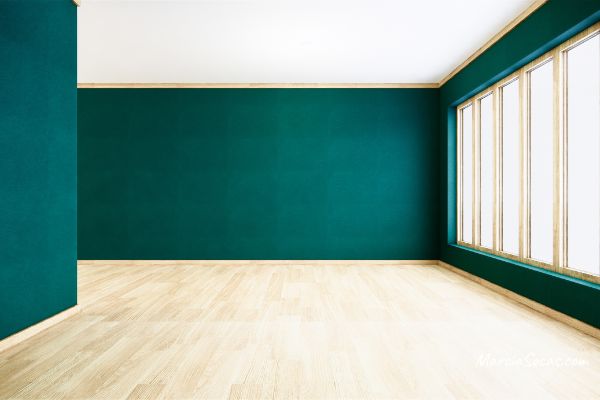 This aptly replicates the rich shades of a forest canopy. But the trick to creating the best space is thinking beyond that. Get your creative juices flowing and you can curate a color scheme that is diverse yet stunning and serene and incorporates all of the colors of a forest.
Delve deep into different hues of green, brown, and cream. You can also add a punch of drama with whites and dark blacks, inspired by birch trees and birch aspen trees. If you love the forest in fall, think shades of orange, yellow, red, and crimson. And, of course, there's always room for hues of blue extracted from the sky.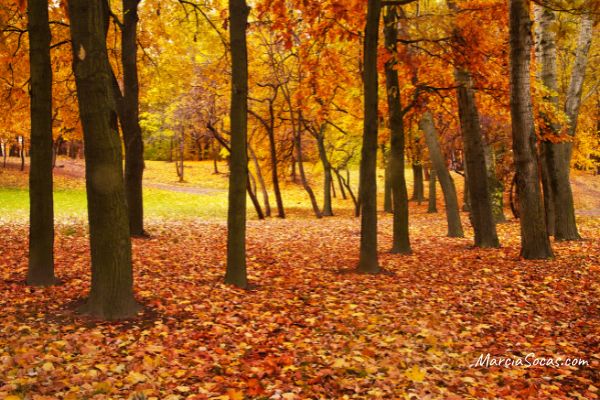 Create Diversity With Glazes & Textures
Give depth to your walls with glazes and textures. Once your base coat of paint dries, mix a darker shade of the color in a water-based glazed. Proceed by applying it to the walls with a sponge. Mixing and matching different colors in this way is a great idea to replicate the effect of vibrant foliage.
If you're truly bold, you can directly incorporate textures by pasting leaves onto the walls, too. Apply paint to one side of the leaves and firmly press them onto the wall. Use leaves of different colors and sizes to create diversity and a more realistic forest-inspired room.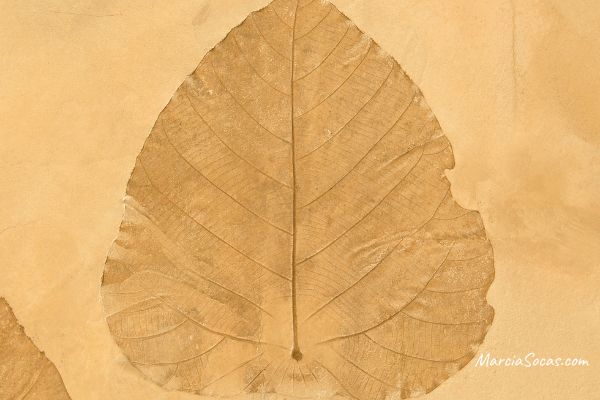 Personally, I also love the idea of adding textured greenery by incorporating a boxwood greenery wall. I've seen these incorporated into a lot of homes lately, both indoors and out:
Take It Easy With Wallpapers
A true nature lover but not very artistic? Don't worry — forest wallpapers have you covered! One of my favorites are these forest wallpaper murals from Amazon, ideal for enjoying forest views right inside your bedroom. It comes in a multitude of variations.
I love the focal point that wallpaper or a wall mural provide in a room. You can see in the forest themed bedroom in the model home I visited, the entire room is given a woodland theme the minute you view the forest mural.
From safari forest vibes to a more rustic look, these wallpapers are what dreams are made of. Look through the options and choose the one you'd enjoy looking at the most. They are perfect to create a realistic forest-like ambiance right in your interior while adding dimension to your small space. By the way, I highly recommend wallpaper murals for just about all of the themed bedrooms that I've reviewed. At the end of the day, they're just the easiest way to set the scene for the rest of the room.
Incorporate Wood
You've introduced a forest wall — next come the tree trunks. You know what I mean: lots of wood! Choose wooden furniture pieces that have a rough, raw look for the ultimate wilderness theme.
Start off by choosing a wooden headboard or a more modern low wooden platform bed.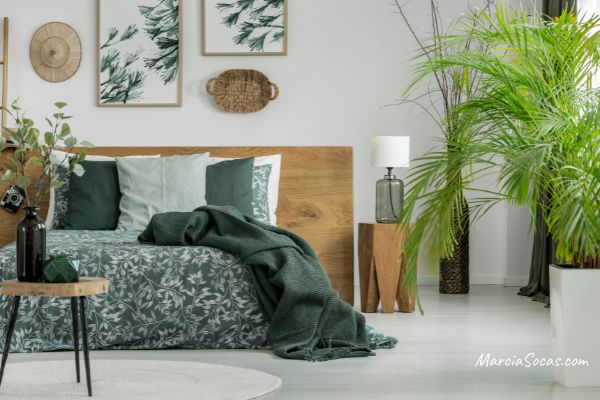 Alternatively, you could have a wooden four poster bed and set a mood with the canopy over the canopy bed.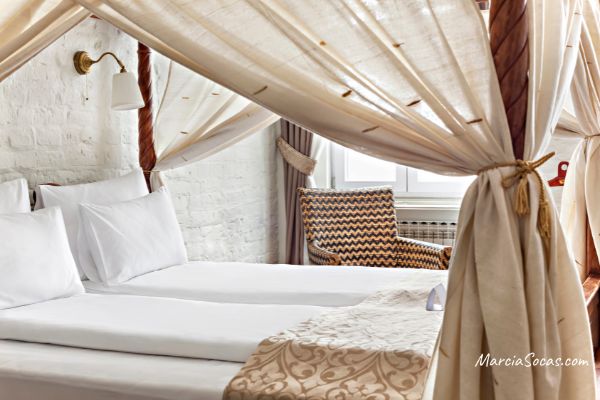 Flank your selection with farmhouse-style nightstands — and the wooden ones in the model home make perfect side table in that regard. Its unfinished look, rustic vibe, and timeworn elements make it one of the best decor ideas for a woodland-themed bedroom.
Again, if your personal style is a bit more bold and adventurous, you can incorporate tree trunk side tables into your child's bedroom.
Don't Forget A Hanging Chair!
Speaking of furniture, hanging chairs are a must to include in every jungle room. It's as if you're swinging in the branches of the forest trees.
In addition to the aesthetics, such elevated seating is a simple solution for a small space. This is because it provides functionality without overcrowding the room, and has a less bulky structure compared to seats with skirted bases. Wrap the hanging chain of the chair with a faux vine for a whimsical forest feeling.
Here's the hanging chair that was in the model bedroom: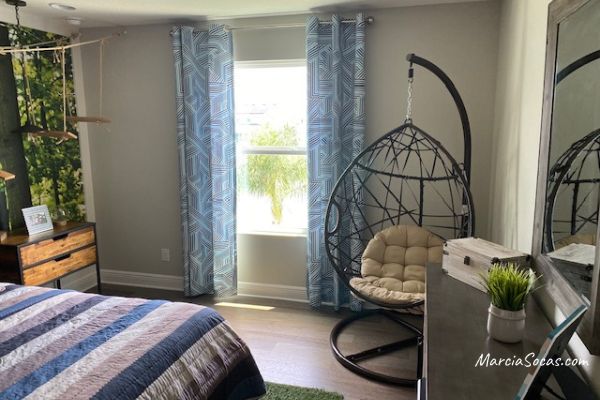 There are plenty of options available on Amazon — this Wicker Tear Drop Hanging Chair is very similar to our model room, while this Patio Egg Chair is a luxury alternative that works amazingly indoors, too. 
Create Visual Interest With Light
Lighting illuminates your room, but beyond that, it can add to the forest vibes, too. If you think about a dense forest, where light is mostly filtered through the heavy forest canopy. So, choose light that is soft and subtle with adjustable brightness (by, for example, using dimmers). The aim is to achieve a decent light-dark balance.
Also be sure to choose aesthetic lighting fixtures. The model home uses matte black pendant lights hanging on either end of the bed — which also add the luxe factor to the space! Additionally, you can opt for recessed lighting, table lamps, and LED candles.
Leverage Stuffed Toys
Whether it's a boy's room, woodland nursery, or joint kids' bedroom, stuffed animals are a must. Choose a variety of forest animals in different sizes. A large giraffe standing by the hanging chair and plenty of smaller animals sprinkled around the room would make the space feel like it's a scene straight from an enchanted forest!
Bring Nature Inside
What's a woodland bedroom without plants? In addition to (quite literally) bringing nature inside, plants purify the air, increase texture in the interior, and add a bold punch of color. What's more, they'll extend your accent wallpaper wall by incorporating some of its elements in the 3-D form.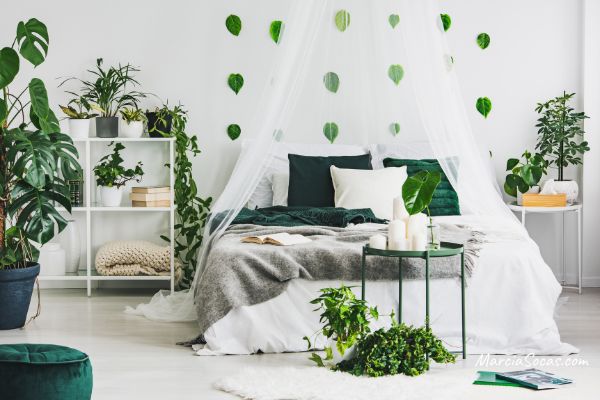 Here are a few easy-to-care varieties to choose from:
Peace Lily
Philodendron
Snake Plant
Golden Pothos
Succulents
If you have a brown thumb — or are simply not a plant parent — faux plants will always have your back! Speaking of which, faux fur is a great addition to forest rooms, too. You can use it for the rug, cushion covers, or even blankets.
Make Use of An Amazing Window
If you have large windows with a view like this, the scene is set already! Look at how beautifully this room plays off of the woods outside by allowing them to take center stage while keeping things minimal in the room.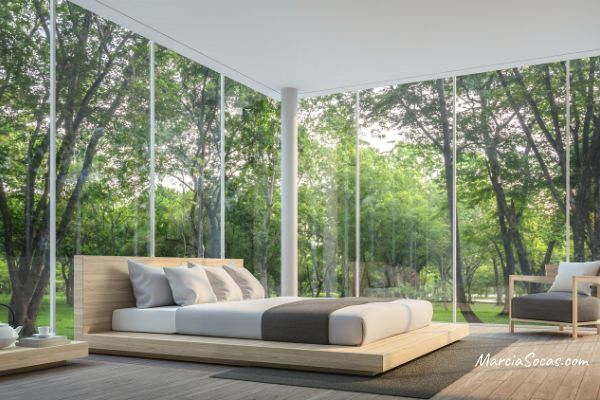 Focus On The Window Treatments
The type of window treatments you use has a great impact on the setting of your forest bedroom. The model room uses patterned light blue curtains, bringing in the essence of the sky seen behind the silhouette of the forest. Alternatively, you can make a statement with floral-printed draperies, or keep it minimal with blinds.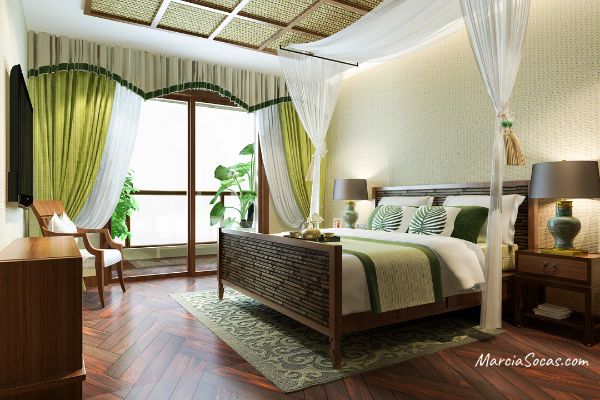 Add a Whimsical Touch
Don't you just love the rope ladder in the model home? It gives an unexpected sense of fun and adventure. Secure the ladder to the wall carefully, no one can resist touching them, so make sure they're sturdy.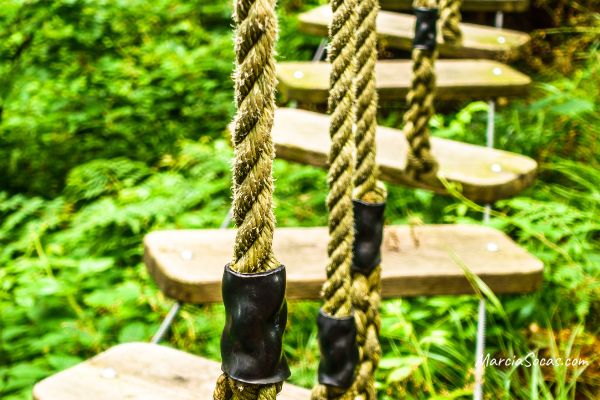 And There's Your Forest-Themed Bedroom!
There you have it, folks — your very own forest-themed bedroom! Using the design ideas given in this blog post, you can easily create an interior that exudes forest vibes and makes you wake up to a natural ambiance everyday.
The best part? Interior design and home decor are extremely flexible. Directly use the ideas given above or utilize them as inspiration for your own design ideas; it's all about letting your creative juices flow for the perfect woodland-themed bedroom. Do you have more ideas for a forest room? Share them with me in the comments section below; I'd love to hear from you.
On that note, I wish you happy decorating!
Looking for more themed bedroom ideas? Click here to go through my collection!