Easy Summery DIY Patio Wall Art
A while back, I taught my son how to flip his first condo. You can view the info on it on my website and see what we did and exactly how much he made if you'd like to.
He let me have fun "staging" it, and my favorite area was the back porch. I wanted to make it look Lilly Pulitzer-like but on a dollar store budget. I love the tropical colors and tropical feel from those bright colors. And I needed it to be temporary, so I wanted to find a way to use items that I could reuse for other projects.
My favorite project on the porch was actually the easiest, it's the wall art that helped set the mood for the entire porch area!
Here's the Starting Point: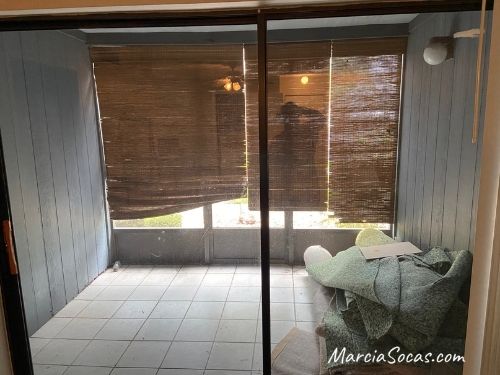 Just a bland and messy porch area. It was truly an uninspiring outdoor space. I wanted this outdoor area to become a focal point and seating area that would draw in buyers. Decorative elements are a great way for buyers to envision themselves enjoying life in a space. I needed to find an affordable way to take these outdoor walls to the next level. You can see that the patio walls are like a painted wood paneling that looks a bit dark and plain. Outdoor wall art seemed like a great option to liven up the bare walls and make the small patio space feel tropical and fun.
Supplies for Outdoor Patio Wall Art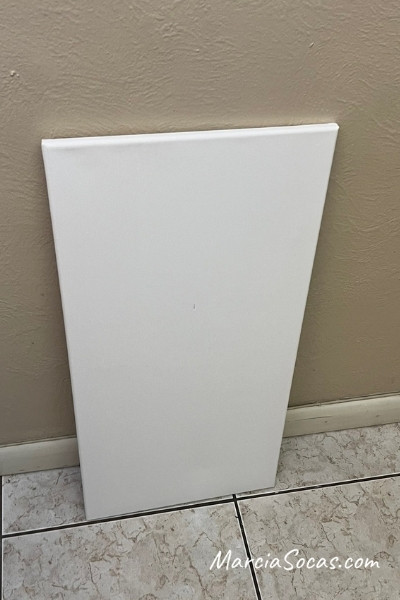 I had bought these 15″ x 30″ canvases from Joann's. Good news, they were on sale at the time! They seem to have the art canvas sales every once in a while and my daughter loves to paint on them so I buy them when they're deeply discounted. They do sell them in various sizes, so you can assess your available space and choose the sizes that will look best in your outdoor living space.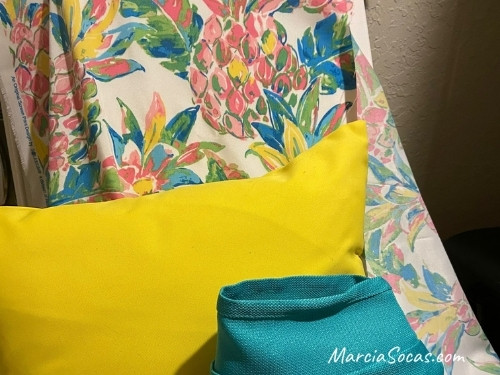 I knew the color scheme I wanted for the porch. I love the print with the brightly colored pineapples, and it paired well with some yellow throw pillows I had. Use outdoor fabric– that's a great choice so that your patio wall look doesn't fade from the summer sun. Although your outdoor patio may not have direct exposure from the full sun, the outdoor fabric really just holds up so much better. You can choose whatever tropical outdoor fabric fits your personal style. My mom had found some brightly colored curtains at a garage sale (they're the blue in the picture). Mixing tropical decor prints with solid colors (or even neutral colors) always looks great to me.
Here are a few outdoor fabric choices from Amazon. As an Amazon affiliate, I earn from qualifying purchases.
Creating your Wall Art Project
Since the canvas was 15″ x 30″, I cut the pineapple fabric just an inch longer on each side, so it was 17″ x 32″.
Then all I did was lay the canvas face down on the fabric, and I wrapped the fabric around the edges of the canvas.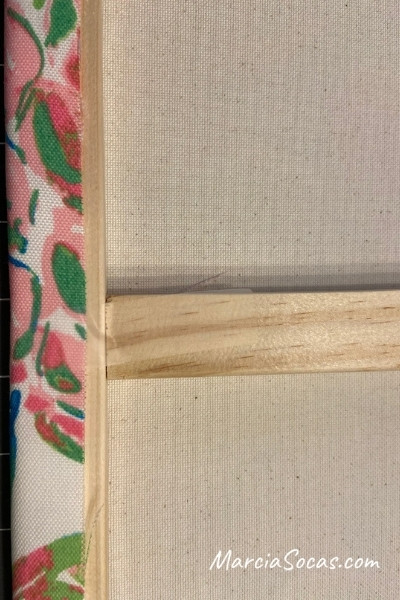 Here you can see that I just taped the fabric to the supports on the canvas. Just tape, nothing else. It's the ultimate in terms of being a removable project and allows me to reuse the fabric later.
At the corners, I just folded them so they'd stay flat, and again secured them with tape. It's a great idea to add a bit more tape than you think you nee, since you don't want the tape coming off or losing it's stickiness in the warm weather. (I did this project a while ago and I've used it in a few outdoor wall staging scenarios, and my fabric covered canvases secured by the tape have lasted long periods of time.)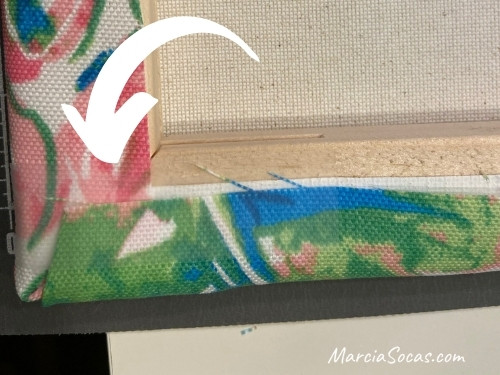 Here's how it looks from the back.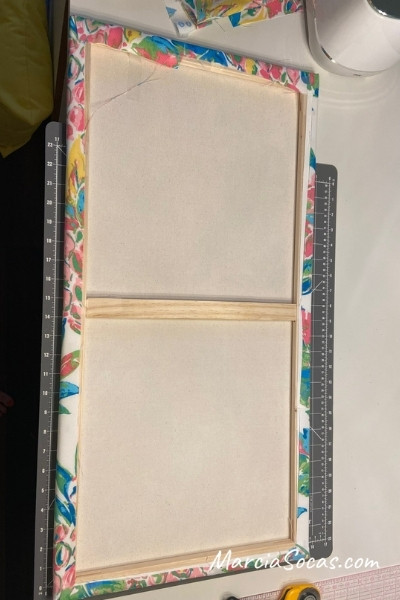 Now when you turn it over, you suddenly have a decorated panel.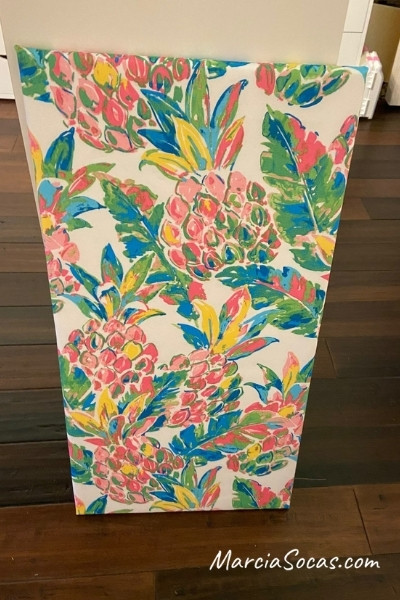 Put three of those panels together and now you have a theme! Isn't that an easy way to decorate exterior walls? I hope you'll create your own modern look for your outdoor living room.
Putting together your Summery Tropical Outdoor Patio
You can see how they look with just some decor from the dollar store on a little table and the bright yellow pillows on a bench. This was a small patio area, so there was no real outdoor dining area or even much space for outdoor furniture. This little coffee table and seating space were the best ways to make the area feel inviting. A backyard patio where you could envision yourself relaxing and enjoying a glass of wine (or pina coladas!).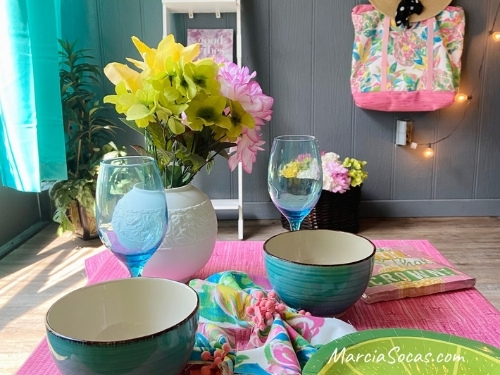 Here's a view from another angle. You can see that I also used this same fabric to create little "napkins" on the table. And if you look on the wall you'll see that I also created a beach bag from the same material. I did write up a tutorial on that bag, and you can view it by clicking here.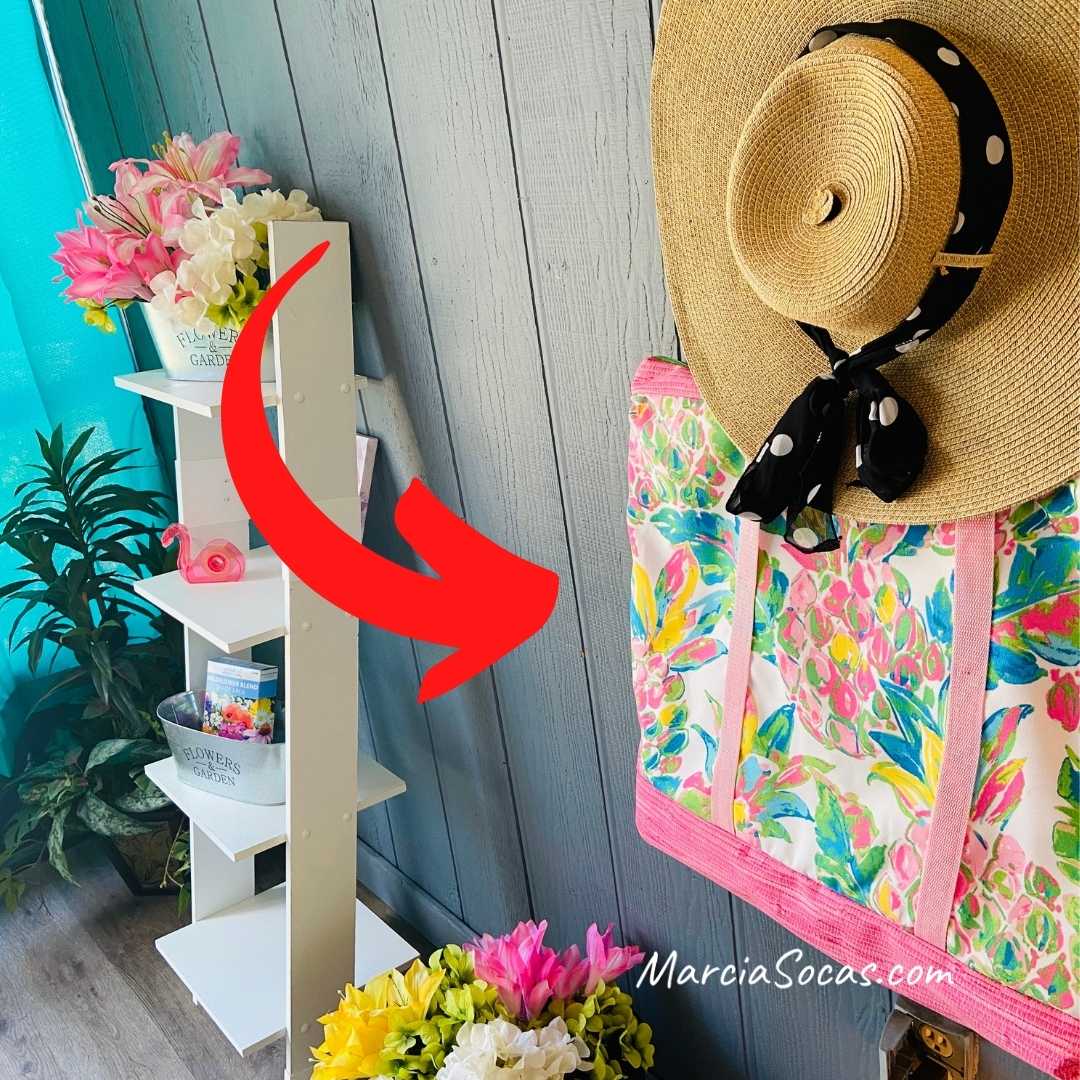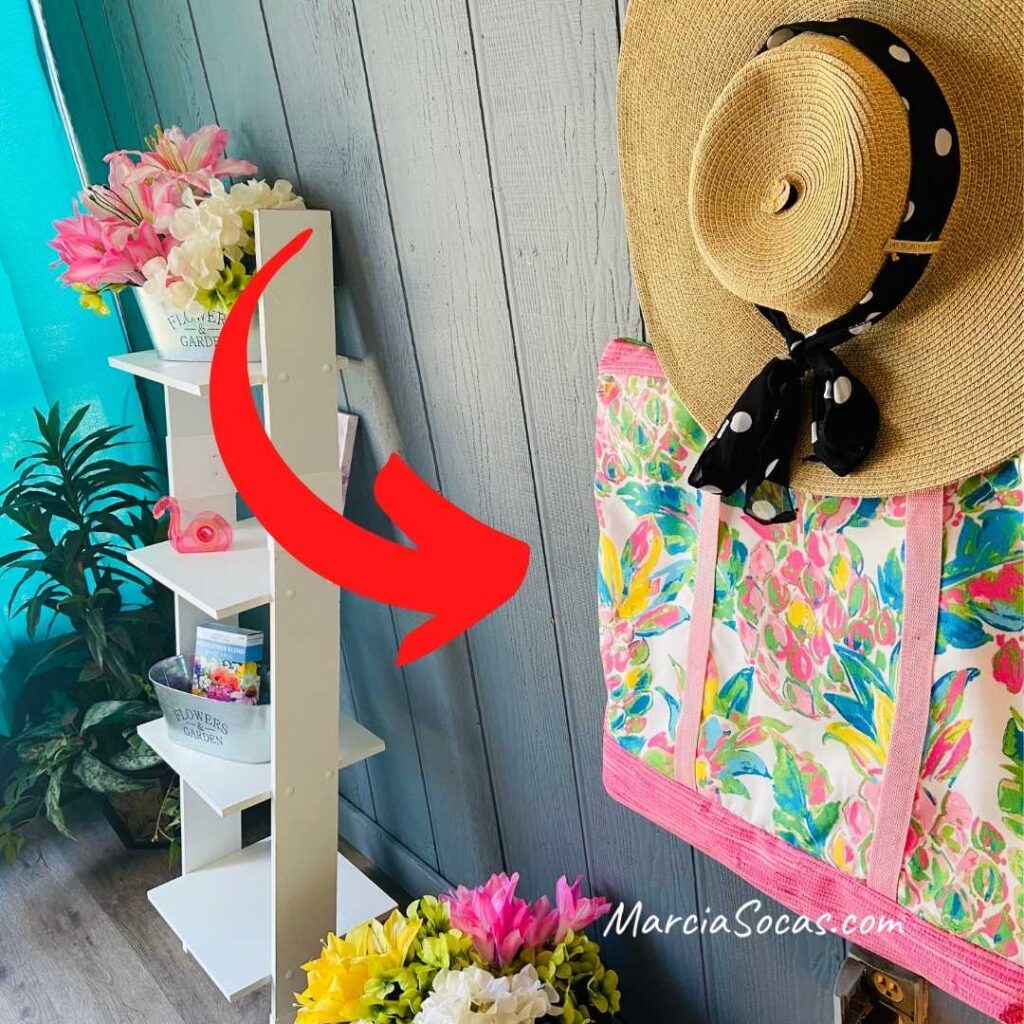 Here you can see the curtains too. I had to include a picture showing grandma's garage sale curtain find 🙂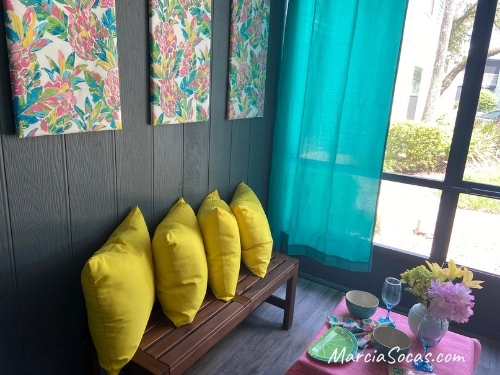 I hope you enjoyed this super easy, inexpensive, and quick wall art idea! With the summer months coming, I hope you'll be able to use this project as one of your outdoor wall decor ideas.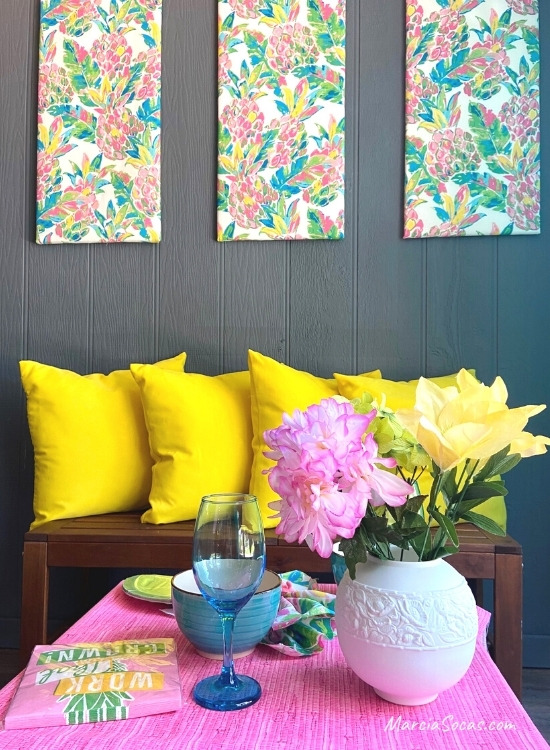 To finish off the feel of the patio, string lights were the easiest way to give the patio a festive feel. This ugly basic patio because an outdoor oasis that felt like a tropical getaway. The buyers who viewed the property loved it, and we sold the condo in record time! Good luck creating your own outdoor patio wall idea project!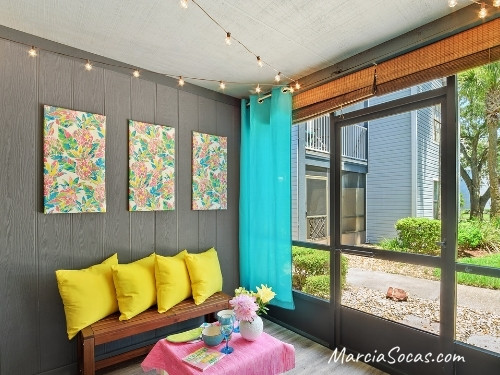 Let's be Friends:
Follow me on Instagram:
http://www.instagram.com/marciasocas
Connect with me on Pinterest: