I have to admit, when it comes to recording, editing, and uploading videos, there are many that are younger, slicker, and quicker than me! But, I've been trying to provide video and not just the step by step photo tutorials for my DIY projects.
It's been interesting to adjust to having a camera around and making sure to try to capture everything; and then even more interesting to see:
Which ones were the favorites?
You might be surprised…
Because even for a 50+ year old DIYer who didn't grow up creating reels and stories and pins, my videos did really well!
I like to think that it's because the quality of the projects and the instruction are entertaining and helpful; and I hope you think so to and they these DIYs and property flipping/investing tutorials that I post help you! ?
Now, Here are the Best of the Best..
My Top 3 Videos To Date:
Coming in at Number 3…
Well, this video got a lot of love (for the look and style), but also a lot of controversy (people are truly very opinionated online!). Take a look and see what you think, it's on TikTok and you can see it by clicking on the link below:
My number 3 Video as seen on TikTok
Based on the controversy on this one, and the fact that I learned a lot and it's better for me to be honest and tell you where I went wrong so that you can avoid making the same mistakes, I wrote a "Do's and Don'ts article on creating this Accent Wall".
Moving on to Number 2..
This was one of the first DIY videos I uploaded to TikTok. It went crazy! In no time at all it reached 1.8Million views and on Instagram it has over 2.1 Million views!
I could see so many people sending and saving it, it was really a great feeling to know that people were excited about recreating this door project.
Here's a look at it on TikTok: My number 2 Video
If you want to recreate that upcycled door project, you can see the step by step plans here.
And Now for Number 1
Drumroll please……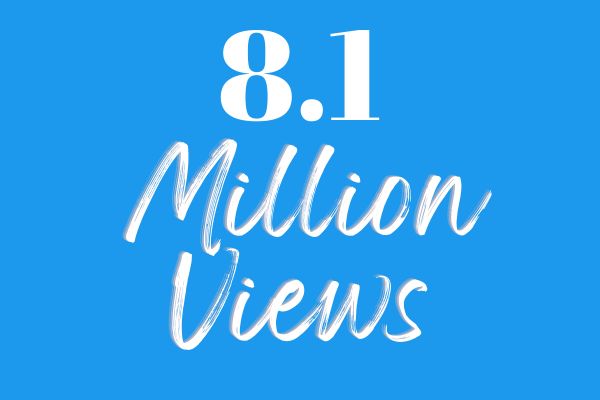 Coming in with over 8 million video views is this little, tiny, 4 second video that I offhandedly took of a client's new kitchen.
This one is on my Pinterest, and I think maybe it's the clean crisp contrast of the grays and white that people loved. Plus, did you see the oven? Super cool….
I hope you enjoyed those videos!
View more projects on My Blog
View my favorite Amazon Finds for Home Improvement and Decor