DIY Interior Doors you can Complete in a Weekend
Let's talk about something we can all relate to – boring interior doors. You know, the flat old door, uninspiring ones that just blend into the background. I mean, let's be real here. We all look at our interior doors and think,
"Ugh, these things could use a serious upgrade."
They take up a significant portion of our interior space, so why not make them look fabulous, right?

Well, guess what? As always, I've got some DIY door makeover projects and ideas that I gathered from my previous blogs that will turn those boring doors into stylish masterpieces without breaking the bank. I will give you the best options, tools, and budget-friendly ideas, so let's start!
These projects are also great when working with an old property that has some interior doors that aren't standard sizes. They're less expensive than buying new interior doors, even if you do have standard interior doors.
Throughout my site I provide affiliate links to products that I hope will help you with your DIY project supplies. As an Amazon Associate, I earn from qualifying purchases. This means that I may receive a small commission if you use these links to purchase products, but it does not change your price in any way.
You can watch the YouTube video showing the before and after of these door projects here:
Here are the 5 DIY interior doors, each with a link to it's own step-by step tutorial:
DIY Mirrored Closet Door Makeover
This project is for you if you have a mirrored closet door. The entire project took me just three hours and; with a budget of $20, I was able to transform an old and unattractive mirrored closet door into a modern-day beauty. The original gold-framed door didn't match the aesthetic of my bedroom, so I decided to give it a makeover.
First thing, I tried using a window film to frost the mirror, but it was a pain to cut and align, and I couldn't get rid of all the air bubbles. So I decided to try frosted glass spray instead, and it was the best option for me.
The spray worked perfectly, and it gave the mirror a really modern look. It also made my bedroom feel bigger and brighter since the mirror now reflects the natural light from the window. I also painted the metal frame black to match the rest of my furniture, and it really tied the whole look together.
Overall, I'm super happy with how the project turned out. It was a total budget-friendly makeover, and it made a big difference in the overall look of my bedroom. If you're looking for a way to update your old mirrored closet door, I highly recommend giving this project a try.
For the full tutorial on the blog post: https://marciasocas.com/mirror-closet-door/
DIY Interior Door Makeover [Under $40!]
This project is a quick and easy way to update your boring old doors and create a custom door of your own. All you need is a piece of hardboard and a few basic tools. If you don't know what a hardboard is. Hardboard is a type of fiberboard that's made from wood pulp and resin. It's really affordable, and it's easy to work with. You can find it at the hardware store or Home Depot.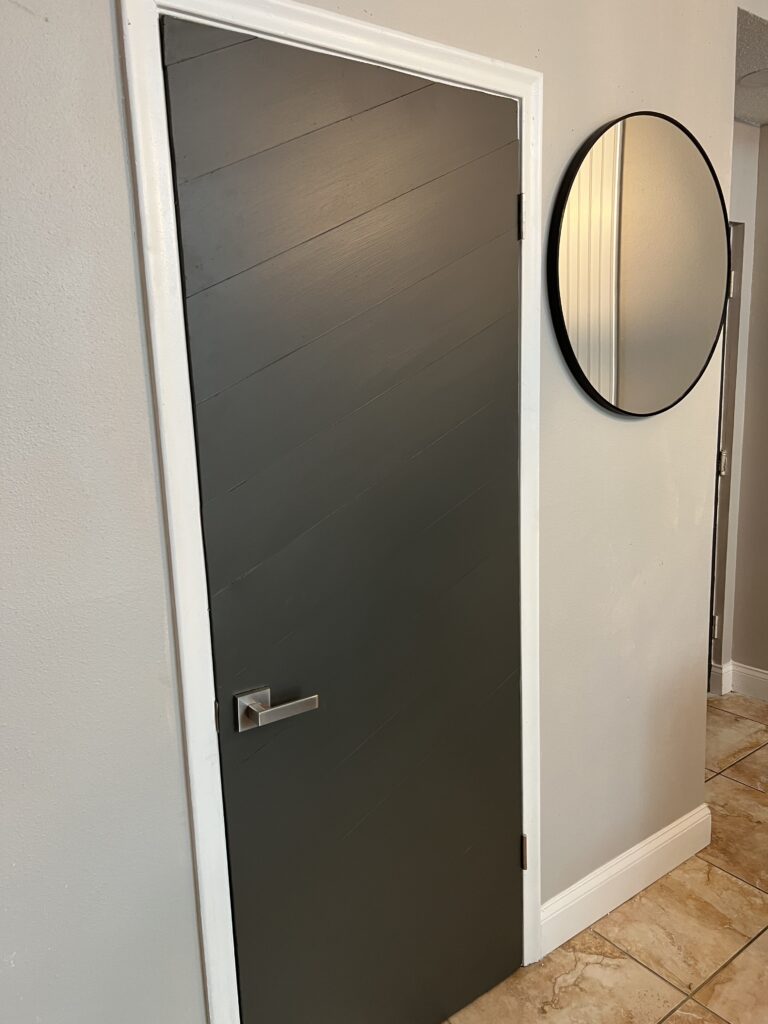 To update your door, you'll need to measure the door and cut the hardboard to size. Then, you'll need to attach the hardboard to the door using screws or adhesive. Once the hardboard is in place, you can paint or stain it to match your décor.
This project is perfect for any type of door, including hollow-core doors, slab doors, flat panel doors, paneled door, and solid wood doors. However, I don't recommend using hardboard on exterior doors, as it's not weather-resistant.
I know you're going to be amazed at how much a $14.00 hardboard can do for your door. It's a great way to update the look of your home without spending a lot of money.
Here are some additional tips for updating a door with a hardboard:
Make sure the hardboard is the same thickness as your door. This will help to ensure that the door still functions properly.
Use a sharp pencil to mark where you want the hardboard to go. This will help you to get a straight line.
Paint the hardboard the same color as your door (or paint the underlying door to your chosen paint color first). This will help the panel to blend in seamlessly.
Add a new door handle that complements the new look of your door.
For the full tutorial: https://marciasocas.com/diy-interior-door-makeover/

How To Update Interior Door On A Budget
?For this project, I had this plain old boring white slab door that desperately needed a makeover. It was a flat door that wasn't in bad shape, just boring. But I didn't want to shell out money for a brand-new door, so I decided to get creative and spruce up the existing one on a tight budget. This project was part of a condo flip I was working on, where I had to find cost-effective DIY projects and solutions.
Now, I have to mention that the beadboard accent walls project and the post associated with it were sponsored by Westlake Royal Building Products, but everything I'm about to share is based on my own experience and honest opinions.
To give the door a fresh look, I used trim and mouldings from Westlake Royal Building Products. Specifically, I went with their 1×2 trim. I found it easy to work with, and they offer different lengths if the 12-foot ones don't fit in your car.
First, I played around with tape to come up with a design that I liked. Then, I measured and cut the trim pieces using a miter saw.  Using construction adhesive, I attached the trim to the door and used tape to hold everything in place while it dried. Now, here's a pro tip: 

If your door opens inward like mine, make sure to position the trim with the door closed. That way, you can ensure the door will still open and close smoothly after adding the trim.
Once the larger door frame was adorned with the trim, I moved on to adding the center horizontal pieces. Nothing fancy here, just simple straight cuts that fit perfectly.
To finish off the project, I removed the tape and applied a bit of caulking between the trim and the door. It gave it a seamless and polished look. Then I added a coat of paint, and I was done! The whole process took just a day.
The door was completely converted from a plain, boring slab to a stylish and modern piece. You can play around with different ways and patterns to match your own personal style and create a door that you absolutely love. It's a good idea and perfect way to give your space a fresh and updated look.
For the full tutorial: https://www.hometalk.com/diy/windows-doors/doors/how-trim-moulding-can-modernize-a-plain-slab-door-44587171
Easy DIY Barn Door
(My favorite of all of the DIY interior doors!)
This project I want to share with you is a DIY project on transforming an old, plain pantry door into a beautiful barn door. This project is perfect for repurposing your existing door, regardless if you prefer a modern or rustic barn doors finish. The best part is that it's a great space-saving solution and budget-friendly.
To begin, I removed the hinge pins, hinges, and doorknob from the door. I then added length with 2×2's added to the top of the door, and bottom of the door. I added decorative touches using 1 x 4 boards, covering up the old doorknob space easily. For the horizontal pieces, I ensured proper spacing and used wood from an old pallet for the centerpieces, which added a unique touch. Once everything was in place, I secured it properly and added barn door hardware to the top of the new door. I painted the door according to my desired look and hung it on the new track hardware.
It's important to note that while the front door looks great, the back still shows the doorknob space. You can choose to cover it with plywood if necessary, especially for spaces like bathrooms. However, in my case, it wasn't a concern for a pantry door. The side of the door looks great–I did add some wood filler to the edge of the door to make the wood added to the original door appear seamless.
In terms of cost, this DIY barn door project totaled $92, which is significantly cheaper compared to complete barn door kits available at home improvement stores. Plus, repurposing the existing and original doors adds an extra touch of sustainability. Feel free to explore different materials and options for your barn door design, such as using plywood or different woodcuts. It's a fantastic opportunity to infuse your personal style into this easy DIY project.
For the full tutorial: https://marciasocas.com/easy-diy-barn-door/
In that blog post, I also included a section with 99 DIY barn door ideas to inspire your own unique designs and patterns. Additionally, I shared other projects, such as closet door makeovers and a shiplap shelf and drop zone tutorial.
2 Panel Shaker Door: Closet Door Make-Over
This DIY project and easy interior door makeover where I recently assisted my son, Eric, in decorating his Airbnb home near the University of Alabama. To stay within our limited budget, we decided to give the plain closet hollow core doors a makeover using a little wood and black paint. This transformed the closet doors and saved us from the expense of purchasing new ones. However, please note that we worked on interior doors and are unsure if the same approach would work for exterior doors due to potential temperature-related issues.
Initially, the doors were plain and unattractive, but functional for their purpose. We started with slab doors that had minor scuffs and nail holes but no major damage. Instead of replacing the doors, which would have been time-consuming and costly, we decided to upgrade them to resemble shaker panel doors using the existing slabs. We didn't replace the door knobs since they were still in good condition.
Following the shaker door style, we placed molding strategically on the doors, cutting the wood to fit properly. Then, we filled any gaps and proceeded to paint the doors black. This choice of color made a huge difference, giving the plain doors an elegant and sophisticated appearance.
These DIY interior doors looked great and were extremely budget friendly. They complemented the overall decor of our Alabama-themed Airbnb and added a finishing touch to the room.
For the full tutorial: https://marciasocas.com/closet-door-makeover/
In Summary
These five easy DIY interior door projects prove that upgrading your doors doesn't have to be complicated or expensive. With a little creativity, some basic tools, and a small budget, you can create your own interior doors from uninspiring to eye-catching style doors! Your doors are waiting for their moment to shine because they are not just room dividers, they are the reflection of our unique personality and style. Your dream home is just a DIY project away!
If you've completed any DIY Interior doors projects, send me a photo here and I'd love to feature it in the list!