Are you in love with the thought of a gray and white kitchen? As a long time Realtor and Home Flipper, I've seen lots of kitchens over the years. But this is the first one that I pinned and that the world seemed to fall in love with.
Below you will see that one kitchen as well as several others I've seen recently which show how the gray and white theme are being incorporated into different kitchens and homes.
When I go on google.com and type in "gray and white", the search term "gray and white kitchen" immediately comes up. It is second only to "gray and white cat" but I guess that's to be expected! Similarly, when you search "white and gray", the term "white and gray kitchen" comes up immediately again (this time it's second only to "white and gray rug").
It is wildly popular and, as a Realtor, I see it in more and more homes every day. This time I documented a gray and white kitchen in a new construction home.
When COVID hit, I started to do walk through videos for clients of mine. I was working with one family in particular that was coming from another state and who were having a home built here in Central Florida.
The Before and After:
It was my job to take pictures throughout the process and sent them to the clients so they could stay updated on the progress. I happened to go by right before the kitchen was installed and captured this "before" kitchen moment:
When I went into the home at the end, the transformation was amazing! Remember I'm not a professional photographer so this isn't even taken in the best "light" or with the best camera. It's still stunning. Take a look at the "after" photo.
I took a quick video with my phone, and posted it on Pinterest just to share the pretty kitchen. I had no idea that one video pin would quickly have almost 2,000,000 views!
The Pinterest Pin
Here's a look at the Pin that set my Pinterest on fire.
It's just a quick 12 seconds, but I think people love the soothing and neutral colors. This provides the perfect backdrop for the color or feeling you choose to give it. I love that gray and white kitchens can be a focal point in traditional homes as well as modern ones. The neutrality makes it very flexible and lets you define your style with other elements like the backsplash, flooring, or cabinet face design.
More Views
Here are a few more views of this kitchen, showing also the new style of double door oven which I had not seen before and which I think I may have fallen in love with.
Isn't that oven amazing?! I found them now listed for sale at Home Depot and here's a link if you'd like to get an idea of pricing on those ovens:
https://homedepot.sjv.io/4koAn
(as as affiliate, I earn from qualifying purchases)
The Island
One more view showing the size of the island. The one thing I would change (and I think my buyers plan on upgrading) is the faucet. Imagine how beautiful a tall faucet like this one would look on this island:
Click here to see that faucet's price on Amazon
(As an Amazon affiliate, I earn from qualifying purchases)
Other Gray and White Kitchens
Here are a few other gray and white kitchens I've had the pleasure of viewing recently. I want to include these becuase they showcase the gray and white theme in different ways. Whereas the first kitchen had gray cabinets and white counters, this kitchen below has white cabinets. The gray was introduce in the leathered granite countertops and also in the dark gray massive vent hood and the dark gray and white backsplash. Those cabinets all the way to the ceiling give the kitchen such a great formal and finished look.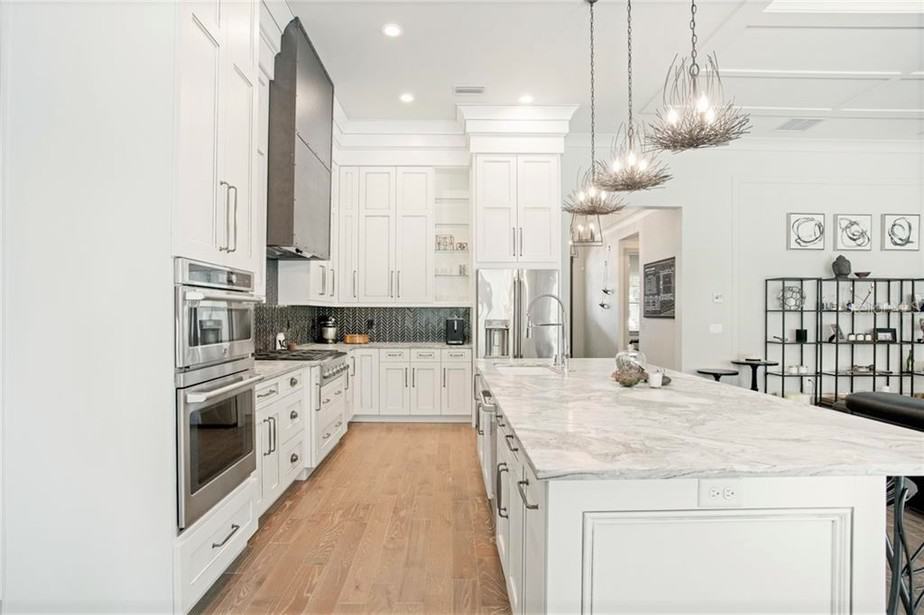 Using Gray and White in a Remodel / Home Flip:
This (below) is a kitchen that I redid in a home we fixed and sold. It was just an empty room when we started the renovation, and it was covered in brick walls:
I chose to add white cabinets but introduced the gray through the backsplash which coordinated with the granite countertops. Choosing countertops with lots of "movement" in the granite helped make the kitchen look elegant and the change really toned down the overwhelming amount of brick that was previously in the room.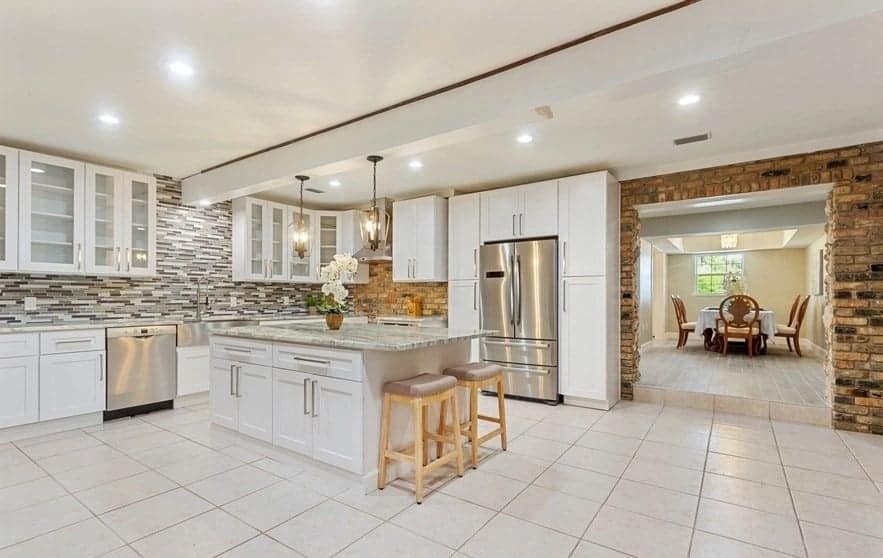 Gray and White Kitchen in a Condo:
Recently, I helped my son Eric complete his first condo flip. You can follow along that story and see the expense report and the actual profit made by clicking here. (Eric's First Condo Flip from Start to Finish)
In that project, the cabinets were white but the granite again introduced the gray, as did the paint color. This Sherwin Williams "Agreeable Gray" is very popular currently and looks fantastic when placed against the bright white cabinets.
By the way, this condo sold at a record high price for the neighborhood and cost less than you'd think to renovate!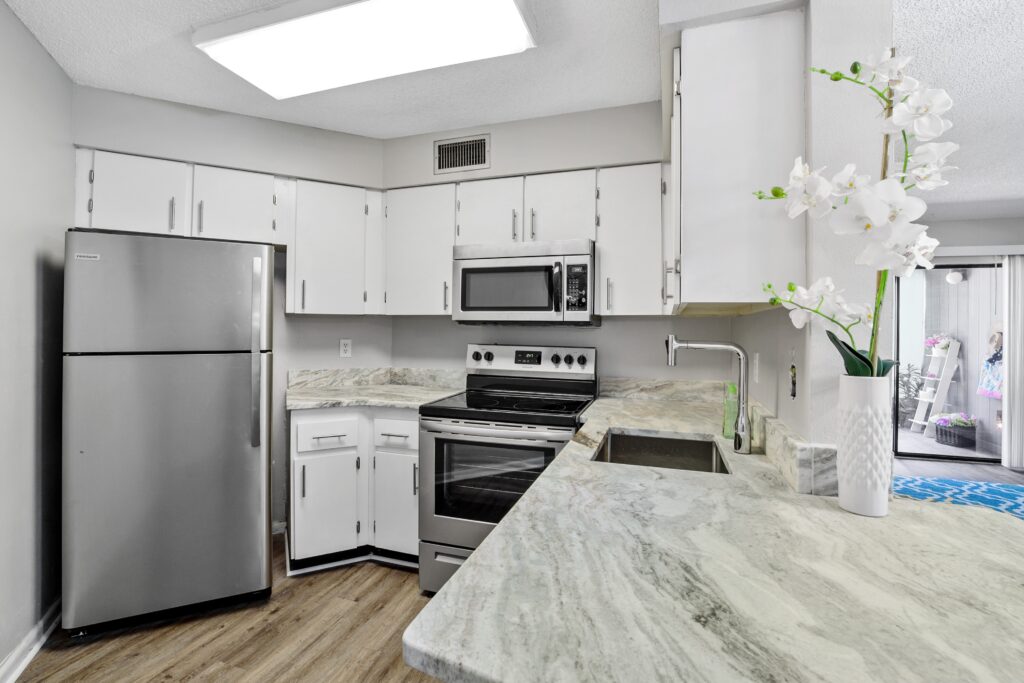 If you're ready to start a home flip or renovation of your own, this Downloadable Property Renovation Organizer may be just what you need to help keep you organized:
Gray and White in a Model Home
This is one more home that I visited that caught my attention. This is again very neutral with white cabinets and counters. Gray is introduced through the wall color. The pops of blue also make it stunning!
I hope you're able to use these pictures to inspire you to design your kitchen or your next DIY home flip!
Other posts you may enjoy:
Eric's First Condo Flip–Start to Finish (here's a link to the post and below is a link to the Pin if you prefer to save it to read later)
Complete home renovation & flip, Camellia Gardens, Orlando (here's a link to the post and below is a link to the Pin if you prefer to save it to read later)
Real Estate Investing That Will Revolutionize Your Baby's Future (here's a link to the post and below is a link to the Pin if you prefer to save it to read later)