Casa Coquina Condo (Airbnb St Petersburg Fl)
Welcome to the Casa Coquina Condo!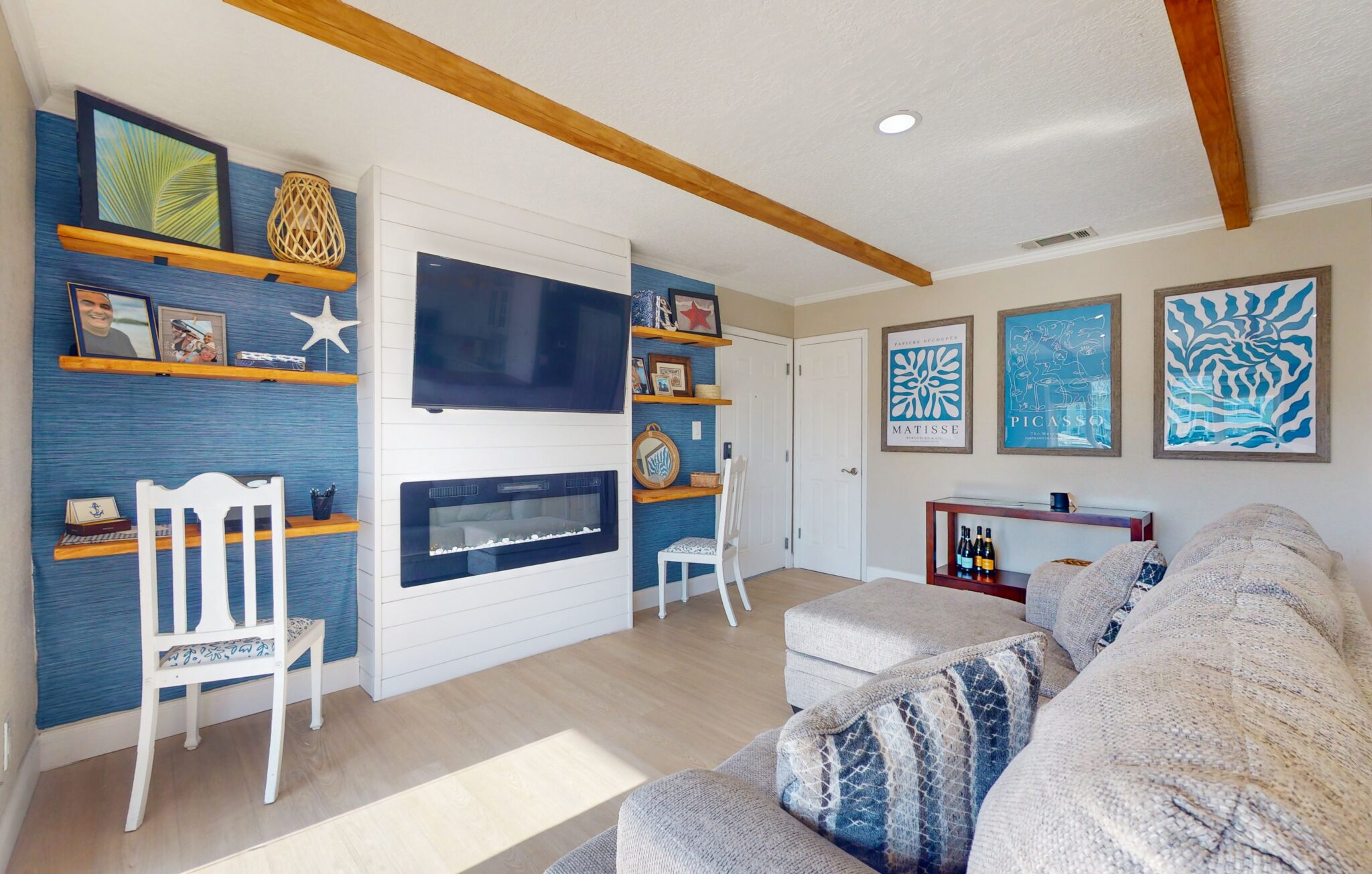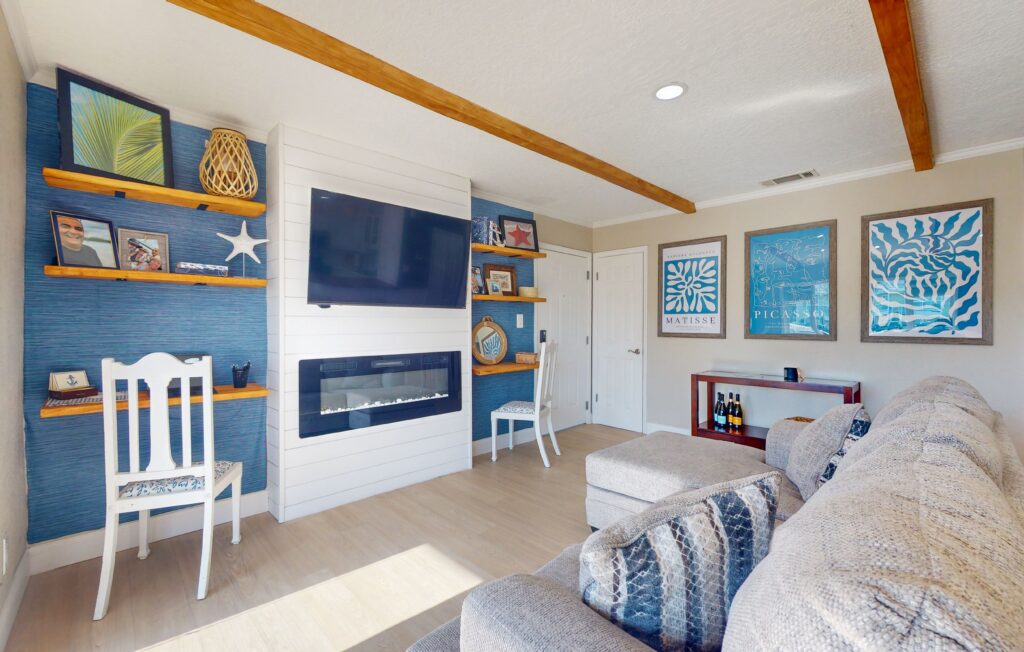 When searching for short-term rentals in the St Petersburg area, you'll find a number of options, but not many with this waterside location, private patio, decor, and view. This short-term rental property was recently renovated to include an expanded full kitchen, lots of coastal decor, and a great butcher block island as well. The entire house / condo is yours; the central location is great, allowing for you to be just minutes from the St Pete beaches and also minutes from downtown St. Petersburg.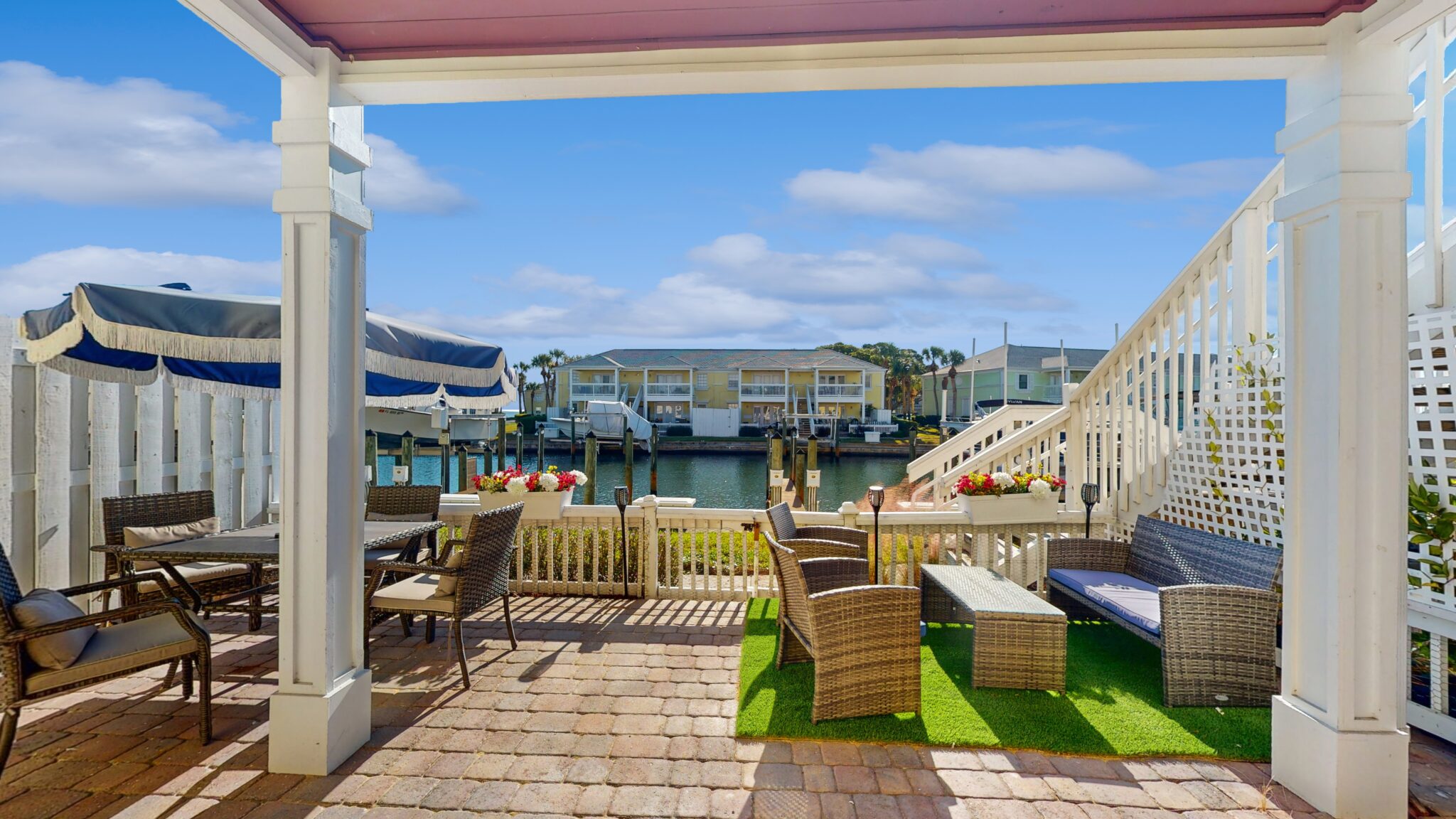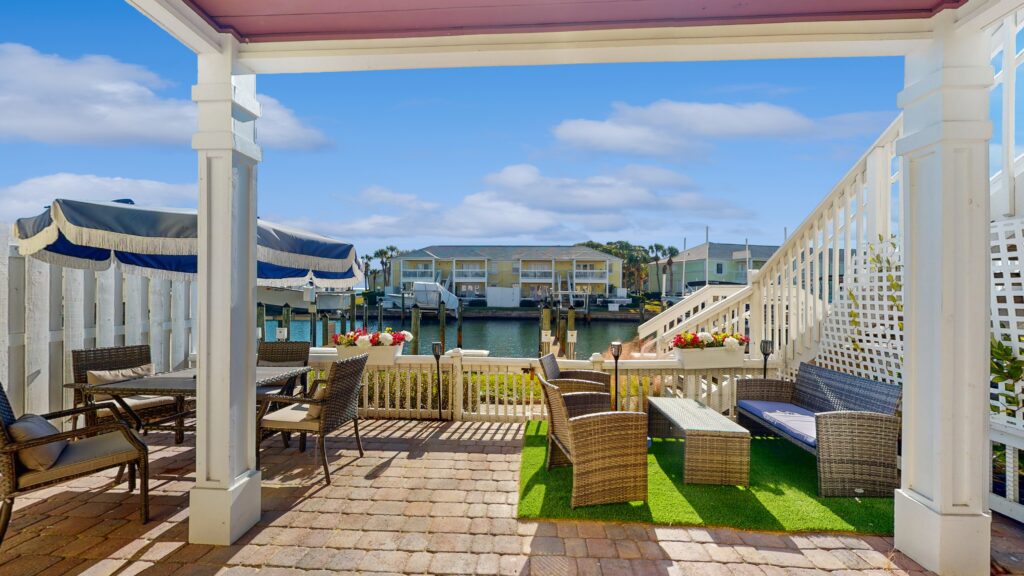 Waterfront condo on ground floor with large private brick paved patio.
Named Casa Coquina Condo, this unit features coastal decor throughout, including a living room with shiplap fireplace accent, big white kitchen, master bedroom with jute headboard, and second bedroom with two full sized beds. This great unit sleeps 6 (7 if someone wants to sleep on the couch). The community has 2 pools, pickleball courts, a fitness center, a bar, a waterfront pier, electric car charging, and a laundry center.
Here's a 3D walkthrough of the property. You can look up/down, left/right, and virtually walk through the entire property using this 3D tour feature:
5184 Beach Dr SE St. Petersburg (matterport.com)
About Casa Coquina Condo
This Saint Petersburg waterfront condo features a large outdoor private paved patio overlooking the boats and water. The waterway leads you to beautiful Tampa Bay, and the Gulf from there. Enjoy fishing right outside your back door!
Ground floor condo with no stairs to enter the unit (yay!) and just two small step downs to get onto the large patio.
The master bedroom sleeps 2 in a quiet peaceful elegant bedroom. The second bedroom sleeps 4, with 2 full beds, tons of dressers for storage for everyone, and fun nautical décor.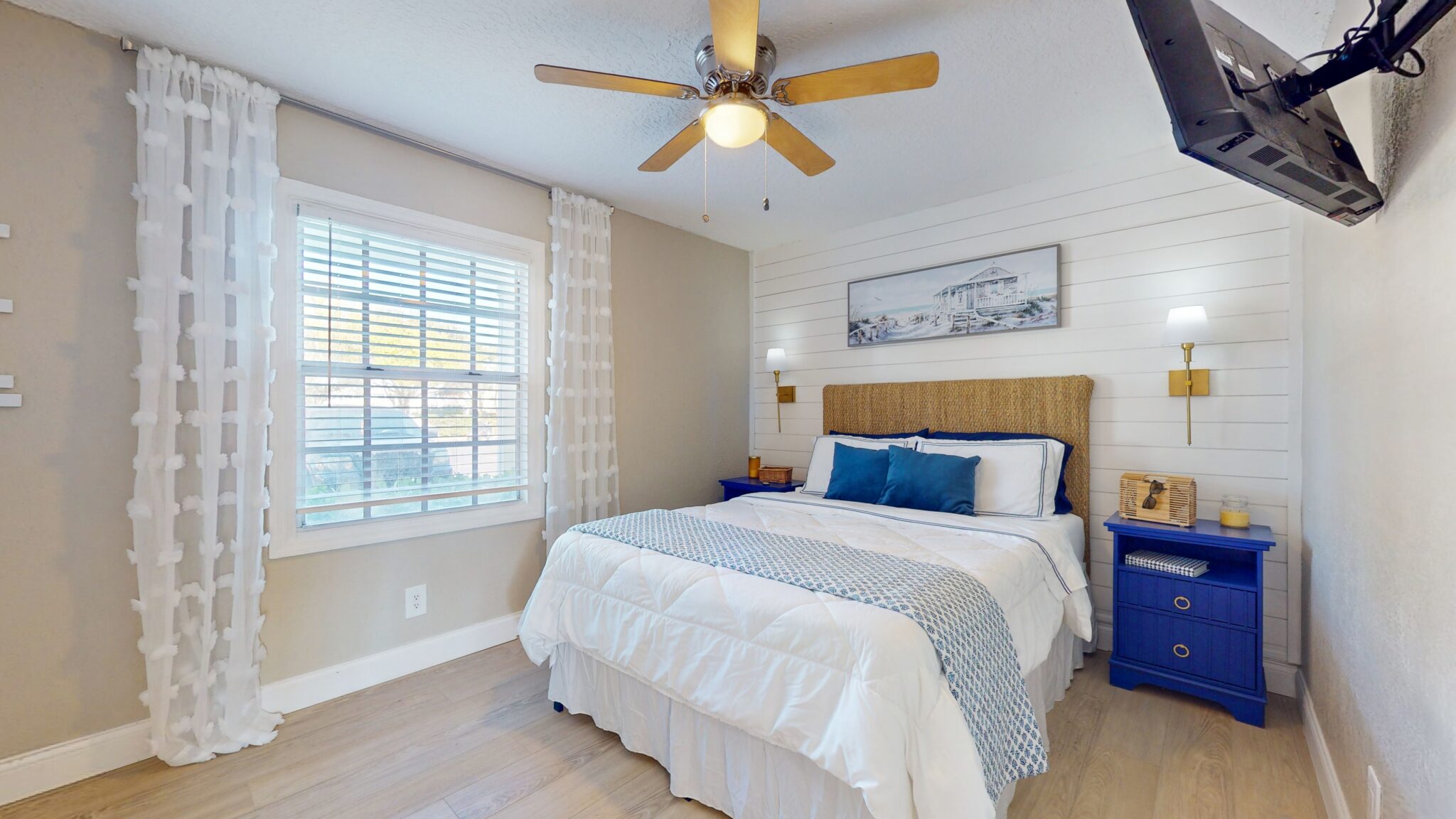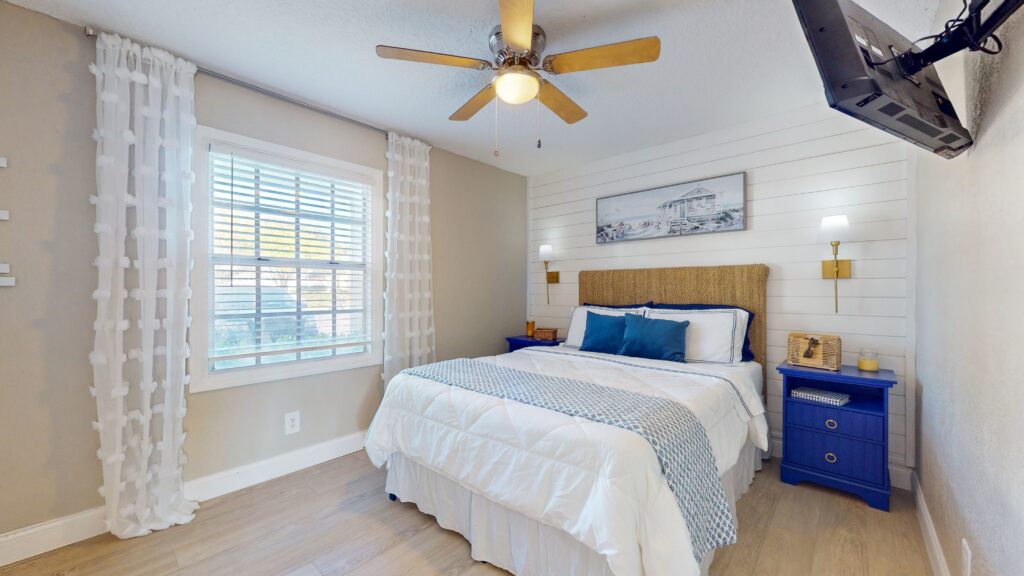 The second bedroom is a very spacious bedroom and has 4 dressers so that there's room for everyone's stuff.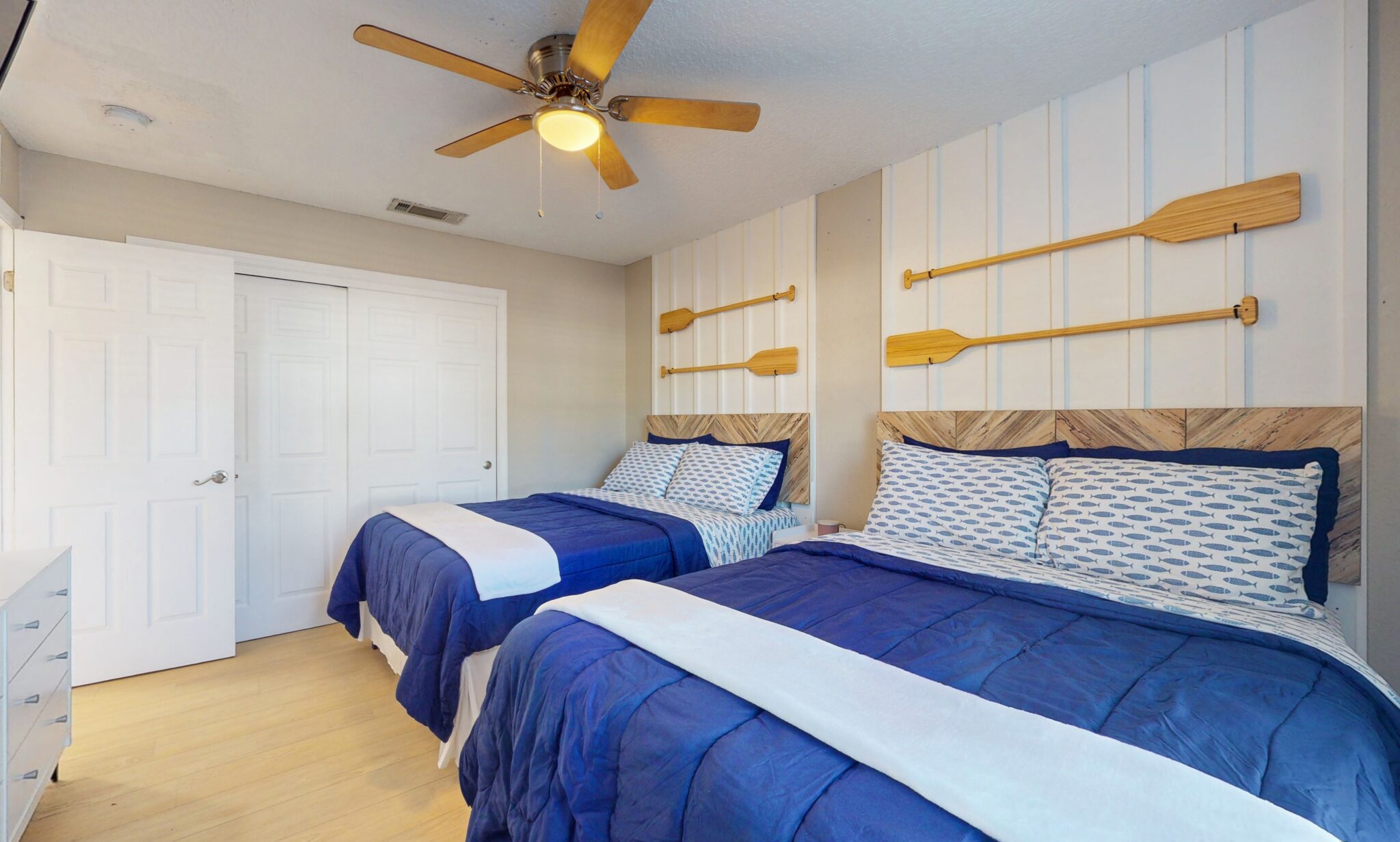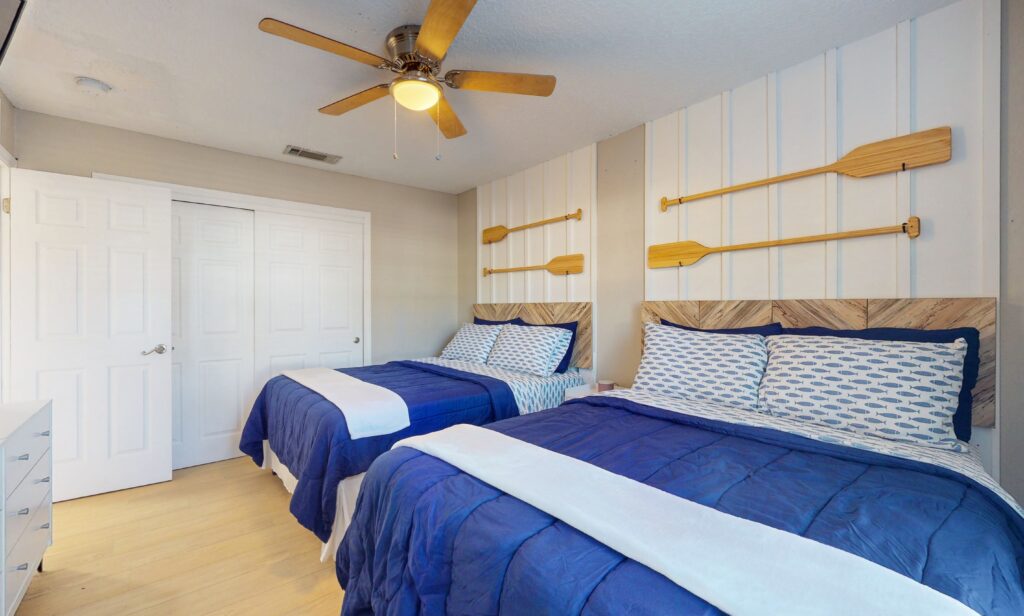 The living room has a coastal shiplap electric LED fireplace with multicolored LED lights for the flames. Seating here includes a sofa and extra chairs from the built in desk areas that flank the fireplace.
The kitchen is stocked with cookware, silverware, and dishware. It features a butcher block island, closet pantry, and wine fridge.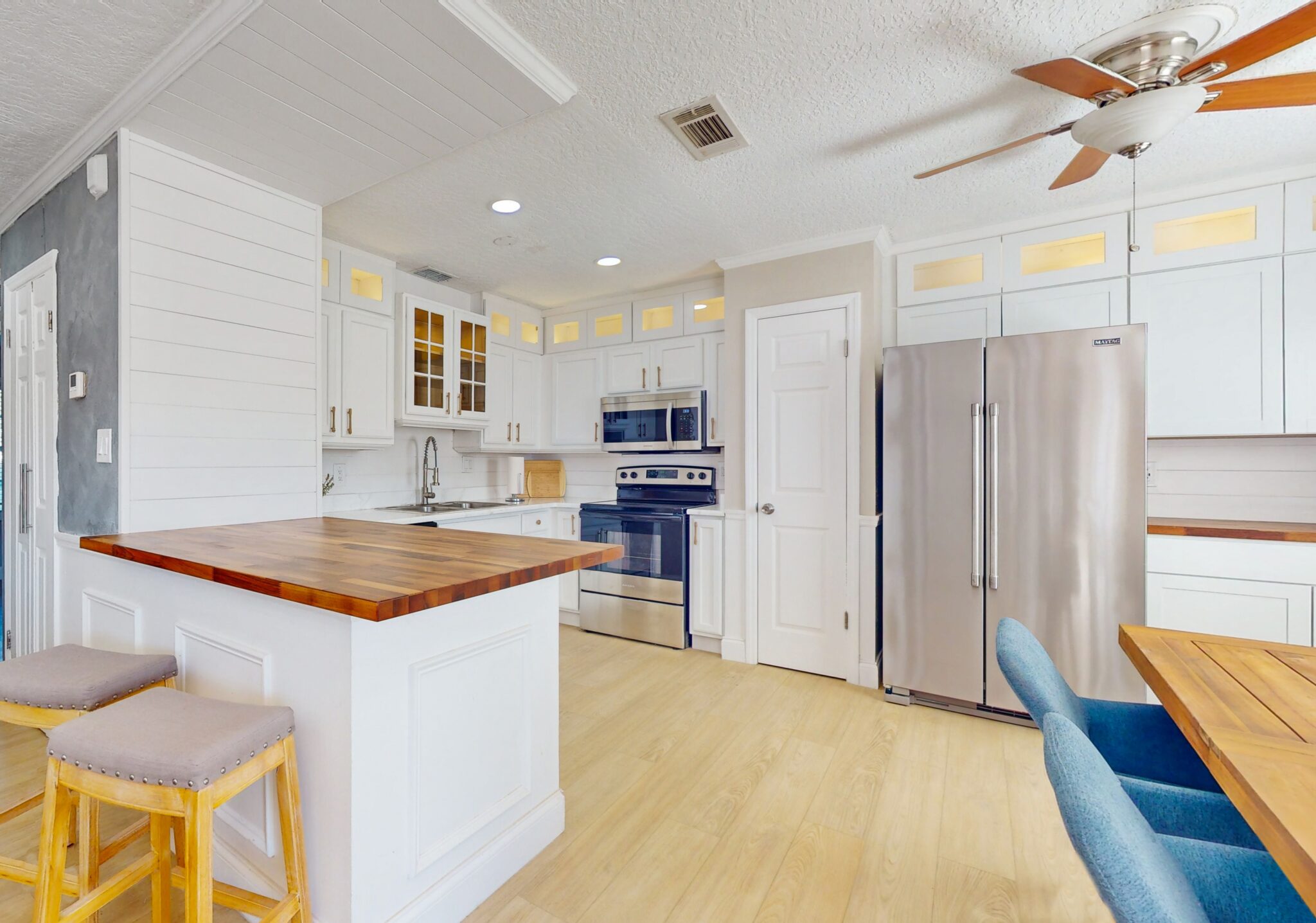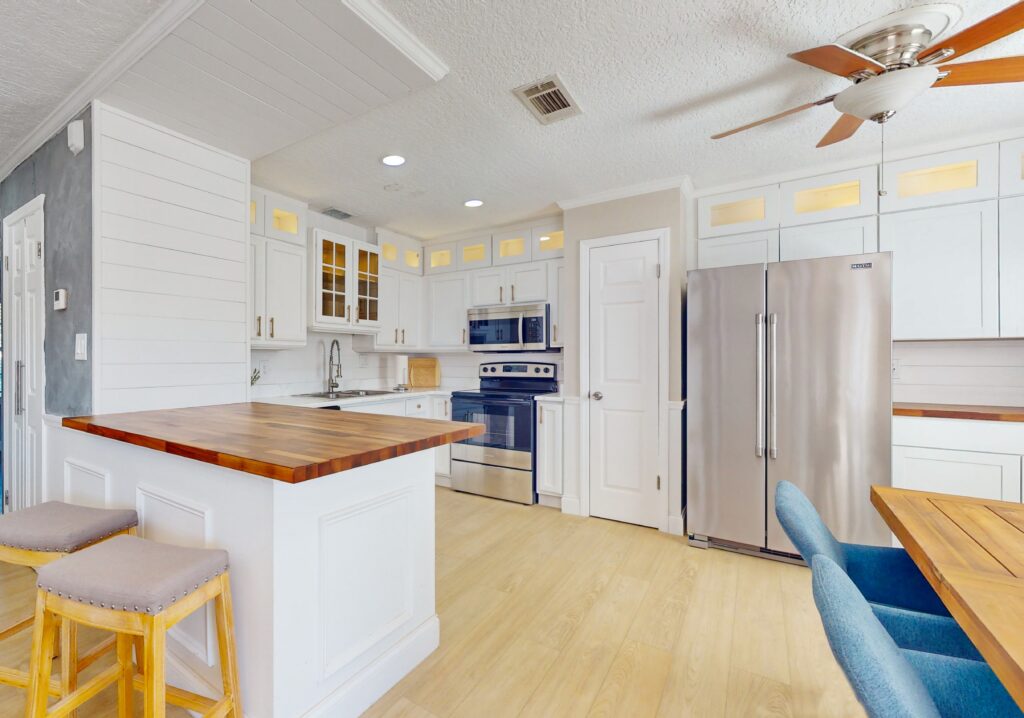 The gated resort style community features 2 pools, a jacuzzi, fitness center, pickleball courts, basketball court, tennis courts, shuffle board, a billiards room, library, and on site bar (open select hours). 
Airbnb St Petersburg FL
Link to Airbnb Listing for booking:
ABOUT COQUINA KEY
Located on its own small island, Coquina Key- is known as "the friendly island". The entire complex is surrounded by water, and because of its unique location, there are views of both Tampa Bay, and the Gulf & Sunshine Skyway Bridge.
The island is conveniently located on the bay side of Florida's gulf coast. The location is truly unique.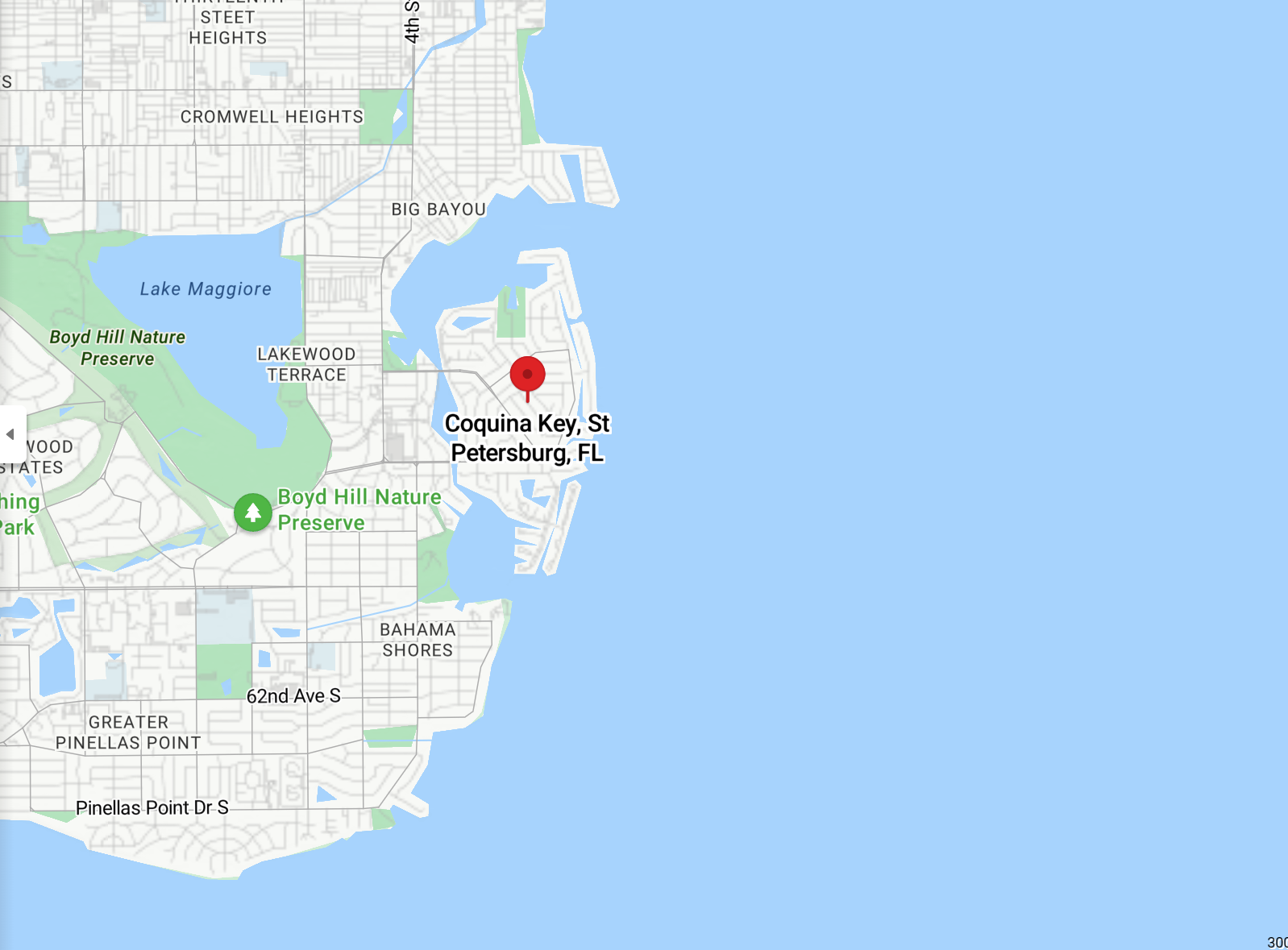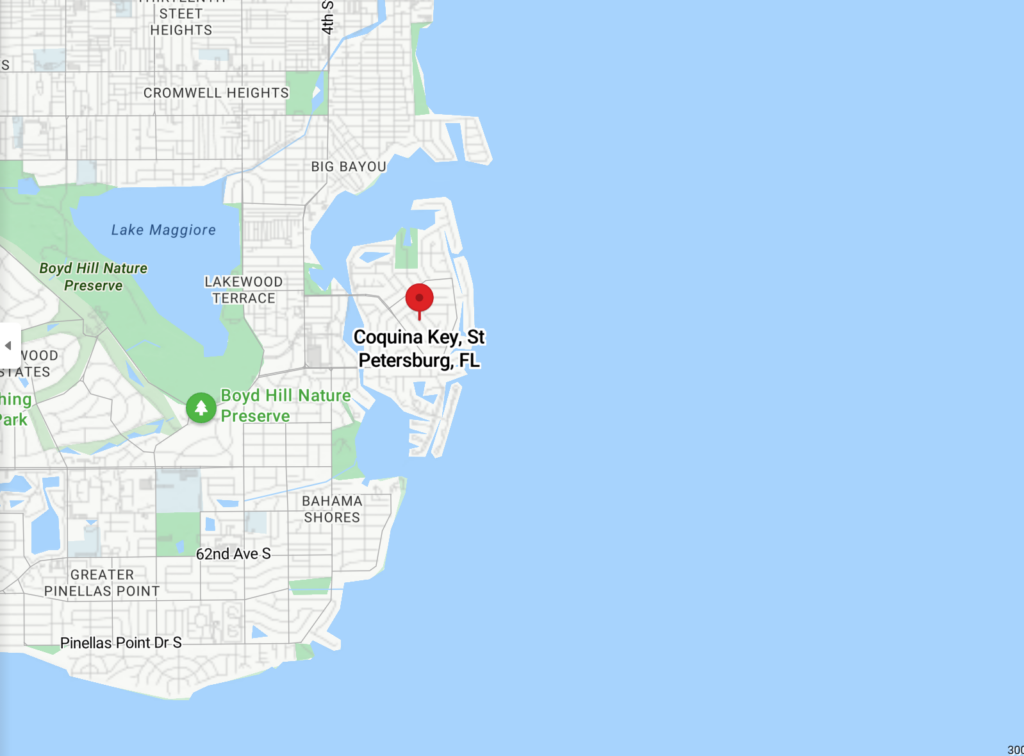 Guest Access
The building entry door is semi-private, leading to only 4 units total. Two of the units are upstairs so your entry hallway downstairs is shared with only one other downstairs unit. It's really very nice and private.
You'll have access to the unit using a coded key panel on the door.
Inside the unit you'll find the access key that'll allow you into the pool areas (there are 2), as well as the large laundry room.
COMMUNITY AMENITIES
The 24-hour manned gated community features 2 pools, a beautiful clubhouse with a library and billiards/pool table, as well as an upstairs bar, and occasional food offerings. The clubhouse overlooks the water (great photo spots here!), has a long pier with seating areas, and has corn hole sets and a giant Connect 4 set for play.
The large swimming pool here by the clubhouse (just a short walk from the unit) has lots of seating and overlooks the water.
There's also a beach volleyball court, tennis court, basketball court, gym, pickleball courts, and shuffleboard.
If you're driving an electric vehicle, you can find a charger over by the laundry facility and gym building.
HOA REQUIREMENT
The HOA will need a copy of a driver's license or Passport for ALL adults who will be guests so that everyone can be registered and allowed entry at the manned gate.
They also require a signed addendum which I've uploaded or can email you
THINGS TO DO
DOWNTOWN AREA
Saturday Morning Market
With over 2400 onine reviews on touristwire.com, the Saturday morning market may be the best St. Petersburg activity–walk down the tree-lined streets and visit with over 130 vendors showcasing artisan foods and handmade crafts. Also enjoy live music from local bands and musicians
Enjoy homes and historic architecture in Historic Northeast
The historic Old Northeast district abuts downtown, and claims nearly 3,000 historic buildings within its boundaries. It also has a pleasant shopping district, restaurants and a number of city landmarks. Housing is a mix of Mediterranean and bungalow styles in a lushly green setting rife with jacarandas, pines, palms, and magnolias.

Brick streets and granite curbs add to the charm of the area, which also includes North Shore Park to the east, with its swimming, biking, walking, and playing areas as well as a pretty white sand beach. The area also borders Coffee Pot Bay, famous for its resident manatees. The Gizella Kopsick Palm Arboretum is another bucolic addition to the community. The Palladium Theater presents eclectic performances in a former church also in the area. The St. Petersburg transit system provides bus service through the neighborhood, and the busy urban nightlife of downtown is just minutes away.

Source: Historic Old Northeast St. Petersburg Neighborhood Information (stpetersburg.com)
BEACH
Clearwater Beach and St. Pete Beach have earned themselves spots lists published by Trip Advisor, USA Today, and the Travel Channel.
Fort DeSoto
The largest park within the Pinellas County Park System, Fort De Soto park consists of 1,136 acres made up of five interconnected islands (keys). Fort De Soto was named America's Top Beach for 2009 by Tripadvisor, the world's largest online travel community. In 2005, "Dr. Beach" named Fort De Soto the nation's No. 1 Beach. Fort DeSoto features seven miles of white sandy beaches, a campground, boat ramps, fishing piers, paved fitness trails and the historic fort.
St Pete Beach
Named #1 by Tripadvisor, you'll love the emerald waters and white sandy beaches of St Pete Beach!
Treasure Island
Treasure island is located on a barrier island in the Gulf of Mexico.
Per Wikipedia:
The area of Treasure Island was originally settled in small communities by the Tocobaga around 300 CE. The Timucua traded with other Native American tribes in the area until the arrival of Pánfilo de Narváez in 1528. De Narváez decimated the indigenous people before leaving the area in search of gold.
Treasure Island got its name early in the 20th century, after several property owners attempted to boost sales of the properties being developed on the island by first burying and then pretending to discover a couple of wooden chests on the beach around 1915. After claiming the chests were filled with treasure, the news of the discovery quickly spread and people began calling the island Treasure Island.
With an elevation of only three feet, the Great Gale of 1848 carved out John's Pass on the island's north end and split off two smaller islands, called the Isle of Palms and Isle of Capri.
Treasure Island saw a surge in residential and hotel construction following World War II through the 1950s. The real estate used in these ventures often consisted of fill from dredged material; that is, artificial extensions of the land were created, which were usually designed for convenient access to navigable waterways.
Treasure Island today has a thriving bar and restaurant scene in its downtown.
WATER ACTIVITIES
Kayaking and Boating and Fishing are my personal favorites.
When staying at our Airbnb St Petersburg Fl condo, feel free to use the crab trap and fishing poles on the back porch (check to see if it's crab season).
AREA SPORTS
Baseball
From visitstpeteclearwater website "Two Major League baseball teams hold their spring training games in the St. Pete/Clearwater area during March each year. The Philadelphia Phillies play at BayCare Park in Clearwater, and the Toronto Blue Jays play at TD Ballpark in Dunedin, just north of Clearwater. A little farther afield (pun intended), several teams prepare for Opening Day less than an hour away, including the New York Yankees (Tampa), Pittsburgh Pirates (Bradenton), Baltimore Orioles (Sarasota), Detroit Tigers (Lakeland) and Atlanta Braves (North Port). With careful planning, you can embark on a road trip from St. Pete to see all 15 Grapefruit League teams play across Florida."
Soccer
Football
Tampa Bay Buccaneers (just 1/2 hour from St Pete)
Hockey
MUSEUMS
Salvador Dali Museum
From StPete org website: The Dalí Museum celebrates the life and work of the late Spanish surrealist Salvador Dalí and features works from his entire career. The collection includes over 2,400 works from every moment and in every medium of his artistic activity, including oil paintings, drawings, watercolors, book illustrations, prints, sculpture, textiles, photos, manuscripts, and an extensive archive of documents. In addition to their impressive permanent collection, the Dalí hosts rotating exhibitions, tours, events, community and student programming.
Other Museums include:
Dr. Carter G. Woodson African American Museum
Fairgrounds St. Pete
The Florida Holocaust Museum
Great Explorations Children's Museum
Imagine Museum of Contemporary Glass Art
The James Museum of Western and Wildlife Art
Museum of the American Arts & Crafts Movement
Museum of Fine Arts
St. Petersburg Museum of History
ART GALLERIES
The Chihuly Collection
From visitStPete.org site:
"A pioneer of the studio glass movement, world-renowned artist Dale Chihuly's stunning, permanent collection of unique artwork resides in downtown St. Pete, across the street from the Morean Arts Center. It is the first installation of Chihuly art in a building designed specifically for that purpose—so that the art and architecture work together to create a visitor experience unlike any other exhibition of Chihuly's art. The collection is a series of individual spaces designed to complement each of Chihuly's large-scale installations, including several popular series works that have thrilled audiences around the globe."
Other Galleries
Creative Clay
Duncan McClellan Gallery
DMG School Project
Florida CraftArt
Morean Arts Center
Morean Center for Clay
Morean Glass Studio
The Studio@620
ARTWALK
Second Saturday ArtWalk is where the Central Arts District, Grand Central District, Warehouse Arts District, Uptown Arts District and downtown Waterfront District come together as ONE ARTS DESTINATION with many venues hosting the opening night of their latest exhibit.
The Daily rate runs between $150-$250 per night depending on the season. The size of the rental is 825 sq ft. There's free parking, and lots of modern amenities offered by the community. We hope you'll consider it one of the best airbnb vacation rentals you'll enjoy. 
Airbnb St Petersburg FL
Link to Airbnb Listing for booking:
We think it's a fantastic place and hope that you'll love it as well.
If you'd like to view the before/after and transformation of this St Petersburg Florida Airbnb, check it out here.