A great dishwasher cover project
I'm working on this condo renovation and my starting point was this dark kitchen with black kitchen appliances.
View other renovation projects here.
Throughout my site I provide affiliate links to products that I hope will help you with your DIY project supplies. As an Amazon Associate, I earn from qualifying purchases. This means that I may receive a small commission if you use these links to purchase products, but it does not change your price in any way.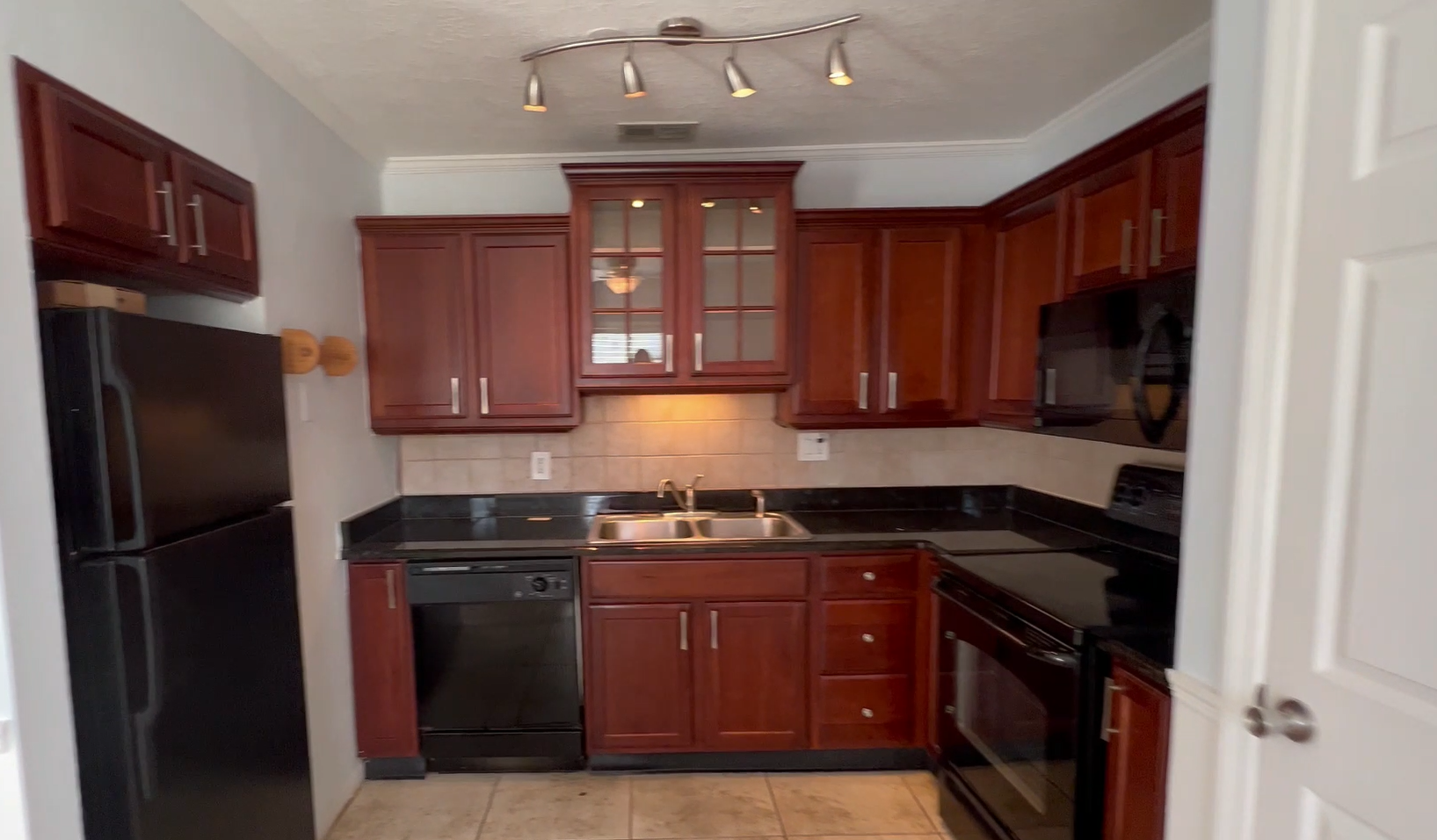 (I did want to lighten everything up, so I did paint the cabinet doors and kitchen cabinetry white)
While I purchased a new range and microwave, I really didn't want to spend money on a new dishwasher. ?After all, the old dishwasher was working fine, and I didn't want to spend time or money buying and installing a new dishwasher into the kitchen cabinets.
An Option I didn't have:
Some dishwashers come with cover panels that can be changed. In those, you can remove the front panel of the dishwasher and flip it around to the reverse side to change the color. That wasn't an option with this old dishwasher. 
Peel and Stick
So, I decided that I would create a custom door panel using strong peel and stick. This way, I could transform my dishwasher panel from black to a stainless-steel look.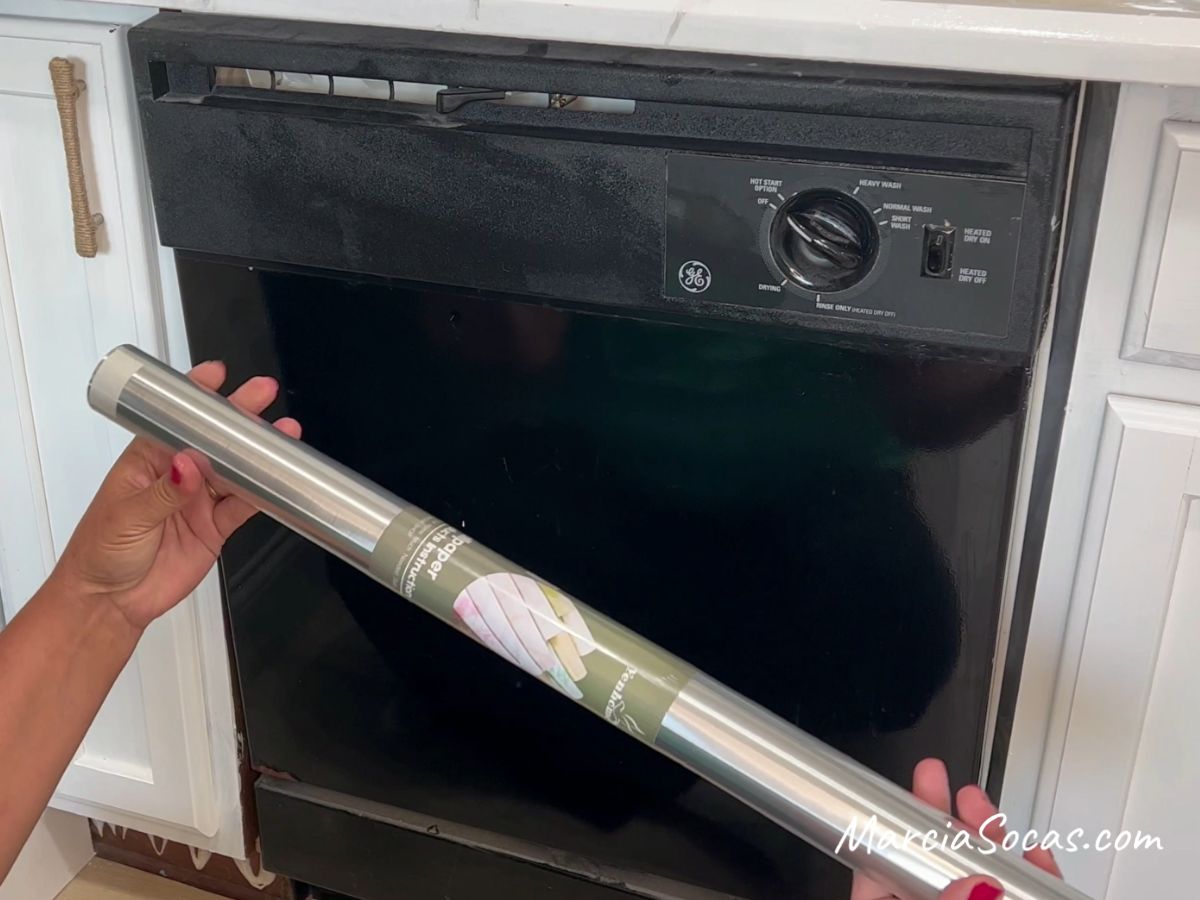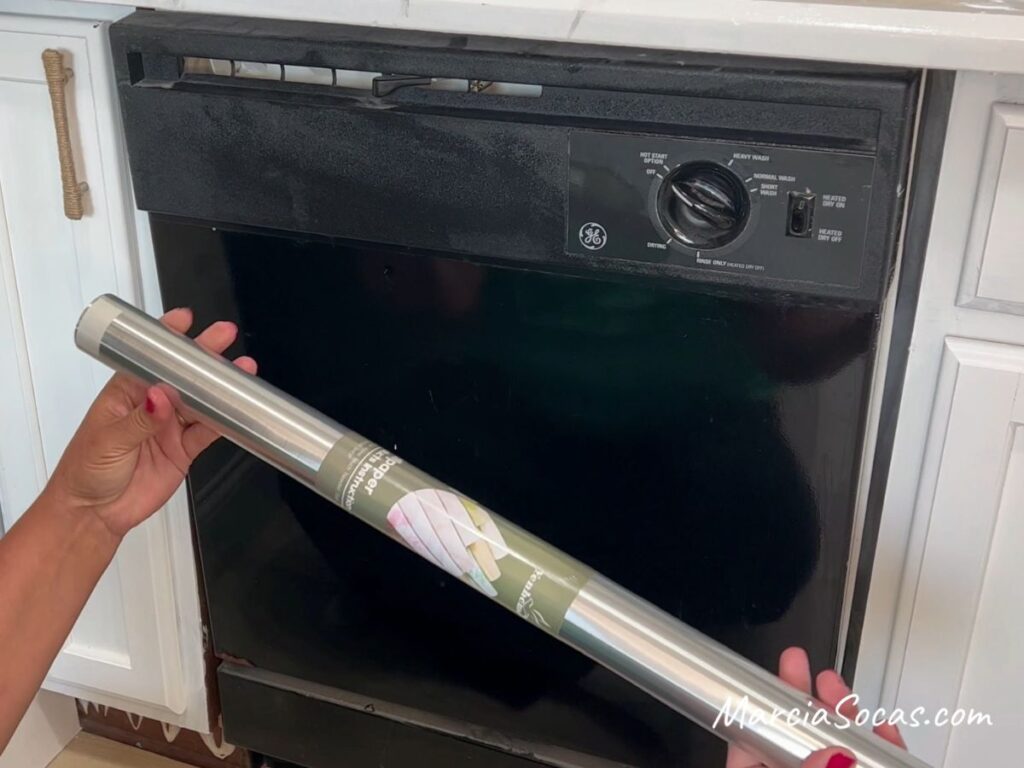 How (not) to Change your Dishwasher Color using Peel and Stick
I first cut my paper to size, and then tried to apply it, starting from the right edge of the dishwasher and then working along to the left.
It was an epic fail. 
No matter how much I tried, it was never really straight at the start, so by the time I got around to the end the stainless steel wrap wasn't covering all of the dishwasher and I had black peeking out from the bottom of the dishwasher door. And I had a lot of bubbles at the end, which caused me to pull off and reapply the stainless steel cover wrap several times which led to wrinkles. And I had to just remove it, trash the material I had used, and start over.
The Easy Way to Actually change your Dishwasher Color
Then I thought of an easy way to apply the stainless steel contact paper. Rather than start on one edge and trying to keep everything aligned and bubble-free, I decided to start in the center.
I cut away the sticker paper along the a center channel like this: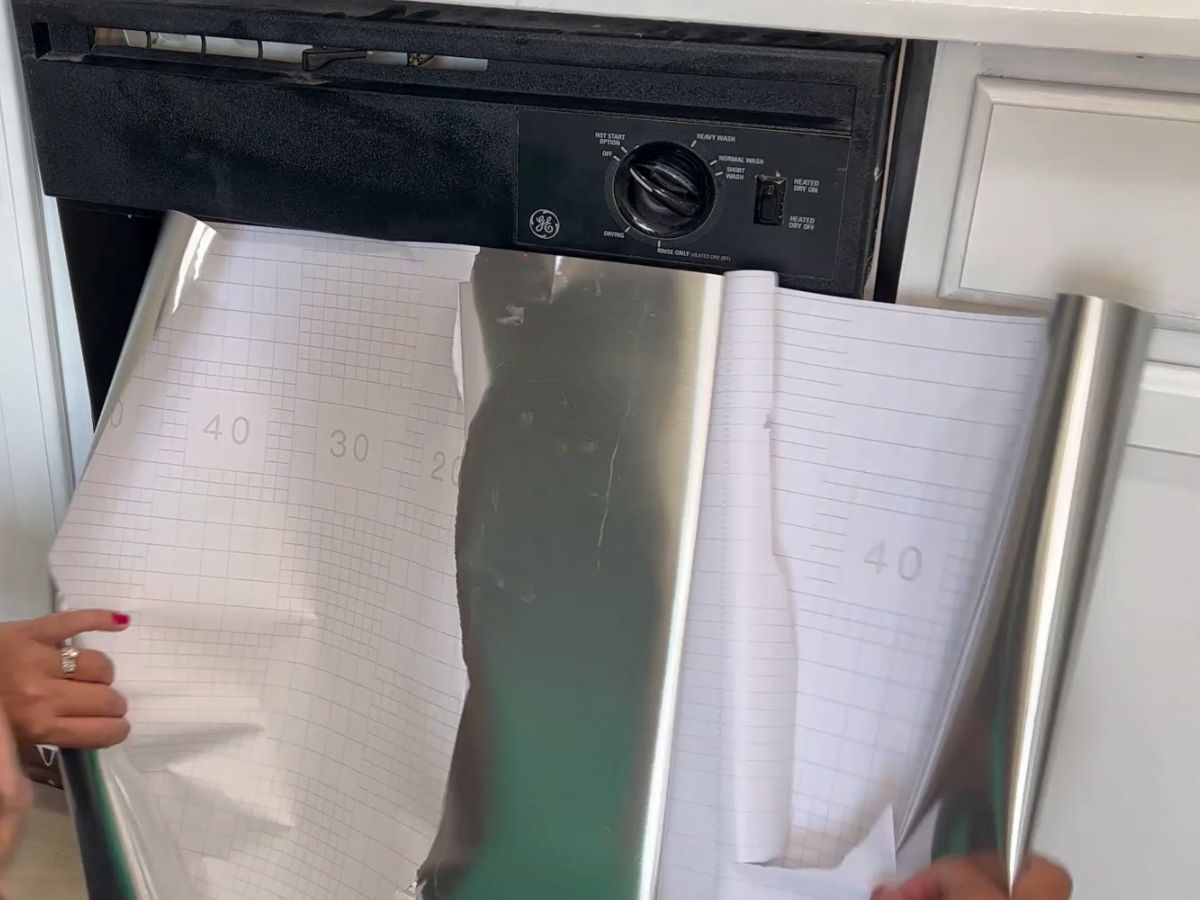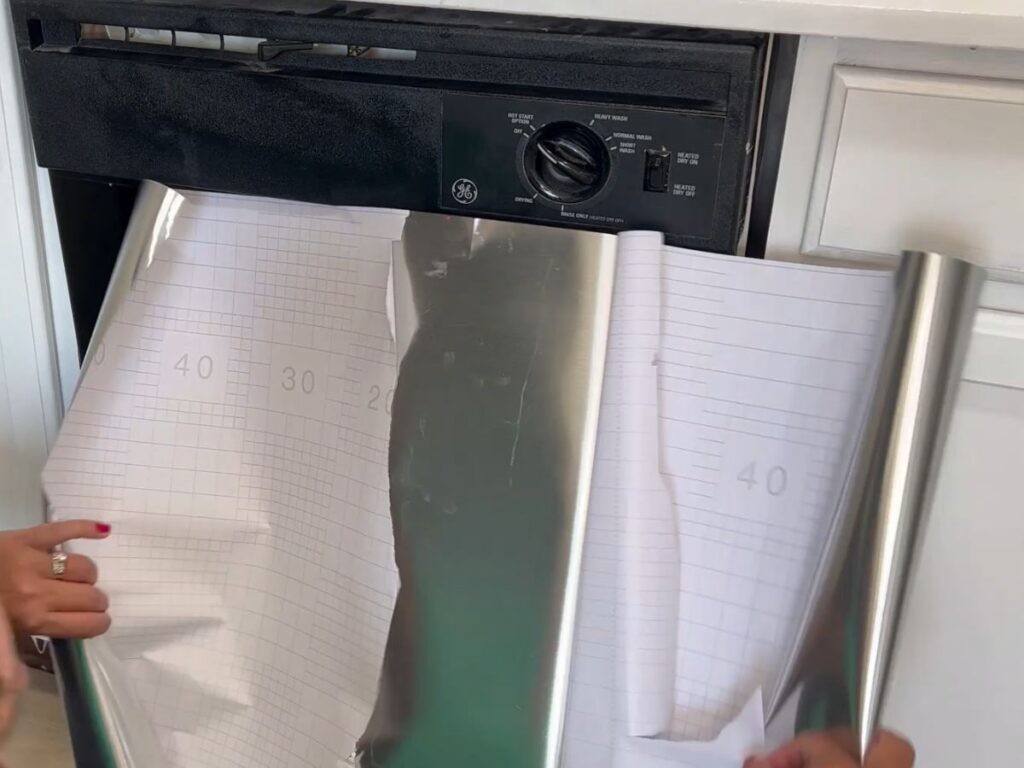 Then I applied it at the center.
I smoothed out the sides, slowly removing the backing as I went along. This way, if I had to reposition anything to avoid wrinkles, it wasn't very much at all.
I went along, smoothing everything down as I went.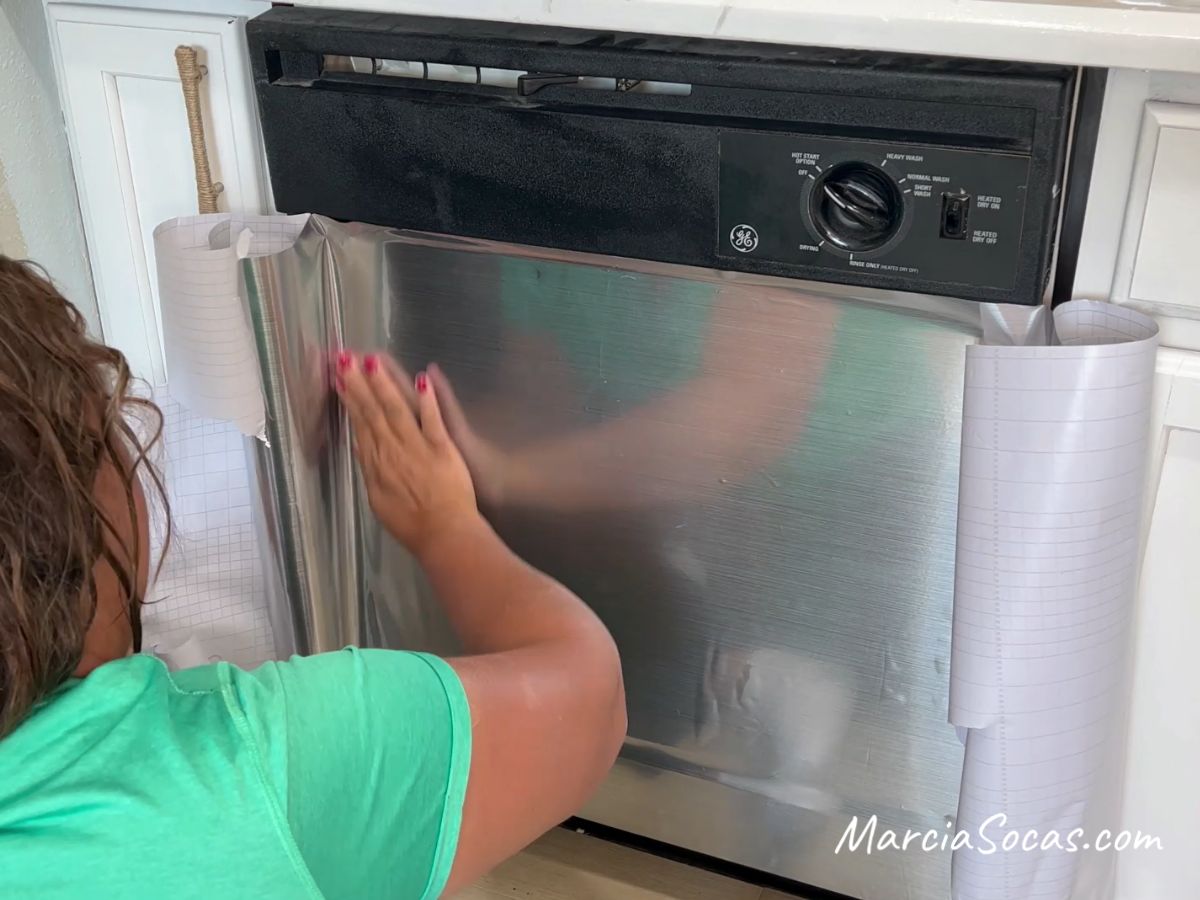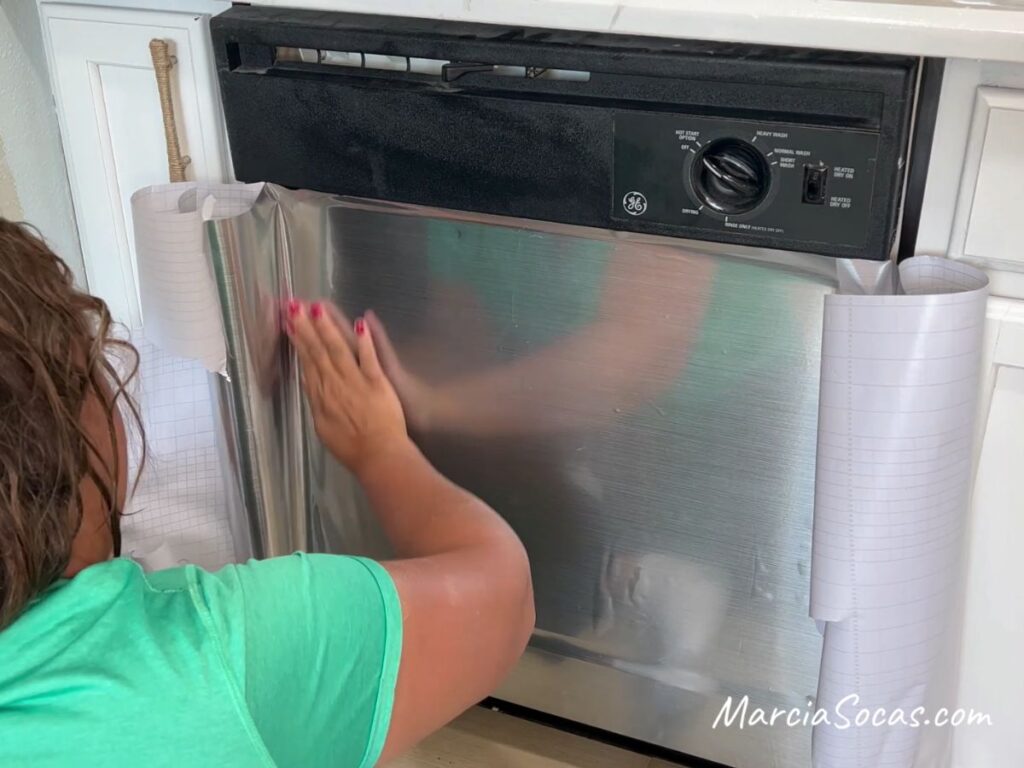 The sides of the dishwasher panel:
When I got to the sides, I simply wrapped the adhesive around the dishwasher. I had to make a small slit at the top to keep contact paper from wrinkling, then it wrapped around perfectly.
I used a razor blade to cut it along the inside.
It was looking like a new panel already!
Dealing with Air bubbles:
No matter how much I smoothed everything out, there were some stubborn air bubbles.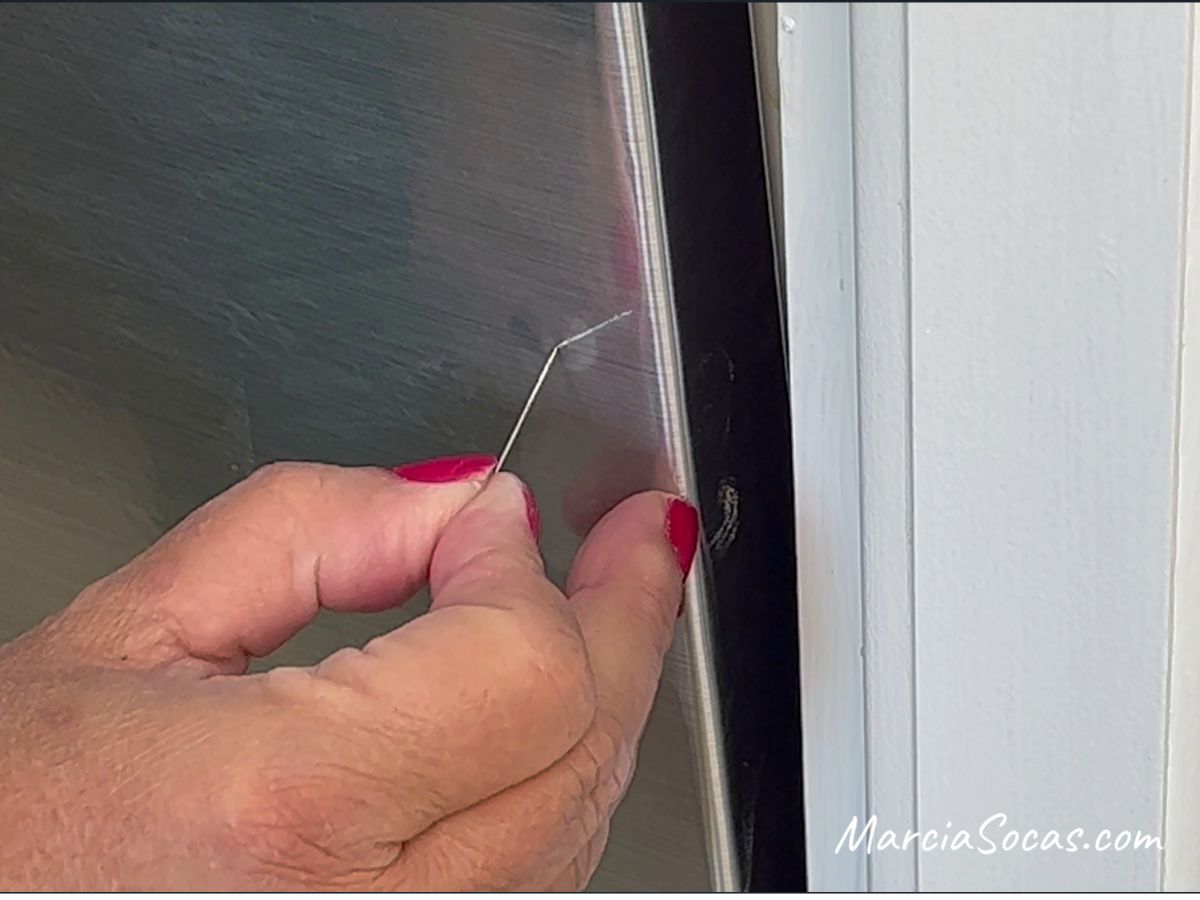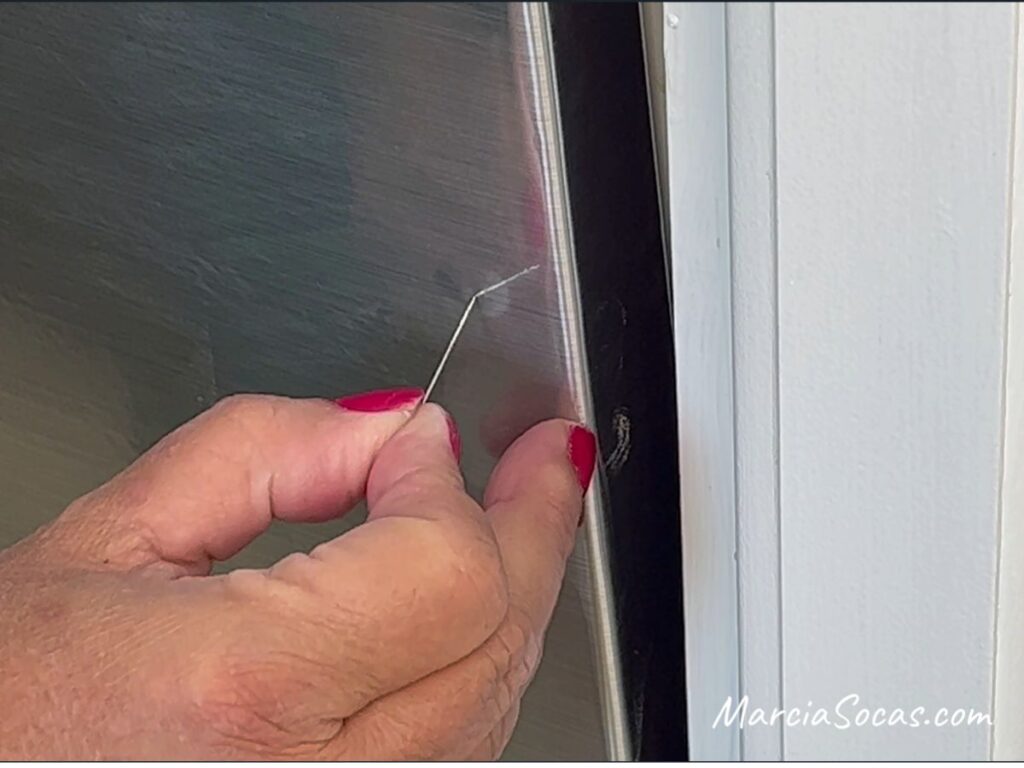 You can see one above, and I used a needle to pop a small hole in the center of the bubble.
After that, I smoothed the air out of the bubble and it laid flat.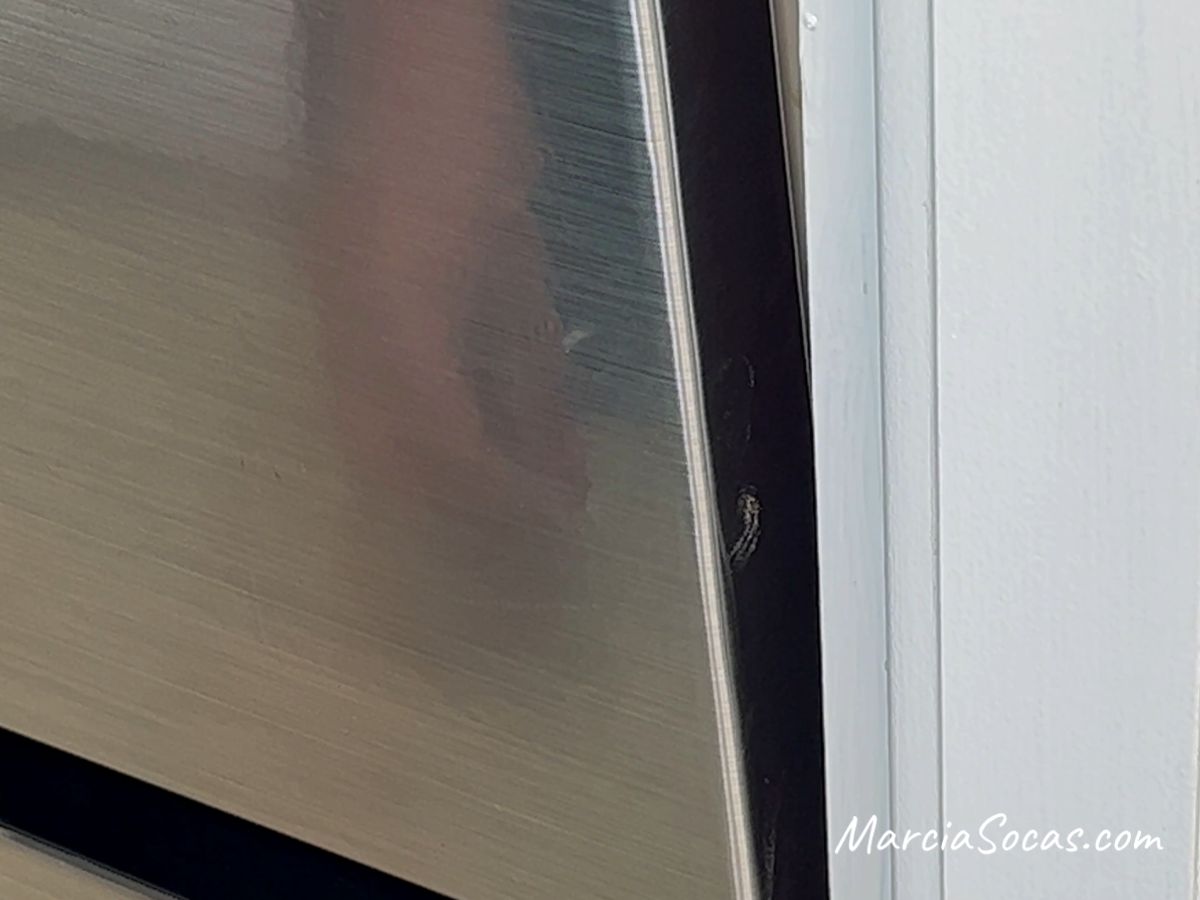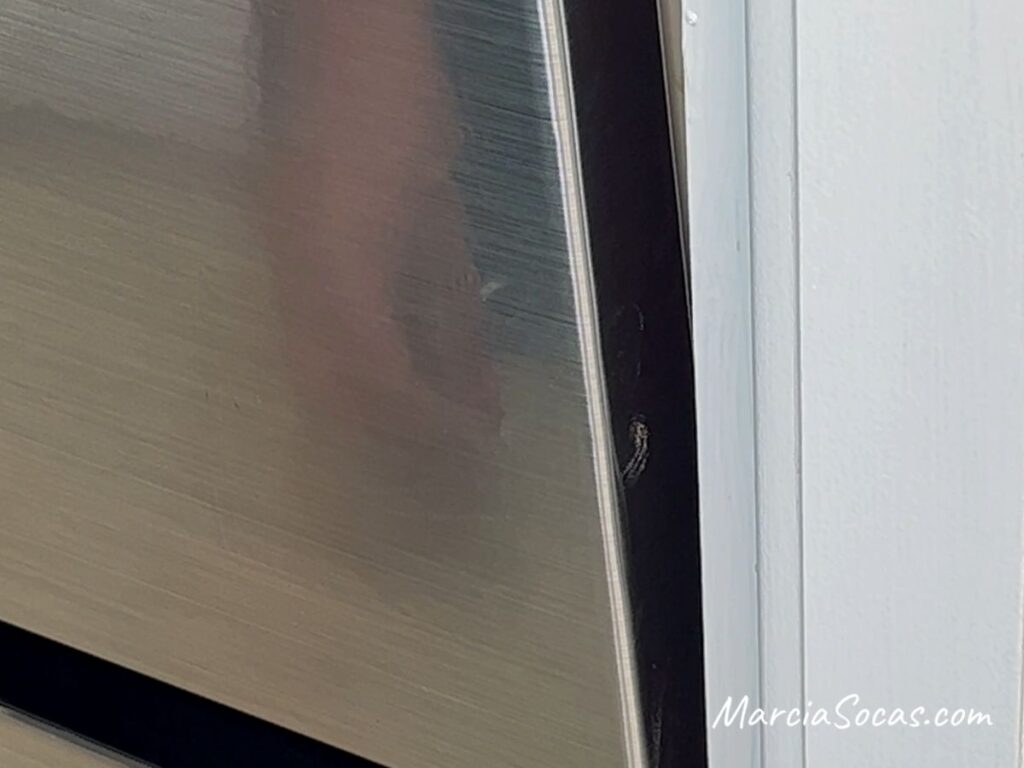 The control panel:
I left the control panel as it was. It looked fine to have that black accent on the dishwasher. 
The bottom drawer:
As for the bottom drawer, I used my razor blade and cut along the center. I folded the top part up and attached it to the bottom part of the dishwasher door.
For the top of the drawer, I just used my razor to make a straight cut across the top. I'll need to monitor how this part stays together in the future.
The final result for my DIY Dishwasher cover:
Here's how my dishwasher color change turned out. I love it!
Seriously, one hour and less than $25, how can you beat it? And no cost for a new dishwasher or installation charges.
You'll notice in this photo that I'd also painted the kitchen cabinets and also painted the countertop with a faux marble kit! More on that here.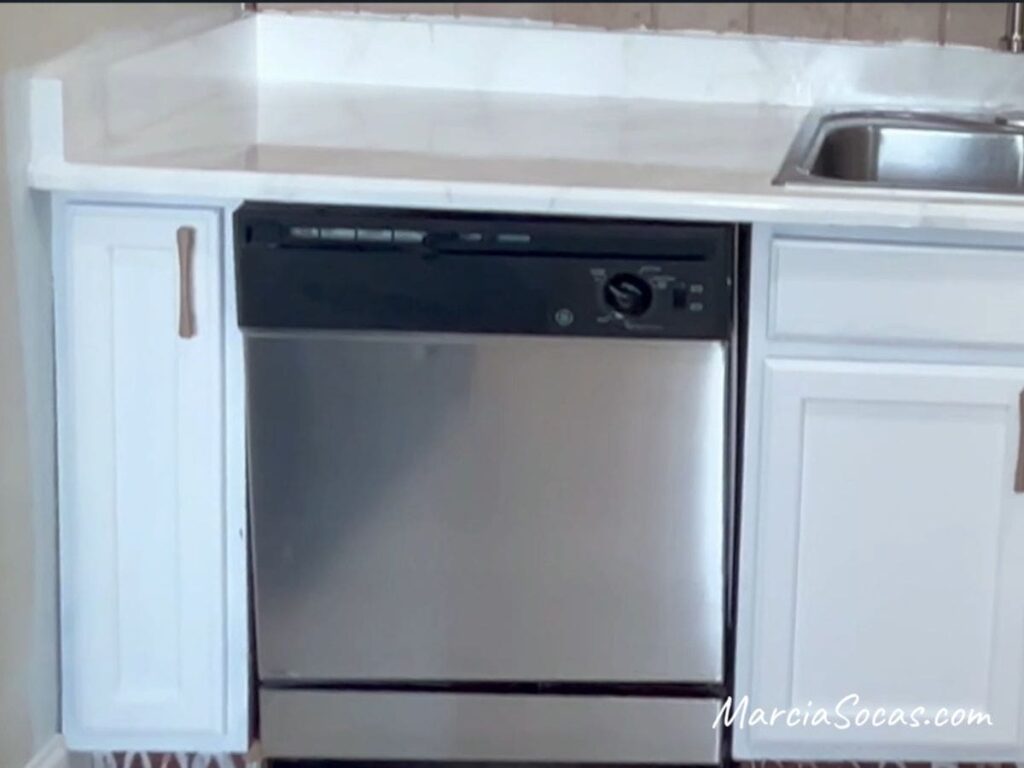 Other interesting options:
While stainless steel was an excellent option for my kitchen design, think of the options that come with the possibility of using different colors in your kitchen.
I mean, you could theoretically make the color of your dishwasher anything you want.
Imagine a cute pink dishwasher.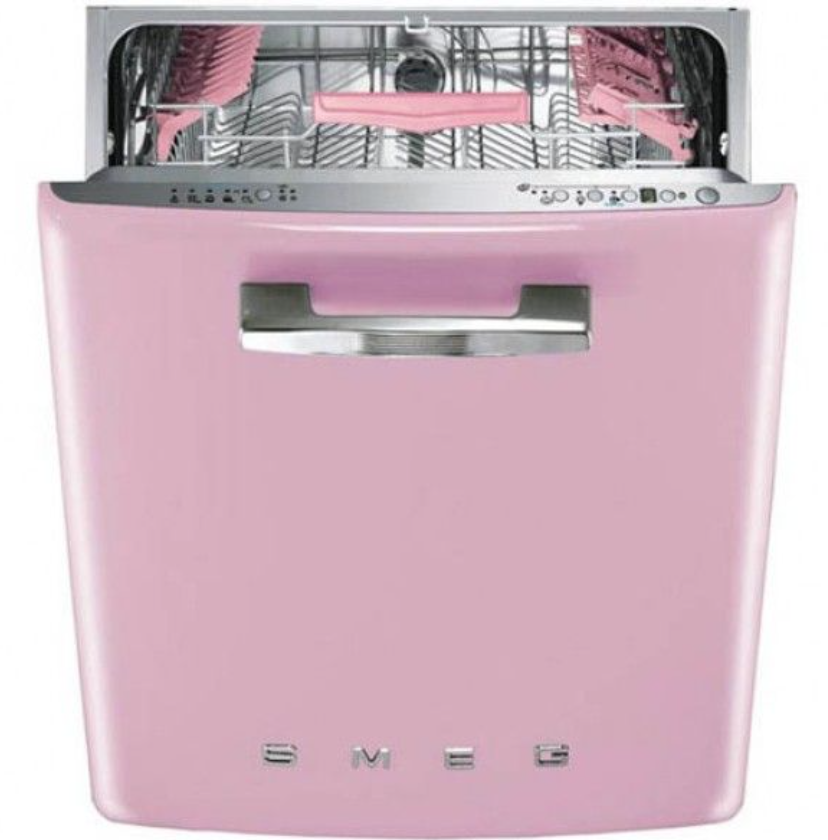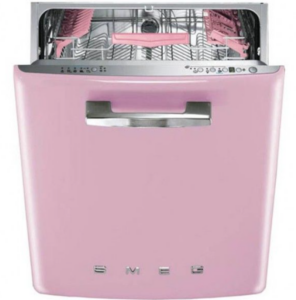 Or a bright blue dishwasher cover project for a blue and white themed kitchen.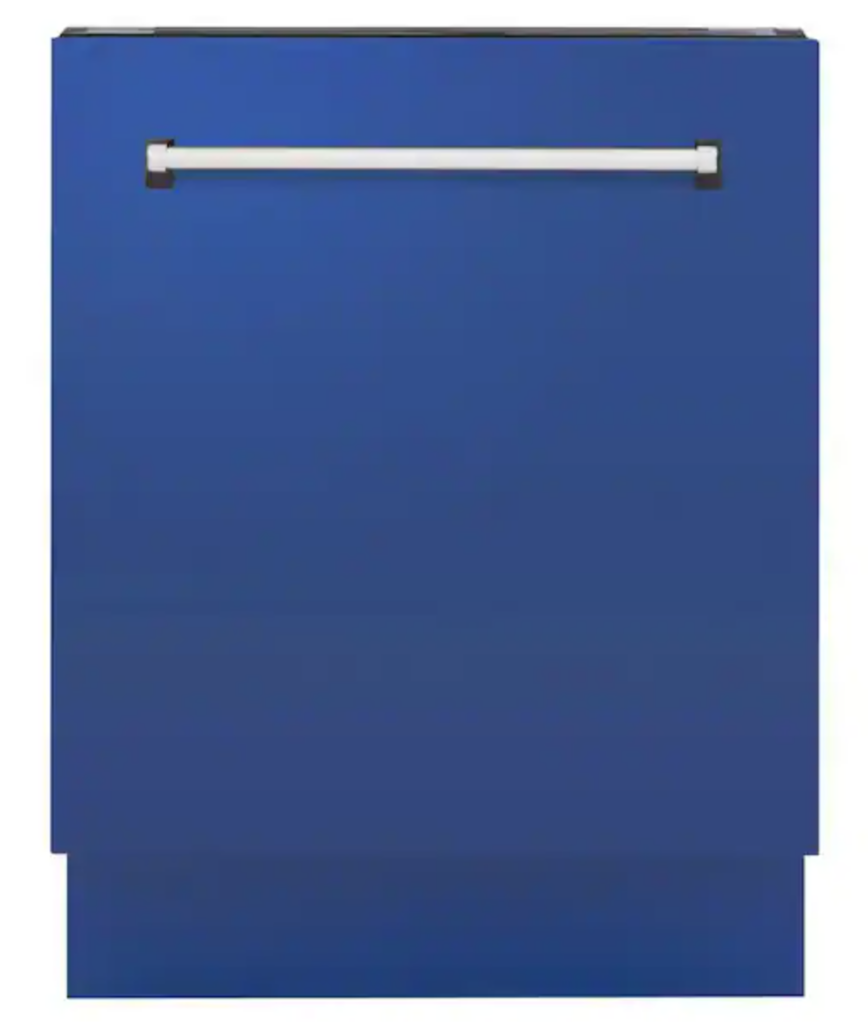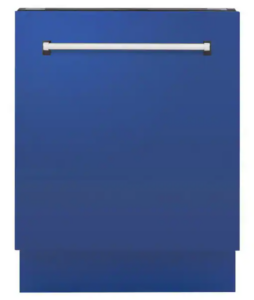 You can find this blue dishwasher here

?

https://homedepot.sjv.io/GmVrRr
But imagine if you could just make it yourself and save the $1400+, wouldn't that be great?
 You can find lots of solid colors that can serve as a great option here for the peel and stick. 
You can really customize the entire kitchen or show off your unique design perspective in a great way with the custom panel dishwashers you choose to create. 
Paint option:
Alternatively, you can use appliance paint–we've done this with older refrigerators before–but I really do like how easily the sticky paper covers the smooth dishwasher door so easily; and it can be changed in the future to make the rest of your appliances any time those change.
Video tutorial
Change dishwasher color – Easy DIY and under $25 – YouTube