Every year we love to have a big SuperBowl party at the house, and each year I love decorating for it just a little bit differently. This year, one of the things I did was make these football themed wreaths for the door.
Here are links to sections in case you want to jump ahead:
Video version of tutorial
Supply list and cost
Step by Step instructions with photos
College Football Wreaths
NFL Themed Football Door Wreaths
Pin-able Photo of Football Themed Wreath to Save for Later
Purchase a Sports Themed Wreath
Door Wreath Themes for Every Month of the Year
Instructions with photos follow, but if you prefer to view this tutorial in a 5 minute video, you can see it here:
Supply list for DIY Football Themed Door Wreath
These are the supplies I used for the ribbon wreath, further below I provide links to popular football team ribbons that you can use for your football door wreath.
Wire wreath form $5.87 for two 16″ wire wreath forms
Football or sports team ribbon (2) $9.99 each
Green Yardage ribbon (1) $12.32
The ribbon was wired ribbon, and the size was 2 1/2″ width, and 10 yds length. I purchased all of the supplies from Amazon. Here's a link to the products I used in the hopes it'll be easier for you. Some affiliate links are included. (As an Amazon affiliate, I earn from qualifying purchases):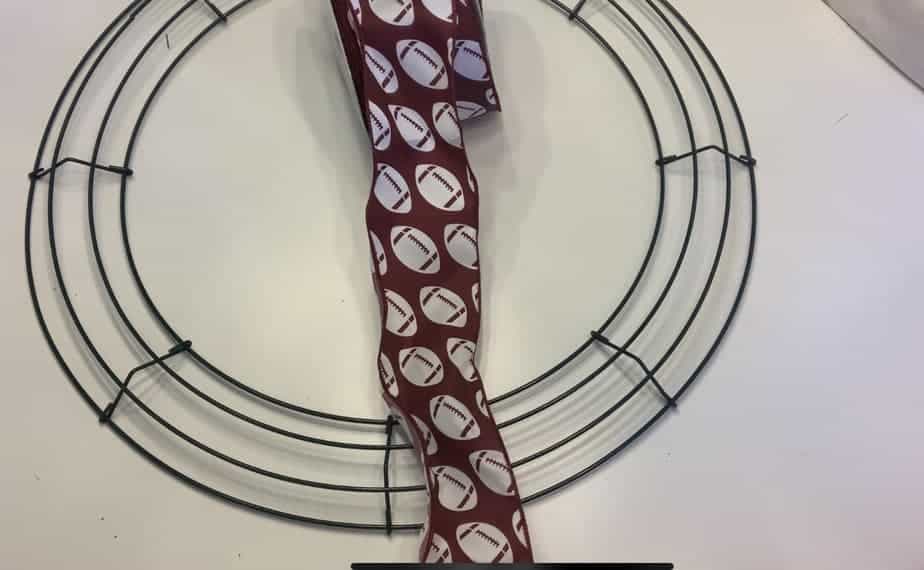 Several tutorials I had seen involved cutting your themed ribbon into strips, but I want to be able to reuse this wreath form throughout the year, and I may want to reuse the ribbon in a different way for another future project, so I didn't want to cut it. Fortunately the wired ribbon and the wire form make this possible.
Step by Step, How to Make a Football Wreath:
I started by simply wrapping the wired ribbon around the a section of the form to use as an anchor and starting point. That's the first thing that secures it, and you may even want to tie a double knot here if you're worried about it coming loose.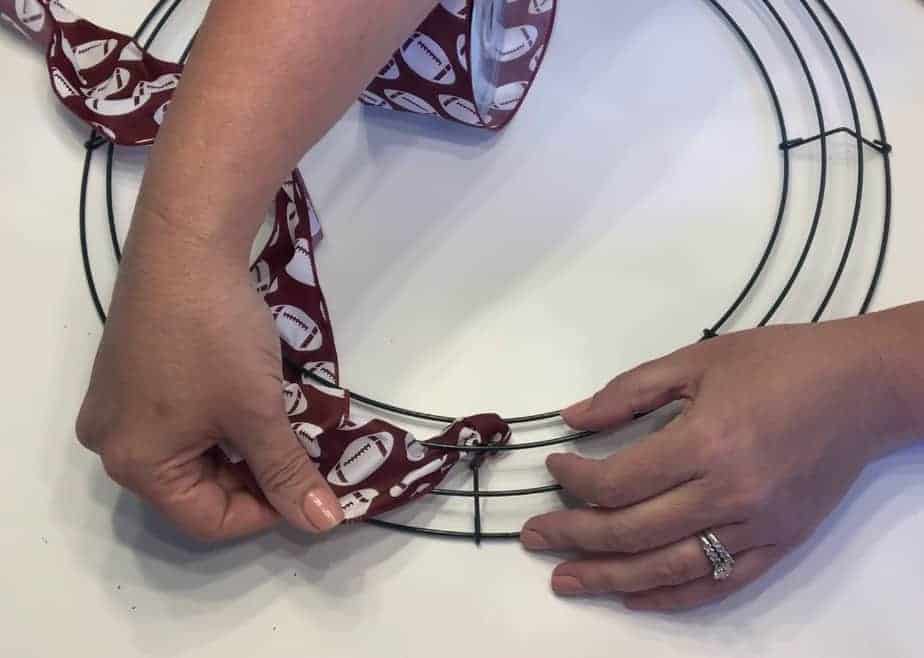 From here, loop the ribbon in the center section of the wire form and hold between two fingers. With the other hand, move the ribbon under your football wreath frame down to the bottom section. This allows the ribbon to wrap underneath the wire frame.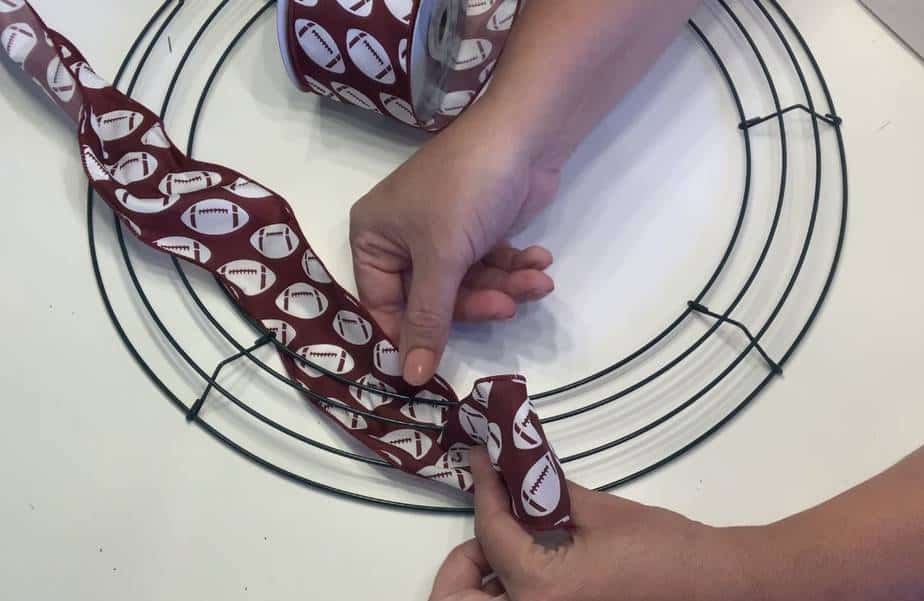 Like this: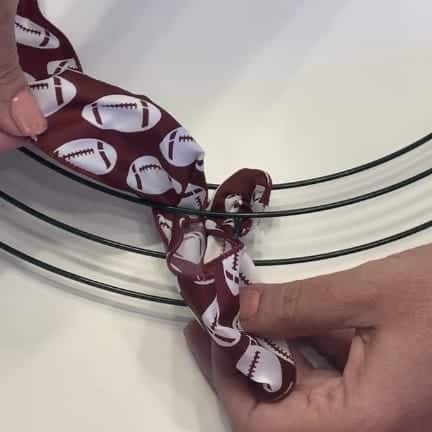 You'll continue looping and wrapping between the center and bottom sections, all the way around the form.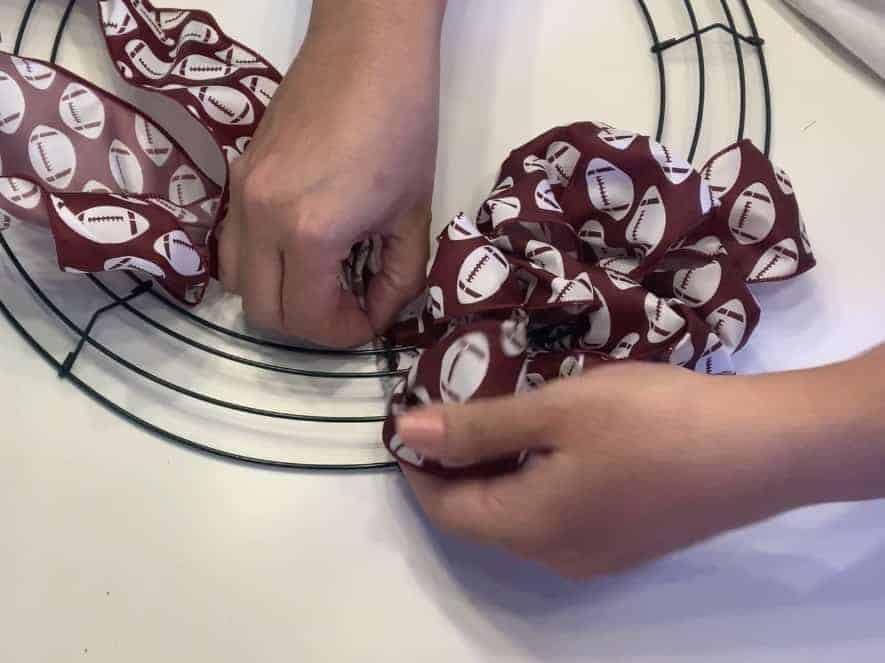 Keep going…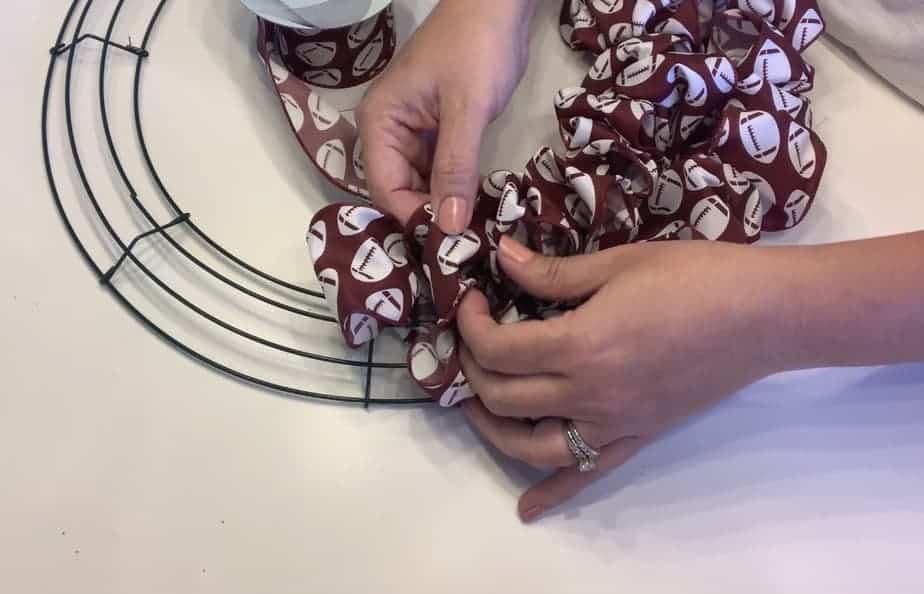 Getting there…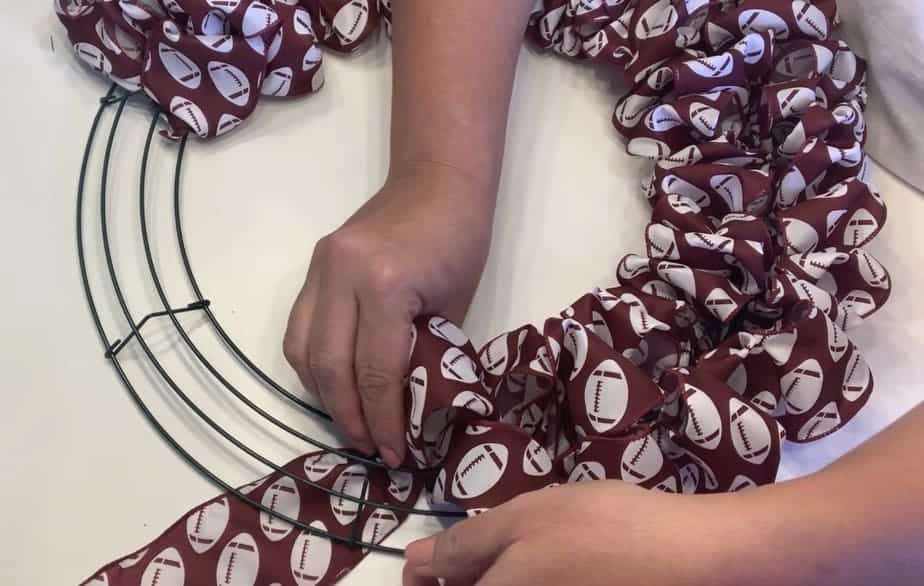 When you get to the end, you'll notice that there are spots where you can still see the form, so you'll want to put some loops in the top section of the form as well. This will help fill in the other sections and push them together.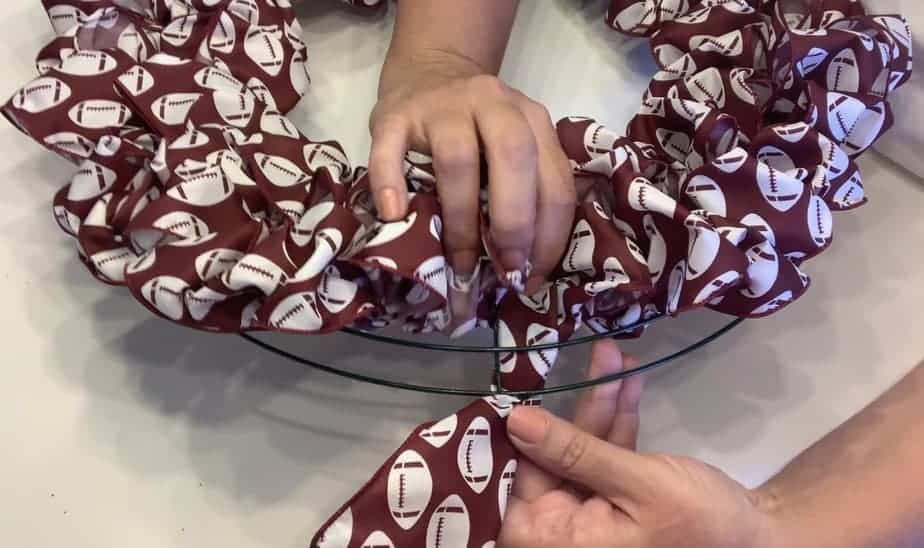 Once you're done, poof up all of the loops and then add your coordinating ribbon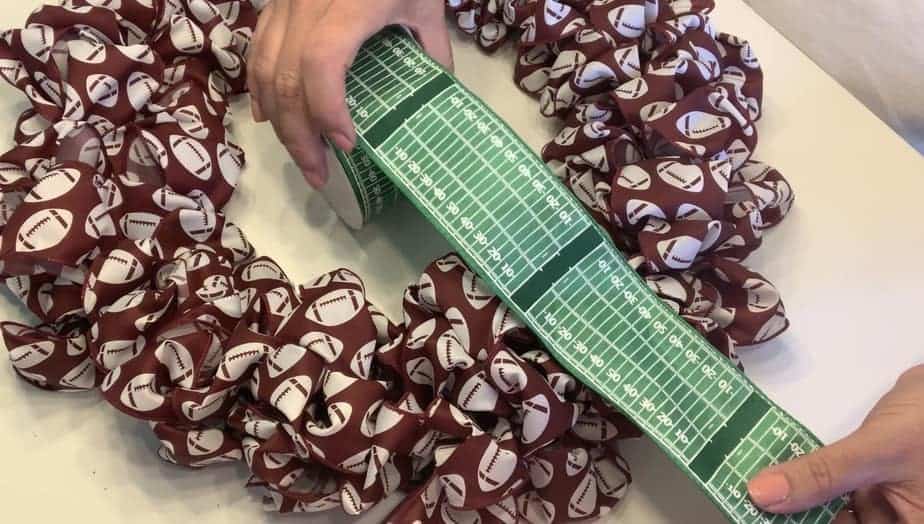 To make an easy bow, just loop the ribbon around several times, hold it in the center, and leave a tail.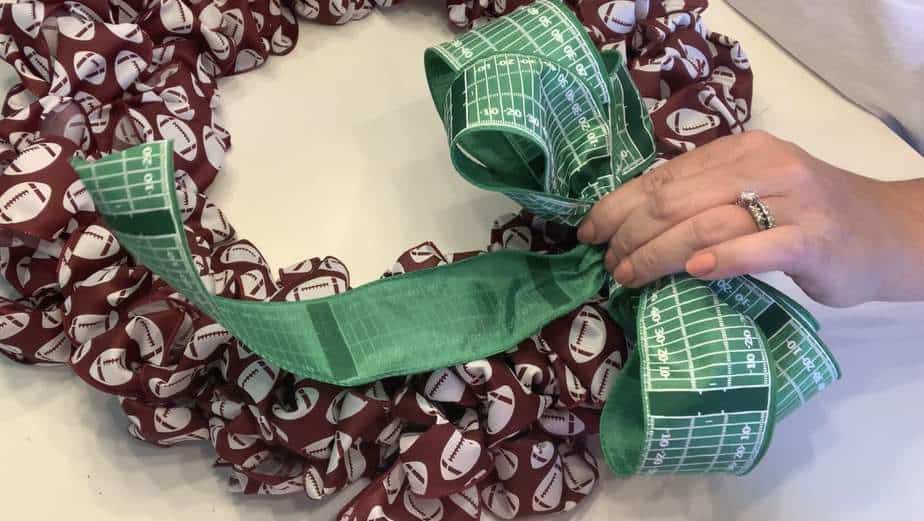 Wrap the tail around the wreath and secure it by wrapping around the center of your bow.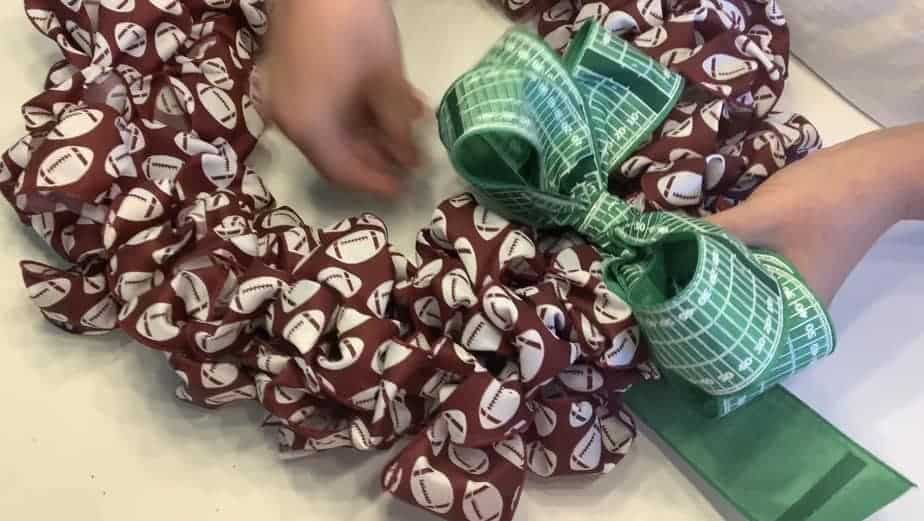 To place it on a door like mine, I added a little ribbon to the form at the back of the wreath and then hung it over the decorative iron scrolls on the door.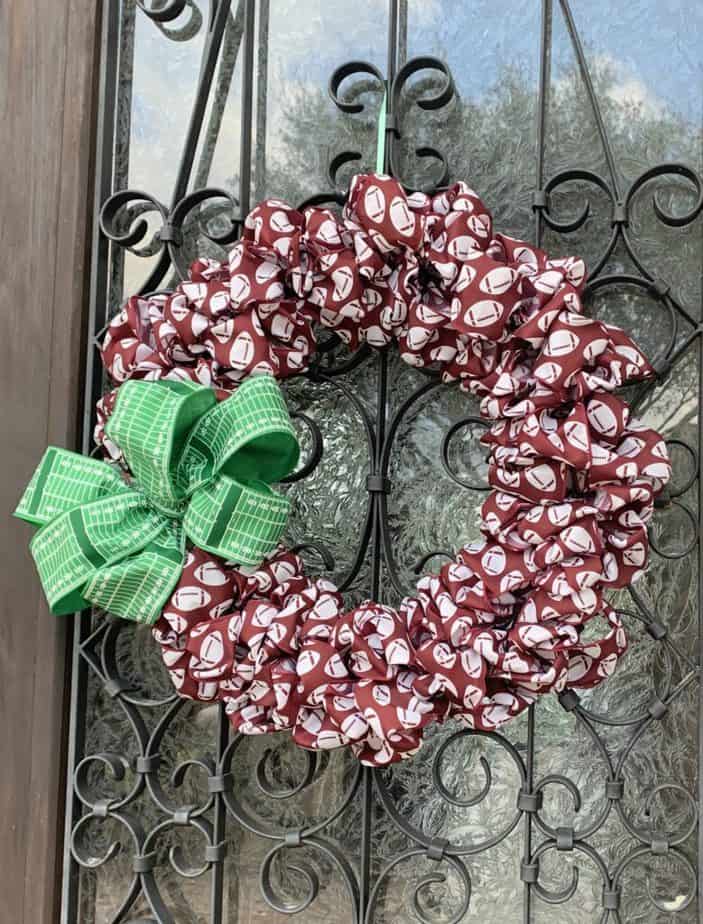 More Football Themed Wreath Ideas
College Themed Wreaths
Here are some other football themed ribbons that you might like to put together for creating some great sports themed wreaths. Just find your favorite team's colors and show your team spirit.
My son attends the University of Alabama, so I was thinking of making an Alabama football door wreath and here's the ribbon you could use for your own Alabama football wreath idea.
I'm making a college wreath for his door at school with the crimson and the black and white hounds tooth color combo.
If you prefer an Auburn football door wreath, here is a link to some Auburn football wreath ribbon:
Of course, if Clemson is your choice for your college football themed sports wreath, here are some great Clemson ribbon choices you may like:
Notre Dame Themed wreaths are also a popular choice, and here are links to some Fighting Irish ribbon
NFL Themed Wreaths
My husband is a huge Dallas Cowboys fan. If you are too, you'll enjoy these Cowboys wired ribbons for your football door decor
Here's the supply idea for a Pittsburgh Steelers themed wreath for football season.
Of course, you just need to find the ribbon colors that correspond to your favorite team colors to create your own wreath. Using the wire wreath frame makes it really easy. If the last part of the bow isn't sitting the way you'd like, a little hot glue or floral wire might help hold things in place the way you want.
That's it! Hope you found it to be as quick and easy as I did. It was a great Super Bowl decoration, and could easily be adopted to fit particular sports teams or any other theme. Now that the big game and our SuperBowl party is over, I've removed the ribbon, stored it for a future project, and I've reused the wire wreath form for a Valentine's Day surprise for the kids.
Here's a link to that project:
I hope you enjoyed this football wreath tutorial and hope you'll share your DIY Football themed wreath idea and let me know how it turned out in the comments section. Also note that while this wreath was football themed, you can use the same technique with any wired ribbon to create other door decor ideas throughout the year. Using the wired ribbon makes it easy and allows you to reuse the ribbon for other projects and also allows you to reuse the frame.
Other ideas that I think would be great with ribbon wreaths would be baby shower or new baby themes, graduation themes using the school colors, and I'd love to one day create a pink wreath for Breast Cancer Awareness month. I'd love to hear your ideas as well in the comments section.
Pinnable Football Themed Wreath Door Decor.
Pin and save for later or for other occasions and sports wreaths inspiration.
Super Bowl 2021 Wreath
We loved the Big Game 2021 and made two wreaths for the front door. One wreath for each Super Bowl team.
Purchasing a Sports Wreath
I enjoyed making this wreath but maybe after viewing this tutorial on how to make a football wreath you've decided this just isn't for you. That's OK!
You can purchase a football themed wreath or other sports themed wreath from Etsy if you want something made for you. They have some really cute football door wreaths, and other sports wreaths, including some showing a house divided–the house divided wreaths are particularly nice looking. You can click on this link to jump to Etsy sports themed wreaths.
Door Wreath themes throughout the year
There are so many different ways to use this ribbon wreath technique with the colors of your choice. You're not limited to sports wreaths.
I'm hoping to continue making Themed Wreaths throughout the year, for the following holidays:
January: Football Team Wreath
February: Super Bowl Wreath and then Valentine's Day Wreath
March: Easter Themed Wreath, maybe something with white tulle and different colors of pastels
April: After Easter, I'll switch to a more general Spring Door Wreath
May: Graduation themed wreath for graduates, Summer Wreath otherwise
June: Summer colors Wreath, end of June switch to Patriotic Wreath for upcoming July 4th
July: Patriotic Wreath
August: End of summer, may do another summer themed wreath for August
September: Back to school wreath for college students based on their school
October: Halloween Themed Wreath or Breast Cancer Awareness Wreath
November: Thanksgiving Wreath or traditional Fall Wreath
December: Christmas Themed Wreath
Give me your ideas too!
Interested in other "home made" projects? Here are a few you may like: