Bedroom Wallpaper Ideas
Our bedroom is more than just a sleeping space; it's our haven, personal space, and sanctuary, our escape from the outside world. It's where we seek solace, find relaxation and express our true selves. So, why not make it a space that truly resonates with who we are?
One of the most effective ways to add character and charm to our bedroom is through the use of wallpaper. Wallpaper is a great way to transform a bedroom. It can add color, pattern, texture, and depth to a space, and it can create a mood, or a room feel that you desire. Whether you prefer bold wallpaper and vibrant patterns or subtle texture and soothing designs, there's a wallpaper idea out there that can perfectly match your taste. In this blog, we'll explore a variety of the best bedroom wallpaper ideas that will inspire you to create a stunning and unique space.
Throughout my site I provide affiliate links to products that I hope will help you with your DIY project supplies. As an Amazon Associate, I earn from qualifying purchases. This means that I may receive a small commission if you use these links to purchase products, but it does not change your price in any way.
How To Choose The Right Wallpaper for Your Bedroom And Things To Consider
When choosing wallpaper for your bedroom, there are a few things to keep in mind:
1. Consider the size of your bedroom.
If you have a small space bedroom, you'll want to choose wallpaper with a light or small-scale pattern. This will help to make the entire room feel larger and more spacious. For a larger bedroom, you can choose wallpaper with a bolder or more large-scale design and pattern.
2. Consider the style of your bedroom.
If you have a traditional-style bedroom, you might want to choose wallpaper with a classic pattern or design. For a more modern bedroom, you might want to choose wallpaper with bold or geometric shapes and patterns.
3. Consider the colors in your bedroom.
If you have a lot of color in your bedroom, you might want to choose a wallpaper with neutral tones This will help to create a sense of balance and harmony in the room. For a bedroom with a neutral color palette, you can choose wallpaper with bright colors.
4. Consider the furniture in your bedroom.
If you have a lot of dark or heavy bedroom furniture, you might want to choose wallpaper with a light or airy pattern. This will help to brighten up the space and make it feel more inviting. For a bedroom with light or airy furniture, you can choose a wallpaper with a bolder or more saturated color palette.
Wallpaper bedroom ideas and inspiration:
Nature-inspired Wallpaper
If you're someone who finds solace in nature, why not bring that calming vibe into your bedroom? Consider using floral wallpaper, tranquil forests, or even dreamy beach scenes. By incorporating nature-inspired wallpaper, you'll create a soothing and peaceful atmosphere.

To enhance the organic feel, try pairing the wallpaper with natural elements or materials like wooden furniture and earthy accents.
Whether it's your master bedroom or a child's bedroom, this one idea is versatile enough to fit everywhere!
Forests are a great way to evoke a sense of peace and tranquility. Choose a wallpaper with a lush green forest or palm leaves for a calming and relaxing atmosphere like this: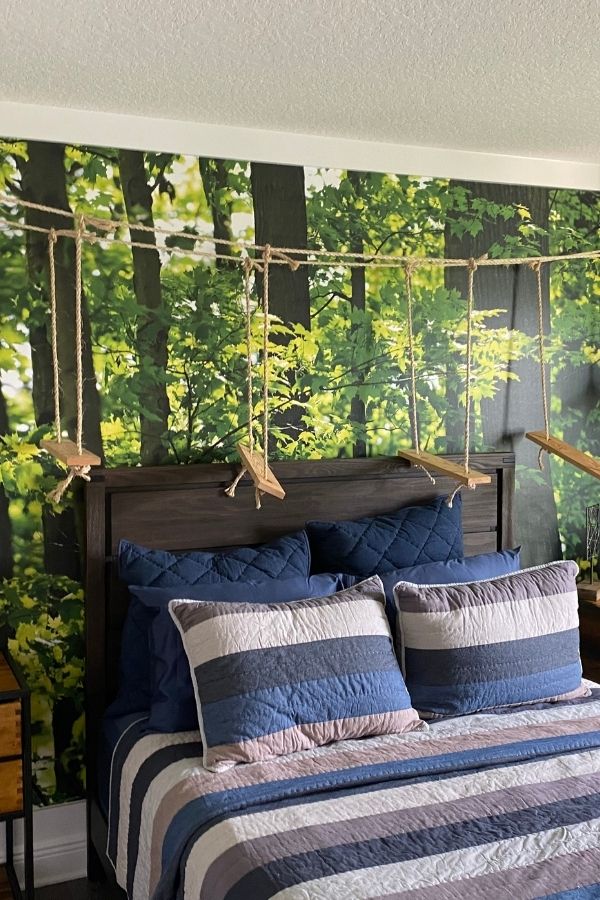 Or, go for a more dramatic wallpaper with a towering mountain range for more energizing space or floral patterns for a serene and relaxing look.
If you're looking for more forest-theme inspiration for your room, you can read this article Forest-Themed Bedroom that I created where I shared more photos, ideas, and where to buy them.
Textured Wallpaper
If you're seeking to add depth and a touch of luxury to your bedroom walls, textured wallpaper is an ideal choice. From embossed designs to faux brick or stone effects, textured wallpaper can give your bedroom a sophisticated feel. To create an impactful statement, use textured wallpaper as an accent wall behind your bed. This will draw the eye to the wall and create a focal point in the room. You can also use textured wallpaper to create feature wall ideas, such as a headboard or a fireplace surround.
Faux brick or stone wallpapers are the best way to add a touch of rustic charm to your bedroom like this Harry Potter room that I created:
Disney Princess Theme Wallpaper
Bring the magic of Disney princesses into your bedroom with enchanting wallpaper featuring your favorite royal characters. Imagine waking up in Cinderella's castle, Ariel's underwater kingdom, or Belle's charming village. Disney princess theme wallpaper adds a touch of nostalgia and transforms your space into a whimsical fairy tale realm. Pair it with fairy lights, dreamy drapes, and princess-inspired decor for a truly enchanting atmosphere. Create your own happily ever after with Disney princess theme wallpaper in your bedroom or in your children's rooms.
So, if you are a fan of Disney, you can choose a mural wallpaper with your favorite characters. This is the best option to add a touch of magic and whimsy to your bedroom like this Disney Princess rooms that I created:

Here's another bedroom design that I renovated using the same type of wallpaper and some curtains with scrolls that made the room look royal. This gives you just another look at how this beautiful wallpaper transforms a room.
Sport-Themed Wallpaper
For the sports enthusiasts out there, why not showcase your passion and create an energetic atmosphere with sport-theme wallpaper? Whether you're a football fanatic, a basketball lover, a volleyball lover, or a golf aficionado, there are numerous options available to showcase your favorite sport in your bedroom. Consider this unique wallpaper featuring iconic sports symbols, team logos, or action shots of athletes. Sport-theme wallpaper can bring a dynamic and spirited vibe to your space, reflecting your love for the game and motivating you each day.
If you are a volleyball lover and want to show your love for the sport, be sure to check out this Volleyball Themed Room:
Science-Themed Wallpaper
If you're a science enthusiast or have a deep appreciation for the wonders of the universe, science-themed wallpaper can add an element of intellectual curiosity to your bedroom. Explore designs inspired by astronomy, biology, chemistry, or physics. Opt for wallpaper featuring constellations, planets, microscopic images, or scientific formulas. Science-themed wallpaper can create a visually stimulating environment, igniting your imagination and fostering a love for learning within your personal sanctuary.
If you are a science enthusiast or simply appreciate the beauty of the natural world, science-themed wallpaper is a great choice to consider for your bedroom decor.
Striped Wallpaper
When it comes to adding a touch of sophistication and visual interest to your bedroom, striped wallpaper is a timeless and perfect choice. Whether horizontal stripes or vertical stripes, you have the power to transform a plain and entire wall into a dynamic and stylish backdrop. Stripes can be bold and expressive or subtle and soothing, depending on your choices. For a more understated and calming ambiance, opt for a neutral or subtle design. To add a touch of glamour and sophistication metallic accents are a good choice.
Here's one of the projects that I saw in a model home. The bright striped wallpaper creates a great backdrop and the pop of bright pink makes the whole space look vibrant.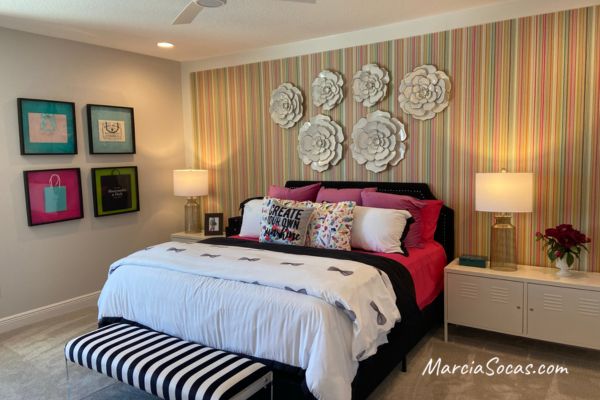 Floral Wallpaper
If you have a penchant for the beauty of flowers and want to infuse your bedroom with a touch of nature, floral wallpaper is a great idea. From delicate and dainty blossoms to bold and vibrant blooms, floral patterns can add a sense of freshness and femininity to your living space. Choose from a variety of color palettes and styles, such as romantic roses, tropical prints, botanical print, or charming English garden motifs. Floral wallpaper can create a serene and inviting atmosphere in your bedroom, perfect for those who seek tranquility and a connection to nature.
Here's a room that combined floral decor with geometric patterned wallpaper.
This floral and pattern wallpaper here is for a cozy bedroom that was not too busy or overwhelming. It provides a nice backdrop for the floral bedding and other elements in the room, without competing with them. This pretty wallpaper also helps to define the entire space and create a sense of style and sophistication.
Ocean-Inspired Wallpaper
Transform your small bedroom into a serene coastal retreat with ocean-inspired wallpaper. Choose designs featuring rolling waves, tropical fish, or tranquil seascapes. This wallpaper will create a soothing and relaxing ambiance, reminiscent of beachside getaways.

Pair it with natural textures, such as rattan or driftwood accents, to enhance the coastal vibe.
This beach bedroom is amazing and a great example. The idea of a surfboard along the ceiling for the beach decor should really open up your mind to using your imagination and your own taste to create the perfect place in a child's bedroom.
Geometric Patterned Wallpaper
For a modern and contemporary bedroom look, consider geometric patterned wallpaper. Explore bold shapes, intricate lines, and repeating patterns. Geometric pattern designs add a sense of structure and visual interest to your bedroom. Choose contrasting colors or subtle shades, depending on your desired aesthetic. Balance the boldness with minimalist furniture and accessories for a sleek and stylish ambiance.
Contrasting hues can make the patterns pop and add that extra wow factor. Black and white combinations offer a classic and timeless look, while vibrant and contrasting colors create a more energetic vibe. If you prefer soft colors, explore pastel hues or neutral shades. This will provide a serene and calming ambiance like the picture above.
Conclusion
There you have it! I hope you've found inspiration and are ready to transform your personal space into a haven that reflects your unique style and brings you joy.
Remember, the key to selecting the perfect wallpaper is to consider your personal preferences. Also, keep in mind your existing decor and the desired ambiance you want to create. Let your imagination run wild and don't be afraid to step outside your comfort zone. After all, decorating your bedroom is all about expressing yourself and creating a space that truly resonates with your personality.
I can't wait to see the incredible makeover you'll achieve with your chosen bedroom wallpaper. Remember to share your progress and inspire others with your unique style and creativity.