9 Easy DIY Accent Wall Ideas you can Finish in a Weekend
If you are looking to give your living room, master bedroom, or dining room a fresh and exciting makeover in an inexpensive way and that does not require a lot of time, accent walls are a great way to do it! They can instantly elevate the look and feel of any room, serving as a focal point that adds personality and depth. And with a little DIY know-how, you can easily create one in a weekend.
Throughout my site I provide affiliate links to products that I hope will help you with your DIY project supplies. As an Amazon Associate, I earn from qualifying purchases. This means that I may receive a small commission if you use these links to purchase products, but it does not change your price in any way.
Here are nine easy accent wall ideas to get you started:
1. WALLPAPER
Wallpaper is an easy way to add a touch of style to any room. There are so many wallpaper patterns and colors to choose from, so you'll surely find one that fits your style. And with removable wallpaper, you can change it up whenever you want.
In a previous blog, I shared how I transformed (in just one weekend) a small bathroom by using brightly colored wallpaper to help make the room feel lighter and even gave the illusion of more space. Here are all of the items used in that bathroom (total cost was under $700).
Look at this drastic difference: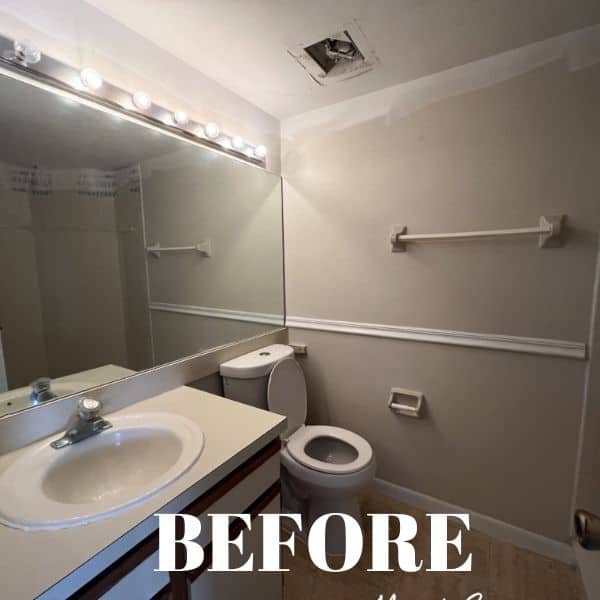 I also shared my daughter's love for Disney princesses for her bedroom using Princess Wall Murals in this post. The wallpaper mural is a great way to transform a large or small room very quickly.
By the way, wallpaper murals aren't just for Princesses, I also used one when decorating my son's University of Alabama themed Airbnb. Here's a post on that transformation and here's a look at how a mural set the theme there. It's "Big Al" crashing through the wall.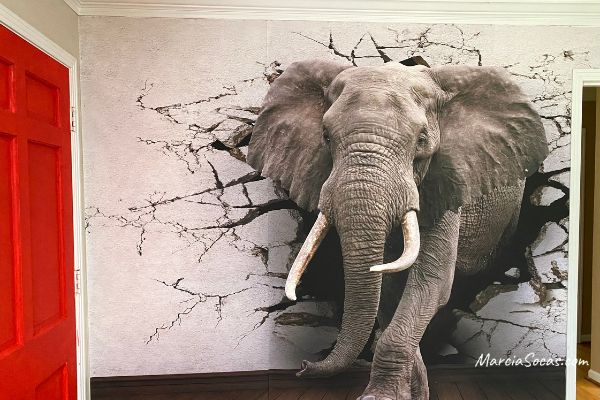 Here's a link to other sports murals if you're looking for something like that.
For me, using wallpaper is the easiest way to make a dramatic transformation. The peel and stick wallpaper options are so simple. You can choose to decorate just a single wall, as with the princess mural. It really transformed the room.
2. BOARD AND BATTEN WALL
A board and batten wall is a type of accent wall that is created by installing flat vertical boards on a wall, with horizontal battens (or strips) in between. This creates a grid-like pattern that can add visual interest and depth to a room. Board and batten walls are a popular DIY project and can be created with relatively simple tools and materials. With a little time and effort, you can create a beautiful and stylish board and batten wall from the blank wall that will add value to your home.
In project that I recently completed, I created a dramatic accent along the entire wall of the master bedroom. I used board and batten to create a unique and stylish look that really made it a beautiful space.
I have to admit, I learned a lot and made my share of mistakes with my batten accent wall (you can see the do's and don'ts here). But it remains the most impressive feature wall I built in 2 days. It's a very popular choice now, and this classic board and batten style really provides a beautiful end result.
By the way, you can use the board and batten technique to create a half wall instead. I've seen a lot of people do that with MDF boards and then paint them a different color. I tried my hand at this with this bathroom where I used a dark color (Sherwin Williams Urbane Bronze) in a bathroom. Usually I'm worried about dark paint colors in a small area like this but it really turned out nicely I thought.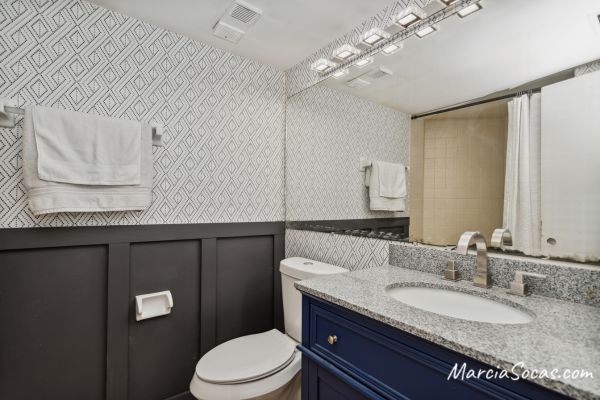 3. VINYL PLANK WALL
Vinyl plank is a great option and alternative to wood flooring. It's easy to install, durable, low maintenance, and it can be used to create a variety of accent walls. Available in a variety of colors and styles, so you can find the perfect look for your space.
This is one of my favorite transformation projects was when my daughter and her friend took a plain, small nook and turned it into a perfect home office or office nook with the help of a vinyl plank wall. The gray accent wall really made the space pop, and this whole project only took us a day to complete! Also, since this was a smaller wall project, they were able to use leftover wood planks from a flooring project and so they made the space look great and the best part was that it didn't cost me anything other than a box of leftover material.
And here's another time I used this technique recently, behind the toilet in a small bathroom.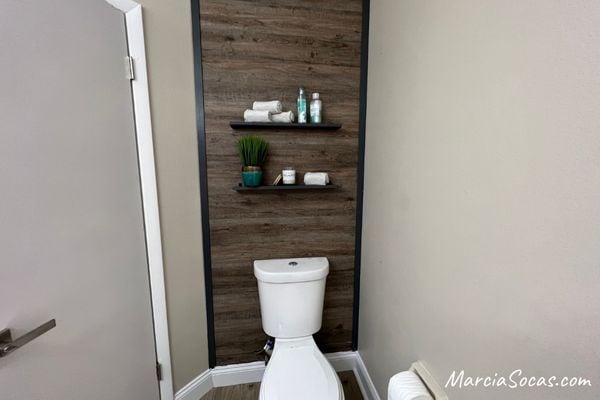 4. SLAT WOOD WALL
Wooden accent walls are becoming more and more popular. My newest favorite is a slat wall, it's really a very modern wooden accent wall and I see lots of interior designers using this. It's also the easiest DIY wood accent wall I've worked on. (Seriously, once that first horizontal piece goes up, you'll be hooked, it's so quick and easy).
A slat wood wall is a modern and stylish way to add some visual interest to a room. It is made by attaching thin wooden slats horizontally to the wall, creating a beautiful and stunning accent wall. You can leave the wood in its natural state for an organic look, or paint it to match your existing décor. With a little planning and some basic DIY skills, you can easily install a slat wood wall in just one weekend.
This DIY wood slat wall with LED lights that I created for a small condo bedroom. I had a great experience doing this wall design for my living space and it was a relatively easy project that I was able to complete in a few hours. I used LED strip lights with a remote control to add some extra flair to the wall. The lights change color, so we can change the look of the wall depending on our mood. Overall, I am very happy with how the wall turned out. It is a great addition to my small space and it adds a lot of character to the rest of the room.
5. PICTURE FRAME MOLDING WALL
If you're looking for a way to add some elegance and sophistication to your home, picture frame molding is a great idea. Here's a tutorial for the picture frame molding wall. It's a perfect way to update your walls and give your space a more polished look. To create a picture frame molding effect, you'll need to add rectangular or square frames to your walls. You can paint the frames in a contrasting color to your walls, or you can leave them natural. Either way, the frames will add depth and dimension to your space.
I have also seen a model home where they had picture molding and then large wall art inside, so if you're looking to create a gallery wall, that might be of interest.
This was the project for a condo master bedroom that we decided to try the DIY picture frame molding, and we're so glad we did! It was an easy project that made a big impact on our living room. The whole project took us about a day, and we're so happy with the results.
The picture frame molding really adds a touch of elegance to the room, and it was a great way to update our space in a budget-friendly way.
While I love the grid wall feel of the board and batten wall in number 2 above, this picture frame molding is an effective way to use small moldings and create a pattern that suits your style.
6. BEADBOARD WALL
Looking to add a touch of traditional charm to your home?
Then a beadboard wall is a good idea. These versatile wood panels can be installed vertically or horizontally to create a variety of looks, from classic to contemporary. And because they're available in a variety of materials, colors, and finishes, you can find the perfect beadboard to match your style.
I was able to create a beautiful DIY beadboard accent wall for this dining room in just a few hours. It was so easy, and it really made a big difference in the space. My goal was to separate the family room from the dining area without having a hard wall between them in this small condo. The beadboard proved to be a good accent wall creating just the right amount of visual separation and, since it was really tall, it showed off the vaulted ceilings in the condo.
You basically throw it up there and nail gun it into place, making it one of the most easy DIY accent wall ideas ever!
I love how the beadboard brings attention to the height of the wall, and the best thing is it's made of PVC, so it's super durable and easy to clean. The beadboard wall has helped to create a distinctive space between the dining and living areas, and I'm so happy with how it turned out. I would definitely recommend this project to anyone looking for a quick and easy way to update their home.
7. GEOMETRIC-PAINTED WALL
if you're looking for a modern look and an artistic way to update your boring wall, you should try geometric wall patterns! It's a super easy way to add a unique and contemporary flair to your room. All you need is some painter's tape and a few different paint colours. You can get creative and design your own pattern to get geometric shapes, or you can find inspiration online. Once you have your design, just tape it off on the wall and start painting! I recommend using two coats of paint for a more even finish. Once the paint is dry, carefully peel off the tape and admire your work!
Here are a few ideas to get you started:
Use a checkerboard pattern to create a classic look.
Use stripes to add some visual interest.
Use triangles to create modern and geometric patterns look.
Use circles to create a whimsical and playful look.
I saw one creative designer showcase this technique in a model home: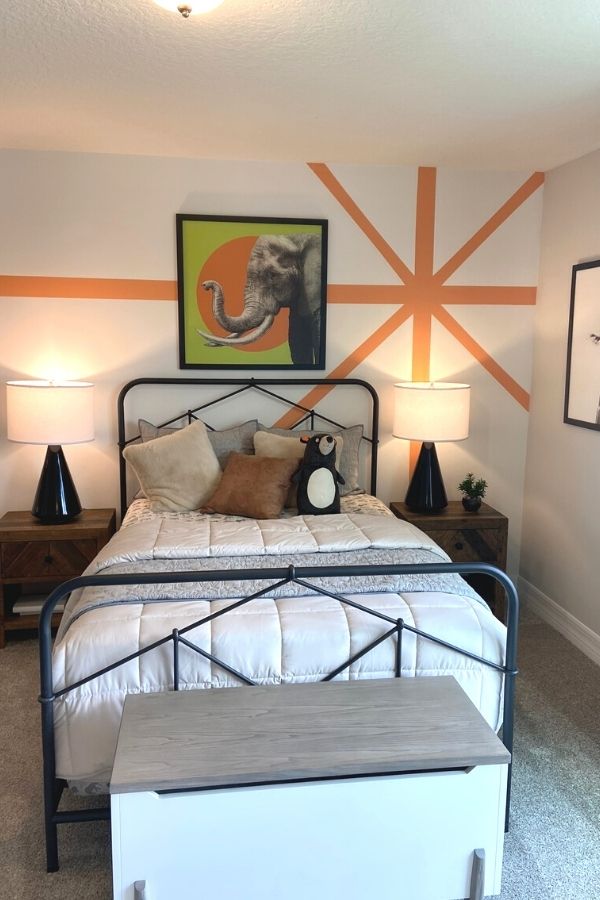 The possibilities are endless! So get creative and have fun with it.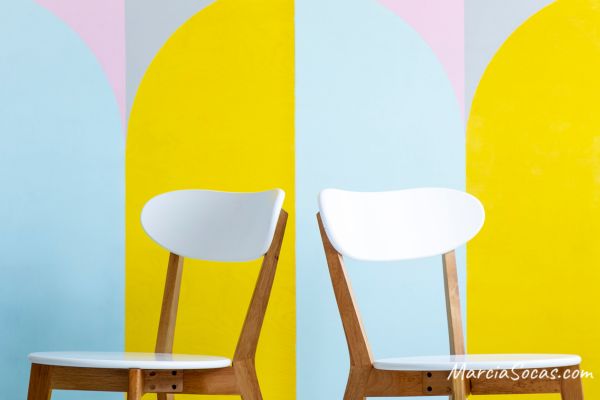 8. STENCILED ACCENT WALL
Although not traditionally considered one of the easy DIY accent wall ideas, stenciling an accent wall is a great way to add a touch of personality to your own home. With a little planning and effort, you can create a beautiful and unique focal point for your room. There are tons of different stencil designs available, so you can find one that perfectly suits your personal style. And if you're feeling creative, you can even design your own stencil! The amount of time it takes to stencil an accent wall will vary depending on the size of the wall, the complexity of the stencil, and your level of experience. But, in general, you can expect to spend a few hours on the project.
Here are some tips for speeding up the process:
Plan ahead. Measure your wall and determine how many stencils you'll need. This will help you to avoid running out of stencils in the middle of the project.
Work in sections. Don't try to stencil the entire wall in one go. Break the project down into smaller sections and work on one section at a time. This will help to prevent you from getting overwhelmed.
Take breaks. Stenciling can be tedious work. So, it's important to take breaks throughout the project. This will help you to stay focused and avoid making mistakes.
I haven't personally stenciled a wall just yet, but I've seen some pretty options.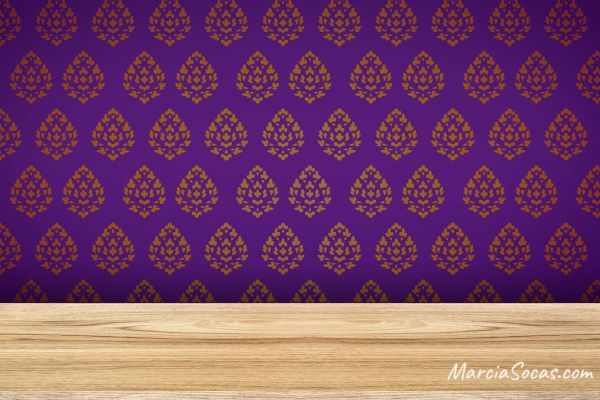 9. FAUX BRICK OR STONE WALL
If you love the look of exposed brick or natural stone walls but don't want to deal with the cost or hassle of installing real brick or stone, faux brick or stone walls may be the perfect solution for you. Faux brick and stone walls are available in a variety of materials, including wall panels and wallpaper. Wall panels are the most convenient option, as they can be applied directly to the wall without any prep work. Paint and wallpaper are also relatively easy to apply, and they offer more flexibility in terms of design.
Here are some of the benefits of using faux brick or stone walls:
Cost-effective: Faux brick and stone walls are a fraction of the cost of real brick or stone.
Easy to install: Faux brick and stone walls can be installed by anyone, with no special skills or tools required.
Versatile: Faux brick and stone walls can be used in any room in your home, and they can be customized to match your home decor.
Durable: Faux brick and stone walls are durable and can withstand everyday wear and tear.
This use of a faux brick panel blew my mind when I first saw it: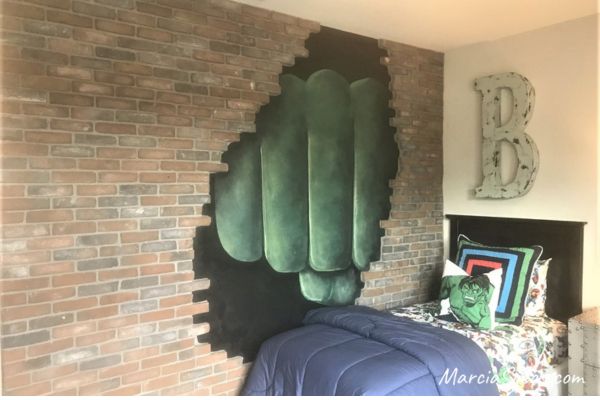 You can see more very cool themed rooms here.
I have to admit, I've "faked" the stone wall look before with wallpaper, like in this Harry Potter room I created.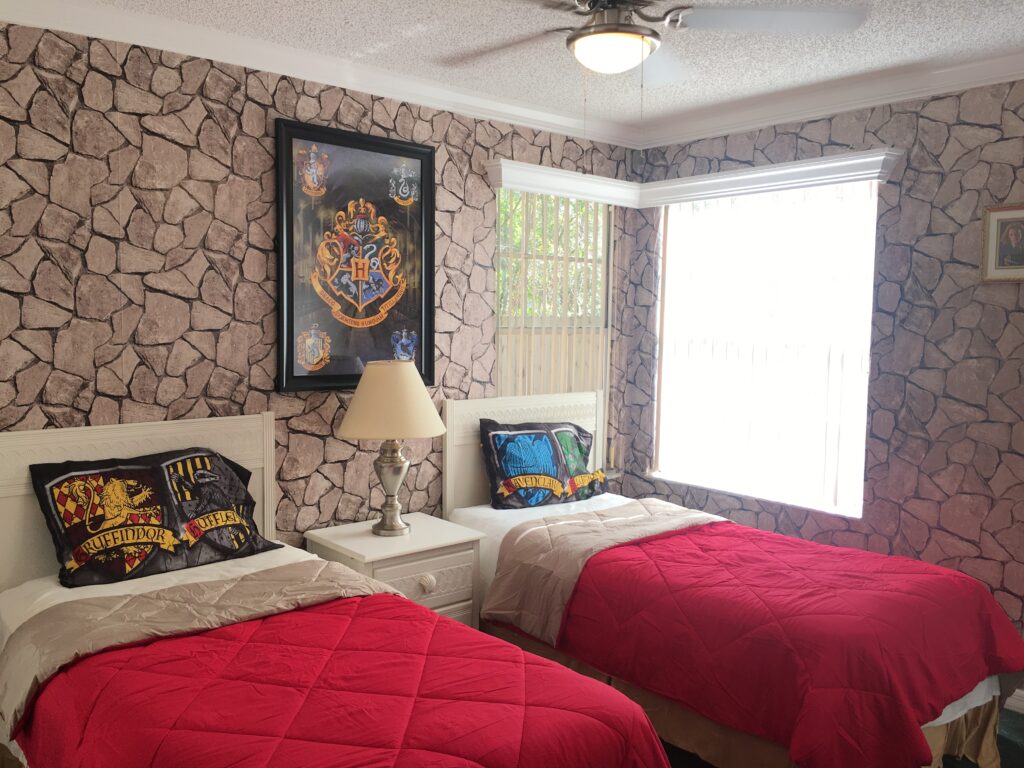 But if you don't like the look of wallpaper or you want to create something with more of a nice texture to it.
Wall panels will give you a great brick wall.
Your Turn!
So, there you have it! 9 easy DIY accent wall ideas that you can finish on a weekend. Whether you're looking for a bold statement wall or something more subtle, there's an idea here for everyone. You really don't need to be stuck with plain, boring, white walls. I hope you'll try a bold color, or a modern wood accent wall, or even a cool wallpaper pattern. It feels great to make a space your own! I've tried to provide step-by-step tutorial posts linked throughout this article for you, and I hope they help you find your favorite ways to change your walls. Whether you're going for neutral colors or bright colors, sometimes just adding a new color can really change the way you feel about a room.
If you're looking for more DIY inspiration and friendly easy DIY accent wall ideas, I linked my previous blogs in relation to each of the DIY accent wall ideas so be sure to check them out. I've written about everything from step-to-step tutorials to the budget and material used.
And don't forget to share your own DIY projects with me on social media! I love seeing what you are up to.
Thanks for reading!